In Asia, private jets are taking off, with customers preferring larger jets with longer ranges
Thanks to the pandemic, the demand for business jets and corporate helicopters across the region is set to soar.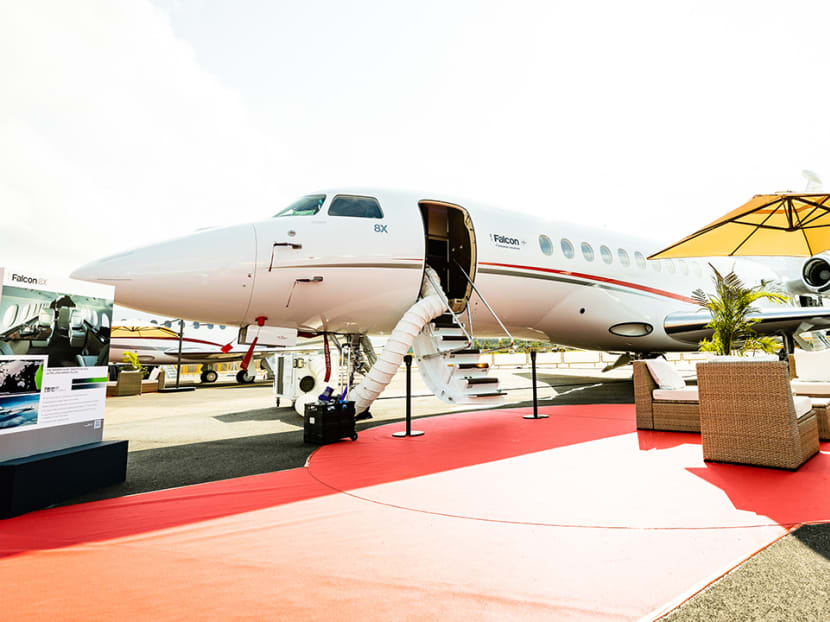 The world was a different place the last time the Singapore Airshow was staged. It was February 2020 and here in Singapore, we were just catching wind of the emergence of COVID-19, unaware of how the virus would go on to develop into a full-blown pandemic.
Held every two years, the Singapore Airshow is back this year but it's impossible to ignore the events since, especially with the aviation sector most savagely hit due to country borders around the world staying closed for much of this time.
So it's good to see things picking up with the announcement of the various Vaccinated Travel Lanes (VTLs) starting from September last year, and to also see the return of business jet players the likes of Dassault Aviation, Honda Aircraft Company and Embraer at the Singapore Airshow.
One clear upshot of the pandemic, however, is that while the commercial airline sector has faced its most turbulent times in history, the business jet market has conversely soared.
With commercial airlines scaling back their networks and the dramatic reduction in the number of flights, high-net-worth individuals (HNWIs) had little choice but to turn to business aviation as a solution to their travel needs.
According to Mordor Intelligence, the Asia-Pacific business jet market is anticipated to grow at a compound annual growth rate of over 2.5 per cent from now till 2026.
"A lot of people want to escape the constraints of (commercial) airlines and a business jet is a much more flexible tool in terms of schedule and in terms of saving time," explained Carlos Brana, executive vice president of civil aircraft at Dassault Aviation.
"So the purpose of this business solution is to save time. Maybe you have different meetings in the same day, in different places around the same country or in different countries. The idea is you take off when you decide to take off to go wherever you want to go to the airport that's closest to the location you want to go, and you of course depart from the airport closest to where you are. This is the advantage [of a business jet]," he added. 
Aside from flexibility and time-saving, such customers are also keen to avoid added risk exposure at crowded international airports by going the private route.
"It could also be for sanitary reasons," Brana affirmed. "People who don't want to queue with others in an airport, or people who do not want to be with other passengers that they don't know may prefer to travel on a business jet."
At the show, Dassault had on display its Falcon 8X and Falcon 2000LX, as well as a mock-up of the Falcon 6X.
In Asia, the French aircraft manufacturer has observed a preference for larger aircraft with longer range.
"What we are seeing is people in Asia fly a lot to Europe, to the US, to Africa and so on for different reasons, but one thing that's specific to the region is the fact that they usually fly with a higher number of passengers, such as big families travelling together, as compared to Europe or the United States, for example. And this calls for a bigger cabin, which corresponds to the long range," he shared.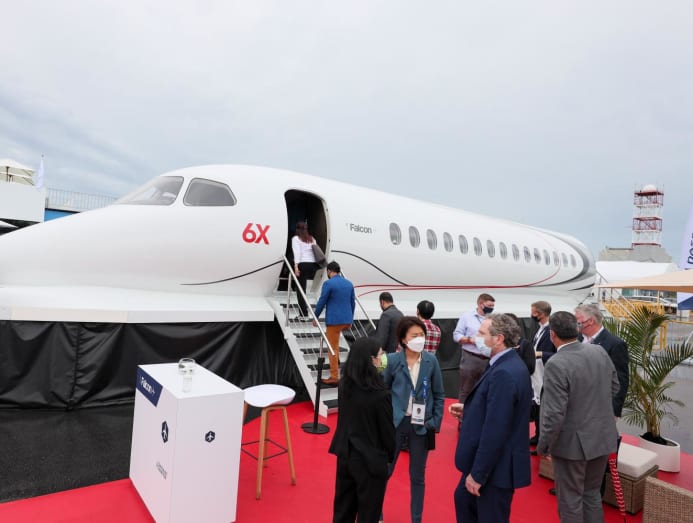 That said, the average flight time for a private jet, says Brana, is about two-and-a-half hours – a little more than the Singapore-Jakarta route, which is said to be one of the busiest in the world.
So much so that Singapore Airlines is one of the few commercial carriers to offer First Class on such a short sector at just under two hours.
"Because there is so much demand, so many HNWIs flying to Singapore," noted Brana.  
Indonesian HWNIs are indeed a key customer demographic in the business jet market, with rival Bombardier, who did not show at this year's Singapore Airshow, having delivered its first Global 7500 business jet in Indonesia to an undisclosed customer based in Jakarta in June 2021, according to Mordor Intelligence.
The world's most expensive business jet at a list price of US$73 million (S$98.4 million), the Bombardier Global 7500 is the company's newest and largest ultralong-range aircraft capable of carrying 14 passengers and flying for 16 hours with non-stop capability from New York to Beijing, for example.
DEMAND FOR HELICOPTERS 'TRENDING UP'
If a US$73 million private jet is out of reach, the next best thing is your own personal helicopter.
"If you look at the market for corporate helicopters, it's clearly a seller's market. Bookings are really strong and you see it both with brand new and second-hand assets. There is huge demand at the moment," said Jacinto Monge, Managing Director for Asia Pacific at Bell.
The American manufacturer was also exhibiting at the Singapore Airshow with its best-selling 505 and 429 helicopters on display.
"If you look back on the last six years, the 505 has had a huge percentage of market share in the luxury segment. And the corporate market is huge for Bell. In the industry right now, the 505 and the 429 are really at the top of their class and certainly the top choice for our corporate customers. Both are extremely successful in the corporate market; we've seen corporations across the Asia Pacific take delivery of 505s, and we've seen the 429 taken for corporate use in places like Cambodia and the Philippines," shared Monge.
Like business jets, a helicopter for corporate customers, says Monge, is about convenience and saving time: "It's typically more about the daily commute and [avoiding] the morning traffic."
Interestingly, Monge is seeing a new breed of customer with "different aspirations" for owning a helicopter.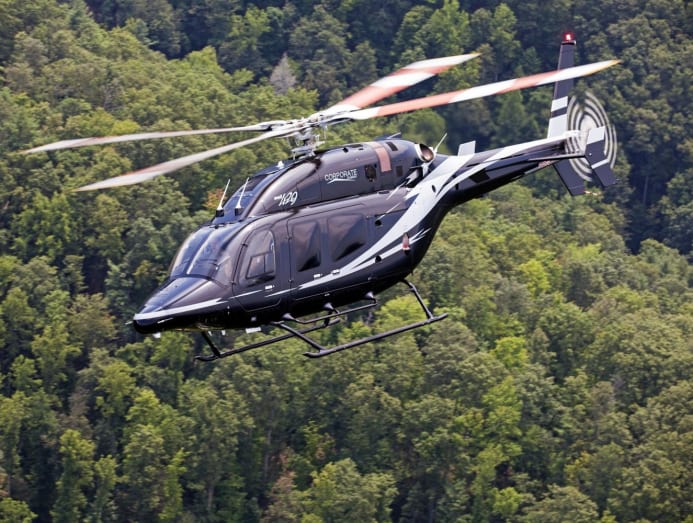 "With the 505 specifically, we're seeing a new phenomenon – and I don't know if this is pandemic-related – but in places like the US and around the world, people are choosing the 505 not just for convenience but also because of the lifestyle; to go on fishing or camping trips. So people who are seeking a different experience, seeking that additional adventure, are adding a helicopter to their assets, which is kind of interesting," he said.
What of Singapore, though?
While the company has a central service facility located here, Monge notes that Bell helicopters don't as yet have Singaporean owners.
"You'd have some difficulties owning a helicopter in Singapore as the rules regarding airspace is pretty restricted. But without disclosing too many details, I think we could be seeing some Bell helicopters in the country in the coming years," he revealed.
With air taxi operators Volocopter and Skysports having just announced commercial air taxi services in Singapore starting in 2024, it's certainly exciting times for Singapore's airspace.
And Monge sees demand "trending up" in the next three years.
"2020 and 2021 were very tough years for the industry as a whole. All things considered, Bell did pretty well and I certainly see demand trending up. The Asia Pacific is very important for the helicopter industry. Looking back at the last five to six years, about one-quarter of industry orders are coming from this part of the world. So yes, it's pretty important and it's going to bounce back as countries reopen the borders and economic activity picks up. We're seeing a rebound across Asia," he said.