Singapore design experts share: Interior design trends for 2021
Redesigning your home this year? Singapore architects and interior designers share what's most likely to be popular this year – along with tips on how to achieve your vision.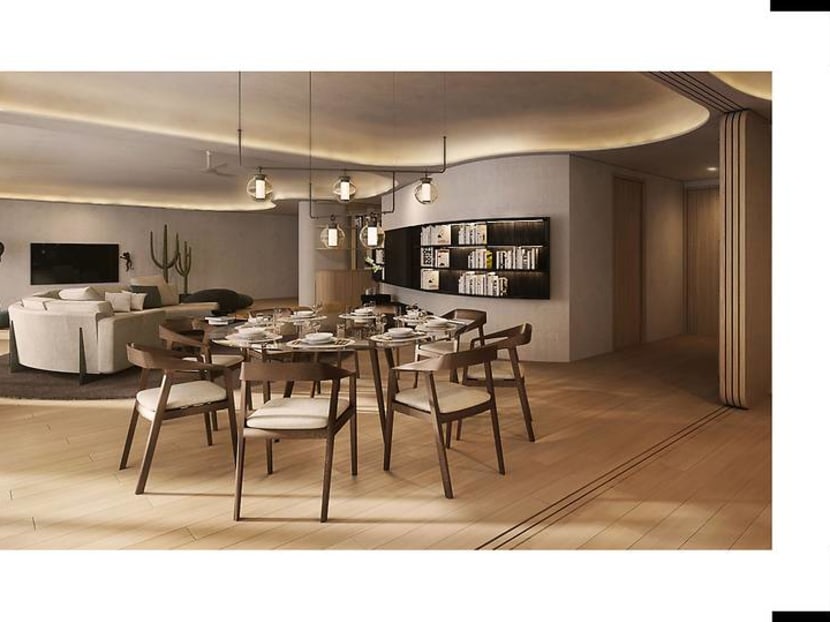 A new year brings about the possibilities of change, and with the arrival of 2021, you may be considering redesigning or renovating your home. Whether you're thinking of a major overhaul or a simple cosmetic upgrade, take inspiration from these interior design trends as identified by local industry experts.
DEDICATED HOME OFFICE AND STUDY AREAS
The circuit breaker period in Singapore left many of us scrambling to create home offices for work and study. This experience is likely to stay with homeowners going into 2021, with more requesting for the segregation of space to include a work area.
"The home is no longer a shelter to come back to after a long day, but it has transformed into a place to live, work and play," shared Beam Ker, director and co-founder of Luxur. "How are we going to harmonise everything in one space, especially for a city like Singapore, where space is so limited? Proper space planning and choosing the right colour theme will play a big part."
Prior to the pandemic, homeowners were willing to share a study or home office space with other family members. Now, a dedicated area for each family member will become a more common requirement. "Therefore, I suggest to separate the study area, so everyone has their own working area," Ker said.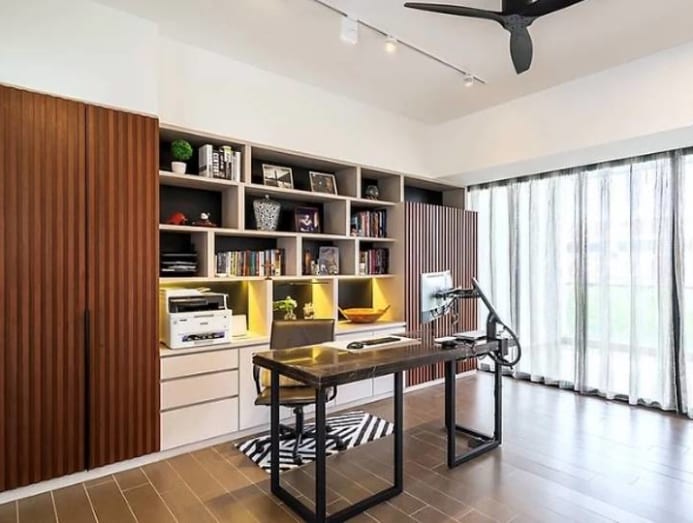 With this in mind, Ker believes that functional furniture with space-saving concepts, such as a bed that doubles up as storage, will be more important. "In terms of aesthetics, the look will be more neutral, bright, warm or homely. Colour palette-wise, definitely something more calming," she shared.
LUXURIOUS MINIMALISM
In a post-COVID world, Terence Neo, founder of Eightytwo, believes that moving forward, homeowners will place a bigger emphasis on quality of life as they spend more time at home. "I see minimalism returning in a big way, where home designs are not focused on what is trendy, but on timelessness, ergonomics, and comfort," Neo shared.
"Earthy tones and muted colours will take centre stage as they create a tranquil living space that is easy on the eyes, as compared to other transient design trends or colour schemes. Visual interest is achieved by playing with textures and details to exude understated elegance and luxury. The key is to declutter and keep things minimal. Constantly explore designs that balance form and function."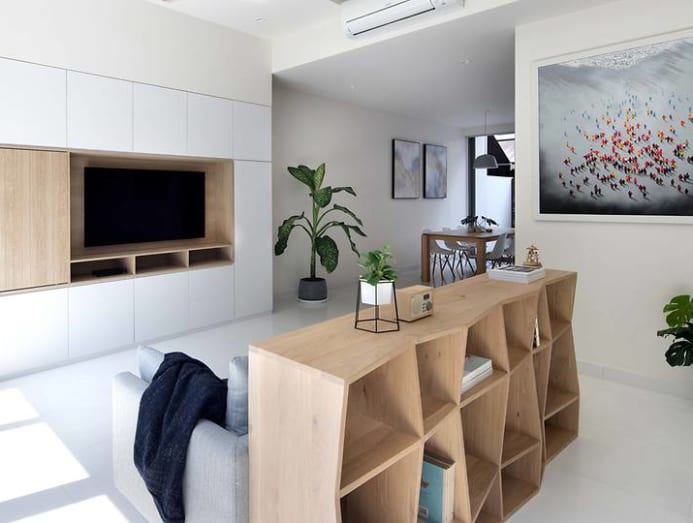 Eloycois Er, Principal Designer at erstudio, echoed similar sentiments. Er, however, believes that minimalism will be given a luxury twist this year.
"[Luxurious minimalism] is about the same coveted, clean finish and clutter-free interior, but with rich materials and cleverly disguised storage. The home has become the centre of our lives, thus we tend to surround ourselves with more possessions. A good storage solution is required to ensure the house still looks immaculate when homeowners need to make conference calls or entertain house guests. Because of so much additional time spent in the house, people are investing in high-quality materials and finishes," Er said.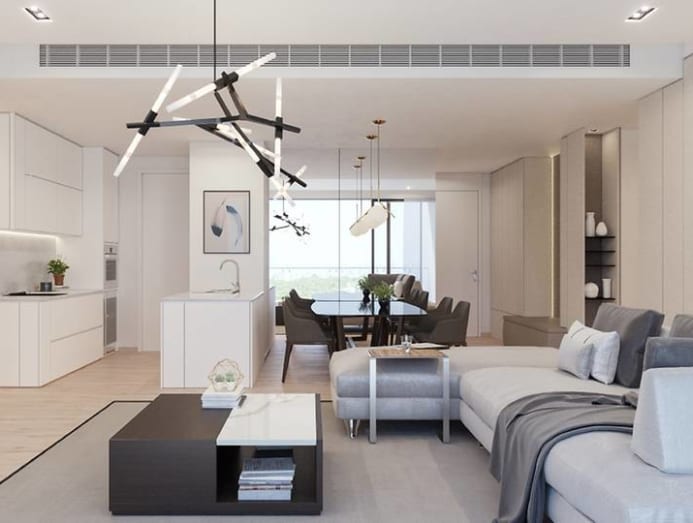 "Be open to tearing down existing walls to re-zone areas in your house. This lifts limitations and allows the designer to allocate space accordingly to maximise its function, such as creating more storage. Invest in good quality finishes and furniture to make the space more enjoyable. They will not only look better, but will also last longer," Er advised.

ONE-OF-A-KIND BESPOKE HOMES
Christina Thean, director of Park + Associates, believes that more homeowners will seek one-of-a-kind dwellings customised to their needs and tastes. 
"Being forced to spend time indoors and within our own heads have enabled us to reconsider our priorities. I think there will be a shift in design to one that is more holistic – design that isn't just aesthetically pleasing, but also [one that] connects with us emotionally. For example, materials or colours that evoke personal memories, or finishes that are a little more tactile than the usual.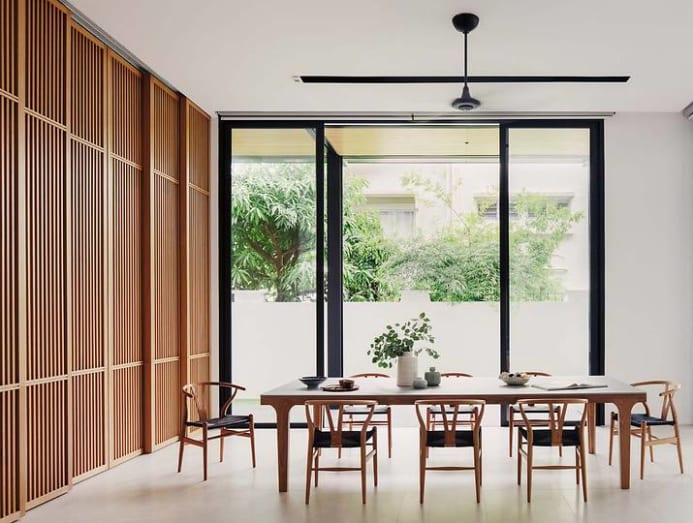 "Spatially, we expect an increased desire for flexibility and interactivity in the home. We have already received requests from clients to cater for multi-purpose spaces in their homes – for the ability to convert these easily into a work or study room. This has made us think further about how we can, using design, establish a boundary between work and play in a domestic setting."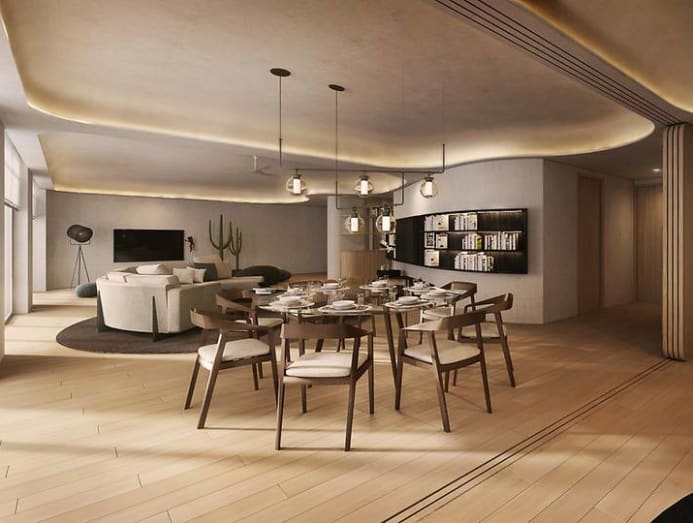 Do a conscious reflection on your life and share your thoughts with your designer, Thean advised. 
"It is always great to see homeowners [being] enthusiastic and sharing with us tidbits from their lives – their families, memories, hobbies, interests. It is only from getting to know our clients that we can we design a space that is personalised and filled with meaning.
"Oftentimes we see clients asking for things that they have seen online, or in magazines, that may not be practically suited for their lifestyle. This is where we, as design and architectural consultants, come in and advise our clients from a practical and more objective standpoint."
"It is always great to see homeowners enthusiastic and sharing with us tidbits from their lives – their families, memories, hobbies, interests. It is only from getting to know our clients that we can we design a space that is personalised and filled with meaning." – Christina Thean

CURVED FORMS AND ARCHES

When it comes to walls and entryways, Molina Hun, Creative Director of Sujonohun, believes that contemporary design focusing on curved forms and arches, which were popular in 2020, will continue to be favoured this year. 
However, "not all layouts work well with curved forms and arches, so do ask your interior designers for their opinions as a forced design would make the space look and feel awkward," she cautioned.
Sharing her tips, Hun continued, "I would encourage my clients to pursue a style only if it resonates deeply with them. Do not follow a style just because it's trendy. At the end of the day, a house should encompass the personality and style of its owner."
"Do not follow a style just because it's trendy. At the end of the day, a house should encompass the personality and style of its owner." – Molina Hun