For a young Singapore family, this colourful apartment is a whimsical haven
The designers of this 2,347 sq ft apartment played with accents and textures to inject a sense of joy into the space, furnished with the homeowners' favourite luxury brands.
For one couple who has travelled the world and carry a penchant for some of the world's most luxurious lifestyle brands, a typical apartment with a neutral palette felt too staid.
While looking for a designer to offer an unconventional proposal for their new home, they were captured by Prestige Global Designs' new office, a stylish contemporary space accented with playful furnishings and pops of colour.
After meeting the founders, Michael Ong and Jeremy Tay, they knew what they wanted for their family of four, which includes a newborn.
The brief for their 2,347 sq ft apartment was precise: Different areas of interest with pockets of surprises in the home, instead of a uniform style throughout; a large living space to entertain and host gatherings with all the children playing alongside; and a walk-in closet to house a sizeable collection of clothes, accessories, bags, shoes and watches.
Their elder child also chimed in – a slide in her bedroom to have fun with her friends during play dates.
Ong said: "As this is not the first time the owners have gone through renovation for their house, the owners wanted something different for their new home. They were very open to the use of colours, patterns and textures and left it to us to propose the options."
"The owners wanted something different for their new home. They were very open to the use of colours, patterns and textures and left it to us to propose the options." – Michael Ong
The design story begins at the private lift foyer, where a tropical wall covering provides a statement welcome and introduces the accent colours of the house – pink, yellow and teal. A pair of Bruno Catalano Travelers sculptures hint at the homeowners' wanderlust while a Baccarat Celeste lantern lamp casts a cosy ambience at night. The French entrance doors floods the dimly lit foyer with natural light in the day, with intricate "root" handles accentuating the tropical theme.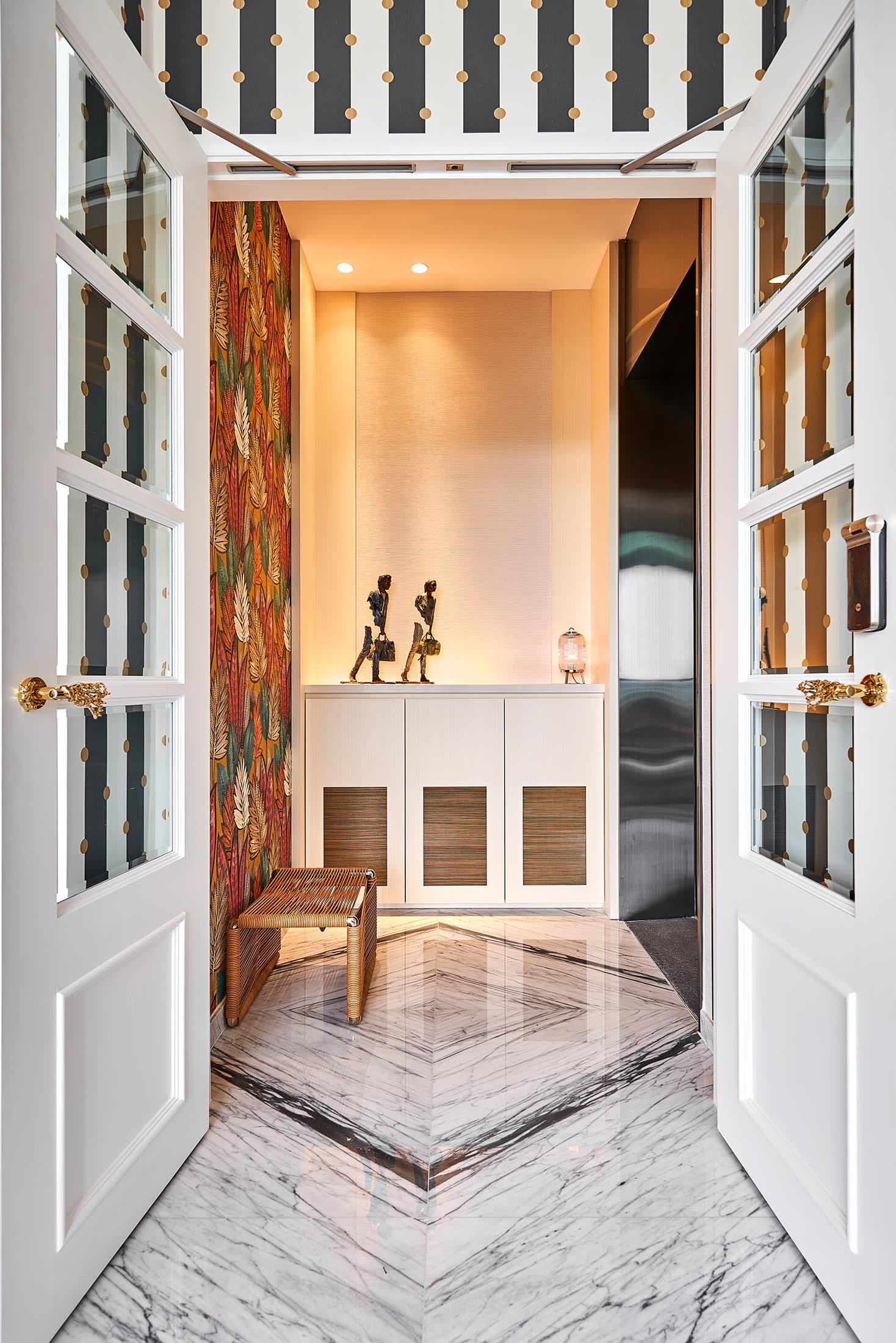 The designers reconfigured the original five-bedroom-plus-study layout into a master bedroom with a walk-in wardrobe; a child's bedroom suitable for sleep and play; a large study; as well as expansive living and dining areas.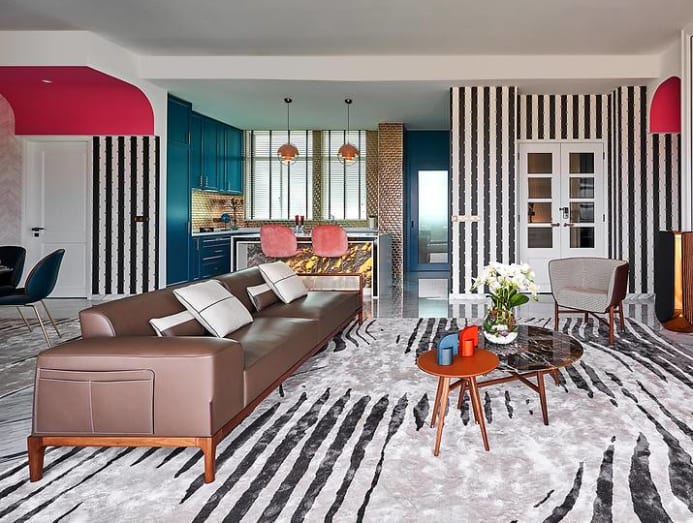 Ong explained: "We knocked down a wall from the original study room to make the living and dining areas bigger. We then used a black-and-white wall covering with round wall lights to connect from the dining area down the corridor to the daughter's bedroom to create a playful contrast to the spaces." For a dramatic flourish, a bright pink arch runs along the corridor.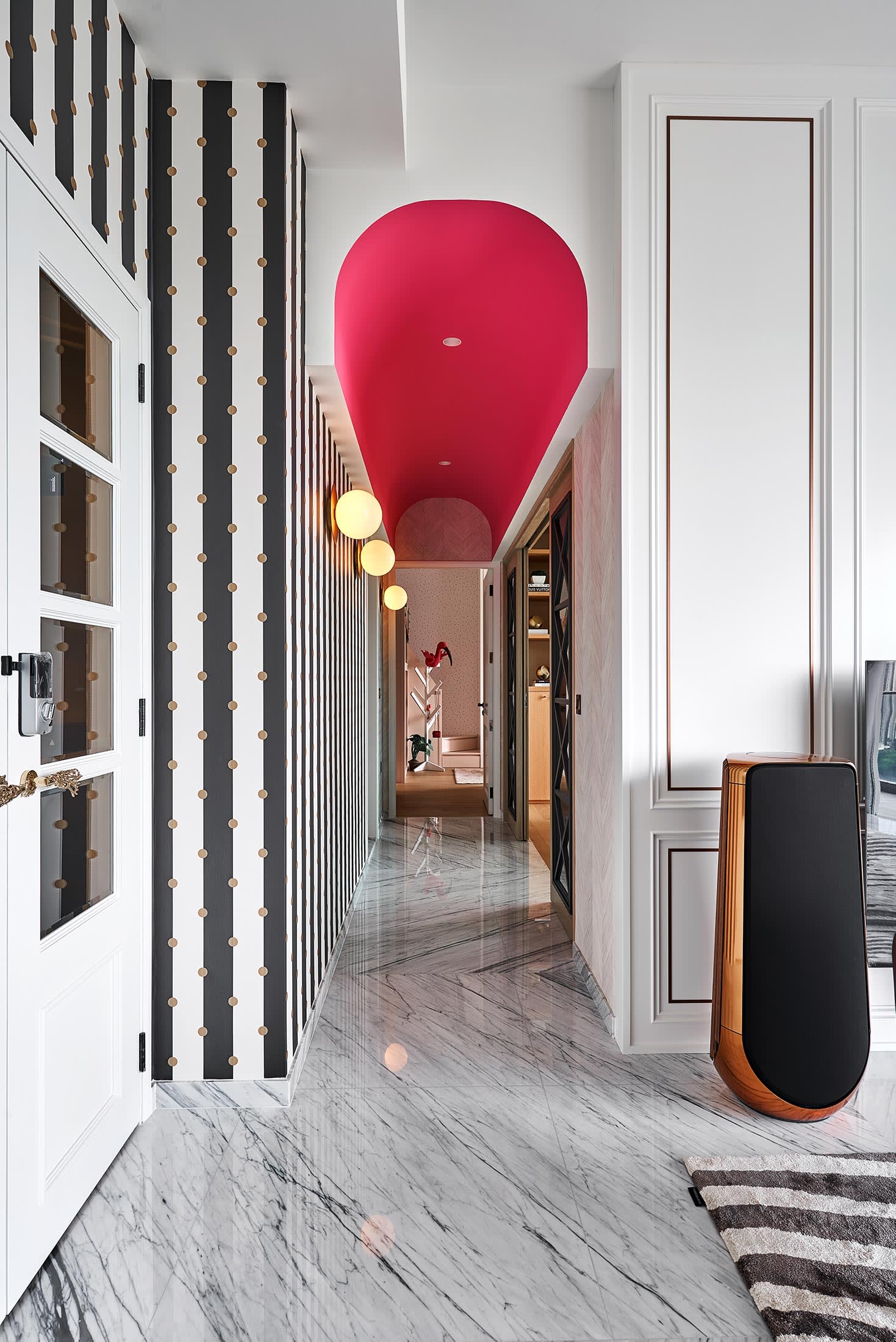 The living room is guided by understated luxury. The white spray-painted TV wall feature provides a clean backdrop for the Bang and Olufsen television and speakers. The wooden details in the entertainment system are echoed in the Hermes leather sofa, armchairs and marble coffee table.

On the other hand, the dining room commands attention with its statement Gucci wall covering of herons and dragonflies against a soft pink background. Together with strategically placed round wall lamps, the creatures look as if they're dancing with balls of light. A Gubi marble dining table and matching chairs in dark teal leather and coral piping set the stage for meals with Hermes tableware and Baccarat drinking glasses.
"The setting is like letting the guests enjoy a unique dining experience in a garden pond setting," explained Tay, adding that the carpets in the living and dining areas were specially designed to replicate the effect of water rippling in the pond as the herons move. "This creates a very dramatic and elegant movement from the dining to the living area."
To capitalise on the panoramic views from the balcony, an open kitchen was proposed to combine with the living and dining rooms into one generous, seamless space. In-built V-Zug appliances, teal cabinets and bronze subway tiles play off a white island counter with a backlit onyx feature. Completing the teal and coral colourway are coral bar stools and pendant lights from Gubi.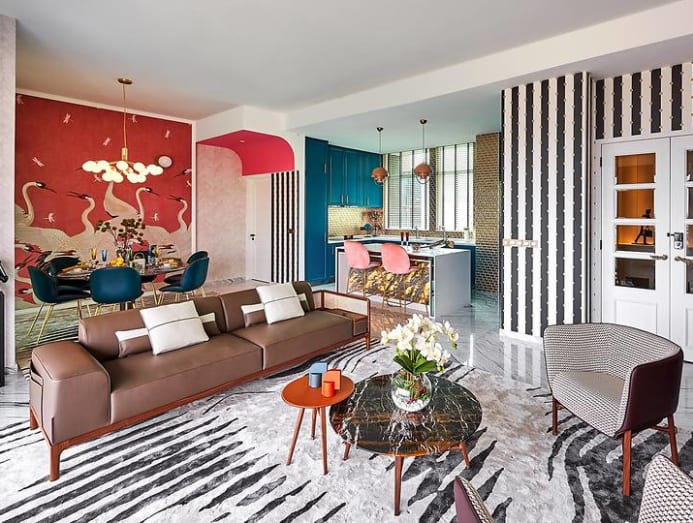 This colour repetition continues to the rest of the house. Together with a quirky mix of materials, patterns and textures, it weaves a common thread while allowing character in each individual space.
The expansive study, created by combining two bedrooms, is in a yellow-olive-teal palette. The decorative motifs on the glass-panelled sliding doors, which let in natural light, are echoed in the Missoni wallpaper, which is olive-coloured with tinges of pink. Open, backlit shelves in wooden veneer offer storage space as well as display colourful decorative ornaments for fun and character.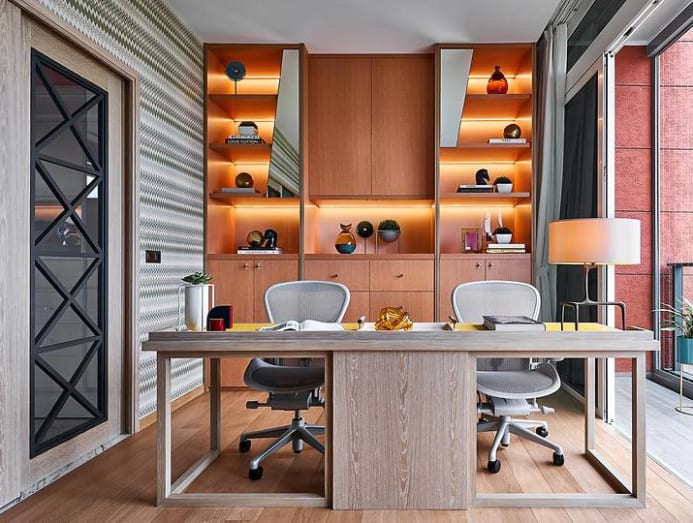 A 2.5m-wide study table with a yellow leather covering was custom made to accommodate two Herman Miller chairs so the couple can work alongside each other. "Another reason why we created a large room was to enable children to crowd around for an afternoon of computer games when guests come over, or a session of mahjong for the adults while overlooking the views," added the homeowner.
"Everything and everywhere is interesting, we love it very much. Even our daughter prefers to stay home than to go for a staycation!" – The homeowners

A variation of the black-and-white striped corridor wallpaper appears as black and white marble tiles in the powder room. Royal blue glossy tiles and a decorative wall covering in teal with koi fish swimming around gives the feeling of being in an underwater powder room. Mirrors framed in an arc make this guest bathroom appear bigger than its actual size.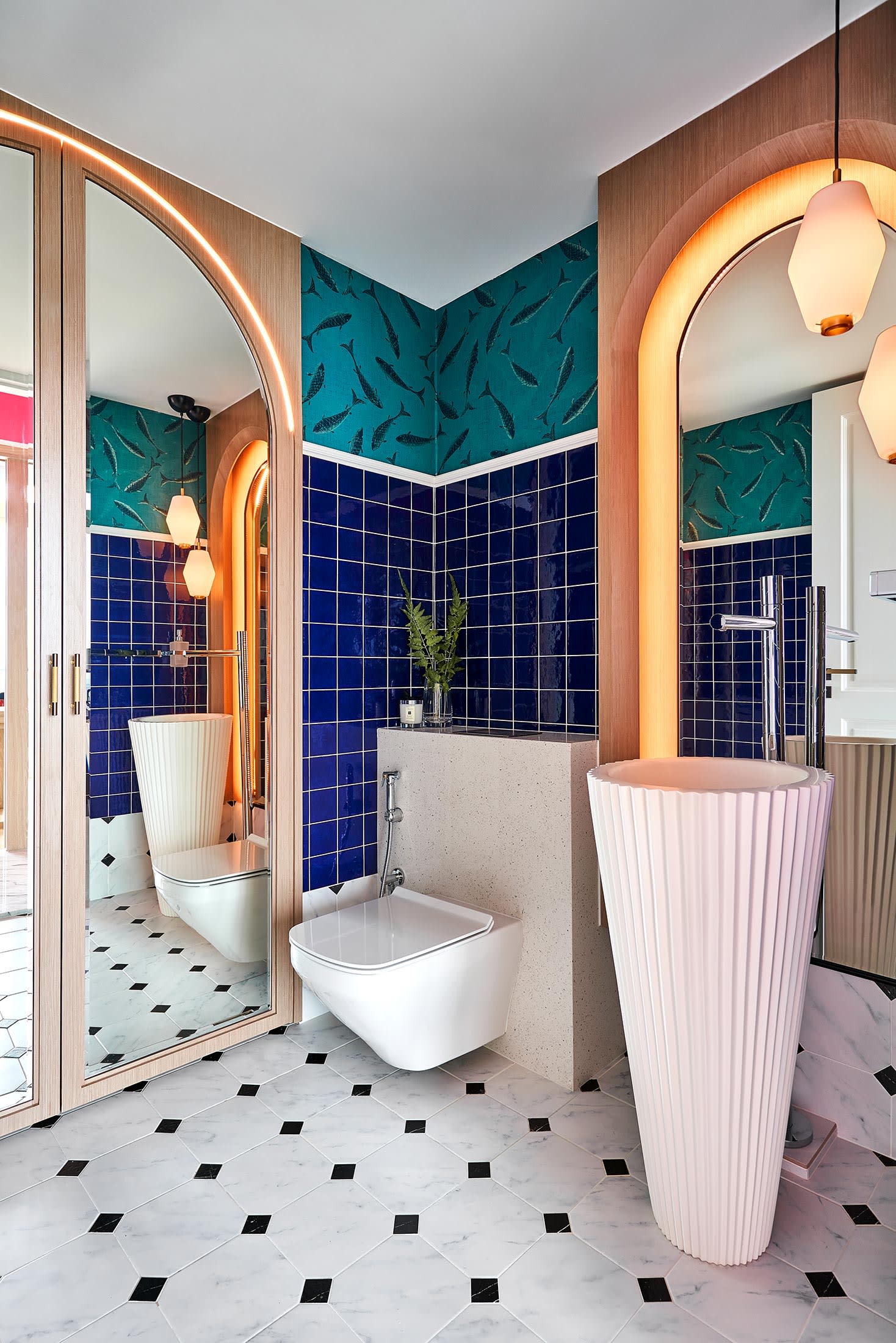 Comfort and style wrapped in privacy makes the well-hidden master bedroom a sanctuary for the owners. It can only be accessed via a spacious walk-in wardrobe whose entrance is an innocuous solid white door at the corner of the dining room.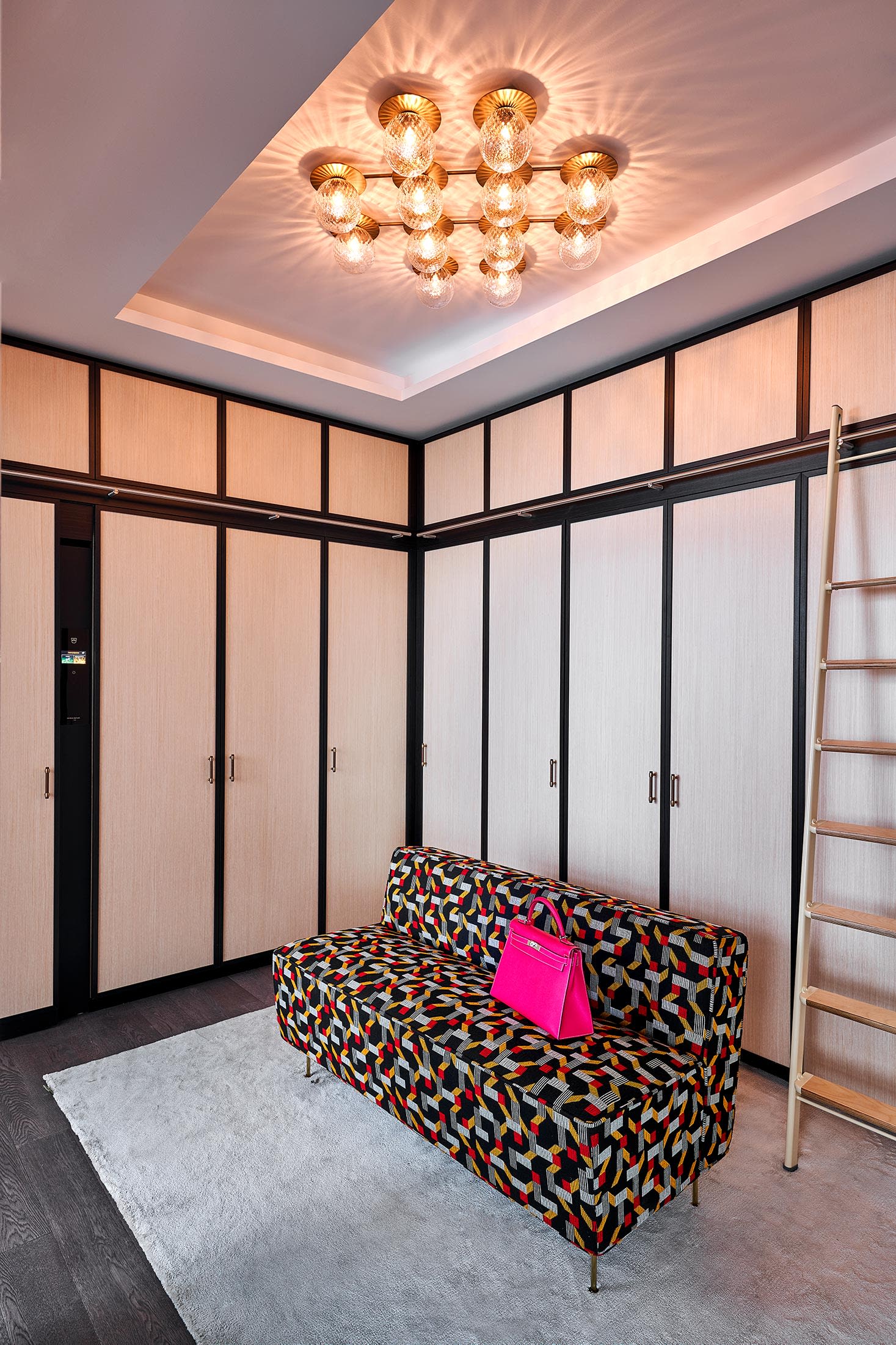 From the wardrobe, a pair of sliding frosted flute glass doors opens to the master bedroom, a feature that allows natural light to enter the closet. The king-sized bed from luxury Swedish label Duxiana rests on a platform, constructed to conceal electrical cabling and to install a low-level night lighting. Throw in a dark fabric bedhead with hidden charging ports and luxurious Hermes furnishings and the owners feel like they're on a perpetual boutique hotel stay.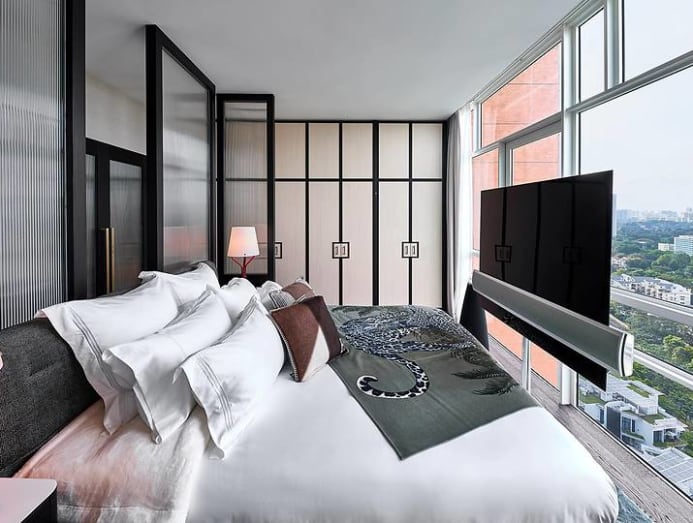 Even the handsome master bathroom reverberates with stylish chic: Think Sahara marble walls, octagonal storage mirrors over his-and-hers vanity sinks and angled cabinets in brown veneer with bronze handles.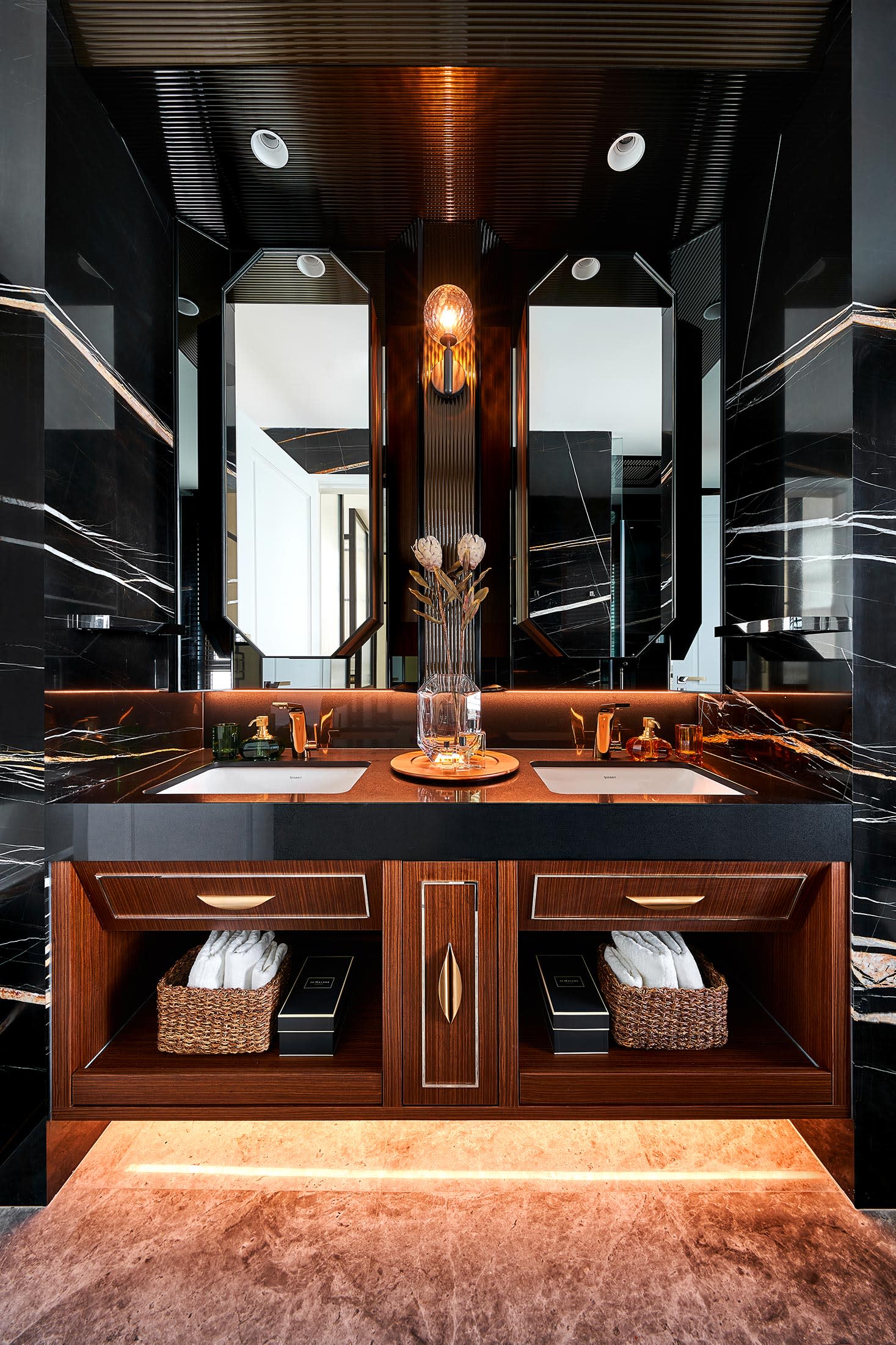 The little one's bedroom and bathroom also ooze chic, but of the wonderland kind.
"We wanted something suitable for a young princess without the room looking too 'princess-y'," said Tay. Since the daughter liked blue and pink colours, they used a white wallpaper speckled with stars, dots and crosses in blue and brown and upholstered a round reading nook with light blue cushions.
A double-decker bed with a slide at the side was installed, where the girl can sleep either on the upper or lower level. Two full-height wardrobes double up as a walk-in closet and the room's balcony is lined with artificial grass with a pair of rabbit chairs for her to play with friends – all under adult supervision, of course.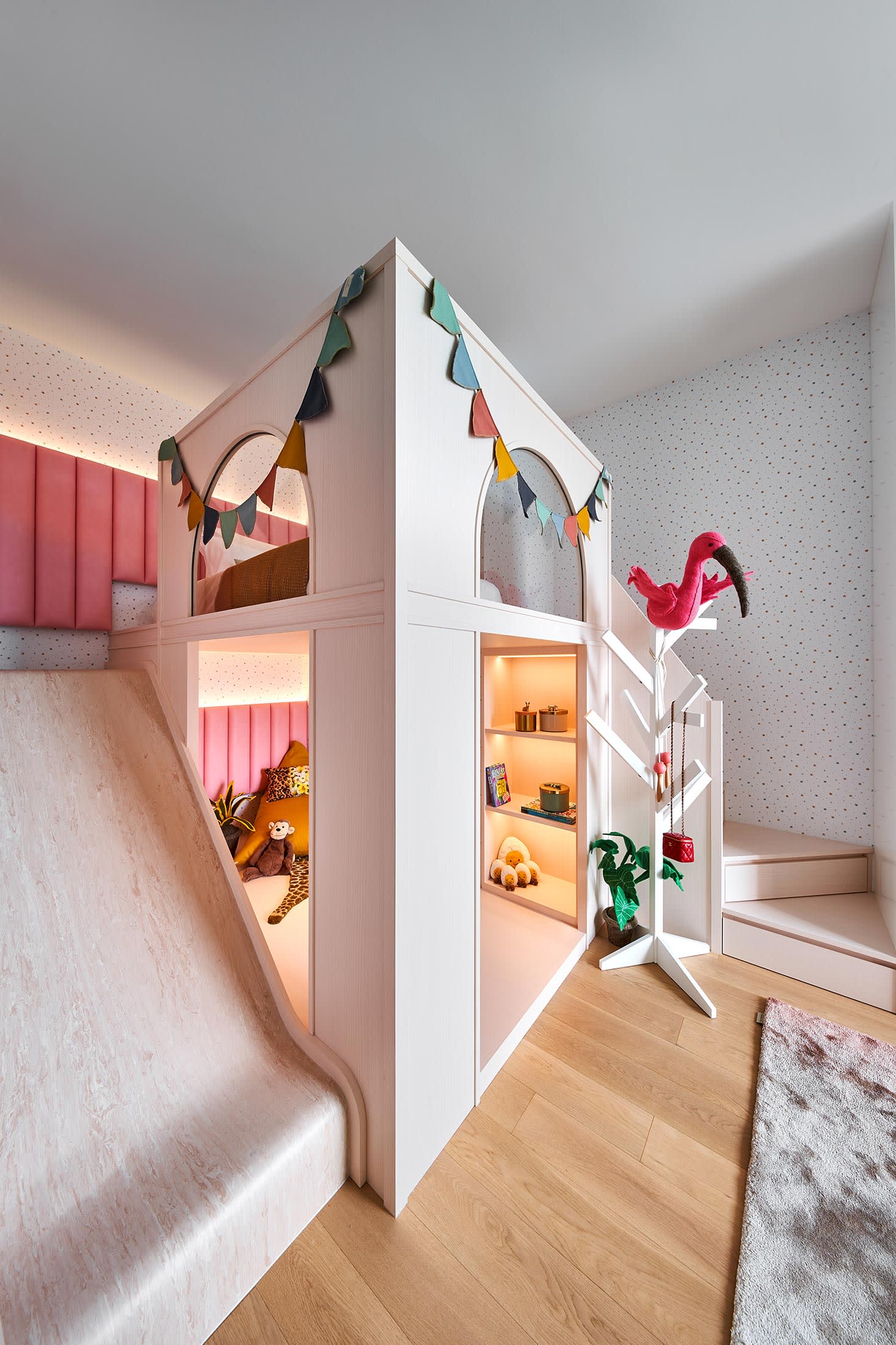 In her bathroom, Hermes' In-The-Loop To Go Pouch became the inspiration behind a red-blue-pink colour block, with terrazzo tile flooring and a quirky set of round and quadrant mirrors completing the timeless look. "The mirrors act as a backdrop for a pair of bubble pendant lights that conjure up the image of shampoo foam and a sense of fun and playfulness during shower," Tay elaborated.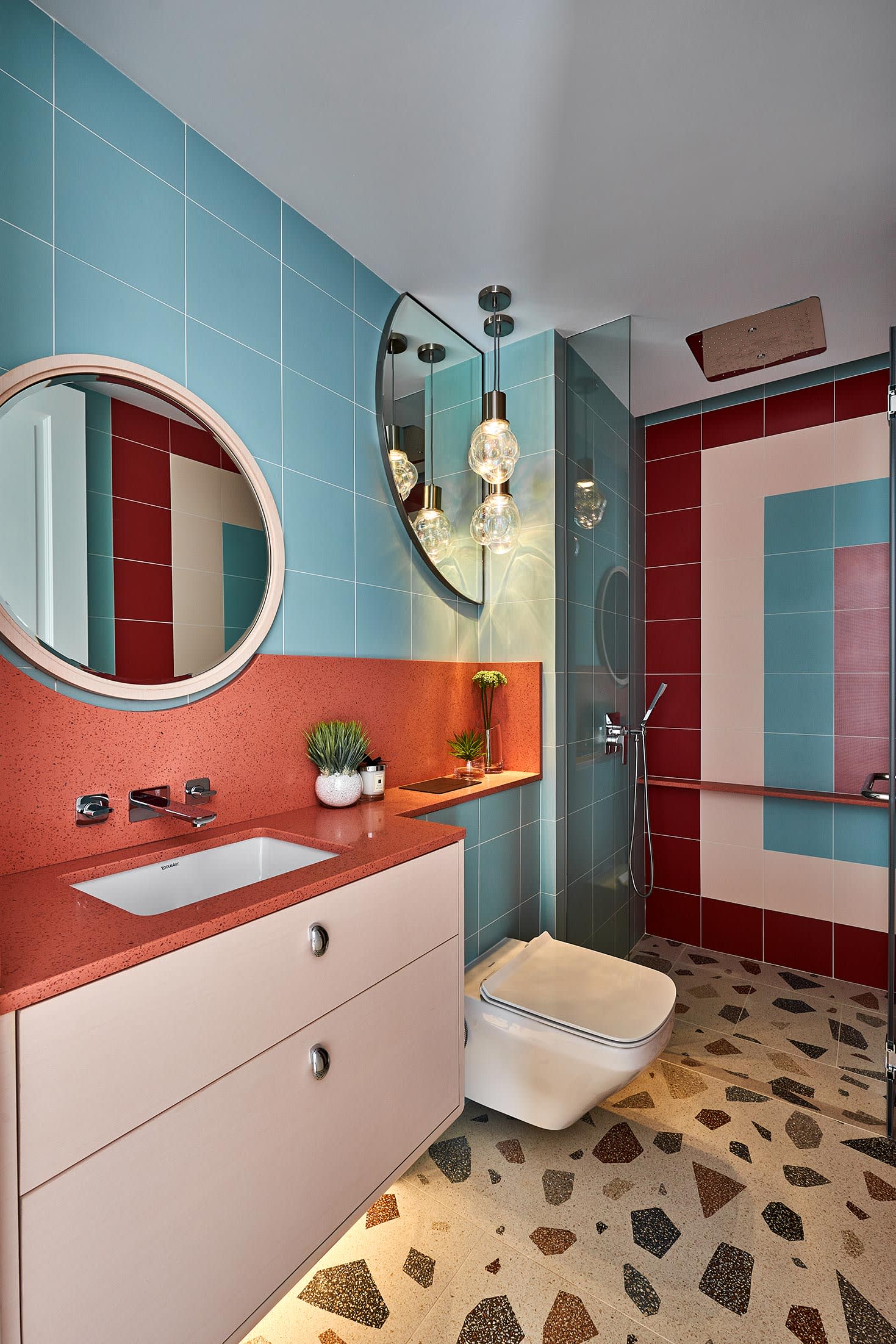 The owners were pleased with the harmonious blending of colours, patterns and textures throughout the house. They said: "Everything and everywhere is interesting, we love it very much. Even our daughter prefers to stay home than to go for a staycation!"