Buying or selling property in 2022? 4 trends to look out for
After a stellar year in real estate, what will drive the property market in 2022? We speak to property analysts to find out.
It is said that the property market is not immune to major cyclical changes, but amid a pandemic, 2021 proved to a record-breaking year for Singapore as homeowners and investors drove a buying frenzy.
For much of the year, eyewatering property sales dominated headlines as high-net-worth individuals (HNWIs) snapped up lavish homes. Take for example the record-breaking sales of Good Class Bungalows (GCBs), led by a new generation of tech tycoons in the country. 
By the end of the year, for the first time since 2018, spikes in housing prices prompted the introduction of a new set of cooling measures, which kicked into place on Dec 16.
For those undeterred by the measures, what will drive the search for property in 2022? As Singapore moves into an endemic stage, will needs and preferences change? Read on to find out what property analysts have to say.
1. LESS DEMAND FOR PENTHOUSES AND GCBs
The demand for GCBs witnessed a boom in 2021, courtesy of a buying spate by some of Singapore's most successful tech CEOs. At the same time, penthouses also gained traction with property buyers, fetching eye-watering prices.
But in 2022, this demand will likely slow down. "The latest cooling measures are likely to moderate demand in the entire private residential market, including GCBs and penthouses. We can expect the volume of transactions of these properties to drop in the short term. If sellers are not under pressure, they may maintain their asking prices or withdraw the property from the market. On the other hand, buyers may not be bullish like in 2021, so their offers are likely to be cautious, which may not meet the price expectations of sellers," said Ong Teck Hui, senior director, research and consultancy at JLL Singapore.
2. SPACE STILL A PRIORITY
As work from home and home-based learning became the default for most of the year, this fuelled demand for bigger, larger houses in 2021. Even though more Singaporeans are now allowed to return to the office as the country adopts an endemic approach to the pandemic, looking towards 2022, property analysts expect this trend to continue.
"As more Singaporeans get accustomed to working remotely or ease into a hybrid work model, the demand for larger homes is likely to stay," said Dr Tan Tee Khoon, country manager at PropertyGuru Singapore.
"With the pandemic, it has brought about an abrupt shift in the way people live and work. We foresee that working from home will continue to be a norm moving forward and that more buyers who seek new homes will look for ones that can accommodate a home office or study room. As such, homes that are spacious will continue to be well sought-after moving forward," said Ismail Gafoor, CEO of Propnex Realty.
3. TOWARDS THE SUBURBS
With more Singaporeans getting accustomed to remote work or adopting a hybrid work model, PropertyGuru's Dr Tan expects a softening of demand in properties in the Core Central Region (CCR). Instead, there will be higher demand for properties in the Rest of Central Region (RCR) and Outside Central Region (OCR). This is exemplified in data published in the PropertyGuru Singapore Market Index (PMI) Q4 2021.
"District 17 (Changi Airport, Changi Village) and 27 (Sembawang, Yishun) in the OCR, for example, recorded a 10.40 per cent and 10.23 per cent quarter-on-quarter growth to S$1,718.10 psf and S$1252.61 psf in Q3 2021, respectively," he said.
4. MORE ECO-FRIENDLY PROPERTIES
A silver lining to the pandemic was the increasing awareness in the importance of sustainable living. With this, new launches throughout 2021 showcased various eco-friendly features in their designs.
One of the year's launches, Jervois Mansion, featured apartment units shrouded in veranda-like sky planters. There is also a community urban farm and garden. The development is the first private residential development in Singapore to be granted the BCA Green Mark Gold Plus Super Low Energy Residential Building.
Breaking apart from "green" features, The Reef at King's Dock, also launched this year, is Singapore's first residential property with an underwater marine viewing area, where residents can view and appreciate the marine ecology.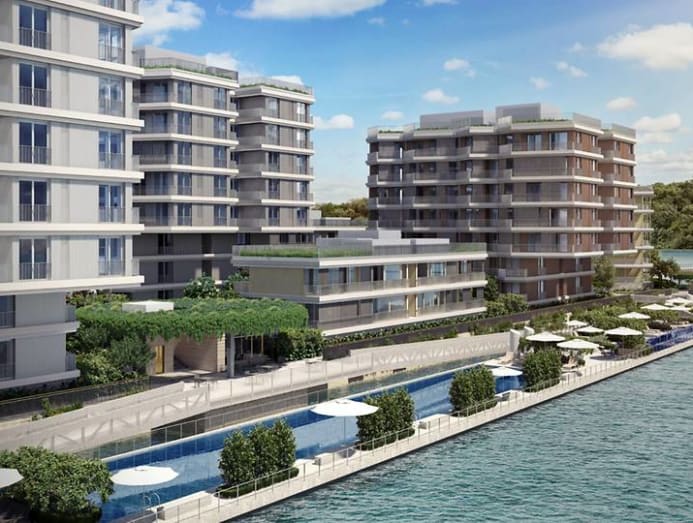 "Eco-friendly developments have and will continue to be a norm moving forward as people grow more environmentally conscious," said Propnex's Gafoor. "In addition, with energy and water prices on the rise and with work from home mode continuing to persist, it has certainly increased the emphasis on having green features in homes such as energy-saving appliances and smart-cooling technology."
PropertyGuru's Dr Tan also echoed similar sentiments. "We anticipate a healthy interest for smart and sustainable living choices in 2022. According to our H2 2021 Consumer Sentiments Survey, 82 per cent of Singaporeans are willing to consider paying more for an environmentally sustainable home, with their top three sustainability features comprising smart cooling systems (65 per cent), high-insulation windows and doors (60 per cent), and solar panels (54 per cent).
The importance of addressing environmental sustainability to combat climate change is picking up pace every year and the growing number of initiatives for green homes, like our government's recent launch of the Singapore Green Plan 2030, makes this more apparent, encouraging more home buyers to go green," Dr Tan said.
In this line, Christine Sun, senior vice president of research and analytics at OrangeTee, believes that "developers may focus on constructing more sustainable buildings to mitigate the impact of climate change and promote green living. There has been a great emphasis on recycling and sustaining an eco-friendly environment through education and awareness among the younger generation."
Developments with such attributes may appeal to certain groups of buyers, especially millennials, Sun added. "Green buildings are increasingly viewed favourably and can even be seen as marks of quality and premium living."
WHICH ARE 2022'S ANTICIPATED LAUNCHES TO LOOK OUT FOR?
There will be a few notable launches to keep an eye out for in 2022. These include Belgravia Ace by Fairview Developments, a freehold strata-landed project situated in the Seletar Hills landed estate. The development, located along Belgravia Drive in District 28, features a total of 104 semi-detached units and three terrace units as well as shared facilities such as a swimming pool and clubhouse. Previews for Belgravia Ace begin on Jan 8, with the official launch slated for Jan 22.
"The strata-landed homes will appeal to those who wish to live in a landed community while enjoying the facilities and nearby amenities that the project has to offer," commented Propnex's Gafoor.
Also expected to launch in H1 2022 is a 99-year leasehold integrated development by MCC Land located next to Tanah Merah MRT station, with commercial units on the ground floor and an estimated 265 residential units. "This project will be a hit amongst Singaporeans, especially HDB upgraders, who enjoy the convenience of living in an integrated development that comes with direct access to the MRT station," said Gafoor.
Other residential projects that may draw buyers' interest include Bukit Sembawang's Liv @ MB at Arthur Road and the Pollen Collection, which is the third phase of landed houses to be launched at Nim Road, said OrangeTee's Sun.
Liv @ MB is a redevelopment of the former Katong Park Towers. The 99-year leasehold apartment sits on Arthur Road in the prime District 15. Meanwhile, Pollen Collection, located in District 28 at Nim Road and Ang Mo Kio Ave 5, comprises 132 landed homes, including 106 inter terraces, 22 corner terraces and four semi-detached units.
IOI Properties' Marina View project, a mega development with some 905 residential units is also expected to attract buyers if launched next year, courtesy of its CBD location in Marina Bay, said JLL's Ong. "It will also be the first residential project launch in the Marina Bay area since 2014 when Marina One Residences was placed on the market," JLL's Ong added.