This 'vertical forest' will be Southeast Asia's tallest green residential building
Vietnam's 156-metre high Solforest Ecopark development stretches across two towers, where residents can enjoy greenery all year round.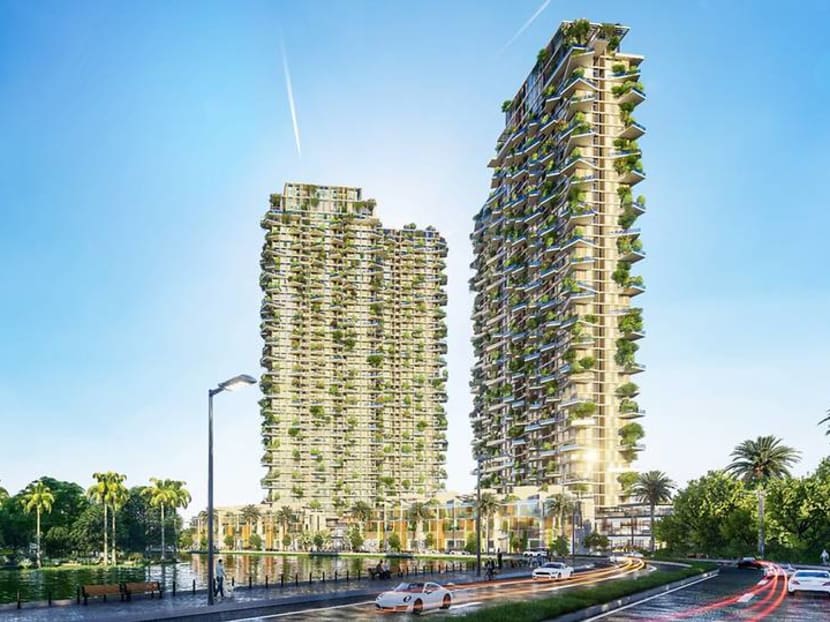 In the midst of a pandemic, the world found solace in the confined spaces of our homes. With this came a realisation that green spaces are essential for physical and mental wellbeing, leading to a botanic boom in architecture and building design.
In Vietnam, the Solforest Ecopark luxury development is set to become Southeast Asia's tallest "vertical forest" residential building when completed in 2022. Four hundred vertical gardens have been incorporated into the facade of the development, specially engineered to withstand the changing climate of northern Vietnam. 
Located on the outskirts of Hanoi, Ecopark is the largest ecological urban township in northern Vietnam. It will feature a complex of high-end villas and apartment buildings built into green space, including the 41-storey, 156-metre high Solforest Ecopark.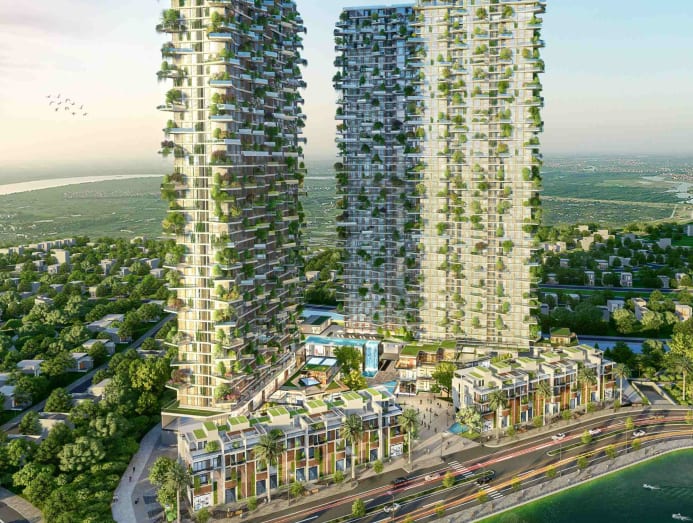 Solforest Ecopark features two towers with a spectacular view of the 54-hectare island bay of Ecopark and the Red River, the largest river in northern Vietnam. The development was designed by renowned Dubai architectural firm Dewan Architects + Engineers, which also designed the five-star Yas Viceroy hotel in Abu Dhabi.
"Ecopark Corporation requested us to develop two towers that will become sustainable design symbols in Vietnam, and rival top green architecture around the world. It is the most challenging task given to us yet," said a Dewan representative.
To ensure that Solforest is on the cutting edge of green architecture, Dewan deployed researchers to collect data on solar radiation, wind intensity, seasonal temperatures and UV radiation variations in the area, and a team of 500 tree engineers and greenery experts to devise revolutionary eco-friendly solutions. 

Some of the key features include a 10-metre wide balcony and an automatic watering system installed, which operates on an hourly basis for each type of tree and direction of each apartment. The drainage system is designed exclusively for the planted balconies.
The building will feature 1,194 residential units spanning over the two towers, including eight penthouses. The penthouses each feature 1,000 sqm of garden space as well as a private swimming pool.
The development will also include a resort square, a pedestrian street lined with parks, lakes and lush foliage, and a saltwater swimming pool with a waterfall. Here, residents can enjoy a breathtaking view of the Ecopark township.
The stunning natural landscape of the Ecopark township incorporates more than one million trees, meaning the ratio of trees to residents is roughly 120 per capita. This lush forest not only makes for beautiful scenery, but also helps naturally purify the air throughout the complex.

Residents of Solforest will also have access to a bespoke fitness centre, spa, shopping centre, concierge services, lounges and other exclusive services.