Highlights from the spring/summer menswear 2024 shows
It was a sharp return to form and function on the runways of the spring/summer 2024 menswear collections.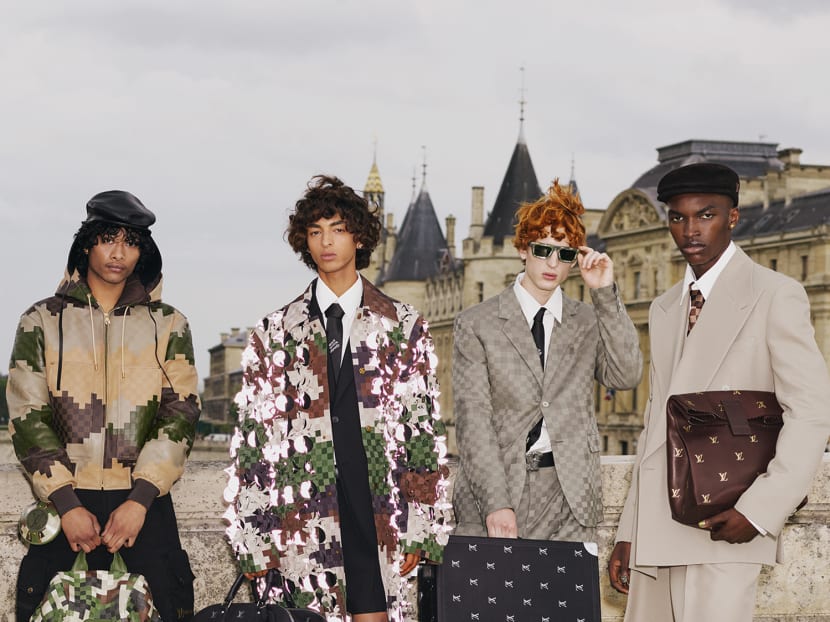 The just-concluded spring/summer 2024 presentations seemed particularly robust and positive, a clear return to fine fashion form after many wobbly seasons where brands fumbled to find their way after the pandemic. A great confidence was evident in the traditional in-person catwalk presentations prevailing after seasons of static showroom "installations" and bombastic "filmed experiences".
The palpable excitement of seeing old-school theatre, human in scale (instead of the epic in front of the Pyramids, or apocalyptic sandstorm spectacles) feel relevant and touchingly real. Case in point would be the Homme Plisse Issey Miyake show – bales of rice paper were unrolled with solemn ceremony, the soul of tender, flat archetypal garments were unfolded, then ritually shaken alive and took form on pure-bodied models, who were dressed on the runway. In all its stripped-down ceremony that the Japanese really know how to do, the moment felt like the rebirth of fashion. 
BACK TO BASICS
Due to the prevalence of social media, fashion in the last decades has evolved to become noisily novel and varied, driven by the requirements of algorithm. You could say that these were Instagram-designed fashions because they reflected social media standards and technological changes. But this season was different. Clothes were revised to focus on their true human function, and shorn off extraneous gewgaws, logos and double purses, they looked fresh again, and good as old, as lyrical as a child's first song.
Homme Plisse Issey Miyake
In just 36 looks, the clean, shapely and unadorned wardrobe of modern basics was a convincing case for clothes that serve its purpose in delicious water colour palette. You suddenly think you need tunics and pajama pants in cherry blossom pink and cucumber; you need sliding sleeveless tops and hoodie blousons and effortless pantsuits in temple red, carnation and wisteria purple; you need shirts with stained window squares, as inevitable and as eternal as origami folded in a Shinto shrine one fine summer day.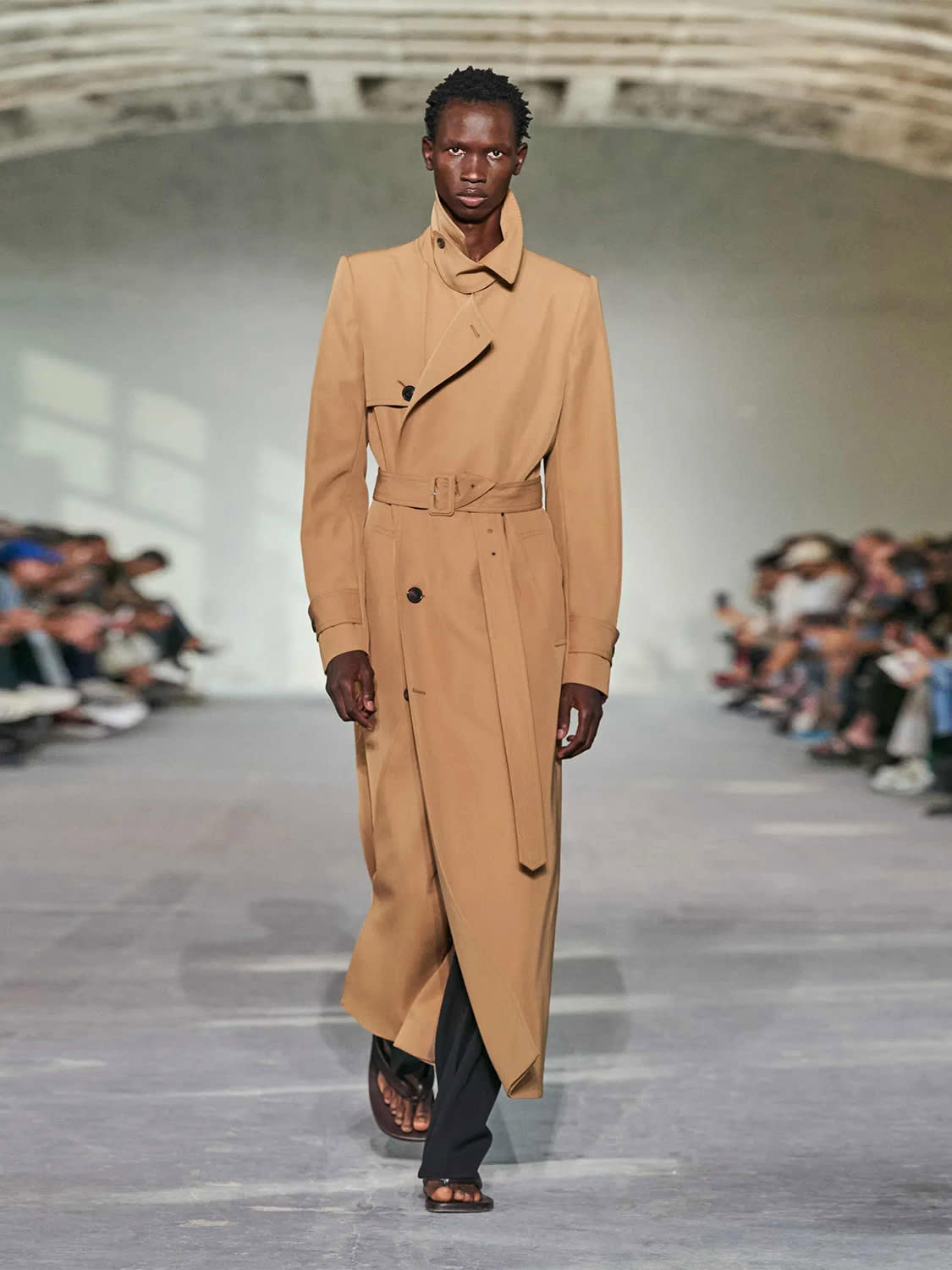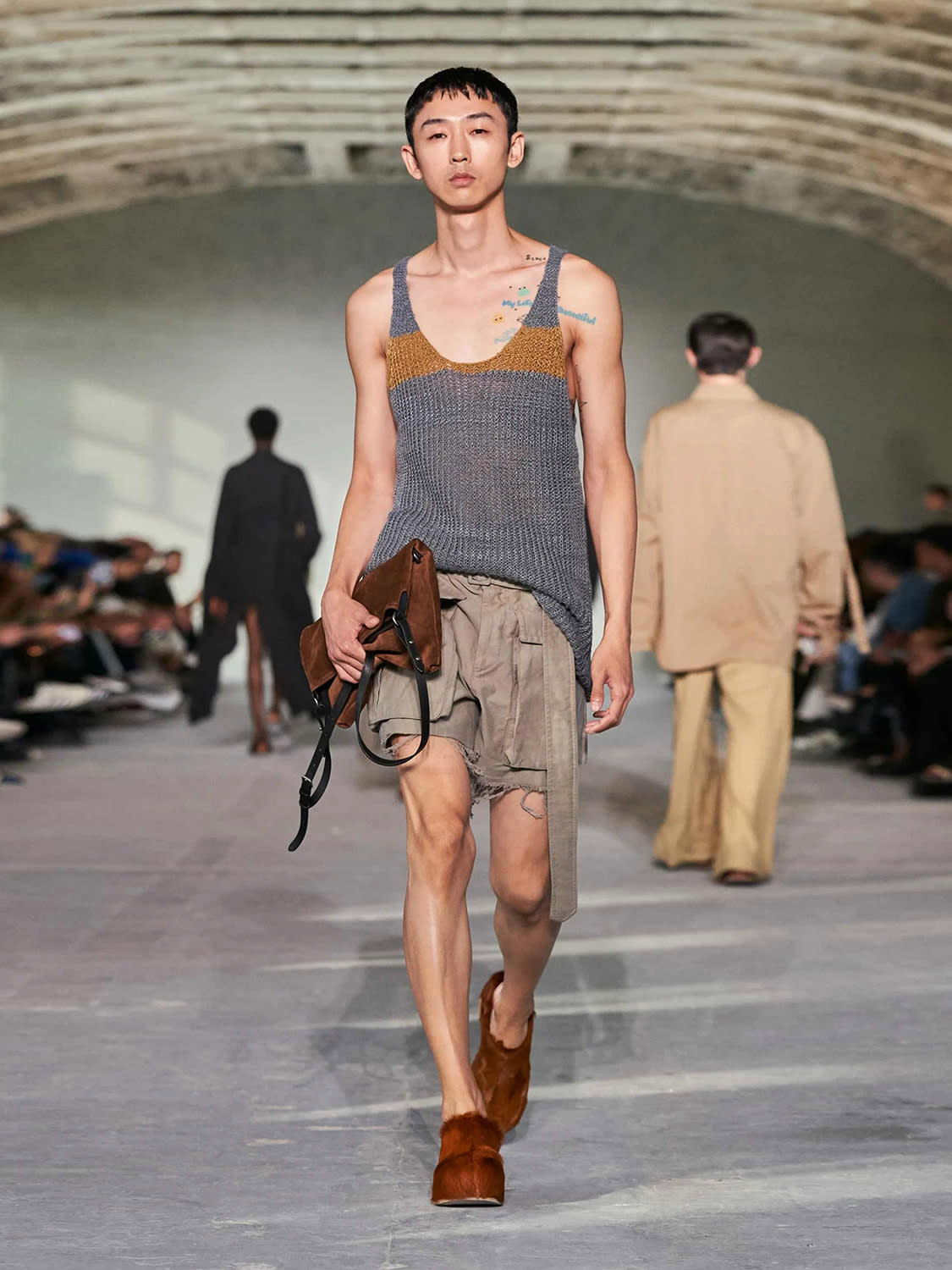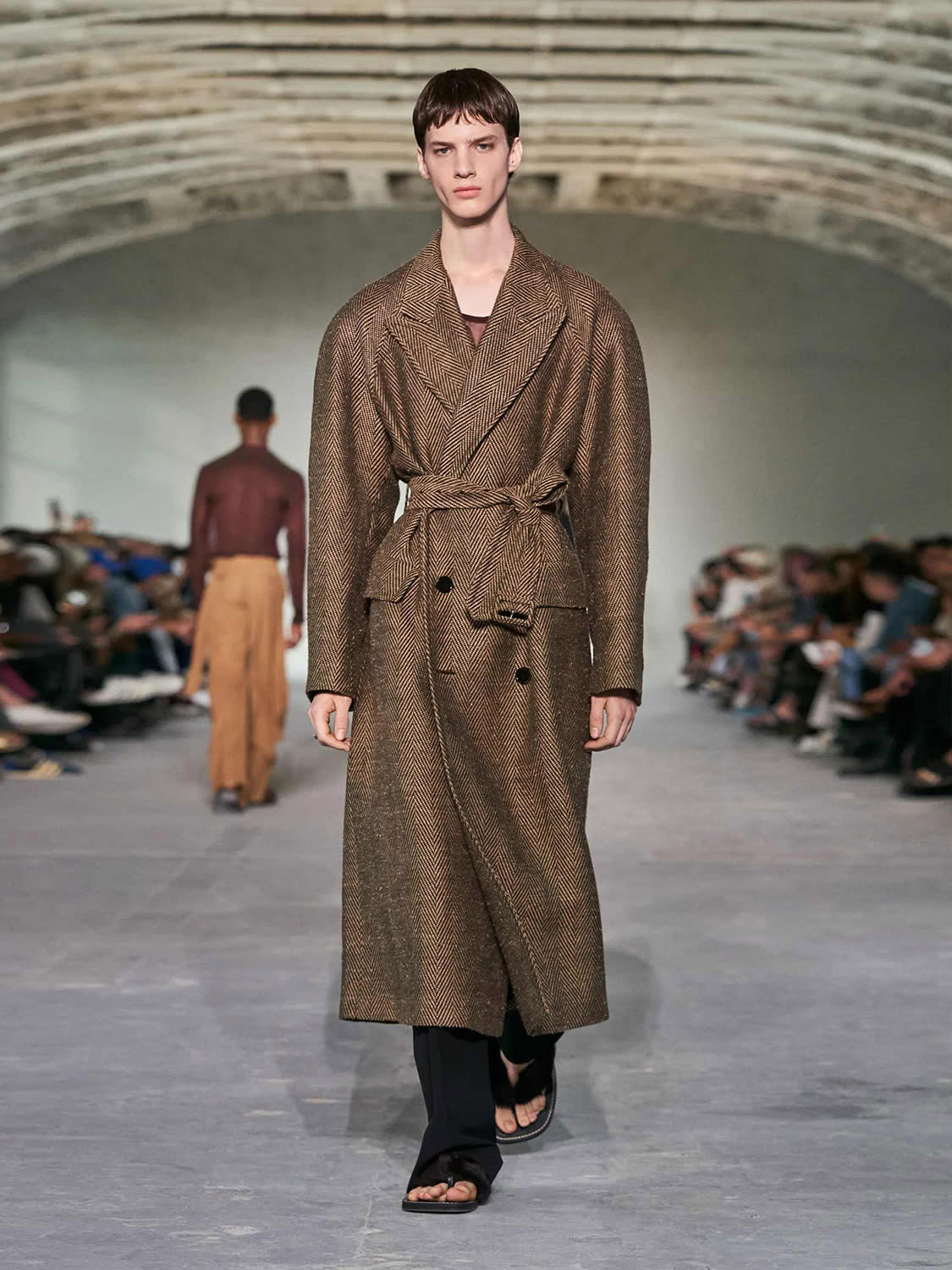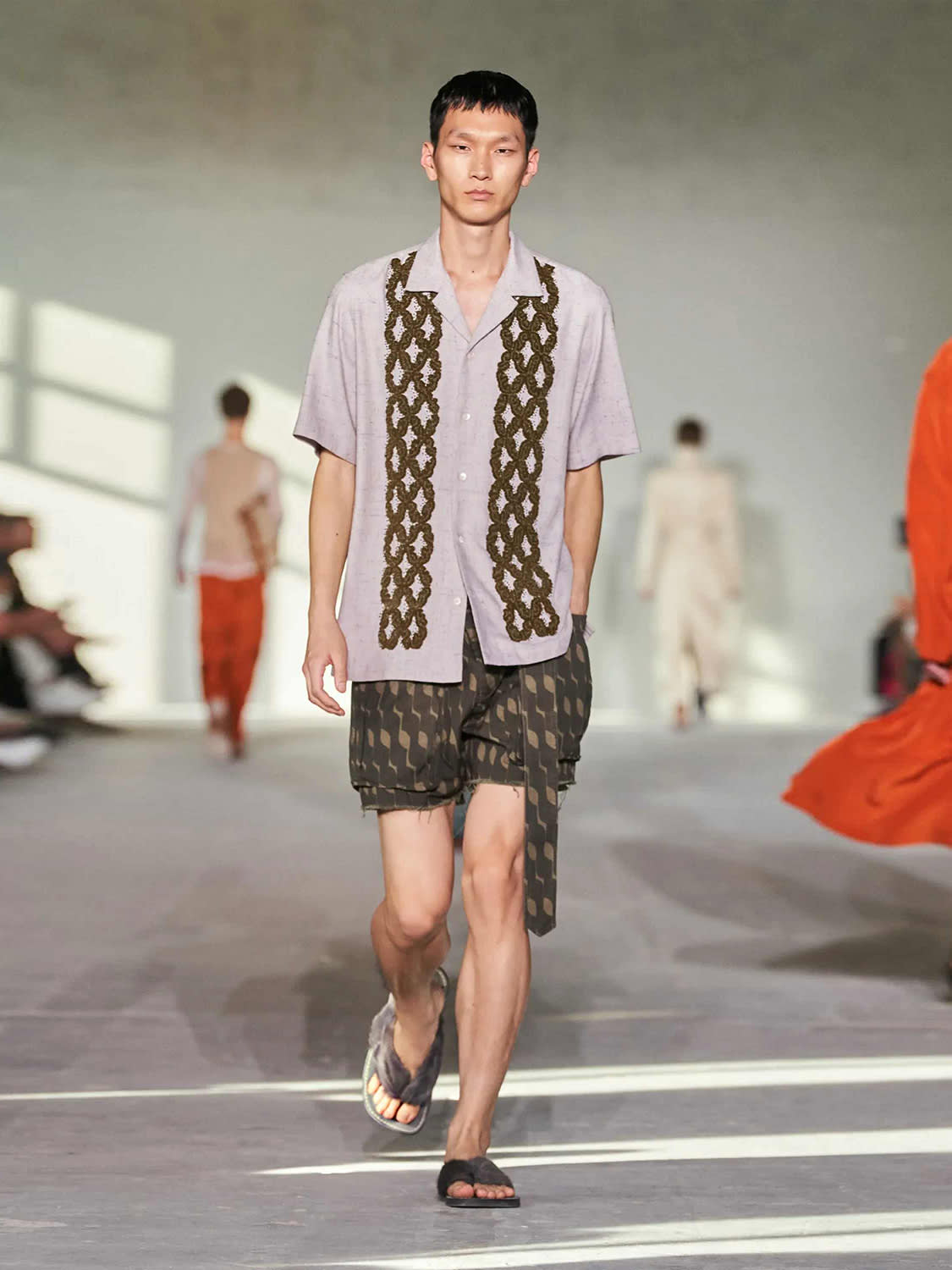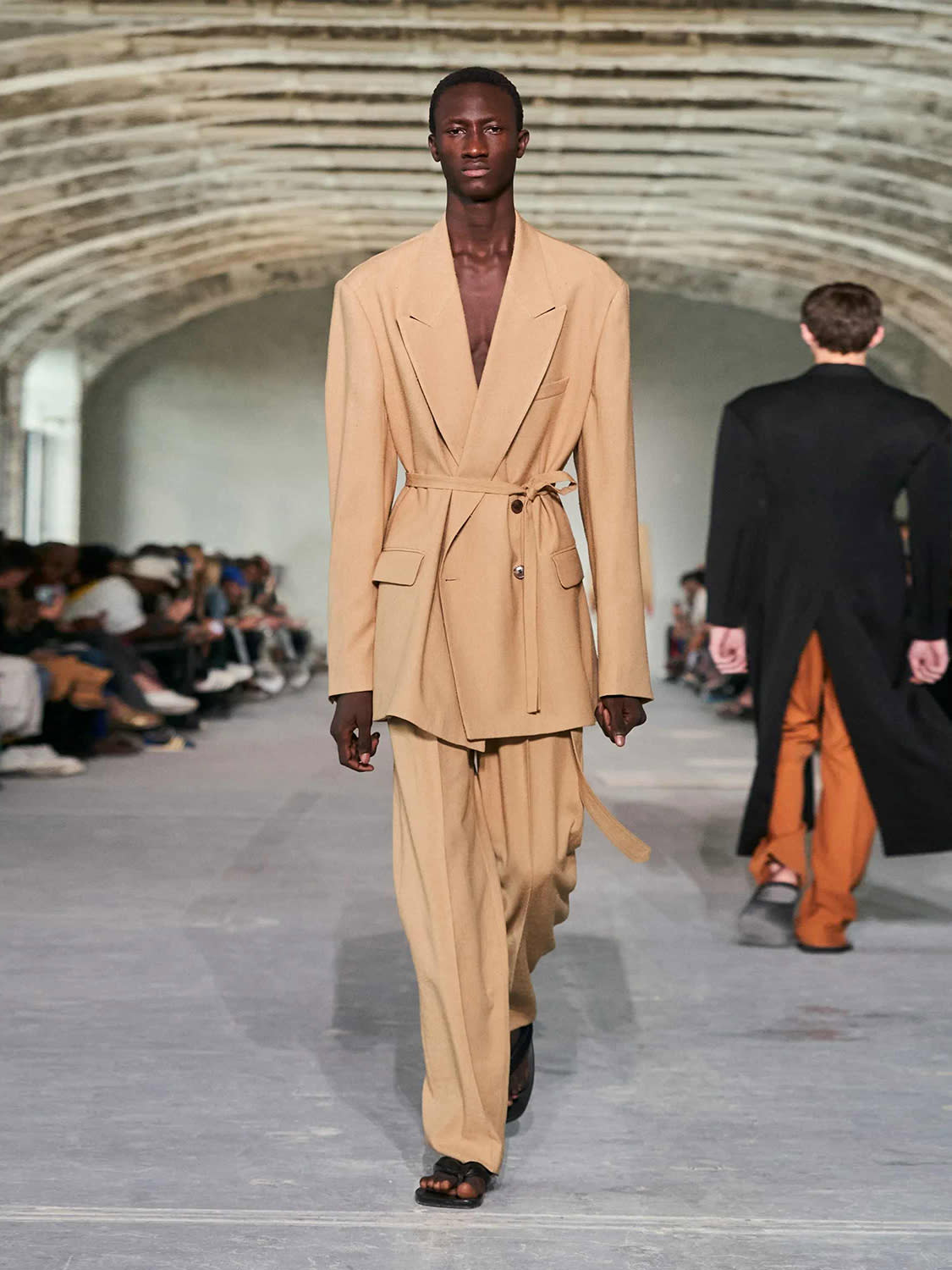 This collection was literally down-to-earth, in its earthy, sensual colours and textures as well as its elemental shapes. Though tweaked for contemporary times, the designs eschewed the hyperboles of recent fashion to become the functional basics that were at once rational, sensual, intellectual and romantic. Outstanding trench coats had the fluid sensuality of bathrobes and dressing gowns; suits and shorts had the graceful billow of wind caught in sails; silken batik-print items packed the wet tropical heat of a Somerset Maugham tragedy; a quite-plain midnight shirt sparkled like a starry, starry night.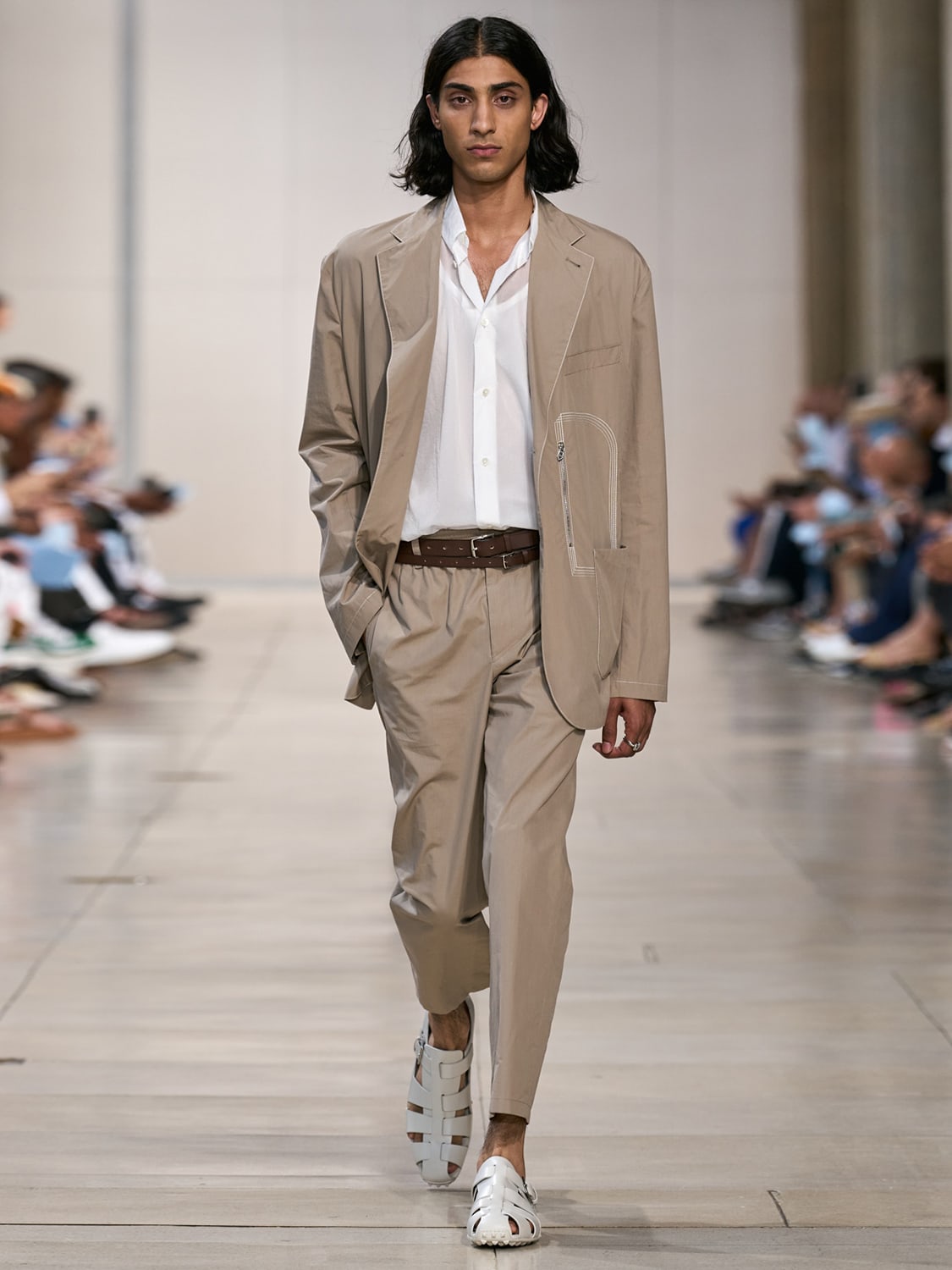 There's something to be said for consistency. Hermes menswear, designed by Veronique Nichanian for 34 years, is a paragon of what good menswear should be. Never ostentatiously "fashion", yet never dumbed-down; always cerebral but never not sensual, this season is more than ever the apogee of sophisticated, beautiful and desirable fashion. The dental paste shirts have the tenderness of baby booties; wide, pleated pants look so refined you imagine they carry Hemingway books in their pockets; gauzy, sheeny, sheer camp shirts and leisure suits have a patina of antique glass.
HOUSE CODES REAFFIRMED
In all the melee that was post-pandemic fashion, many fashion houses seemed to have lost confidence and direction, scrambling after every micro-trend, micro-influencer, and micro bag out there. But this season saw them reaffirming the parameters of who they are and what they were about. Thankfully, this didn't mean more logos, but less. It meant more consideration of what the brand's values fundamentally are, and a rethink of how sticking to its original DNA is the best strategy for differentiating from the gazillion labels out there, and to carve its own unique identity in sharp redefinition.
Prada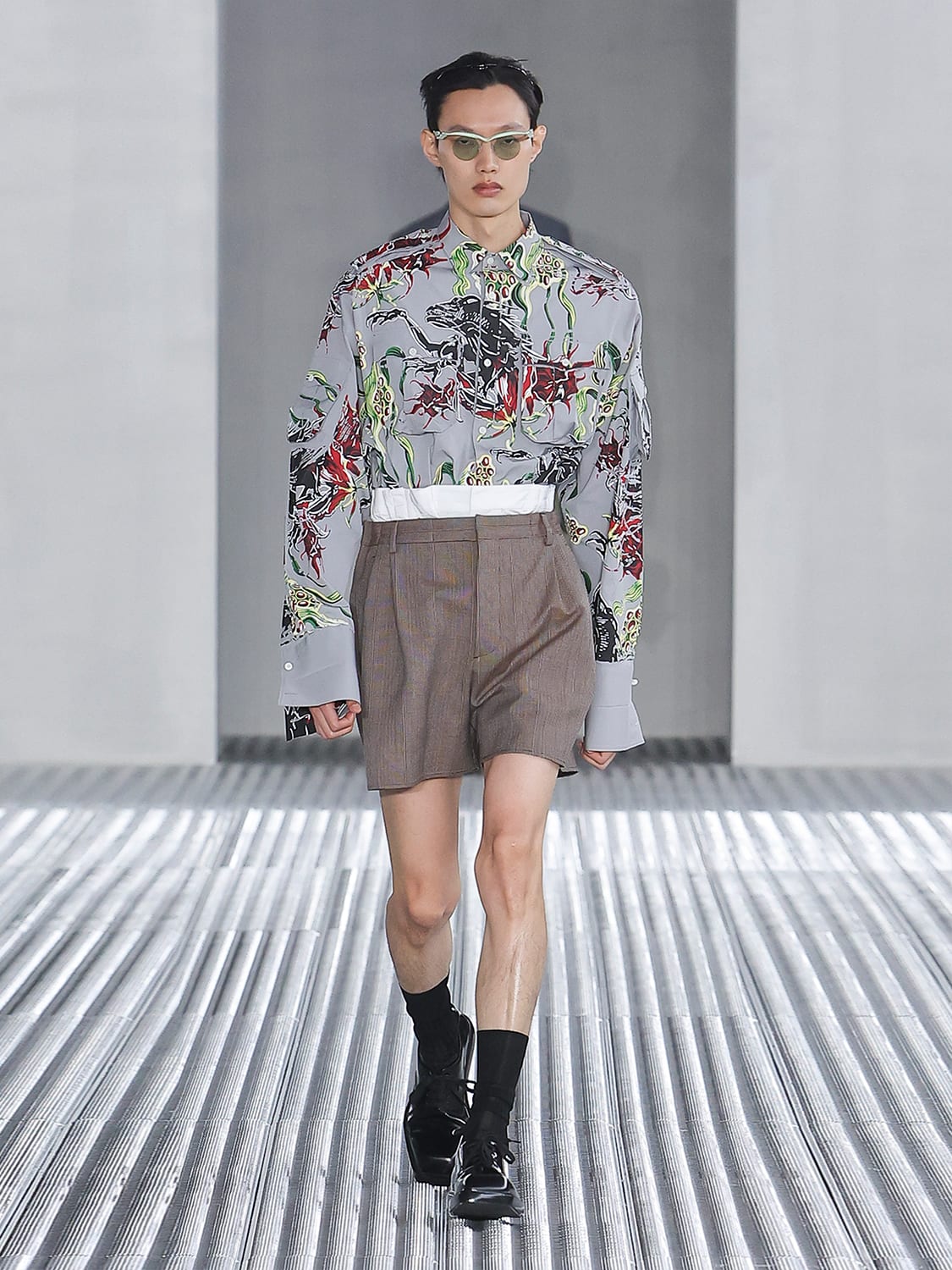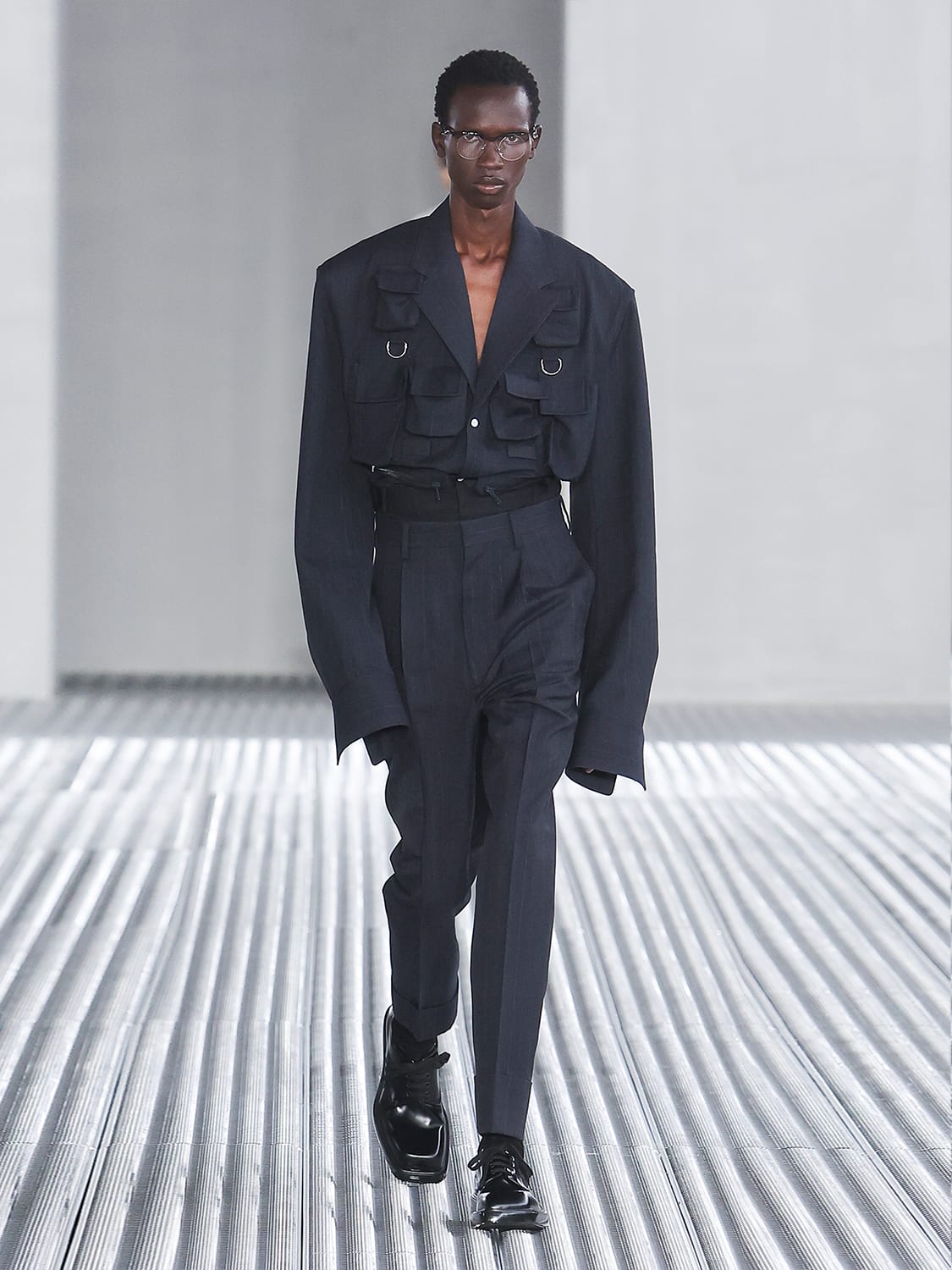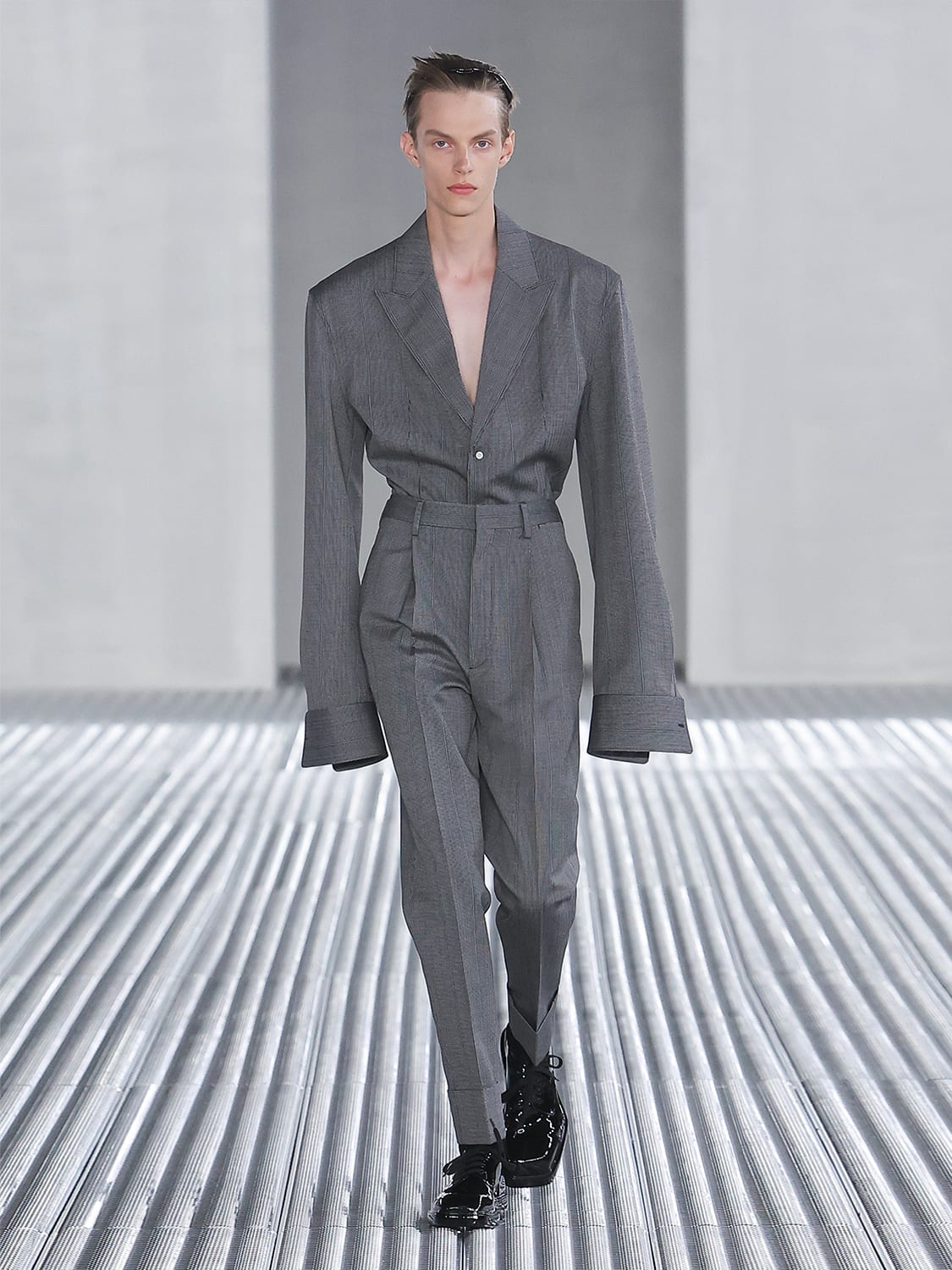 At times, the partnership of Miuccia Prada and Raf Simons co-designing had seemed uneasy or at odds with what the brand stood for but this season saw the duo in comfortable congruence. The Prada signature of making uniforms appealing was the starting point, shown as a monochromatic, tailored silhouette with an exaggerated shoulder, a high cinched waist, with either shorts or pants. The monochromatic blacks (which recall the ubiquitous black nylon Prada backpacks) and greys were striking for being uncompromisingly un-TikTok friendly, monastic in their severity. Other Prada-isms included the multi-pocket universe of utility wear, and the unlikely appeal of nursery clothes on fully grown males.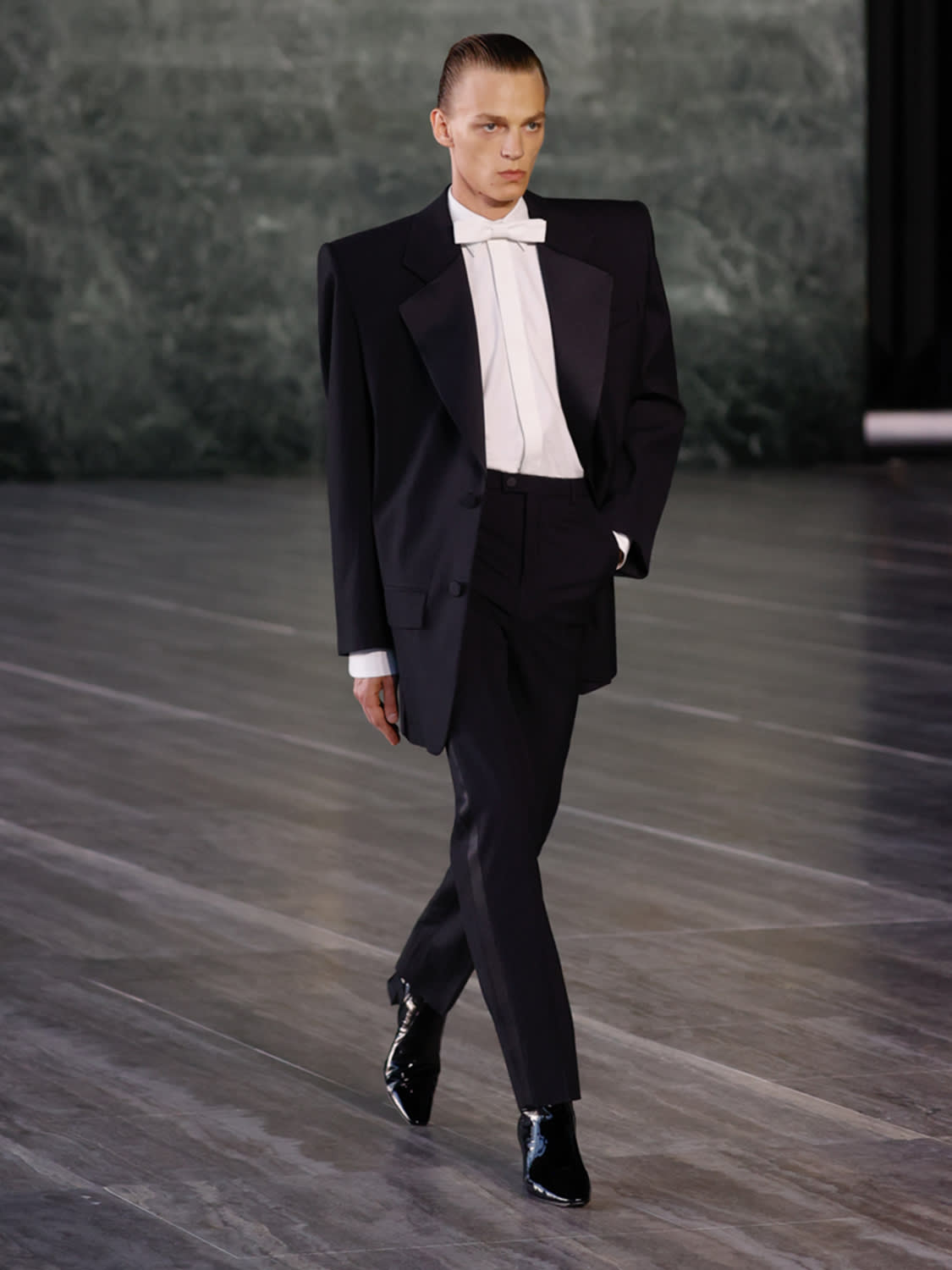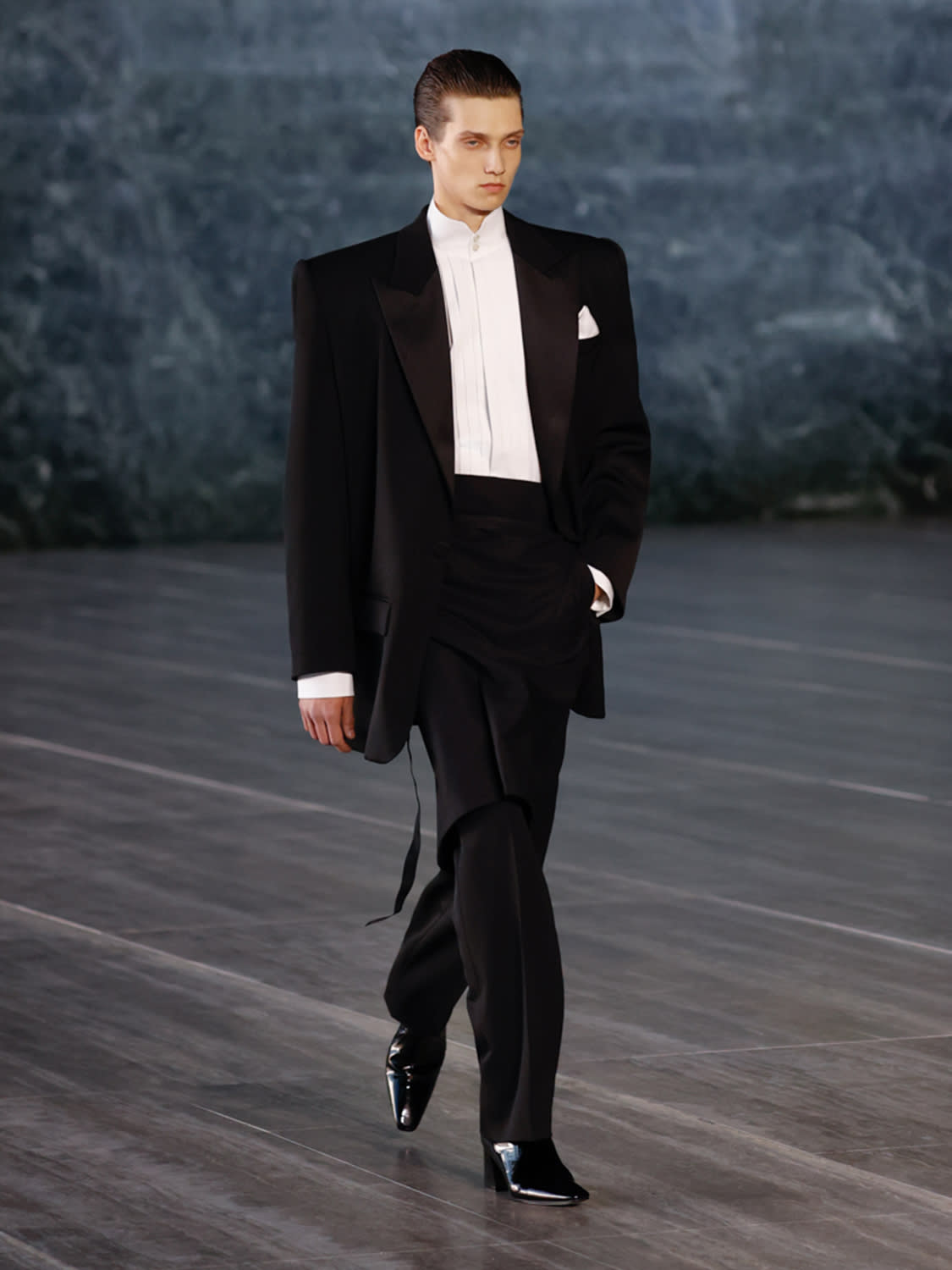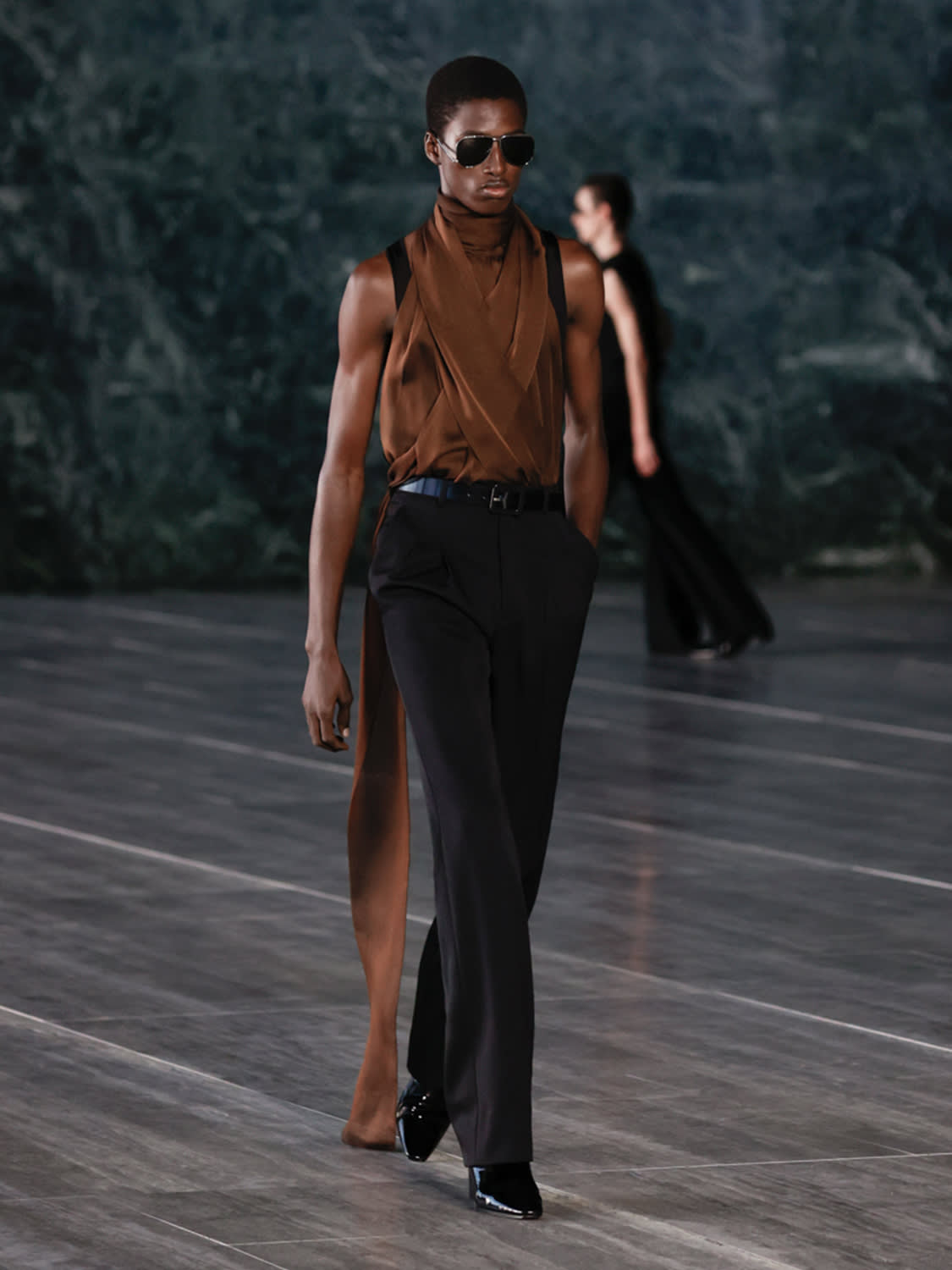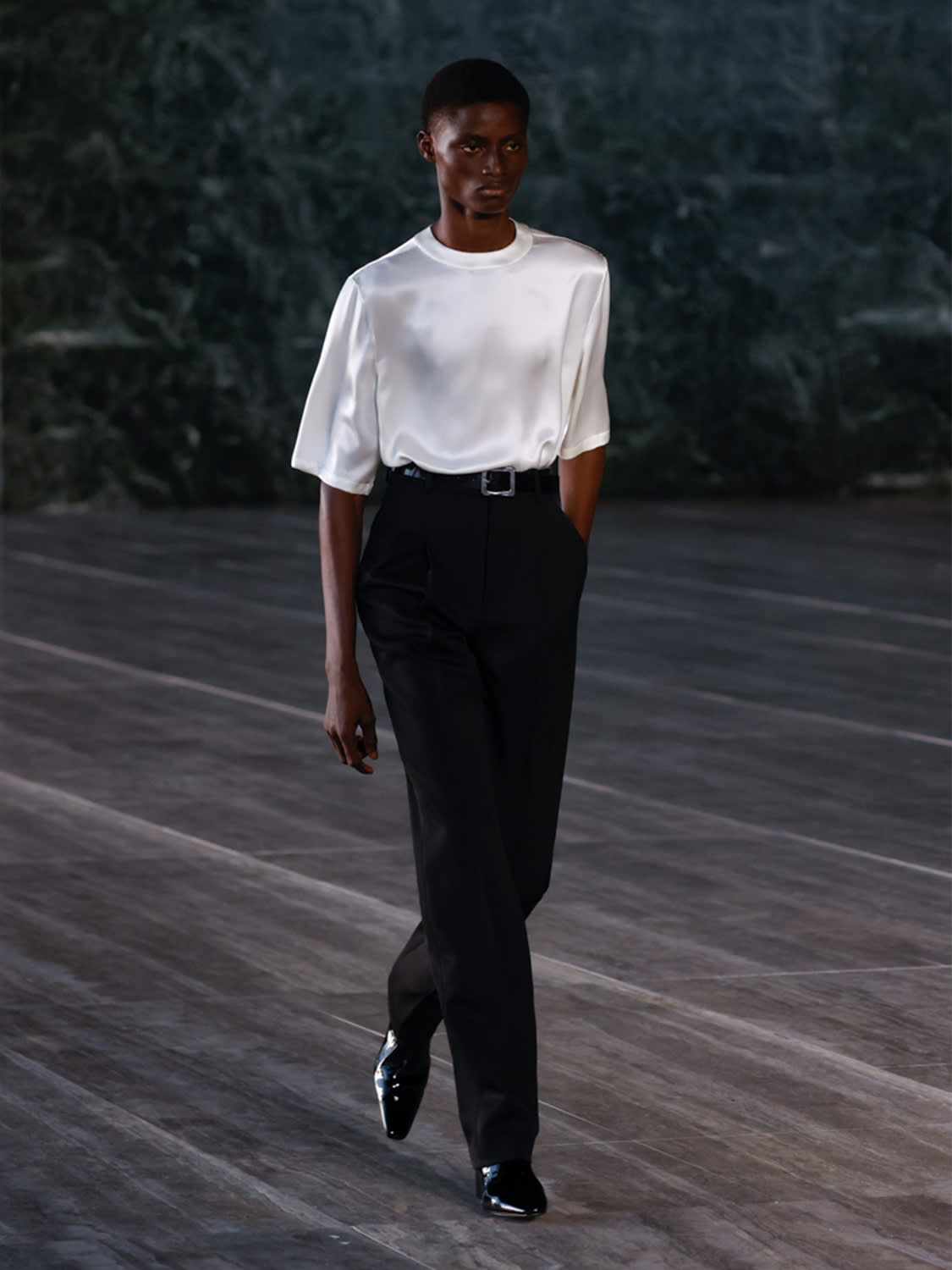 This collection seems to have taken the world by storm, and one couldn't click onto any platform without seeing (justly-deserved) raves of Anthony Vaccarello references of Yves Saint Laurent's legendary couture codes: The sharp Le Smoking tailored suits, the poetic gossamer blouses and toga dresses but recreated for menswear. Because of Vaccarello's impressive, polished execution, this reinterpretation of the house codes, out of context (on men!), looked new again, and particularly relevant in this time of the great gender debate.
FASHION'S HAPPY PILL
The mood this season seemed particularly upbeat and positive, after what seemed like seasons of uncertainty about where fashion was heading in the face of geopolitical, climate and socioeconomic challenges. Tracing the gloom back to the demise of the iconic Karl Lagerfeld (and other fashion legends along the way), the end of fashion publications as we know it, the entire question of the relevance of in-person fashion shows – in fact the relevance of the idea of "fashion" itself ‒ led to a period of fragmentation and false gods. But this season, starting with Pharrell Williams's debut at Louis Vuitton, fashion seems to have taken a collective happy pill, sending out some of its most confident fashion in a while.
Louis Vuitton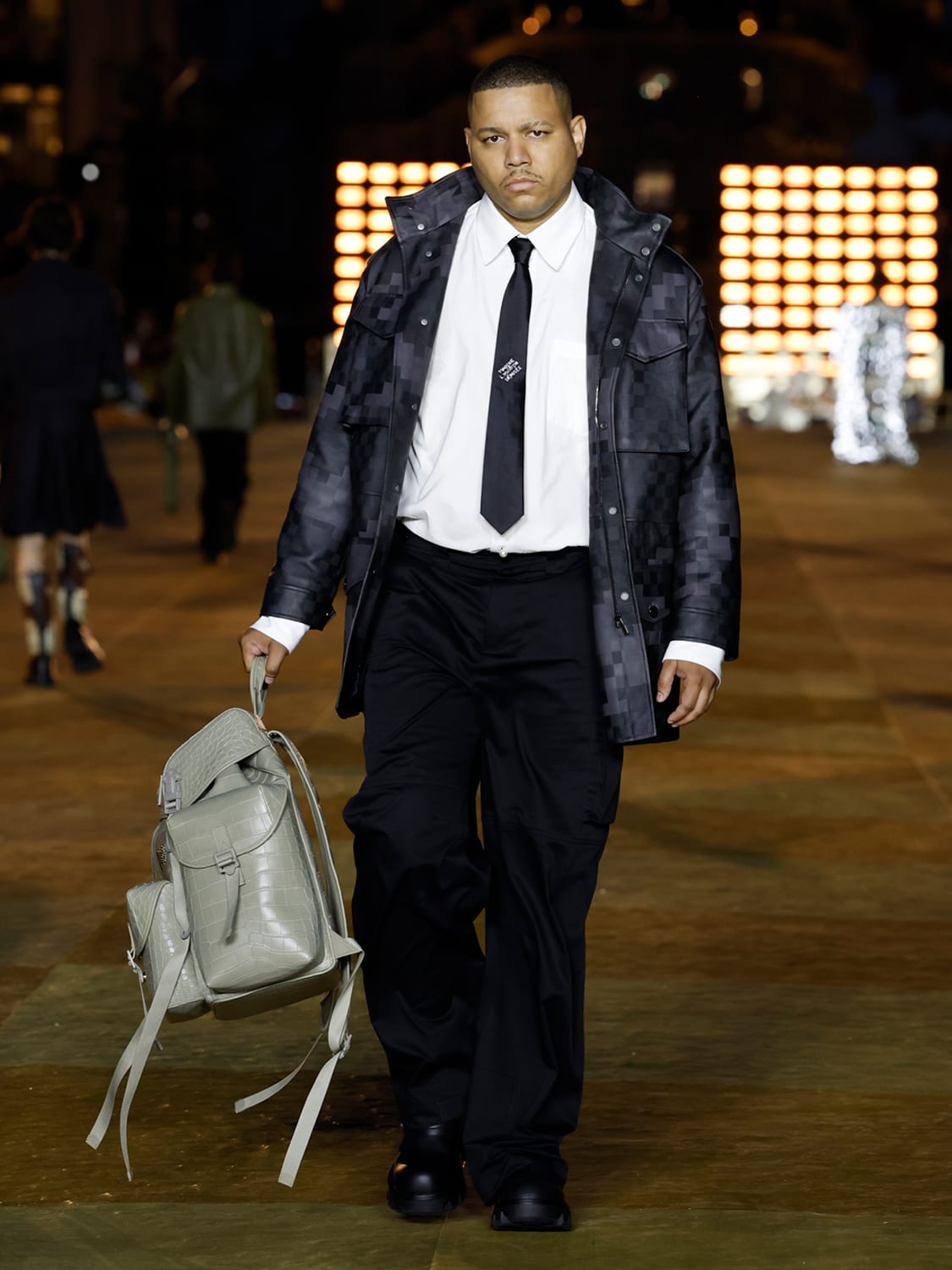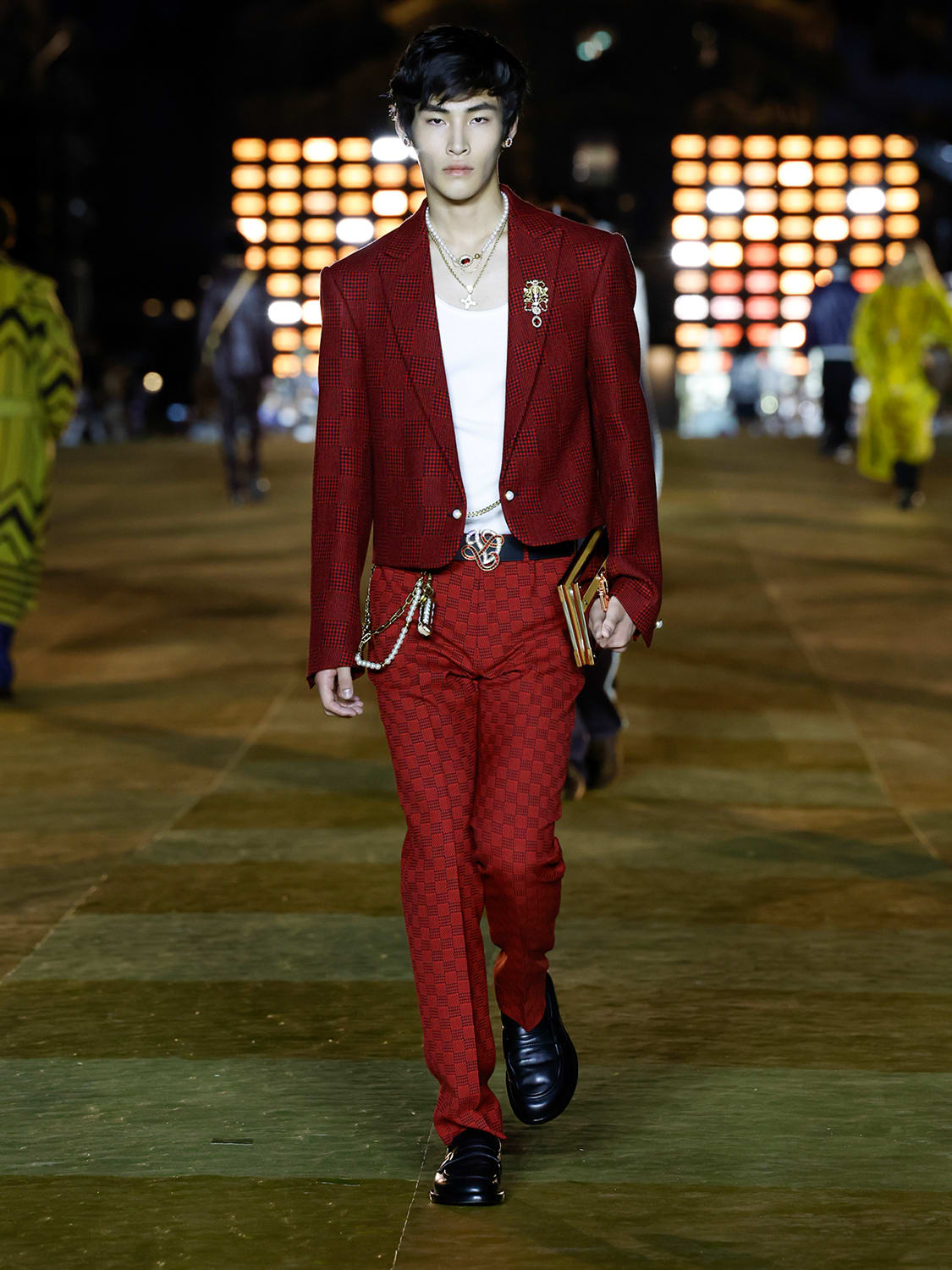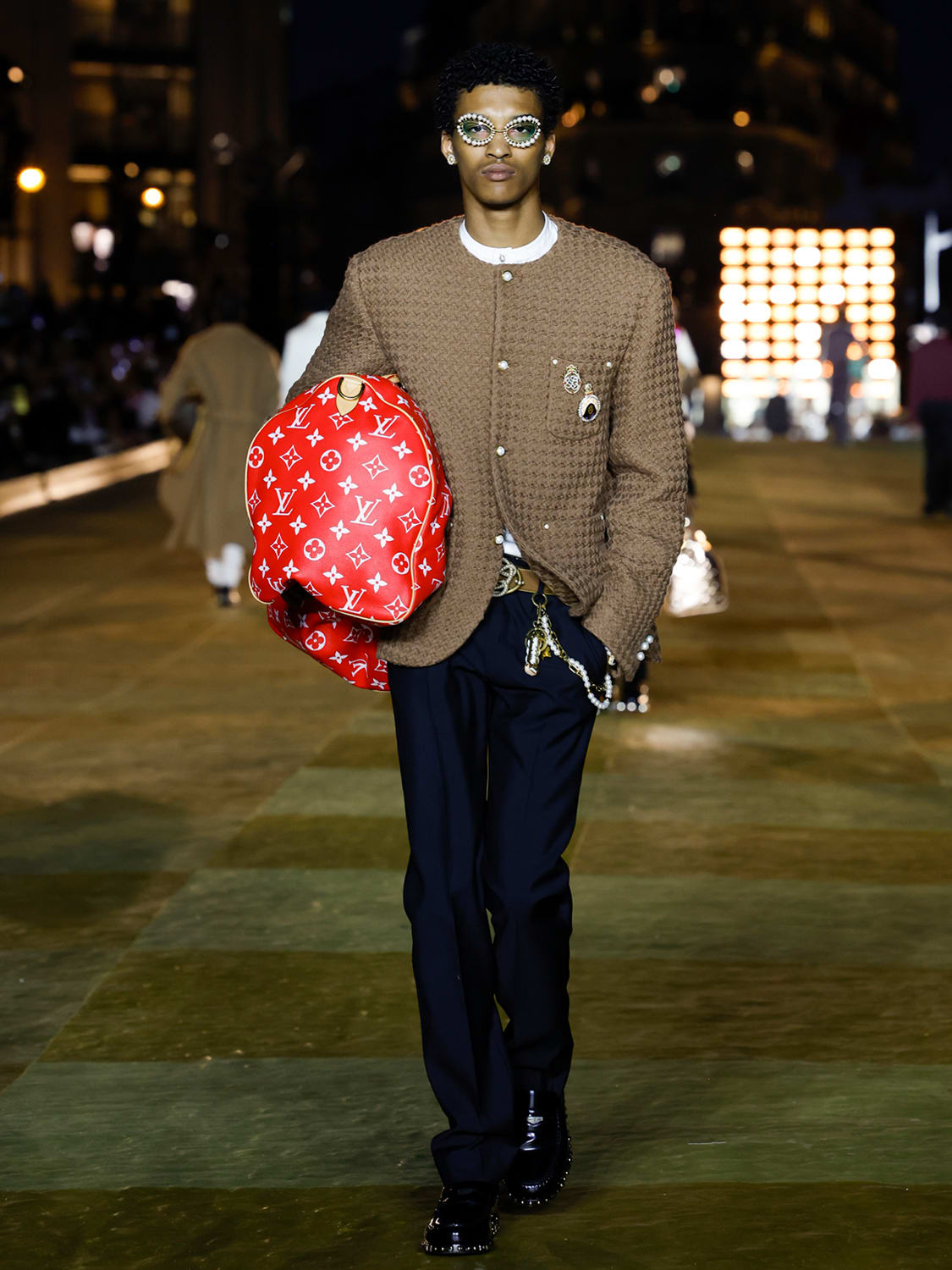 Pharrell Williams's debut show for Louis Vuitton, on a Damier-checkered Pont Neuf would, inevitably, be the event of the spring/summer 2024 menswear season. Paris' oldest bridge groaned with an army of megastars and fans, in what felt like a fashion Superbowl. Freshly appointed as Vuitton's creative director of menswear, Williams presented a collection and a show that combusted across multiple platforms and mediums, with all the blockbuster confidence of a rock star on a world tour. This was the collection that all the Louis Vuitton universe had been building up to for decades – the fashion equivalent of a global megastar. The frankly commercial ensembles and the much-merchable bags were peppy, varied and bright; the collection had pizzazz and spirit and a new camo-print. This was streetwear made robust, full of energy and bounce, not to mention bold new colour-ways for the iconic LV bags. The collection sparked joy, if not design or invention, but it was like falling in love with fashion again, which it should be, instead of the virtue-signaling it had become. It all bore Williams's own indomitable masculine energy, a bolt of fashion testosterone, which we all need at this point.
Loewe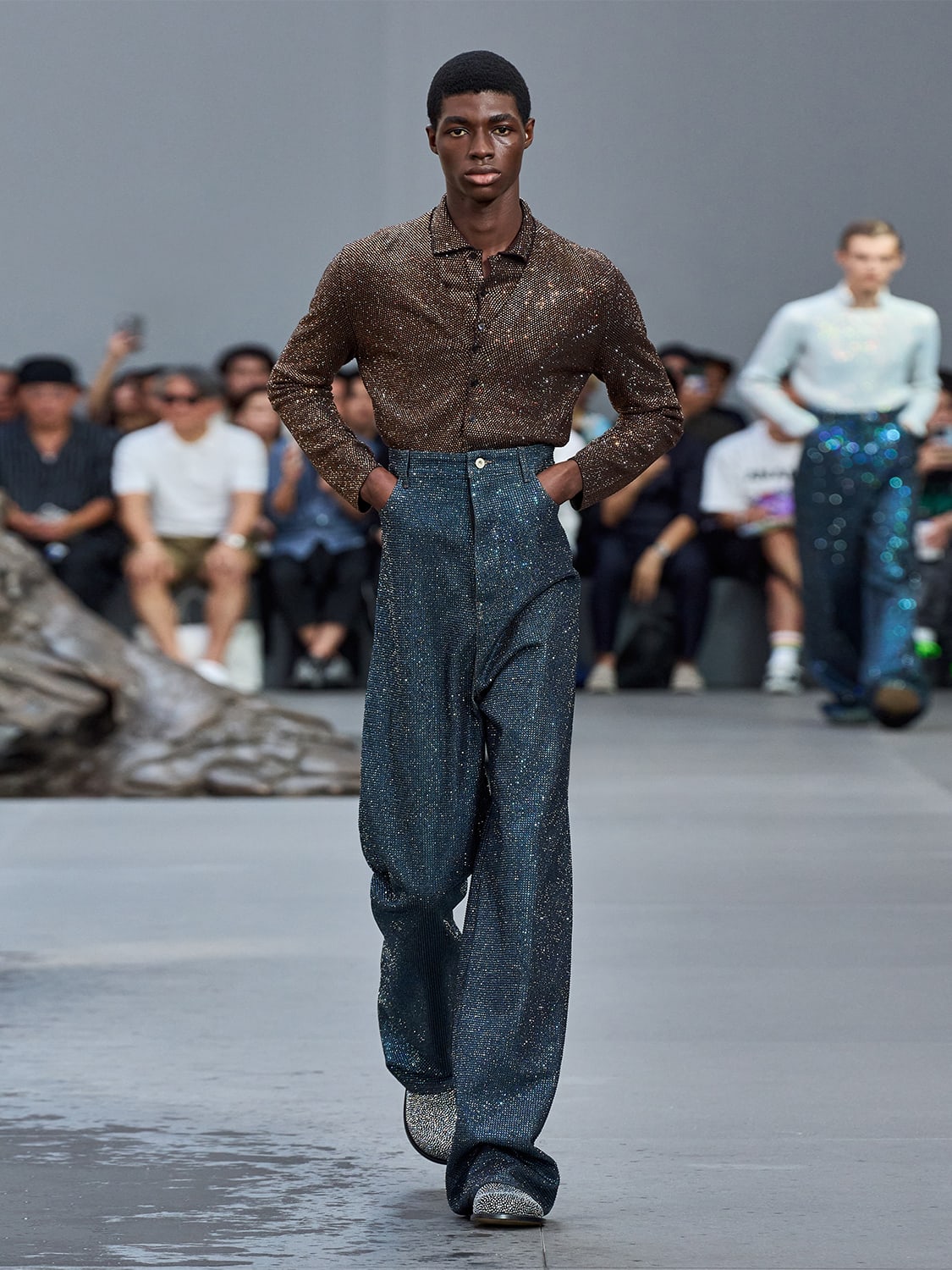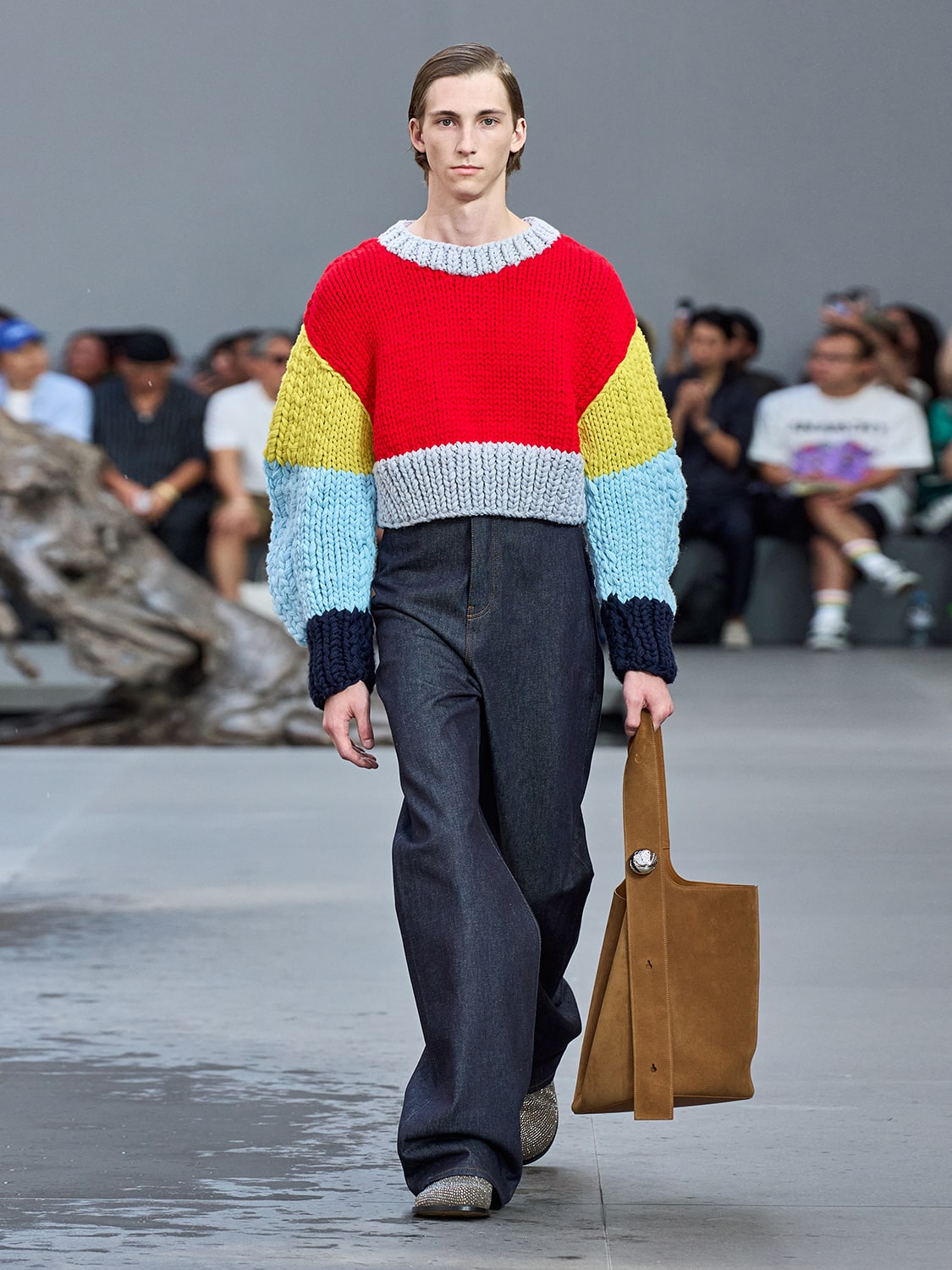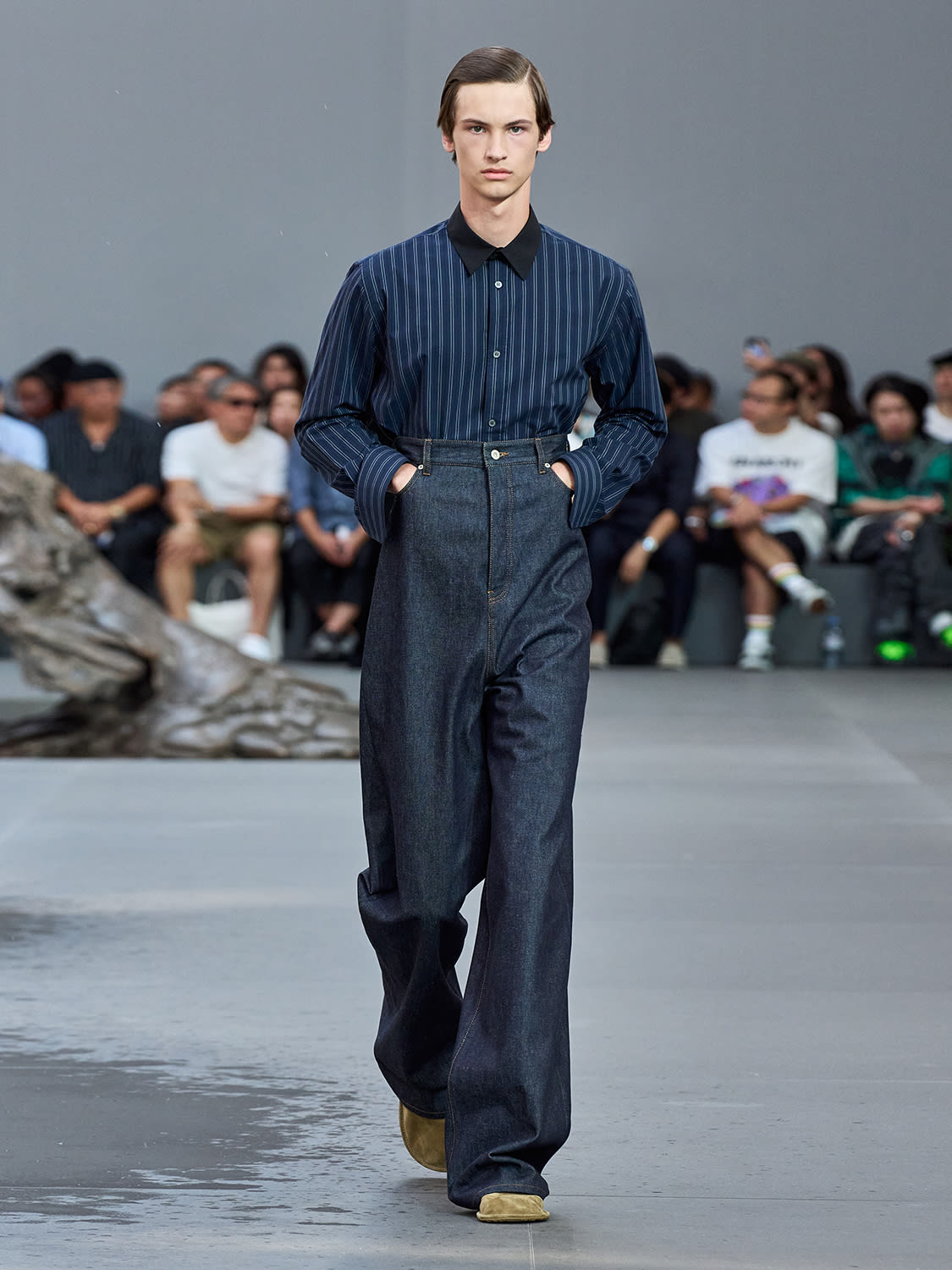 Jonathan Anderson's latest offering at Loewe unveiled another collection that sparked joy. It's always thrilling to see an artist's mastery of the medium come alive in his best work, and this season was masterful, refined and accomplished in craft, as it is dazzling in invention.
Anchored upon a new silhouette of pants with an extremely high waist and a low drop, and which puddled in a flare like a gown, this was a fresh iteration of gender fluid dressing. It's stunning in its newness and sparks desire, worn by the tallest and thinnest of preteens – it'll be implausible on mere mortals but who cares? What with the sparkly denims, the gee-whizz shirt collars, and lambskin onesies and the concept sweaters – all in the most gobsmacking colours – this was a joyful celebration of the fashion arts, and cheeky good fun. Anderson has pushed the boundaries of the craft, by bringing a fresh eye to the fashion table, offering a unique perspective, a sure sign of fashion confidence.