Stacked and loaded: Elevate your jewellery game into an art form with designs that were made to be layered
These creations from Chopard, Gucci, Hermes, Piaget, Tiffany & Co, and Van Cleef & Arpels will do quite nicely.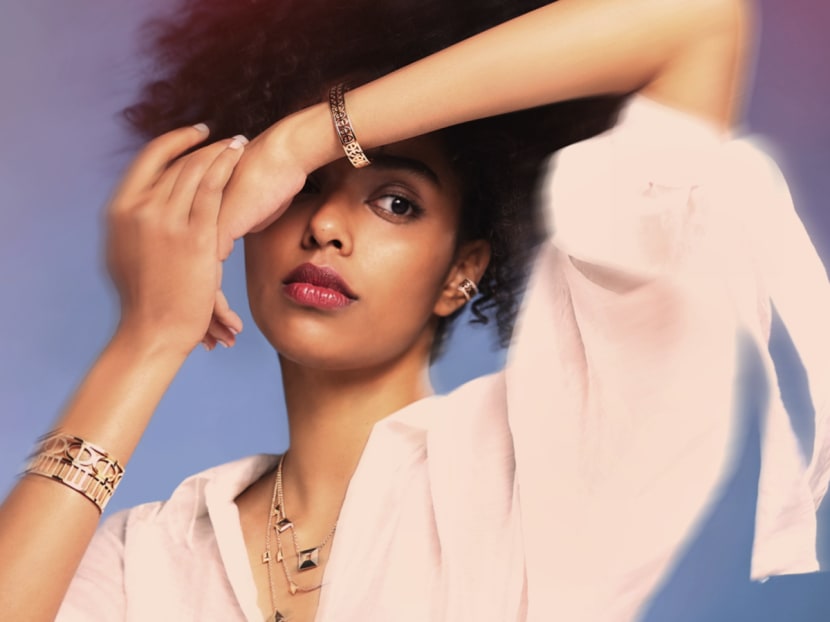 There is a time and place for discreet jewellery of the blink-and-you'll-miss-it variety. However, if you're looking to shake things up in the style department, nothing works better than stacking your baubles. Sometimes, more simply means more (despite what the adage says), and there's a strong argument to be made for it, too. Layering your pieces allows you to showcase your style while showing off several of your favourite baubles at the same time.
Plus, there's no denying the free-spirited boho-chic vibes that come with an artfully curated stack. It can make your look: By adding a point of interest to a corporate outfit, or elevating a tee-and-jeans combo for that weekend catch-up with friends. With the plethora of choices available from everyone's favourite jewellers, the art of layering is made as easy as counting to three. Though, we'd advise you to count higher if you want to make a visual impact with your jewellery.
Start things off easy with Chopard's Happy Diamonds Planet designs. Made with ethical rose gold, and featuring the collection's signature mobile diamond, the clean forms of the open bangles let you pile them on to your heart's content. They also lend pops of colour to your ensemble, thanks to the availability of lusciously hued hard stone spheres such as lapis lazuli, onyx, green agate, and rhodochrosite. (Those who prefer a more understated nuance can turn to the collection's diamond pave numbers.)
Clean, structural lines make Gucci's Link to Love capsule another winner in this category. Crafted from white, pink and yellow gold, the designs promise a play on lights through polished surfaces and gem-studded options of diamonds and green tourmalines. The street-chic range, which would look right at home on a music video set, is available in different widths and lengths — just so you have a failsafe way of adding variation to your stack.
For a more poised alternative, there's Piaget's emblematic Possession collection with strong, bold lines to make a lasting impression. Lined with diamonds and, at times, accented by a colourful gem (malachite, red carnelian, tsavorite and turquoise included), you can trust these Art Deco-esque creations to punctuate your outfit with rich texture — even more so now that the brand has thrown its signature Palace Decor pattern into the heady mix. Beloved for its turning ring element, these baubles were made to be touched and played with.
The same can be said of Van Cleef & Arpel's Bouton d'Or collection. Meaning "golden button" in French, the collection's name lends itself to the multi-layered designs, composed of intricate elements meticulously crafted in pink and white gold. Gleaming surfaces are juxtaposed with sparkling diamonds, resulting in geometric creations that beg to be examined closer. Overall, the pieces exude a modern-vintage feel (they are inspired by the brand's paillette motif from the late 1930s) and are best teamed with others of the same ilk.
Not to be left out is Tiffany & Co.'s
Tiffany Lock
, which features clever details that make it a definite collection for urban dwellers. The swivelling clasp of the designs, for example, was modelled after a padlock, and it took Tiffany artisans a year to perfect. Then, there's the oblong shape of the bangles that sits snugly on your forearm in the most unobtrusive way, even when you are bashing away at the keyboard. Lastly, the squared edges of the designs allow them to be stacked perfectly, with rose, yellow and white gold, and diamond options ensuring a varied look that you can layer as you please.
To turn even more heads, give free rein to your imagination and trust exuberant gems to add that extra something to your ensemble. Play with proportions — like those as found in these [Sur]natural earrings — and ensure that you never stray too far to either end of the spectrum for a more harmonious look. And if you're looking to team different coloured stones together, stick to similarly saturated hues to tie everything together, as shown here with the pairing of Cartier's emerald and diamond Le Voyage Recommence Unda ring. Then, put on a tank-and-jeans combo for a thoroughly modern-luxe take on gems.
Art direction: Chern Ling; photography: Aik Chen, assisted by Dillion Tan, hair and makeup: GregO using Keune Haircosmetisc and Chanel Beauty, model: Diya/Mannequin