Staying in? Here's how to level up your home entertainment experience
With bars, cinemas, theatres and karaoke joints shut, and social distancing measures in place, there's no better time to upgrade your nest into a high-spec home entertainment hub. Hi-Fi!
Wait. Is that a buzz you hear? A crackle in the speakers? A dead pixel in the middle of your screen? Just because your travel plans have been shelved or you're staying at home away from the crowds doesn't mean you have to slum it. As more people practise social distancing (good on you, people!), more are turning to their devices to chill. The last thing you want when you're settling in for a movie night is a gadget on the fritz.
With Internet shopping at our fingertips, it's easy to get a replacement home theatre delivered right to your doorstep. Whether you're looking to replace that decade-old TV or levelling up your sound system for optimum aural pleasure, these options will provide relief for the eyes, ears and, well, sanity.
SHOOT FROM THE HIPSTER
Is it a 70s teak sideboard or a Rediffusion box on legs? Looking like it leapt out of a vintage issue of Vogue, the Ruark R7 is a sound system with designer looks and state-of-the-art electronics.
Equally at home playing your retro CDs (yes, we went there) or Spotify Connect, the R7 boasts two Ruark Audio 140mm speakers, an integrated active subwoofer with 200mm long-throw driver, a Linear-Class A-B amplifier tucked neatly in this centrepiece.
A sleek RotoDial controller sits atop the R7 for slick handling of its features. Or, if you prefer, use the clicker on the Ruark Link app from your phone.
WELL HUNG
Continuing the designer-look theme, the Samsung Frame television is the perfect complement to the Ruark R7.
A no-gap wall mount makes it hang like a framed painting and a plethora of customisable bezel completes the illusion. A clever sensor mimics the way a light would hit a painting to inject more realism in your artwork. The QLED screen displays over a billion tints for mesmerising colour.
It also works with Bixby, Google Assistant and AirPlay 2 so you get controls at your fingertips on your favourite platforms. The Frame is available in 55-inch and 65-inch styles.
PHANTOM OF THE (SPACE) OPERA
If the Devialet Phantom Premier speaker reminds you of an alien spacecraft, it's because it can withstand 174dB of internal acoustic pressure – about the same as a launching rocket.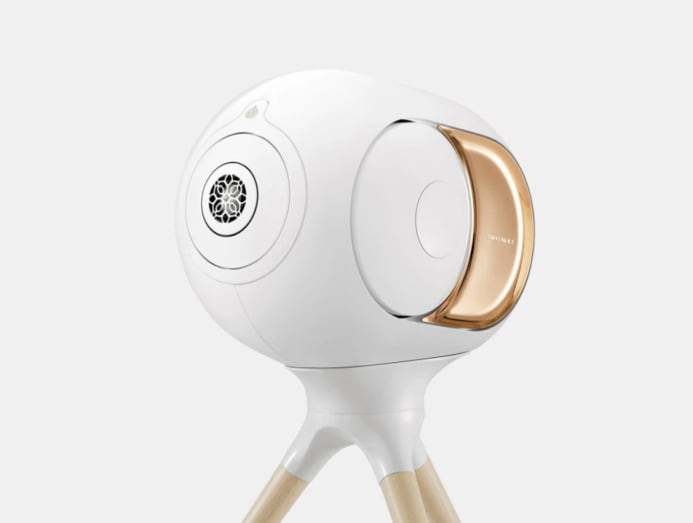 More than 80 specialists in aerodynamics, automobile, acoustics and mechanics stand behind the 108 patents that make the Phantom sound out of this world. Don't be fooled by this tiny pod, it's room-filling sound has been known to silence the harshest critic. This wireless wonder of technology operates in singular mode, duo mode or multi-room so you can take your music wherever you go.
BRINGING SEXY BACK

Magicians of the tech world, Bang and Olufsen gadgetry has been known to draw oohs and aahs wherever they appear. The Beovision Harmony is no exception. At the touch of a button, the front walnut panels unfurl to reveal a 4K OLED screen with technology from LG.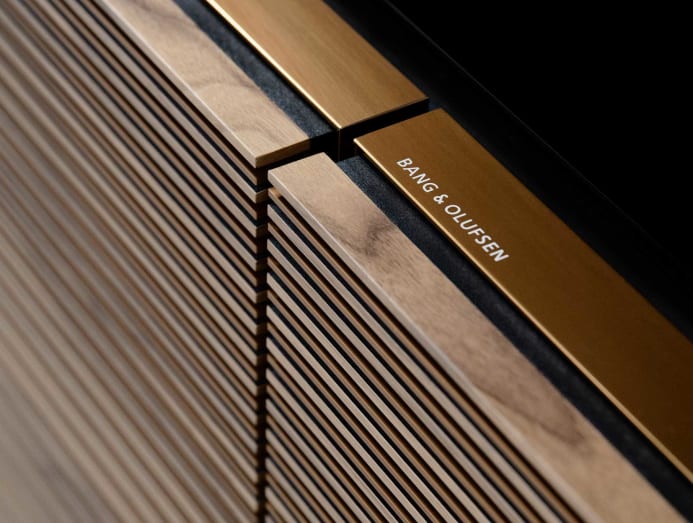 The wood blind design harks back to a time when timber blinds would be used to shield unsightly television sets. This would not happen if they had the stylish Harmony. The TV comes with 7.1 surround sound out-of-the-box but the Devialet would be a sound companion to this beauty.
SPECS APPEAL
Compared to the other amplifiers and loudspeakers on this list, the Sonos Surround Sound set with Beam is like the classic little black dress or tux. It may not look like much but everyone should have one.
The set comes with two Sonos One SL speakers, a Sonos subwoofer and the Sonos Beam. The wireless set up is easy to do via your home wifi, then sit back and be blown away by the crisp clarity of the highs and the bone-shaking rumble of the bass. The system can be voice-controlled either with Amazon Alexa or Google Assistant, so be prepared to let it run your life.
SILVER SCREEN REALNESS
The LG GX Gallery is a specs nerd's dream come true. Powered by the latest Alpha A9 Gen 3 processor, it uses artificial intelligence to make images more life-like. It is also designed to handle 4K playback, 120fps high frame rate, HDR colour gamut and a 7.1 Dolby AC-4 audio.
Its new Filmmaker Mode delivers images just as Hollywood's leading directors imagined so you get a little cinema right in your home. It can also be controlled via Alexa or Google Assistant so the Sonos and LG will be right at home with each other.
MEET THE STALWARTS
You can't go wrong with household name Bose. Designed to be pleasing to the eye and crafted for the aural aficionado, the Bose Lifestyle 650 delivers big sound through a tiny package.
Configured for the intimate home cinema, the five-speaker system balances crisp clear notes with true-to-life deep bass so you can hear the dialogue without getting your eardrums blown out by booming explosions. When you're not watching the latest blockbuster, you can fill the house with music through your wifi- or Bluetooth-connected Spotify, Deezer, iTunes services, or tune in to the radio on TuneIn.
NETFLIX AND CHILL
Sony continues its trusted brand legacy with the Master Series A9G flatscreen television. Powered by the Picture Processor X1 Ultimate, the screen delivers realistic images that demonstrates high- and lowlights well, while boosting the colour, detail and brightness where needed.
The A9G boasts an impressive built-in audio prowess that acts as the centrepiece of your home theatre system to deliver an all-encompassing cinematic experience. Filmmakers love the A9G for its faithful reproduction but its Netflix Calibrated Mode makes invites to Netflix and chill more appealing.
ALL ABOUT THAT BASS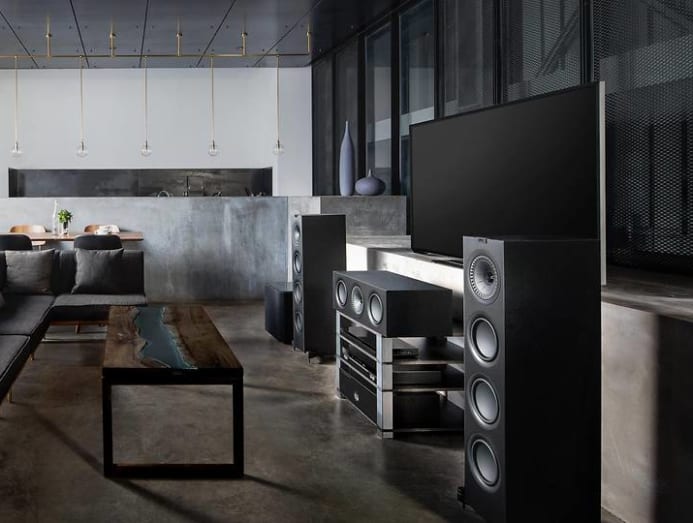 These are the big guns – figuratively and literally. The KEF Q-series speaker array includes two bookshelf speakers, two floor-standing speakers – for mid-range sounds – a centre channel speaker and two rear floor-standing speakers towering at more than 1m in height, and a subwoofer.
For a complete 7.1.4 home theatre experience, you would need the ceiling-mounted Atmos speakers and a bass module for a complete 360 sound experience. That's a lot of space. Power the speakers with the T778, a BluOS enabled amplifier from NAD electronics, and you have a scalable home theatre set-up that can evolve with the ever-changing technology.
NICE BILD
Rounding up this home theatre system is the Loewe Bild 5 OLED television. A harmony of technology and aesthetics, the Bild 5 comes in a silver oak or black oak veneer that is sure to turn heads.
It's ultra-slim display – thinner than most smartphones at just 4.9mm thick – looks more at home in a museum of modern art than in a residence. To complete the set with concert hall audio, you may opt for the Loewe klang 1 or wireless klang 5 speaker systems.
A 1-terabyte built-in storage gives you the option to record your shows without an external drive whether you're watching another programme at home or on-the-move via the Loewe app.
SOCIAL DISTANCING
Need privacy with your tunes? Try Montblanc's new wireless headphones, the MB01, for size. Meticulously cafted from high quality materials, the padded ear cups and headband lend comfort for long periods of use. 
For your aural pleasure, the headphones offer active noise cancellation plus the latest wireless technology and sound-enhancing software designed by a team of award-winning engineers. Voice controls are made possible through Google Assistant. 
The cans are also imbued with a unique sound signature created by sound designer Alex Rosson. The Montblanc MB01 comes in an array of leather with chrome finishes.