In this pandemic, people are buying US$30 million condos in New York – sight unseen
Research from Knight Frank shows that New York was one of the most popular cities for buyers still making super-prime purchases during lockdown. Here's why.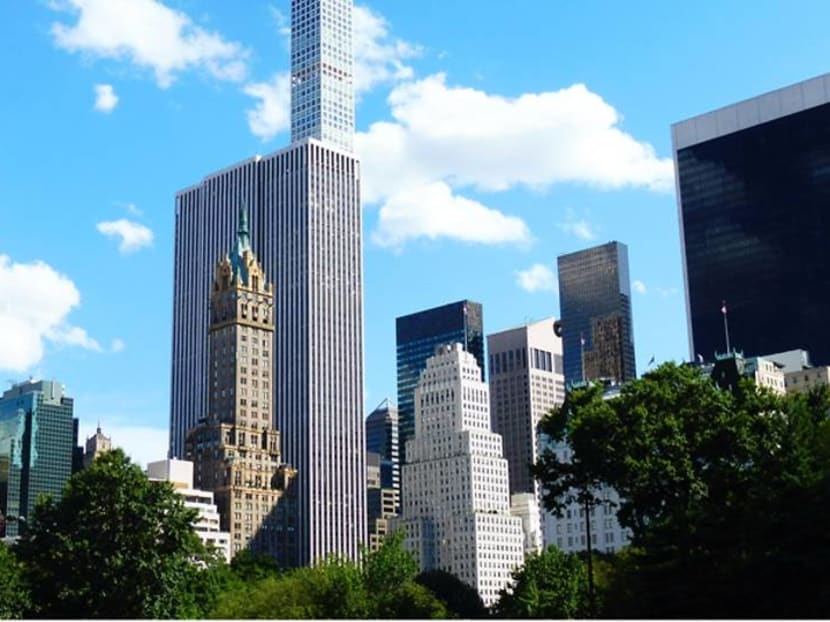 The "supertall" overlooking New York's Central Park at 111 West 57th Street is unusual for being the skinniest of the gangly skyscrapers that have sprung up in Manhattan in recent years. But it is also unusual because of its residential buyers.
It is not just that they can fork out US$30 million (S$41.2 million) to buy an apartment in the middle of a pandemic. They are also happy to do so without being able to set foot in it first.
In June, a foreign buyer bought a condo on the 70th floor of the so-called Steinway Tower, built around the Steinway & Sons piano showroom that has existed since 1925, on a stretch that is now known as Billionaires' Row.
The condo was marketed at US$30.5 million. It had three bedrooms, three-and-a-half bathrooms, and the buyer had only ever seen the property through brochures and a virtual tour.
Another condo was also bought in the building for US$30 million during lockdown, though in this case the buyer had viewed the property before the city shut down.
It was a rare piece of good news for New York's super-prime market, which, along with property markets across the world, struggled during the lockdown phase of the pandemic. The city has been one of the hardest hit by coronavirus, and the economic impact on Manhattan has been severe.
In-person property viewings were banned from March 22 to the end of June, helping new sales to plummet during the second quarter of the year. Only since restrictions have eased has the market been able to function again, albeit with fewer transactions than last year.
According to figures from real-estate consultancy GS Data Services, the number of contracts signed across the Manhattan market was down 78 per cent between April and June compared with the second quarter of 2019 – a quarter which, admittedly, had an unusually high level of transactions because buyers brought forward home purchases to beat hikes in New York's mansion and transfer taxes on July 1 of that year.
For homes priced at US$10 million-US$20 million, transactions were down 92 per cent. Above US$20 million, the drop in sales was more modest, with six homes going under contract in the second quarter of 2020, down 60 per cent on the same period last year.
At the same time, the discounts sellers are willing to offer have increased sharply since the pandemic. According to Garrett Derderian, head of GS Data Services, the average price drop in the second quarter of this year for homes priced above US$20 million was 20 per cent between the initial and final listing price – meaning that closing prices could have even higher discount rates. In the same period last year, the average discount was 6 per cent.
Matthew D Hughes, a broker at Brown Harris Stevens, says that prices need to come down further, with new sellers coming to the market now being more realistic.
The market for luxury Manhattan real estate was struggling long before the pandemic. In the years after the financial crisis of 2008, developers built lavish new apartments aimed at wealthy international buyers. But supply soon outstripped demand, leaving the city with an abundance of unsold expensive homes.
"While the luxury residential market has faced two years of falling prices… recent sales have served as a welcome reminder that for the world's wealthy New York is the critical market." – Liam Bailey
Today New York's skyline is peppered with empty prime and super-prime residences, with what brokers call "shadow inventory": Units in development properties that have not yet come to market, as developers choose to hold them back rather than flood an already oversupplied market and potentially bring prices down further.
Homes sold in West Chelsea's Hudson Yards, the largest private real estate development in a decade in New York, sold for an average price of US$4.36 million in 2019, compared with US$1.48 million in the local area. Yet even before the pandemic, many units were still unsold in January.
In a sluggish market, unsold condos are also going to take longer to shift. Jonathan Miller, head of real-estate consultancy Miller Samuel, predicts that there will be 8,700 unsold units in new-development condos in Manhattan at the end of this year – which, at the current pace of activity, is likely to take 8.7 years to sell, down from 6.3 years to sell at the end of 2019.
Yet there are signs that, relative to other cities globally, New York's super-prime market has been holding up comparatively well during the pandemic. Research from Knight Frank shows that New York was one of the most popular cities for buyers still making super-prime purchases during lockdown.
It reveals that 41 sales of properties worth more than US$10 million took place in New York in the first half of the year, 19 of those between March and June. While this was a significant dip from last year, when 100 were sold in the same period, it was still enough to put it in third place for super-prime sales globally, behind Hong Kong and Los Angeles.
"While the luxury residential market has faced two years of falling prices – driven by an overhang of new-build inventory, a rising tax burden and, more recently, the COVID-19-inspired lockdown – recent sales have served as a welcome reminder that for the world's wealthy New York is the critical market," said Liam Bailey, global head of research at Knight Frank.
While the pandemic may have affected super-prime buyers' home countries or markets, the US, and especially New York City, is still viewed as a global haven to purchase these assets, said Derderian. "What we have seen under the shutdown and prior slowdowns is the super-prime buyer, who tends to be a global purchaser, is less influenced by local economic policies and political uncertainty."
"Now, these buyers are able to purchase some of the best Manhattan real estate at pandemic prices."
Tal Alexander, a broker at Douglas Elliman – who sold the most expensive home ever in the US in 2019, for US$238 million to Citadel hedge-fund founder Ken Griffin – says that super-prime buyers in Manhattan are increasingly Americans from other US cities, whereas a couple of years ago the split was more balanced between domestic and international buyers, thanks in part to the strength of the US dollar.
All eyes are now on the third quarter of the year, which could see sales soar amid what brokers believe – or hope – is pent-up demand, but could also see developers willing to be flexible on pricing.
"Especially in the new development space, where there is a significant oversupply of homes on the market and those that have yet to come to market, developers are offering some of the best incentives and negotiating at levels we have not seen in the past decade," said Derderian.
These include paying the new mansion and transfer taxes, offering parking spaces for free and also incentivising brokers by offering 4 per cent commissions instead of the typical 3 per cent. Brokers also say that developers are increasingly offering "rent-to-own" deals even at super-prime levels to entice buyers to commit.
The presidential election in November is also likely to play a role, with prime and super-prime market activity tending to pull back in past election cycles.
Derderian predicts that a full normalisation of the property market in New York is not likely to happen until the first quarter of 2021 – and even that will be barring other unforeseen circumstances, such as a second lockdown.
Miller of Miller Samuel said: "It will be a fascinating summer as the spring market didn't happen, so we'll have this big release and once the pent-up demand is satiated that's when we'll really see what things are."
"What we have seen under the shutdown and prior slowdowns is the super-prime buyer, who tends to be a global purchaser, is less influenced by local economic policies and political uncertainty." – Garrett Derderian
By Alice Ross © 2020 The Financial Times