'It's a super cool watch': How watch brand Norqain is winning over a new generation
Norqain's chief commercial officer Daniel Aellig speaks more about the independent, family-owned brand at its Independence Wild One Skeleton watch launch in Singapore.
The watch industry is one where tradition, heritage and technical virtuoso take pride of place unquestionably. This makes it exceptionally daunting for young entrants to establish themselves at any corner of the horological landscape. That, however, has not stopped co-founder and CEO of Norqain Ben Kuffer from charging through the mission with the drive and ambition of a start-up entrepreneur, and the confidence that comes with partners backed by years of watch business acumen.
Firstly, there's Swiss watch legend Jean-Claude Biver — a man who played no small part in bringing Switzerland's mechanical watch industry through the quartz crisis of the 1970s — who is an advisor to Norqain's board of directors. Then, there's Kuffer's dad, Marc Kuffer, who heads said board with a resume that boasts 45 years of watch manufacturing and 25 years of being on the Swiss Watch Industry Association's board of directors. Norqain's other co-founder is Ted Schneider, son of Theodore Schneider, who owned Breitling for almost 40 years before it was sold to CVC. Kuffer himself comes with 11 years of experience as Breitling's brand manager for Switzerland, and area sales manager for Greater China, Southeast Asia, Japan and Korea.
This is clearly a team that knows what it is doing, and it shows in the brand's rapid growth. Two short years after its 2018 founding, Norqain snagged a partnership with Kenissi, the movement manufacturer that counts Tudor, Breitling, Tag Heuer and Chanel as its clients. In the five years since its launch, Norqain has also chalked up over 200 retail locations across the globe, including Southeast Asia's very own Norqain boutique at Wisma Atria, Singapore — despite a global pandemic.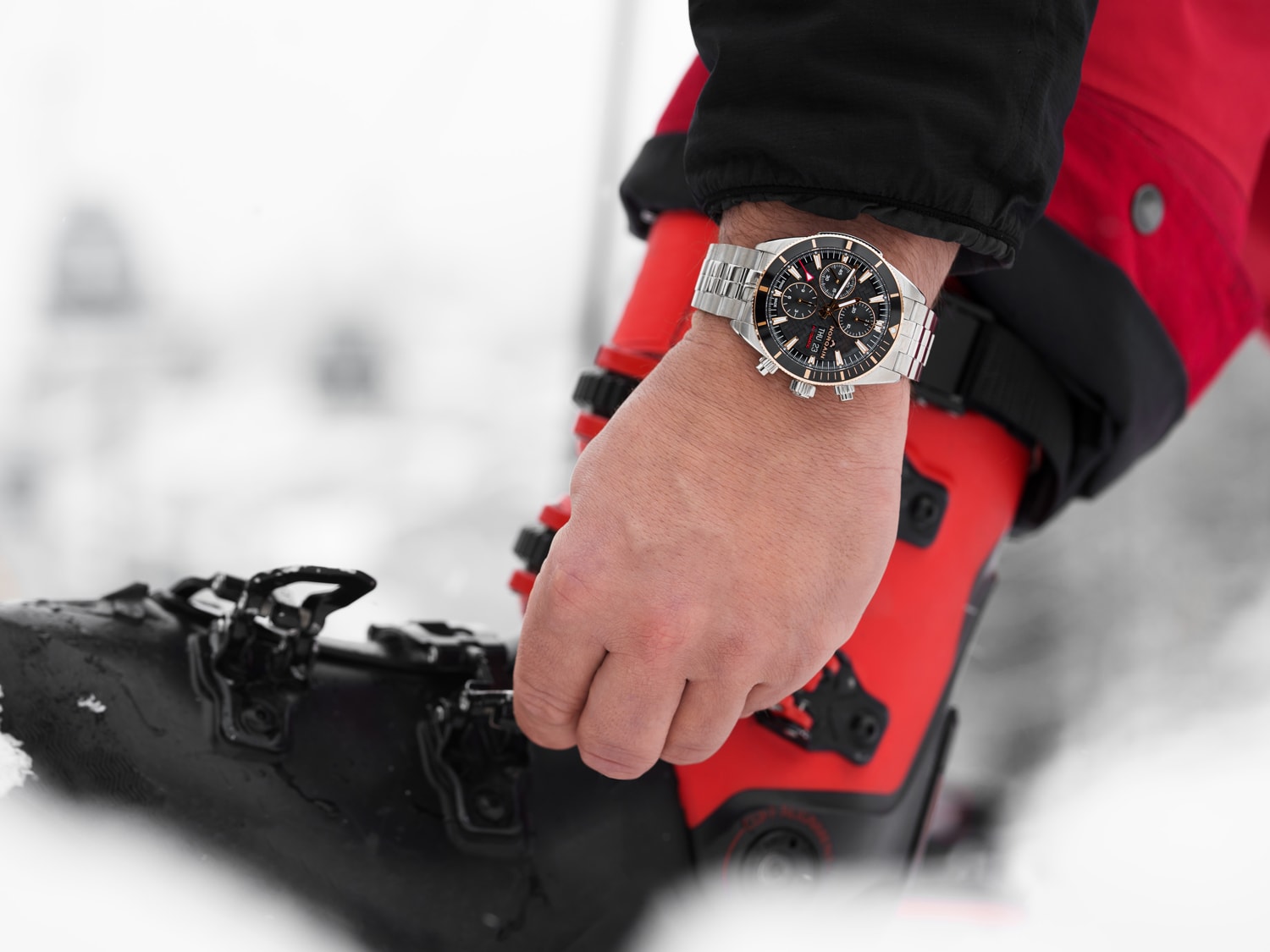 "We're very proud of our retail network; we work with very prestigious retailers across the world — in Switzerland, the US, Dubai, and a lot of big independent retailers in Japan," said chief commercial officer Daniel Aellig, who has just flown into Singapore from a market visit in Malaysia. "The trust [given to Norqain], I think, comes very much from the experience of the people behind the new brand. They come from watch families who have been in the industry for a long time, and that gives a lot of credibility. People know and believe that what we're doing has a lot of quality. We know how to produce a mechanical timepiece, and that, I think, has a big effect."
Lending weight to Aellig's words is the brand's latest launch, the Independence Wild One Skeleton, displayed in vitrines just metres from where we were sitting. Available in striking turquoise and a subtler burgundy, the watches combine elements of the brand's best-selling timepieces, balancing the familiarity of the known with the excitement of novelty.
The modular 25-part case of the Wild One collection launched last September reappears here, allowing Norqain to equip the watch with a 5,000g shock resistance and a water resistance of 200m. Also making a reappearance is NORTEQ, the brand's proprietary carbon fibre composite that is reportedly three-and-a-half times lighter than titanium. The point of differentiation lies in the watch's dial and automatic, chronometer-certified Sellita-based movement, which first appeared in Norqain's Independence 22 Skeleton collection of 2021. The result is a high-performance sports watch that looks posh but only in a way that is, as the Gen Z'ers would say, drippin'.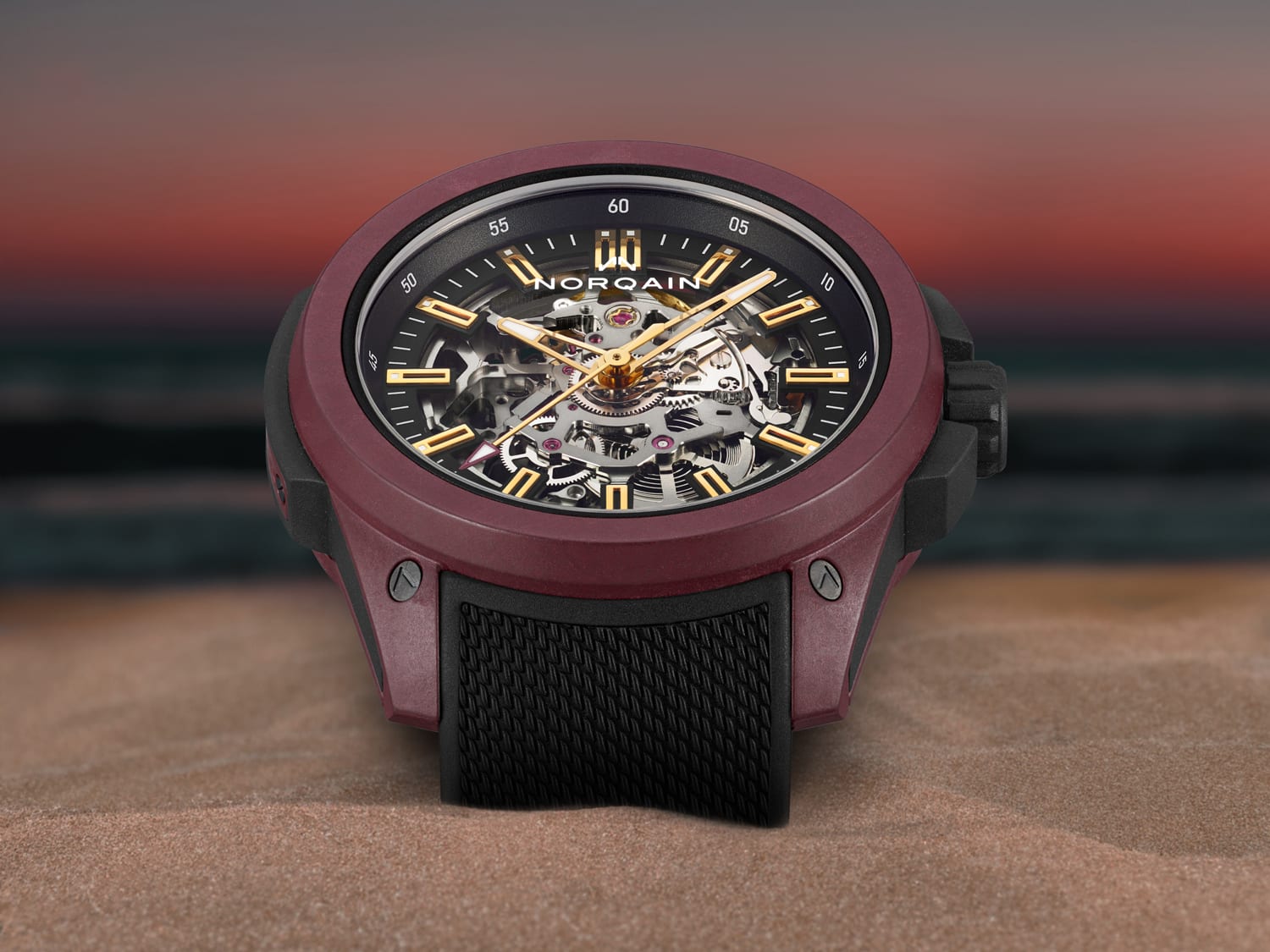 "For [co-founders] Ben and Ted, it's really about transmitting the passion for mechanical timepieces to the younger generation. We're a very young team with a lot of energy, and our marketing approaches are focused on younger customers [of whom] we try to [initiate] into the brand itself," Aellig shared.
One of the more obvious ways the brand does this is through its extensive family of brand ambassadors who subscribe to its "My Way, My Life" slogan. At last count, the roster stood at over 30 sports personalities, including 16-year-old Singaporean kitefoiler Maximilian Maeder. Norqain's strong ties to the sports world stem from the brand's other co-founder and professional ice hockey player, Mark Streit. As Aellig explained: "Streit's a legend in Switzerland. He's a good friend of Ben, and he opens the door to a lot of sports stars [and helps] to create that network. For [the ambassadors], it's interesting to be part of a growing brand; to be able to help create that history."
Then, there's Norqain's stance on sustainability and animal protection, which would undoubtedly resonate with the socially conscious generation. Since its partnership with animal activist and brand ambassador Dean Schneider two years ago, the brand has pledged to be 100 per cent animal cruelty-free, and it has phased out its leather straps for ones that are vegan or made with upcycled plastic and rubber. As of last year, Norqain has also attained carbon neutrality, as certified by carbon management consultancy Swiss Climate. On the humanitarian front, the brand donates 10 percent of its proceeds from its Adventure Neverest collection to the Butterfly Help Project, which helps fund education and infrastructure in Nepal.
With watches prices ranging from S$3,500 to S$8,900, Norqain offers its target market an irresistible proposition that gets it closer to being the choice of a new generation (to borrow the words of another global household brand). Or anyone who is looking to add a point of interest to their watch collections, for that matter. As Aellig declared when asked why people should buy Norqain, "It's a super cool watch" and one worth keeping on your radar.