Taking on Italy's famed Futa Pass in Tuscany in Ferrari's first V6 Spider
Fierce, sensuous and unflappable, the Ferrari 296 GTS is a drop-top dream for extended European summers. Here's how the two-seater berlinetta, nicknamed "Little V12", stacked up on our recent road trip.
It's a misnomer, this Prancing Horse moniker. For a Ferrari does not prance ─ it hurtles like a rocket. It's an utter beast on wheels. And as our road trip across the Italian countryside from Bologna to Tuscany proved, the Ferrari 296 GTS is one supercar that really lives up to its hype.
First, let's talk about how exceedingly beautiful this piece of machinery really is.
The Ferrari 296 GTS flaunts the same styling cues as its sister 296 GTB, which we drove at the Sepang International Circuit in Malaysia earlier this year. Both evidently inspired by the 1963 Ferrari 250 LM, with its short bonnet and fairly long tail. Both sleek but sculptural, both elegant but athletic ─ it's certainly difficult to resist falling in love with their sinuous silhouette and supremely alluring proportions.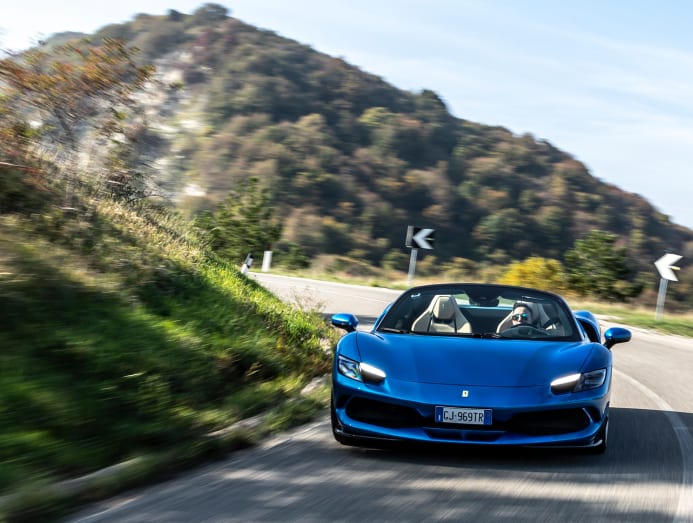 But it's the 296 GTS that is the perfect companion for extended summers in Europe with the top down. And that's exactly where I found myself in October.
En route to Bologna, I was thrilled to discover that the Ferrari and AlphaTauri Formula One teams were seated in the same Business Class cabin on my flight, probably returning home from the Japanese Grand Prix that had just concluded, I surmised. A good omen for our road trip in the Ferrari 296 GTS, perhaps?
One celebrity selfie with Ferrari driver Carlos Sainz later, I was on my way to the Executive Spa Hotel in Modena where our journey began, just 20 minutes away from famed Ferrari homeground, Maranello.
It may have been close to mid-October but the region was still enjoying residual sunshine from the summer, and it was impossible to resist putting the top down for the drive ahead.
In just 14 seconds, the rigid aluminium top on the two-seater 296 GTS was neatly packed away (not nearly an industry best but decent enough) and I was on my way. The mechanism retracts (or deploys) at speeds of up to 45km/h, and adds only an extra 70kg of weight to the vehicle compared with its non-spider sister.
THE "LITTLE V12"
The 296 GTS has the distinction of being the first Ferrari spider road car with a V6 engine; its name derived from the car's total displacement (2,992 cc) and the number of cylinders plus the Gran Turismo Spider acronym.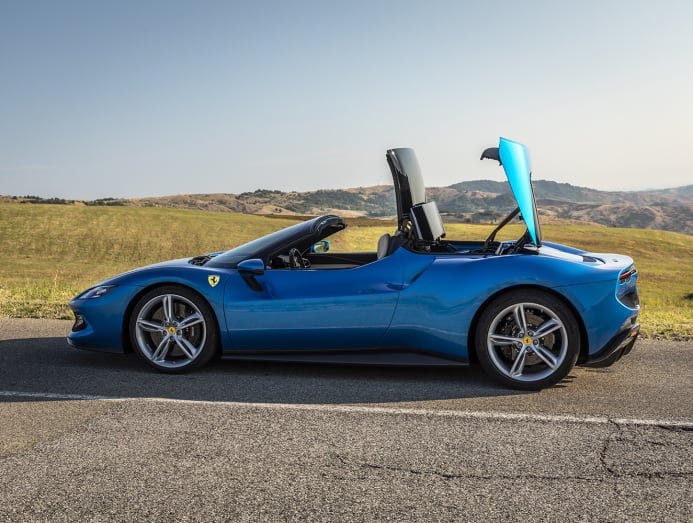 This mid-engined berlinetta is also a mild hybrid offering 25km of driving in full electric mode.  
And thanks to the integration of the electric motor, which debuted on the 296 GTB, an additional 16 hp of power gives you a maximum of 830 hp on tap, thereby placing the 296 GTS at the top of the rear-wheel-drive spider segment.  Now the 296 GTS has been affectionately nicknamed "Little V12" by Ferrari folk, as its 120-degree V6 engine has been tuned to mimic the harmonics of a V12, particularly in the high revs.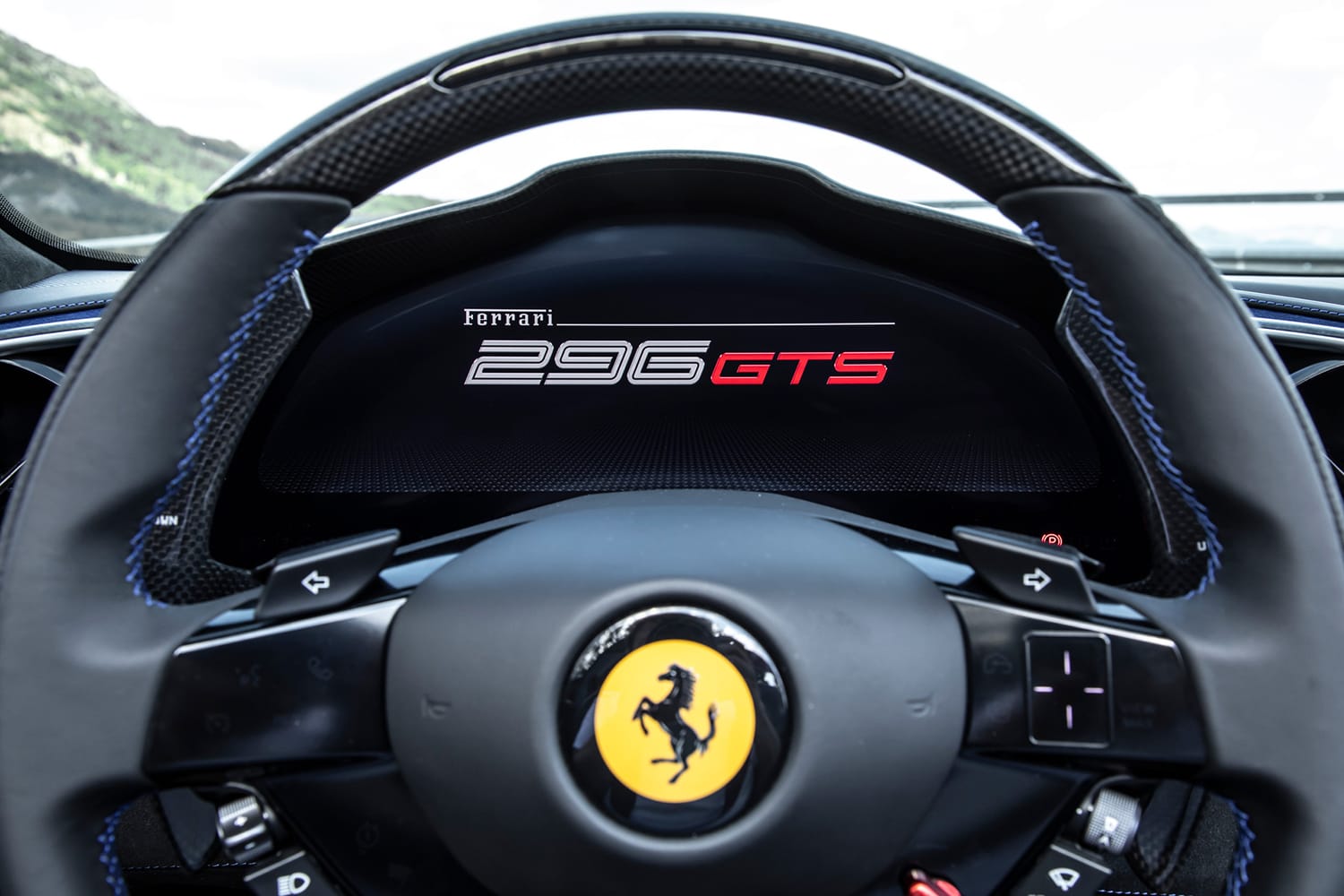 To achieve this, Ferrari engineers have designed the 120-degree 'V' engine architecture to allow a more evenly spaced firing order with a rhythm much more akin to a V12.
Its single tail central exhaust outlet, meanwhile, has been tuned to compensate for the lower combustion frequencies thereby giving priority to the higher harmonics and enabling the 296 GTS to more closely emulate the guttural howl of the naturally aspirated V12. Next, the visceral sounds emanating from the combustion chamber are piped into the passenger compartment via a system comprised of ducts and resonators, much like the way a stethoscope works. A "hot tube" is what Ferrari calls this propagation system.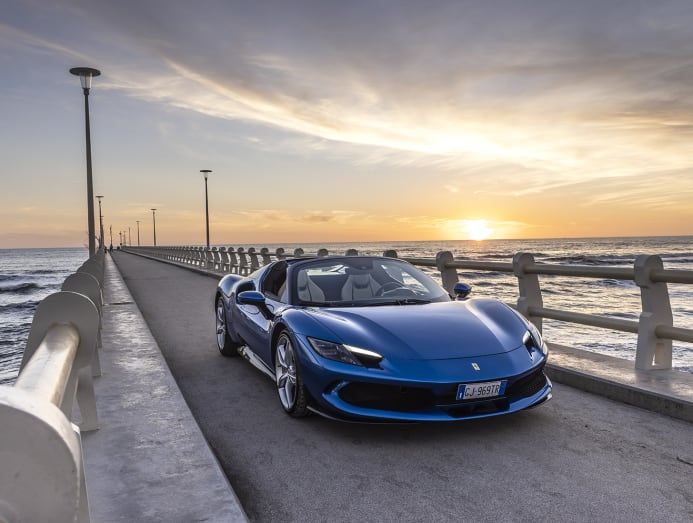 So imagine my excitement as I slid into the cockpit and headed for Passo della Futa, or Futa Pass, a gorgeous mountain pass in the Tuscan-Emilian Apennines, situated between Bologna and Florence.
It was an adrenaline-fuelled ride, to say the least.
UNYIELDING FEROCITY MEETS EVERYDAY DRIVEABILITY
The 296 GTS hits the century sprint in a mind-numbing 2.9 seconds, on par with the Maserati MC20 and even one second faster than the Lamborghini Huracan STO. And to rocket up to 200km/h from standstill? Oh, a mere 7.6 seconds. Performance-wise, Ferrari says the 296 GTS (and 296 GTB for that matter) is positioned between the F8 Tributo and the SF 90 Stradale, and what I was perhaps most impressed by is indeed its everyday driveability – paired with the unyielding ferocity of this highly-anticipated, much-hyped, turbocharged supercar, of course.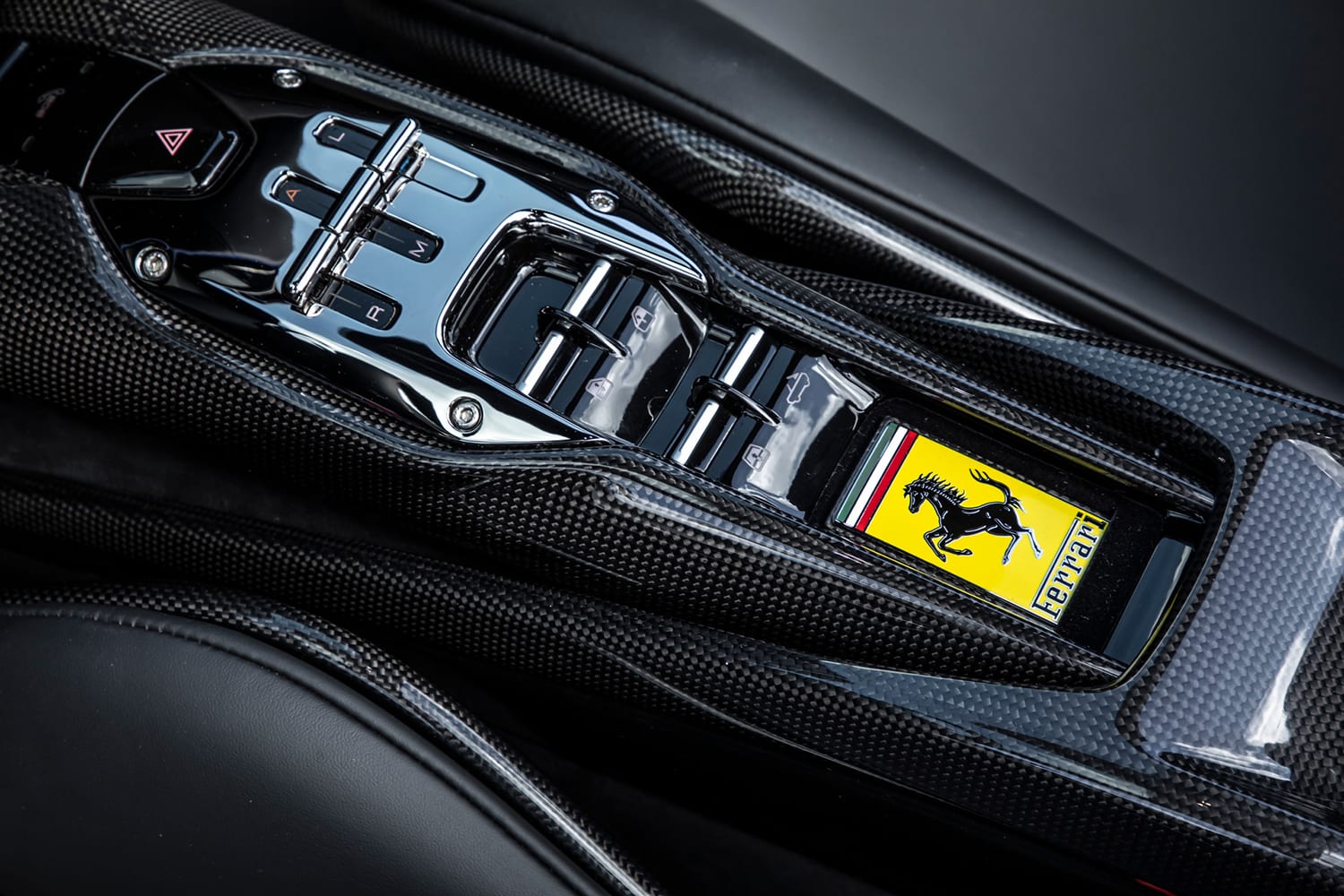 Trust comes easily with the 296 GTS because she handles beautifully, even when pushed to her limits and she's simply unflappable even when flying at unpublishable speeds.
It's all in her form: Compact dimensions underpinned by a carbon underbody and low centre of gravity while the mobile spoiler, when deployed, increases downforce by 100kg at 250/kmh.
Now if you want even more power and performance, you can opt for the Assetto Fiorano package (also available with the SF90 Stradale) when placing your order for your 296 GTS (or 296 GTB), as it includes more lightweight features and aero modifications.
But even without these extras, the Ferrari 296 GTS is a phenomenal force to be reckoned with.
Nothing beats chasing another Ferrari up and down the winding roads of the Futa Pass, all 903m elevation of it, as she screams at the redline and moans on the downshifts – an exhilarating and luscious soundtrack that's certainly worth braving a Mediterranean tan for when you drop the top down on this "Little V12".
A pair of Ferraris darting in and out of these sharp twists and turns with rapturous ease; unapologetic in their astonishing agility and leaving behind just a trace of that relentlessly seductive growl in our wake. What a spectacle it must have been. And I'd do it again in a heartbeat.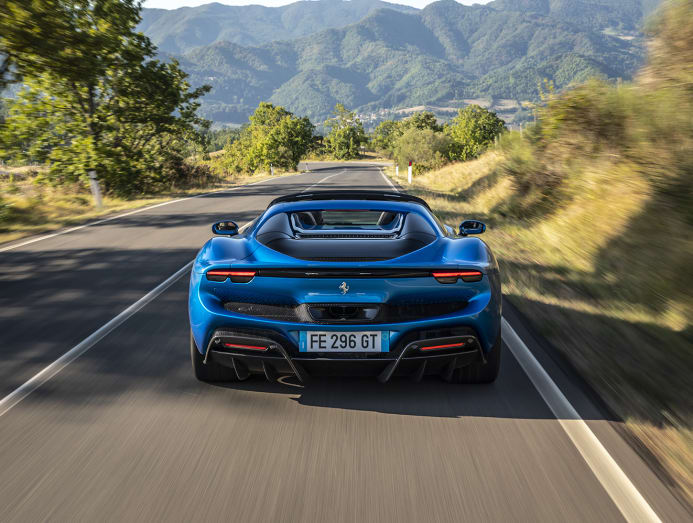 FERRARI 296 GTS SPECIFICATIONS
ENGINE: 2,992 cc twin-turbo 120° V6 with a plug-in electric motor
POWER: Total 830 hp at 8000 rpm                                            
TORQUE: 740 Nm at 6250 rpm                                              
TRANSMISSION: 8-speed F1 DCT
ACCELERATION (0-100KM/H): 2.9 seconds                                         
ACCELERATION (0-200KM/H): 7.6 seconds
TOP SPEED: > 330km/h
PRICE: From S$1,310,218 (without COE)