Appropriating the time of our lives: The enduring appeal of 80s fashion
What is it about the 80s that inspires unending devotion today? Actress Sheila Sim stars in CNA Luxury's tribute to a fascinating era of fashion and pop culture.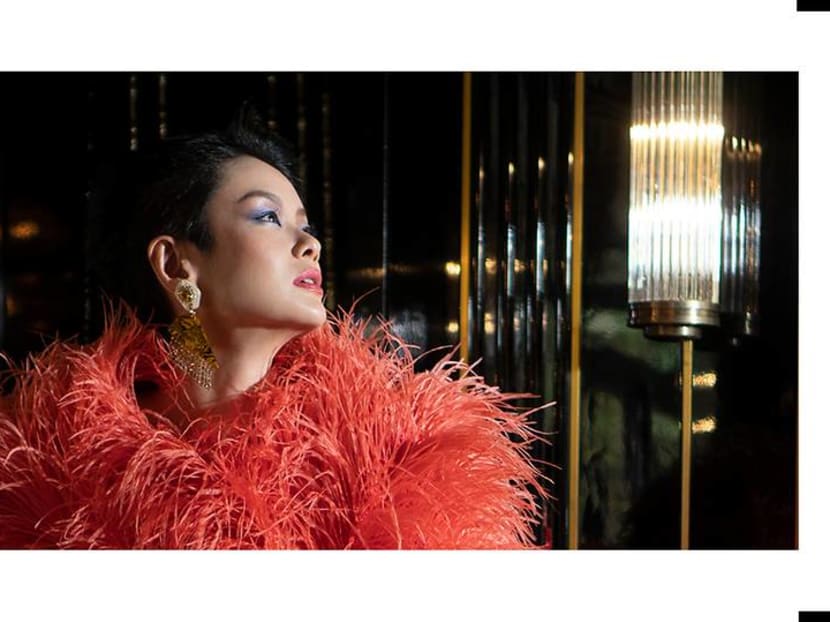 Shoulder pads! Blazers! High waisted jeans! T-shirts tucked in! Big white sneakers! All that's missing is the permed hair and spandex onesies, but who's to say they won't be trendy in 2020?

The 80s – the glorious, glittering, golden era of excess, when greed was good. It was the best of times, it was the worst of times.
What is it about the 80s that inspires fashion's seemingly unending devotion and relentless imitation? Singapore actress and model Sheila Sim pays tribute to the era. 
"The 80s was the most fabulous time in fashion because people were proud of being vulgar," declared Daniel Boey, fashion producer and author. "Shoulder pads, dayglo aerobics fashion, punk, glitter makeup.
"What made the 80s really unique was the whole ecosystem: You had new wave bands like Duran Duran, and they became your role models. You had the start of the supermodel era: Versace made celebrities of Claudia Schiffer, Naomi Campbell, Cindy Crawford. It worked then because 'supes' were less accessible – people aspired to be like them. Whatever they wore, people wanted to be a part of that."

Boey postulates that what is happening now is a reaction to the rabid accessibility of modern-day models and stars. "This generation feels they have access to the celebrities – they just have to follow Gigi Hadid and all on Instagram," he noted. The return to the 80s could signal a longing for a time when there was still mystery surrounding celebrities and models – it's always more fun when one's object of desire plays hard to get.
The 80s revival isn't a single-season movement – what were "Mom jeans" in 2015 have crept, since 2017, into every teenage girl's wardrobe. Young people are wearing T-shirts of 80s musicians, like Run DMC and Blondie, and they haven't the slightest who these people are.
And look at Olivier Rousteing's Balmain dresses over the last five years – wouldn't they look a dream on Linda Evans and Joan Collins if Dynasty was still running today?
"The 80s was the most fabulous time in fashion because people were proud of being vulgar." – Daniel Boey
This love affair with the 80s is really the appropriation of a whole culture. Netflix series Stranger Things, which debuted in July 2016, is set in the 80s and captures all that is adorable about the era: The music, the big hair (both boys and girls – take a bow, Steve Harrington!), the teenage movie culture of young thugs sitting on car bonnets and beating up the nerds, the arcade games and an endless number of other cultural references.
Since Stranger Things there has been a spate of me-too 80s shows, including the groundbreaking interactive Black Mirror TV movie, Bandersnatch, set in 1980s London, offering myriad possible paths and endings to the story. The intense culture of 2D gaming was well captured and augmented by the nostalgic soundtrack resembling Now That's What I Call Music Vol 2.
Pulling an 80s vibe in one's fashion choices right now still looks fresh. Teen labels like Brandy Melville have successfully resurrected the 80s cropped T-shirt, while Off-White's collab with Nike, "The Ten" has seen the return of 80s street cred must-haves, the Air Max and the Air Jordan. Even iconic 80s sneaker brand Reebok is enjoying stratospheric success with collaborations with Gigi Hadid and Demna Gvasalia's Vetements.
So, the long and the short of it is: 2019 is not the year the 80s obsession ends. "Now that there's a revival," said Boey, "the key to wearing the old trend is not to copy it wholesale. You don't do satin and sequins and legwarmers in one outfit. You take one element and you contemporise it."
Take shoulder pads – the original 80s look were stiff shoulder pads that gave women a don't-mess-with-me look for the office. Balenciaga's Spring 2019 giant shoulder pads, on the other hands, are softer, 3D printed extensions that create a futuristic effect.
The 80s shorts-with-jacket look returns, only now, in this age of luxury athleisure wear, it's bike shorts paired with everything from parkas and jackets to blouses. Soft, billowy leopard print dresses at Roberto Cavalli Spring 2019 pay tribute to the animal prints that adorned jackets and long dresses back in the day.
Scarf prints. Clashing prints. Primary colours. Minis. Satin. It's all come back in one way, shape or form – the elements of excess, looking fresh.
Perhaps the most appealing vision that came from the Spring 2019 runway is that of Kaia Gerber, daughter of 80s supermodel Cindy Crawford, walking Chanel's Spring 2019 show. The sight of her, wearing a retro Chanel chain belt against a classic black and white ensemble, evokes both a sense of deep nostalgia and an excitement for the future of fashion. Not only has 80s fashion come full circle this time, but it speaks to the hearts of women, generations apart. 
Starring: Sheila Sim. Styling by Jeremy Tan, hair by Dexter Ng, makeup by Clarence Lee using Chanel colours, photography by Two Lefthands.
"Now that there's a revival, the key to wearing the old trend is not to copy it wholesale. You don't do satin and sequins and legwarmers in one outfit. You take one element and you contemporise it." – Daniel Boey