Mosaic tiles and sex appeal: The imaginative fantasy of Moroccan design
Moroccan style can be infused in the most modern house, or the most traditional, and somehow still freshen up the interiors.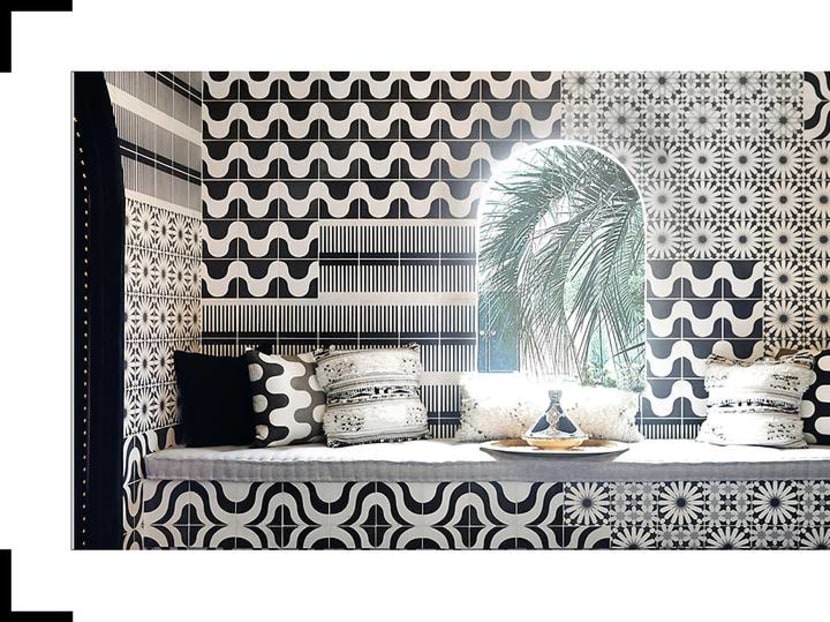 Not long ago, interiors were expected to be chill. But as more decorators lay on colour and pattern with the giddiness of paintball enthusiasts, they are borrowing from places where lush, layered and crazy combinations are standard operating aesthetics. Places like Morocco.
What is Moroccan style, exactly? According to Stephanie Rudloe, the owner of Marrakech Designs in Boston, it is a mix of nomadic Berber, Arab-Islamic and European influences that slightly changes character as you venture across the region.
More specifically, Rudloe said, "an imaginative fantasy" might include "mosaic tile walls, inlay tables, a glass chandelier from Egypt or Venice, metal lanterns, Berber carpets and banquettes covered in a patterned French velvet or an Indian paisley".
Such objects age well. Martyn Lawrence Bullard, a Los Angeles interior designer, has created fabric, wallpaper and rugs with Moroccan motifs, and infused bits of Moroccan style into the Hotel Californian in Santa Barbara and the Sands Hotel & Spa in Indian Wells, California, as well as into homes for Khloe Kardashian and Cher.
"You can put it in the most modern house, or the most traditional, and somehow it still freshens up the interiors," he said. "It adds glamour, it adds sex appeal, but it still can feel really fresh."
Start with colour, and no, not bright blue. "The colours I most associate with Morocco are the warm, earthy, rich reds that echo the spices found in markets all over the country, the earthenware that is so often decorated and the natural red clay that is used to paint the majority of buildings in Marrakesh," said Charlotte Cosby, the creative director of Farrow & Ball, the British paint and wallpaper company.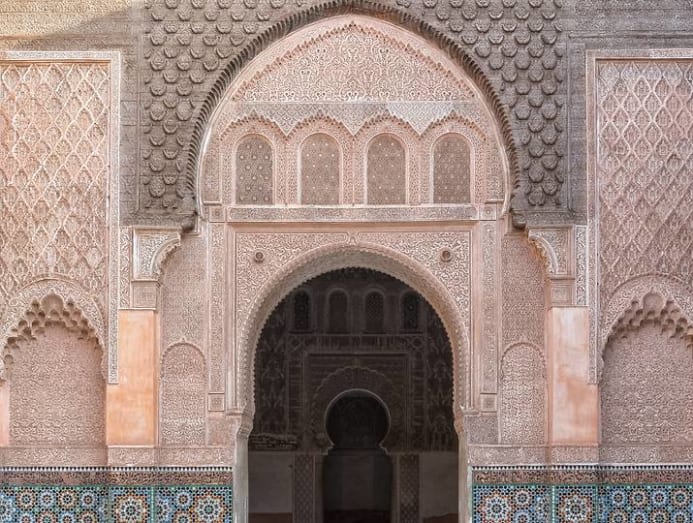 For a truly intimate Moroccan feel, Cosby said, you must "paint all four walls in the room, including the ceiling".
Daniel Torres, a Los Angeles designer, did just that – and a whole lot more – for a client in Merida, Mexico, who bought a rundown colonial-era building with the dream of creating a Moroccan-style home. Torres designed what he describes as a "mini-riad," where the public rooms opening to a central courtyard have soaring arches and lots of tile and colour.
Shops and websites around the world carry everything to outfit a place in Moroccan style. Some businesses, like Rudloe's, will even customise your tile, paint colour and woodwork.
A more adventurous option is to wander the souks of Marrakesh, Tangier or Fez on your own. Or tap a local expert, like Maryam Montague, a hotelier, product designer and author of the 2012 book Marrakesh By Design.
Montague, who was born in Cairo and raised in Tunis and New York, leads personalised shopping tours of Marrakesh that she will tailor to your preferences. She also offers week-long Design Safaris, with visits to artisans' studios, palaces and private residences.
Be forewarned: Morocco has seduced even the most jaded world travellers. "There's something in the air there," Bullard observed. You might innocently arrive for a curated shopping experience in the fabled Pink City of Marrakesh and end up like Yves Saint Laurent, who bought a house there after his first visit.
By Rima Suqi © 2019 The New York Times