All that glittters: Seven of the most valuable jewellery to ever go under the hammer
Auction houses have put up everything from AI-generated artwork to Stephen Hawking's wheelchair, but there's nothing quite like sparkling adornments to get those paddles flying.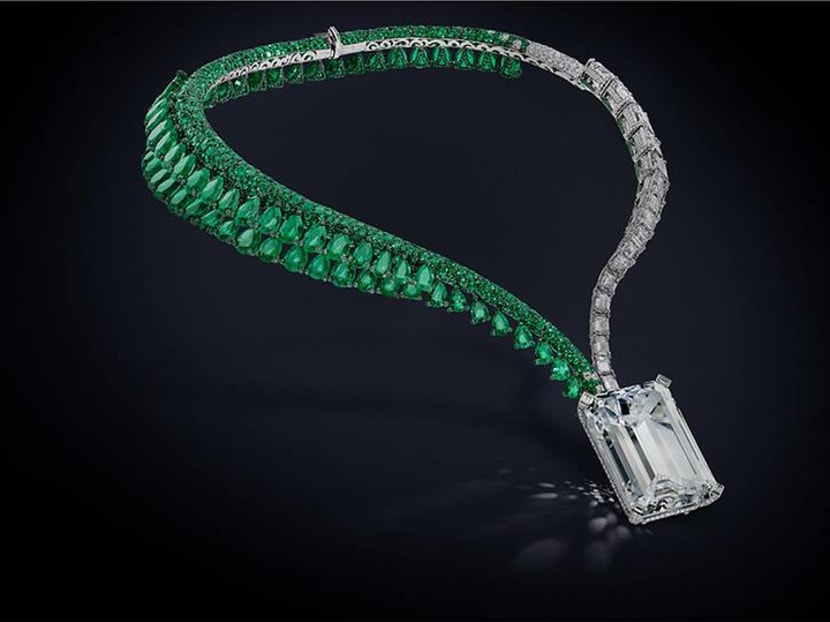 The world of high jewellery has entered into a new age. While impeccable pieces fit for royalty (or previously owned by royalty) have always commanded extravagant prices, the record-breaking ones have been achieved in the last eight years alone. Moreover, aesthetic tastes have appeared to shift as many of the pieces listed here are not from historic collections, but designed by contemporary jewellers with eyes on the future.
EMERALD AND DIAMOND TIARA
CHF 11.3 million (S$15.2 million)
Sotheby's Geneva, May 17, 2011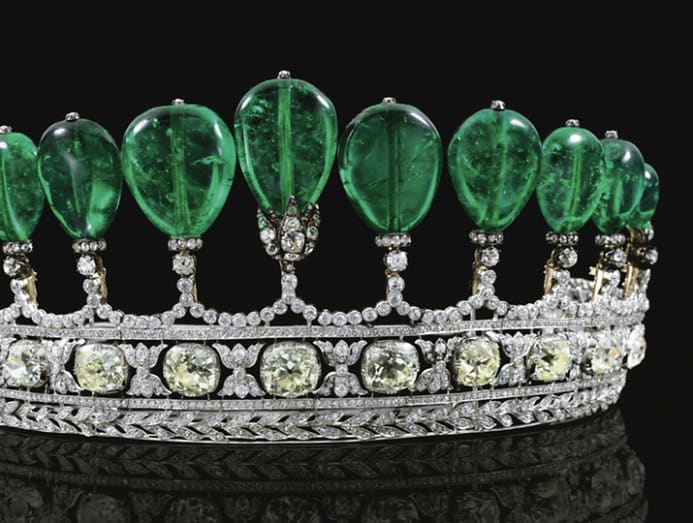 Sotheby's believed this to be the most important piece of jewellery to come to sale in over 30 years, and it's easy to see why. The 11 drop-shaped Colombian emeralds have incredible intensity, collectively weigh over 500 carats and thought to originally have been owned by a Maharajah. They were eventually paired with diamonds and made into a tiara for Princess Katharina, second wife of German prince Guido Henckel von Donnersmarck. It remains the most expensive tiara ever sold.
THE ORIENTAL SUNRISE
CHF 11.4 million (S$15.3 million)
Christie's Geneva, May 18, 2016
The Oriental Sunrise earrings are a pair of orange-yellow Fancy Vivid, oval-cut diamonds weighing 20.20 and 11.96 carats, each set with two additional white diamonds in the link and mounting. It had the second-highest price at the Geneva Magnificent Jewels auction in 2016, with the top spot going to the CHF 56.8 million Oppenheimer Blue diamond.
LA PEREGRINA
US$11.8 million (S$16 million)
Christie's New York, Dec 13, 2011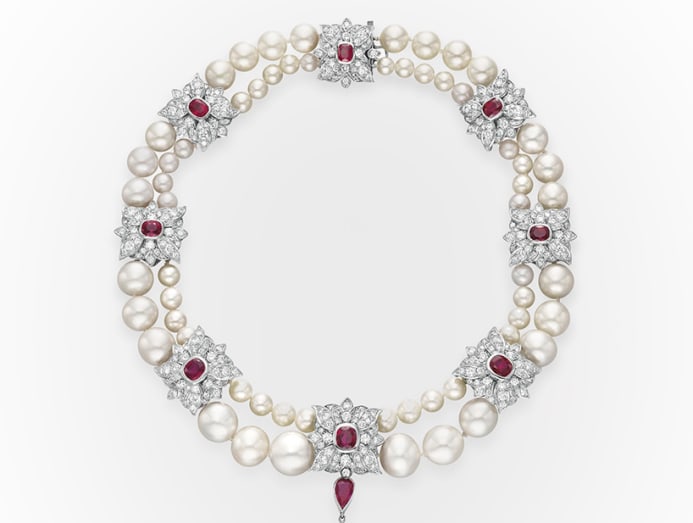 Few precious stones have changed as many royal hands as the 55.95 carat La Peregrina. At the time of its discovery in the mid-16th century, it was the largest pearl ever found and has been owned by King Ferdinand of Spain, the Bonaparte family and countless European aristocrats. Richard Burton had to outbid a member of the Spanish Royal family to acquire it for his then-wife Elizabeth Taylor in 1969. It was then set into an elaborate necklace designed by Cartier.
RUBY AND DIAMOND LATTICEWORK NECKLACE
HK$100.4 million (S$17.3 million)
Christie's Hong Kong, Jun 2, 2015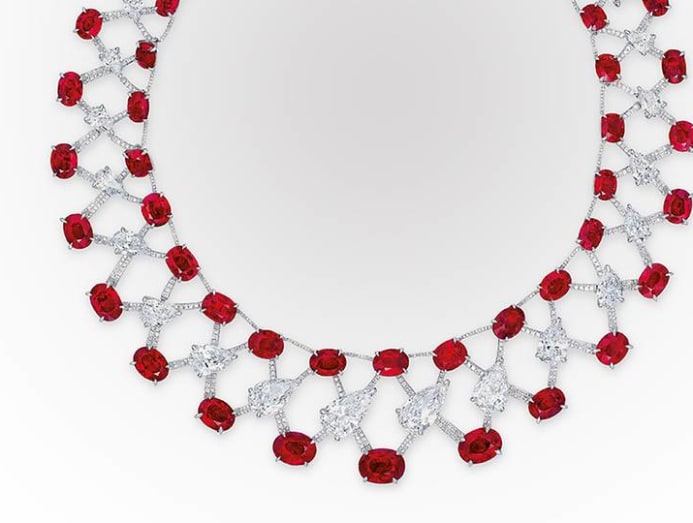 "Pigeon's blood" is considered the most desirable hue for rubies, and this 18K white gold necklace has 48 of them. The cushion and oval shaped rubies range from 7.02 to 1.10 carats and frame a row of graduated pear-shaped diamonds through a brilliant-cut diamond lattice. It was designed by Hong Kong-based jeweller Edmond Chin, who owns jewellery company Etcetera and ran Chirstie's Hong Kong jewellery department for five years.
MOUSSAIEFF BLUE DIAMOND NECKLACE  
HK$160 million (S$27.6 million)
Christie's Hong Kong, May 29, 2018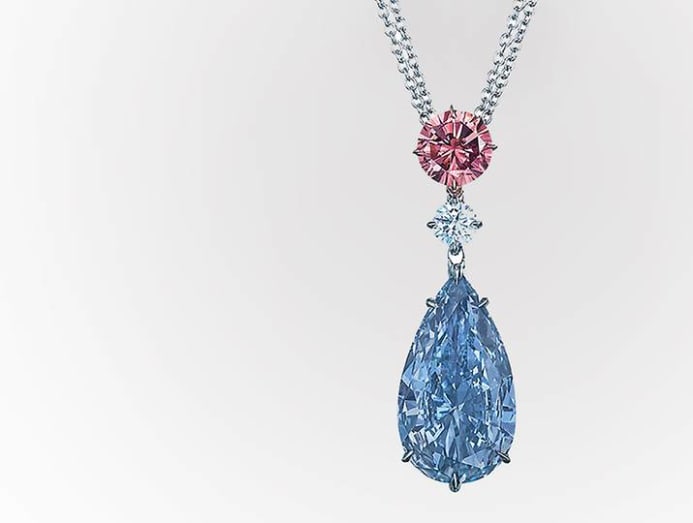 Christie's was fortunate to have Moussaieff's breathtaking necklace at its Magnificent Jewels auction last year. It became the top lot when it sold for the equivalent of S$27.6 million, accounting for 28.4 per cent of the total sales that day. While the overall auction results were lacklustre, the opposite is true for Mousaieff's masterpiece: A diamond double neck-chain with a 1.06 carat circular-cut Fancy Intense pink diamond and a white brilliant ending in a show-stopping 8.01 carat Fancy Vivid internally flawless, pear-shaped blue diamond.
THE ART OF DE GRISOGONO CREATION 1  
CHF 33.5 million (S$45.2 million)
Christie's Geneva, Nov 15, 2017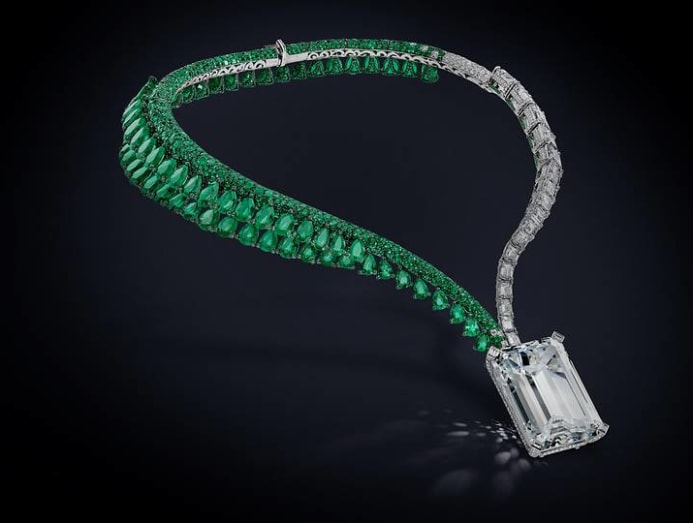 From the Lulo mine of Angola came a 404 carat rough that was eventually cut into the 163.41 carat Flawless D-Colour diamond, becoming the largest ever emerald-cut diamond offered at auction. It is the centrepiece of the design created by Fawaz Gruosi, founder of de Grisogono, and the entire necklace – comprising emeralds and baguette-cut diamonds – took 14 artisans about 1,700 hours to create. One per cent of the hammer price was donated to the Fundacao Brilhante, a foundation dedicated to supporting the communities around Angola's mines.
THE MEMORY OF AUTUMN LEAVES AND THE DREAM OF AUTUMN LEAVES
CHF 57.2 million (S$77.1 million)
Sotheby's Geneva, May 16, 2017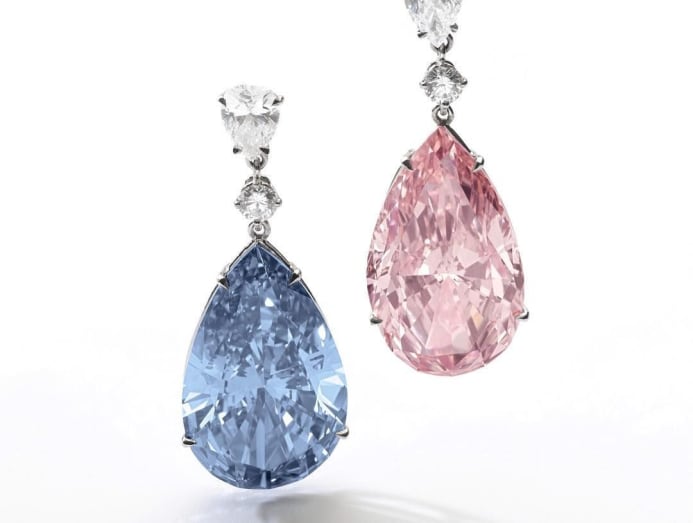 So rare and valuable are the Apollo and Artemis diamonds that they were offered separately despite being mounted as a pair of earrings. Thanks to one telephone bidder though, they will remain as a set. Apollo, a 14.54 carat Fancy Vivid blue diamond, sold for 41.9 million Swiss Francs while the 16 carat Fancy Intense Pink Artemis went for 15.3 million Swiss Francs. They have been renamed The Memory of Autumn Leaves and The Dream of Autumn Leaves respectively.