Sun, sea and sandals: The most stylish casual footwear of the season
These trendy resort-ready options will put a spring back in your step – from vacation to cocktails to brunch with the girls.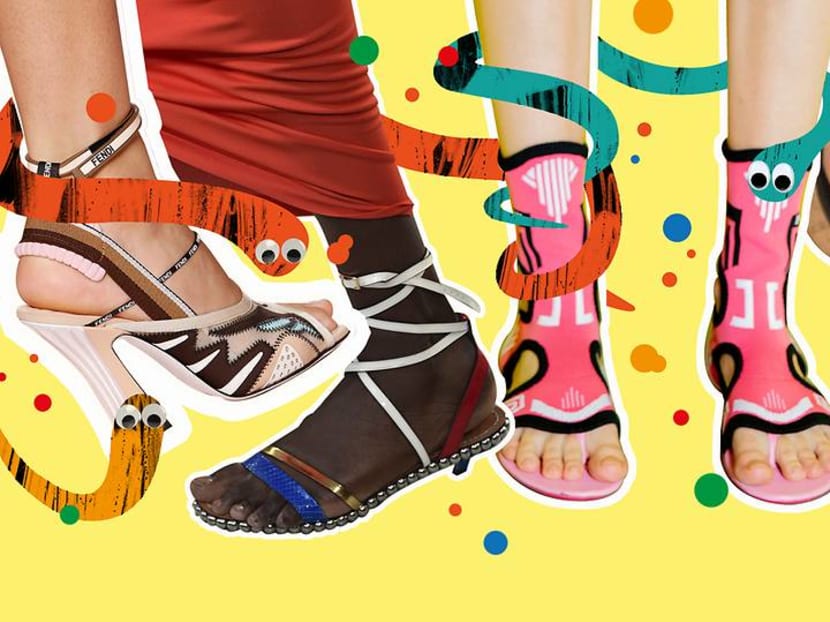 So you've booked your tickets for that dream resort getaway, planned your itinerary and sorted out all your #OOTDs. All that's left is choosing the right footwear to pack in your bag. The good news? Designers and brands have pushed out a mind-boggling array of styles, which means there's something for everyone. What's even better? The season's top footwear options are also the best-performing workhorses. Their job doesn't end at the beach – from the office to brunch with the girls, you can take them everywhere with you.
PLOT TWIST
Sun, sand, sea and sandals – this casual option is as synonymous with beach holidays as florals are to spring. It's hardly groundbreaking stuff, but you can still switch things up by looking out for the details that'll make all the difference.
For example, a strappy pair from Marni effortlessly evokes the magic of summer afternoons spent on a yacht; the colourful ombre soles on a Chloe pair signal a sense of quirky eclecticism. Prada's sporty versions have enough legs to put you leagues ahead of the competition while letting you stay on theme.
TIP: Spice things up with accents of gold – it's a trick that works every time.
GO NATURAL
A well-deserved break away from the hustle and bustle of city life allows your spirit to heal. You'll want your footwear to reflect that renewed vigour, too. Our suggestion? Choose from a variety of footwear that incorporates earthy elements into their designs.
Salvatore Ferragamo worked sculptural cork soles to its platform sandals, while Jil Sander proposed a minimalist pair that recalled the serenity of a Japanese Zen garden. Elsewhere, Stella McCartney crafted slip-ons using environmentally-conscious materials. Now that's a cause we can all get behind.
TIP: Stick to a neutral palette and watch how the look falls into place.
ARCHITECTURAL DIGEST
Not all heels are created the same and these are a step above the rest because of their artistic inclinations. Think of them like sculptures – they make great collectibles that'll also bring any look of yours to the next level.
Decorated with an interesting array of prints, pattern and textures, Fendi's interpretation toes the line between fun and sultry; Saint Laurent's bold heel will lend a Pop Art elegance to your bearing; while Balmain's clear contoured version recalls the Space Age furniture movement of the 60s.
TIP: Take things one step further and opt for metallic or iridescent tones for your nails.
FOOT LOCKER
In between sunbathing at the beach and having dinner at a fancy restaurant, you'll want to explore the various facets of island life in a comfortable option that doesn't compromise on style.
Enter the sneaker – a ubiquitous footwear option that has managed to integrate with all aspects of fashion thanks to its unparalleled versatility. From Tory Burch's sensible, duo-toned versions to Versace's chunky statement makers, trust us when we say there's now a pair to suit every occasion and need.
TIP: Pull up your socks – literally. Graphic or coloured socks inject character and personality to the ensemble.