Tiffany & Co to turn NFTs into wearable jewellery – for US$48,700 a piece
Own a CryptoPunk NFT? Tiffany & Co will turn it into a custom-designed pendant you can wear in real life.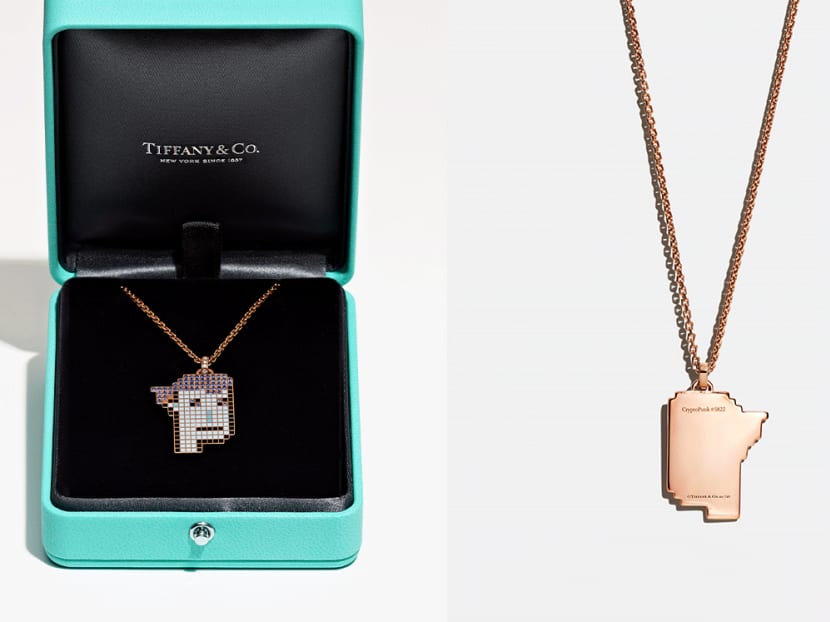 American jeweller Tiffany & Co is jumping on the NFT bandwagon. The house announced on Monday (Aug 1) that it is launching its inaugural NFT programme – aptly named NFTiff.
NFTiff is exclusively available for holders of CryptoPunks, an NFT collection of 10,000-pixel images of different characters. The service will see Tiffany's designers turning CryptoPunks into custom-designed pendants that can be worn in real life.
Each pendant will be comprised of at least 30 gemstones and/or diamonds to create a custom design with the highest fidelity to the original NFT. It will be made of either 18k rose or yellow gold, worn on an adjustable chain measuring between 18-22 inches, composed of rectangular links that draw inspiration from the shape of square pixels.
The pendants are, however, limited in supply – only 250 will be produced, each with its CryptoPunks edition number engraved on the back. Owners will also receive a digital render of the pendant as an NFT and a certificate of authenticity.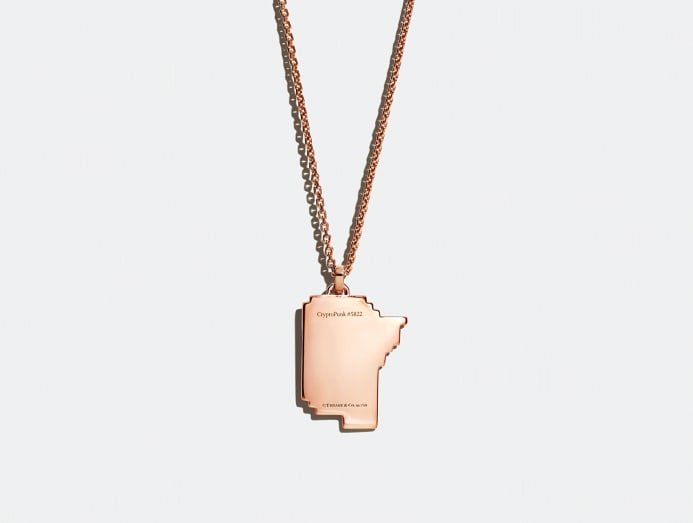 The price? A whopping 30 ETH, which translates to approximately US$48,719 (S$67,096) at the time of writing.
The idea behind NFTiff came about earlier this year when Alexandre Arnault, Tiffany's executive vice president of product and communication, shared a photo of his custom jewellery interpretation of CryptoPunk #3167 on social media, causing a stir.
The pendant caught the attention of blockchain technology innovators Chain, who created the NFTiff pass and online gateway, nft.tiffany.com.
"As a CryptoPunks holder, I saw a partnership with Tiffany as a way to make NFTs accessible to new collectors as well as strengthen the existing community that has embraced the art," said Deepak Thapliyal, CEO of Chain.
The project will launch on Aug 5, with estimated NFT delivery scheduled for December 2022, and jewellery delivery by February 2023.
Tiffany & Co is the latest luxury brand to experiment with NFTs. Gucci marked its foray into the space back in May 2021, when it dropped an NFT film inspired by its Aria fashion collection. On January 18, 2022, it dropped a 10,000-piece NFT collection called SUPERGUCCI.
That same month, Prada collaborated with Adidas Originals on a project that featured 3,000 pieces of community-generated art, which artist Zach Lieberman made into a unique NFT. In June 2022, Prada dropped a collection of 100 NFTs to coincide with the release of its Timecapsule apparel series, consisting of 100 unisex button-down shirts designed by artist Cassius Hirst.
Other brands that have ventured into the space include Dolce & Gabbana, Burberry, Louis Vuitton and Givenchy.