It's not breakfast but there's free ice cream at Tiffany's as it celebrates modern love
From now until May 25, Tiffany & Co. is handing out rose-flavoured ice cream cones if you post a picture of its Blue Benches that will pop up at various locations across Singapore.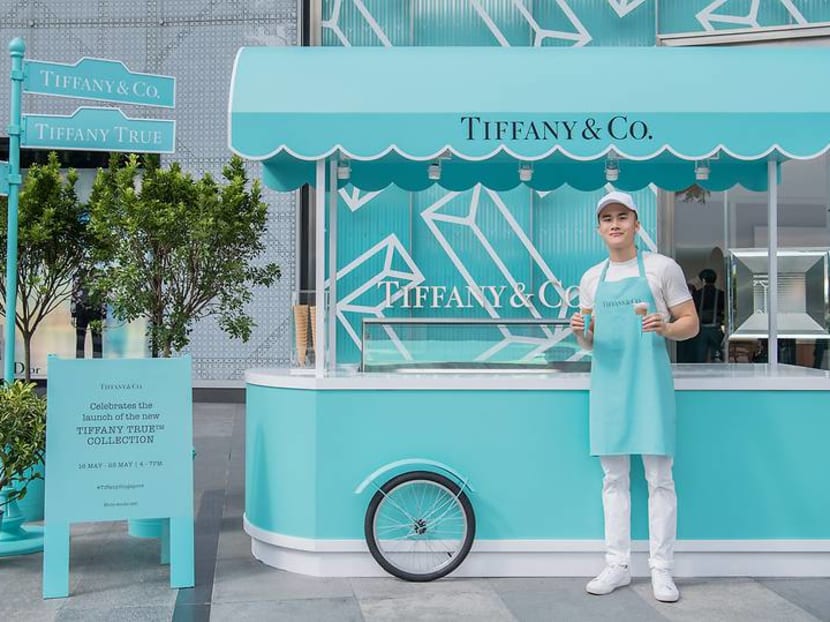 Fresh from outfitting Lady Gaga with a butterfly necklace at the 2019 Met Gala and from exhibiting the 128-carat Tiffany Diamond in Sydney (that, incidentally, Gaga wore to the Oscars), Tiffany & Co. is now attempting to paint Singapore blue in a "takeover" similar to what the American jeweller did last August.
This time round, the jeweller is placing Blue Benches across iconic romantic spots in Singapore. It's part of the brand's new Tiffany True campaign – which you can watch on YouTube or IGTV – and which is aimed at couples planning their engagements.
For woke couples, there are the Tiffany True engagement rings with ethically sourced diamonds – an initiative the jeweller committed to earlier this year.
If your tastes veer towards the modern end of the spectrum, there are the Tiffany T True bands with sculptured, geometric designs.
Modernity, in fact, is the whole point of the exercise. The idea is to celebrate modern love, which comes in all shapes, sizes and colours of the rainbow.
And now that you found love, what are you going to do?
Well, the nine benches will 'pop up' across the week from today (May 16) to May 25. Their locations will be announced on Tiffany's Facebook page. All you have to do is take a picture on the bench – with or without your loved one, pet(s), or object of desire (hey, it's modern love) – post it on your socials with the hashtags #TiffanySingapore #BelieveInLove, and then proceed to Tiffany's ION Orchard boutique to redeem a free blooming rose ice cream cone. Why ice cream, you ask? Simply, it's a way to beat the heat.
Once there, you can also create a bespoke poem for your significant other. Don't worry if you can't wax lyrical to save your life – there'll be poets onsite to help your cause. They'll be available at the following times.
May 16: 10am – 7pm
May 17: 5pm – 7.30pm
May 18: 4pm – 7pm
May 24: 4pm – 7pm
May 25: 4pm – 7pm