Masks and monochrome: What the Japanese are wearing on Tokyo's streets
At the onset of summer, Tokyoites are not letting coronavirus change their style, according to one writer based in the Japanese capital.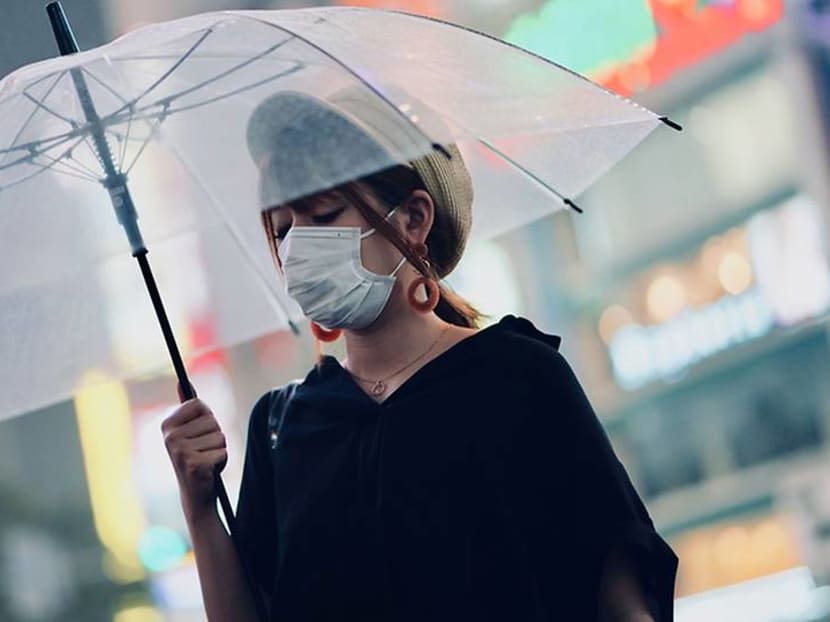 The window of a luxury boutique on Omotesando, Tokyo's fashion-laden avenue, will frequently turn my head. But it rarely stops me in my tracks.
A few weeks ago, however, on an excursion from my house during Tokyo's state of emergency, Saint Laurent's shop grabbed my attention not because of what it was displaying but because of what it wasn't: The entire ground floor was empty. The lights were on, bouncing off mirrored cabinets and the pale marble floor, but nothing was home. It was an astonishing statement, a luminous nihilism, while neighbouring boutiques at least nodded to normality with mannequins and stock.
Tokyo's state of emergency, imposed in early April and lifted on May 25, was an unusual one. Because of the Japanese constitution, the government could only ask, rather than demand, shops not to open and people not to go out. While the former have largely obeyed, enough of the city's population has disregarded the advice that even on starkly depopulated Omotesando, you have a good chance to observe lockdown looks as scorching summer comes in.
Almost everyone on Omotesando was wearing a mask. Looking from my vantage point in Asia, the fuss in the west about them – libertarians arguing about their right to cough in your face, influencers rushing to snap up something voguish – seems bewildering. On my pre-corona commutes from the chic Minamiaoyama area to the business district of Otemachi, generally half the subway carriage would be wearing standard white masks out of caution and hygienic consideration.
On the streets of Tokyo, the mask as a fashion item is non-existent. I must confess, however, that because of my own small stock and my lockdown boredom, I have been making masks out of old American Apparel T-shirts and an endless supply of ribbon I bought for a Taipei Pride costume. Issey Miyake won't be calling me for advice on pleats, judging by those I've stitched, but I think they have a certain hygienic dash.
If my people-watching on a recent Sunday afternoon was any indication, Tokyoites are not letting coronavirus change their style, which, in my opinion, is the world's best style. Black, white and (pale or navy) blue are still the order of the day, especially white tops, shirts and T-shirts and flowing black trousers, with plenty of shirt-dresses and a flush of Breton tops near the Meiji Shrine.
Harajuku, famous for kawaii (cute) culture, cartoon characters and creepy schoolgirl kit, while ghostly earlier in the week, was a little busier, and grungier and more graphic. One man presented a chic paradox, cycling across the road in his STAY HOME T-shirt.
Tokyo's summer is brutal, regularly above 30 degrees, nearing 100 per cent humidity on September evenings, and we are now clearly into a suitably lighter wardrobe – thin cotton, light shirts, though not much less black than in other seasons. The temperature was climbing on my Sunday outing, which made me even more appreciative of people's efforts. All I want to wear in this heat is shorts and not much else. I do not understand the thermodynamics of the woman I saw in thick denim skirt-dungarees and a Victorian blouse.
Although the number of people out on the streets has obviously changed since pre-pandemic days, the quality of their dress has not. When I actually have somewhere to go, my Sasha Velour T-shirt and billowing nikka pokka workman's trousers should strike the right lust-for-life tone.
During another lunchtime walk in Omotesando, I could not resist going past Comme des Garcons, whose glass spaceship flagship is an aggravatingly tempting five minutes from my front door. Oddly, given that the store has a closed sign, there were staff on the floor in their Comme garments – a woman in a ruffled red translucent skirt, another woman in a floor-length shirt-pantaloon dress, plenty of men in black.
In its windows were square black-leather bags with the painted slogan "My energy comes from freedom" and T-shirts reading "Thinking and doing will result in the future".  
Not especially subtle, but at least it was a creative engagement with the global predicament, instead of a surrender to emptiness. More importantly, it feels like something we need to hear right now, as we emerge from captive spring into bright summer.
By Josh Spero © 2020 The Financial Times