Top house tours of 2021: An apartment with landed qualities, a whimsical family home
As the year comes to a close, CNA Luxury digs into its archive of house tours to find 2021's reader favourites. 
Here at CNA Luxury, we cast the spotlight on a variety of things: Celebrities, Michelin-starred restaurants, fine watchmaking and so on. But one topic never fails to enthrall you, our dear readers, and that's house tours.
Two years into the pandemic, our homes are still our sanctuaries, so presumably our house tours give you much needed design inspiration. Occasionally, they also provide an intimate, almost voyeuristic, look into the lives of the affluent.
In case you missed them, we've combed through our archive of house tours to find out which ones you enjoyed the most.
A 4,500 SQ FT APARTMENT IN SINGAPORE FOR A YOUNG FAMILY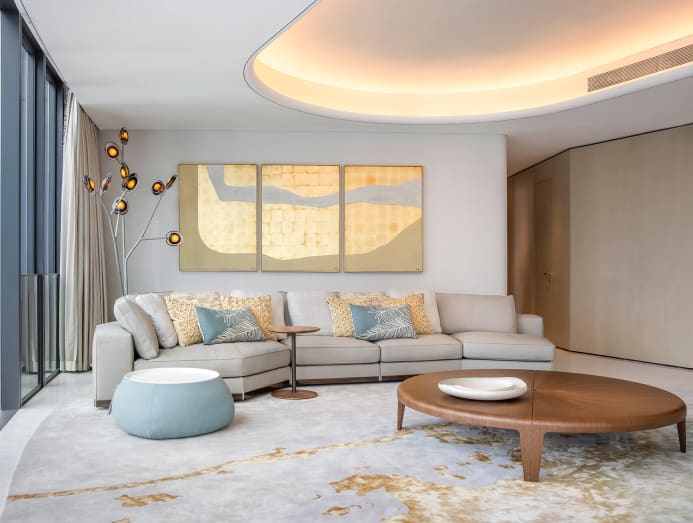 A well-travelled couple from China with a young daughter enjoy their Mediterranean seaside holidays so much, they decided to bring its vibes into their home. Unique features in this 4,478 sq ft apartment off Orchard Road include a glass "jellyfish" light installation at the private lift foyer, a Bocci "tree" floor lamp in the expansive living room and a coral mural pieced together with Italian mosaics in the living room.
Read the story here
INSIDE THE SINGAPORE HOME OF THE DESIGNER BEHIND THE RITZ AND SHANGRI-LA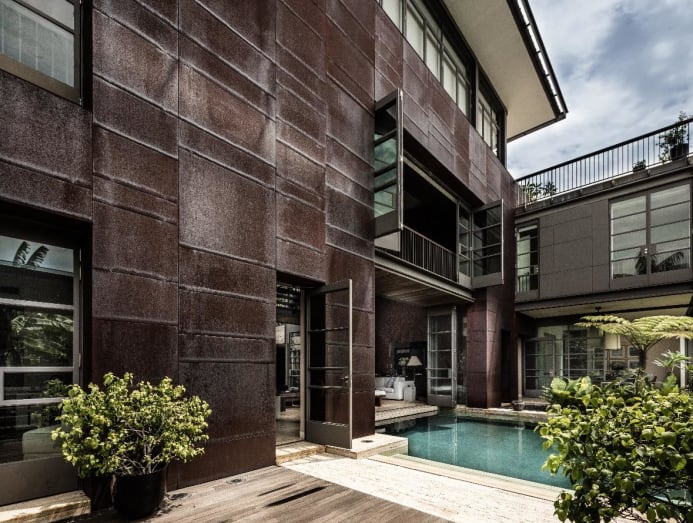 Ever wondered what the home of a seasoned designer behind a collection of luxury hotels would look like? Take a peek inside the residence of HL Lim and his wife, Christine. Lim is the founder and principal partner of LTW Designworks, who has worked on the interiors of over 120 luxury hotels, including brands such as Ritz-Carlton, St Regis, InterContinental and Shangri-La.
Set on a hill, the three-storey property is much like a tropical resort. The pool comes right up to the living room's edge, akin to a pavilion over water.
Read the story here
A SINGAPORE HOUSE WITH A MINIMALIST INTERIOR THAT KEEPS CLUTTER AT BAY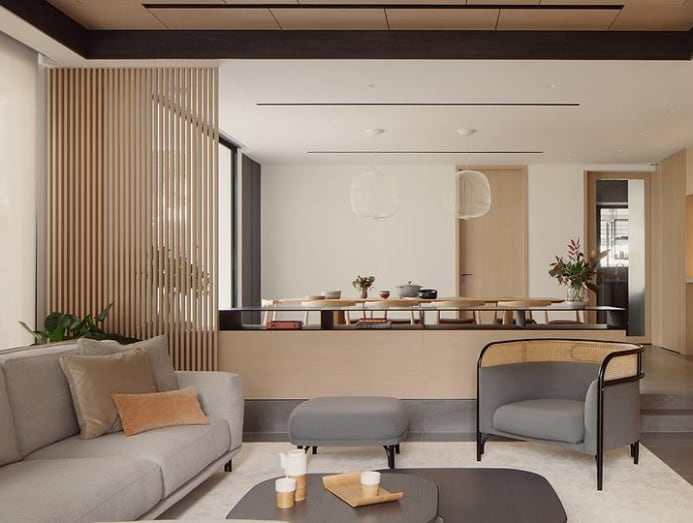 Need inspiration on storage solutions? In this semi-detached residence, Singaporean architect Ko Shiou Hee uses smart storage design to create a minimalist home Marie Kondo would be proud of. The interior of the house features plenty of light-toned wood for both the architectural features and cabinetry. Sunlight spills in from floor-to-ceiling windows, furthering brightening the space.
Read the story here
AN APARTMENT IN SINGAPORE WITH THE QUALITIES OF A LANDED HOME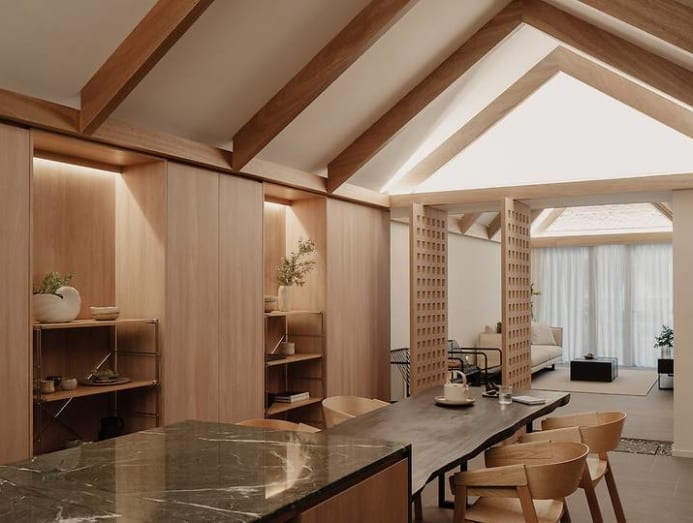 This year, it was evident that more Singaporeans are buying bigger, landed homes. But for a lawyer in her 30s, a landed home would be too big and impractical for a single occupant. Her solution? Incorporating landed qualities into her two-bedroom apartment. The highlight of this home is the gabled ceiling, reminiscent of rustic barns.
Read the story here
A COLOURFUL, WHIMSICAL HAVEN FOR A YOUNG SINGAPORE FAMILY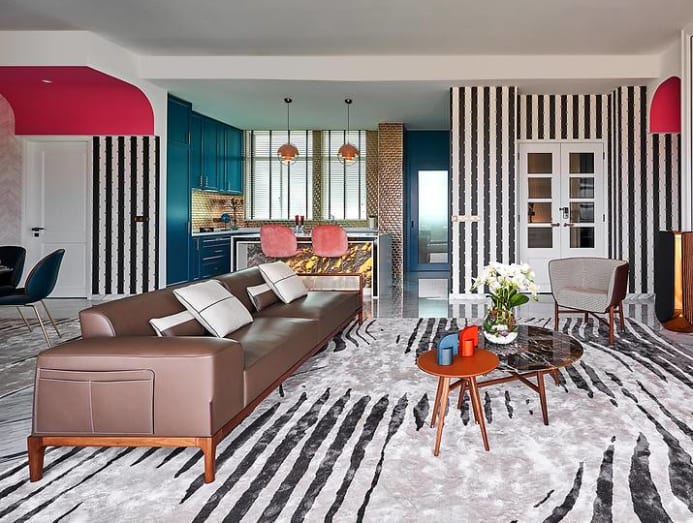 This apartment, home to a young Singapore family, is a breath of fresh air with its playful pops of colour and whimsical touches. A bright pink arch runs along the corridor, while the dining area features Gucci wallpaper of herons and dragonflies. The home also boasts a large living space to entertain and host gatherings, a walk-in closet to house a sizeable collection of clothes, bags and shoes, and oh, a slide in the daughter's bedroom.
Read the story here
THIS SINGAPORE HOME OF AN ARCHITECT FULL OF HIDDEN SURPRISES
This 4,831 sq ft semi-detached house, which architect Rene Tan shares with his wife Woei Woei and daughter Lara, has multiple free-flowing spaces and interconnecting rooms with hidden doors. For example, a shelf of stuffed toys swivels to reveal a secret studio where Lara practices her violin and a sliding panel in the bedroom reveals a working space or bathroom. Tan calls the house a "house of rejects", where elements his firm did not get a chance to do elsewhere have appeared.
Read the story here
A BRICK HOUSE IN SINGAPORE SHARED BY THREE GENERATIONS OF A FAMILY
The owner of a 1960s brick house had it rebuilt as two houses – one for himself and the other for his daughter and her family. In the middle of the houses sits an open courtyard. The design of the house accords privacy to each family, allowing them to entertain guests in their own separate wings.
Read the story here
A 10,000 SQ FT HOME IN KL WITH A PANORAMIC VIEW OF THE CITY SKYLINE
Aside from homes in Singapore, we also took an inside look at homes in other parts of Asia. In Kuala Lumpur, this glamourous home in the affluent neighbourhood of Bangsar was designed around the spectacular city view. The home was designed for seamless outdoor-indoor living, with features such as an outdoor living space with pool, an art studio and a home cinema.
Read the story here
INSIDE A 3,500 SQ FT APARTMENT DESIGNED WITH A NEW YORK VIBE
A bachelorette in her 30s once lived in the Big Apple and wanted her home in Singapore to emulate New York City's chic, cosy apartments. This 3,500 sq ft apartment features ivory stucco walls in the living area, refined green onyx wrapping the foyer's walls and a kitchen island counter clad in Calacatta Gold marble – one of the most prestigious stones in the world.
Read the story here
A SMALL APARTMENT DESIGNED TO FEEL LARGER AND MORE LUXURIOUS
While many of us yearn to live in bigger spaces, in land-scarce Singapore, this remains a dream rather than reality for many. Which is why this home, a 990 sq ft two-bedroom apartment that maximises space, resonated well with readers. To make the apartment feel larger, the designer introduced a bevy of clever spatial and visual cues, including a streamlined palette of dark colours, a foyer diffused by light, a coffee corner built from a small bay window and a large opening into the kitchen created by removing the kitchen door.
Read the story here