How Rolex's sibling, Tudor, became the most surprising watch brand of 2021
With transparent case backs, novel case materials, a new movement certification and an astonishing price, Tudor is entering a new age of sophistication.
Rather than remind everyone of the many – sometimes unflattering – ways Tudor has been viewed in relation to sister company Rolex, it's time we paid attention to the growing personality of the Shield. Because if you'd allow us just one juxtaposition, you will find that Tudor's 2021 novelties are truly novel.
BLACK BAY FIFTY-EIGHT 18K
With its vintage-derived looks and friendly price tags, the Black Bay Fifty-Eight collection would have continued to do well even if it never deviated from its steel-but-in-different-colours strategy since its launch in 2018.
Out of all the Black Bay releases this year, the Black Bay Fifty-Eight 18K is the most unexpected, because its solid yellow gold case has just made it the most expensive Tudor watch to date at US$16,800 (S$22,200) – more than double what most of its watches go for.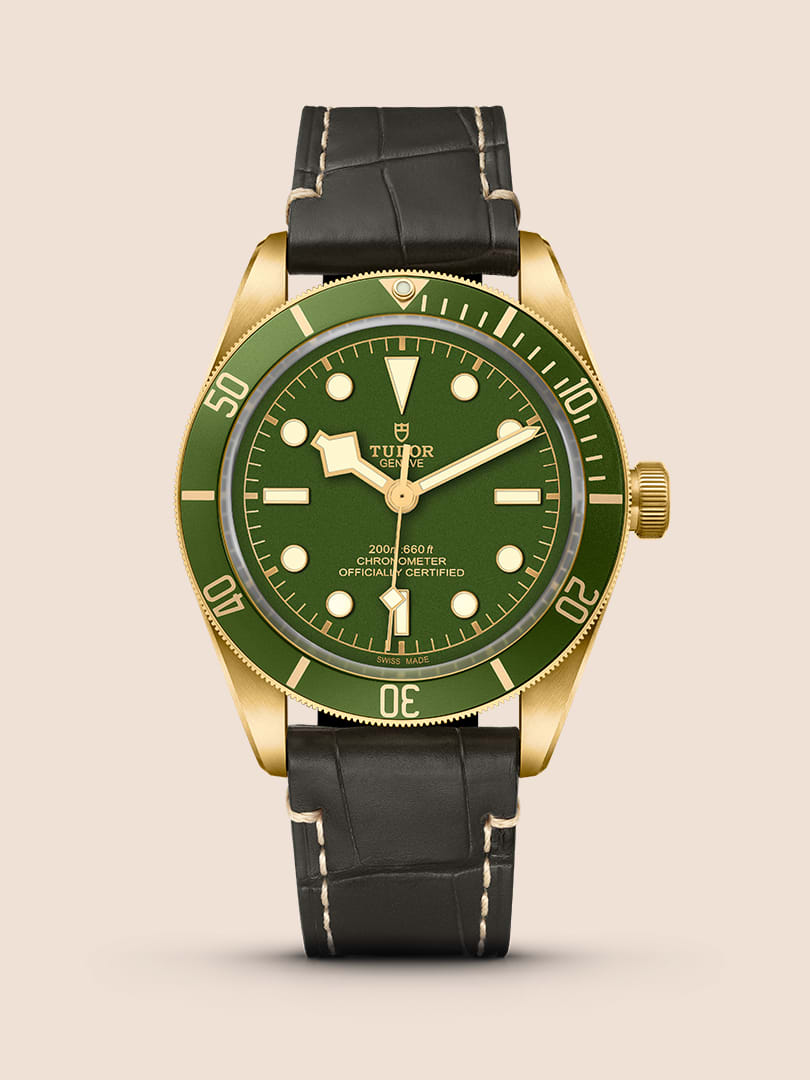 This model, like the rest of the Black Bay releases this year, finally includes a sapphire crystal case back, through which you can view the modestly finished, COSC-certified MT5400 with silicon hairspring.
Despite this new infusion of preciousness to the collection, it still maintains a rugged tool watch feel thanks to the metal's satin-brushed surfaces, the dial and bezel's outdoorsy forest green hue, and the fact that it is only presented with an alligator strap and fabric strap rather than a full bracelet.
Not everyone will warm to the idea of a gold watch that looks a little like bronze, but one can't deny that it is nonetheless a visually arresting option.
BLACK BAY CERAMIC
Hot on the heels of the most expensive Tudor is the most technically sound one: The Black Bay Ceramic. Tudor might be late to the ceramic party with this model, especially since the last ceramic watch it produced was a one-off for the 2019 Only Watch charity auction, but it's not the case that is of interest here.
The manufacture calibre MT5602-1U bears the METAS Master Chronometer certification, which throws in a few more requirements over the industry's standard COSC chronometer certificate. These including resistance to magnetic fields of 15,000 gauss, pressure test for water resistance, and precision at two different levels of power reserve, among others. With this movement, Tudor has become the first brand after Omega to offer a watch with this certification.
Of course, the watch itself doesn't look half bad, and this non-limited Black Bay Ceramic is surely a more practical option than its highly stealthy Only Watch predecessor, which had the entire case, dial (lume included) and strap coloured black.
BLACK BAY FIFTY-EIGHT 925
For the most part, watch cases are either precious or they aren't. Stainless steel sits on the most affordable end of the spectrum, while gold and platinum remain on the other end. The materials that lie in-between, like titanium, ceramic, carbon composites and assorted alloys, while high-tech and durable, aren't traditionally formal options. 
Enter the Black Bay Fifty-Eight 925 in sterling silver.
Because of silver's susceptibility to tarnish and scratches, silver cases fell out of favour once stainless steel came into play. These days, the precious metal is most commonly used for watch dials, since its softness makes it easier to engrave.
But the year is 2021 and metallurgy has come a long way, so thanks to a mixture of silver, tin and copper (with the brand remaining tight-lipped on the exact ratios), Tudor claims the case won't discolour over time and keep its unique lustre.
Like its gold sibling, the watch uses the Calibre MT5400, which offers 70 hours of power reserve. Paired with a warm taupe dial and bezel, the Black Bay Fifty-Eight 925 is a sublime example of a watch that successfully balances fineness with value.