This ultra-rare Patek Philippe timepiece could fetch US$4m at auction
The coveted timepiece, described as an "end game" watch for collectors, is one of only three Ref 2523 watches that feature a map of the Eurasian landmass.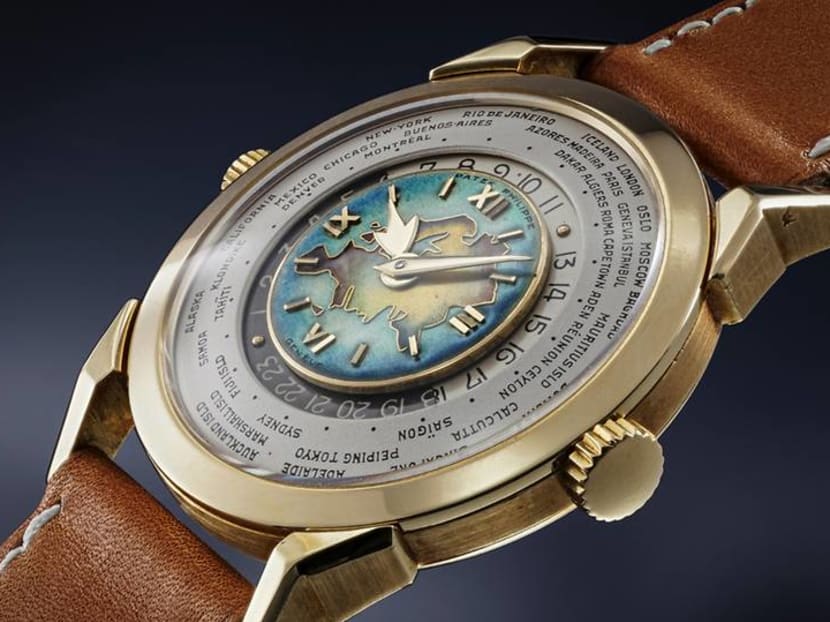 British auction house Phillips has unearthed an extremely rare, enamel dial Patek Philippe timepiece. The Ref 2523 watch, which features a map of the Eurasian landmass, is expected to fetch almost US$4 million (S$5.4 million) when it goes under the hammer in May.
It is believed that the storied watchmaker produced a total of just 11 Ref 2523, each featuring a decorative cloisonne enamel map dial. Five of them featured the map of North America, three South America and three Eurasia (Europe and Asia).
Of the three Eurasia dials, one is currently part of Patek Philippe's own collection, housed in its Geneva museum. The other is part of a prominent private collection.
The whereabouts of this latest example was previously unknown, and it has been two decades since the Ref 2523 appeared on the market. 
The present watch will most probably be the last to be discovered and to grace the auction market in a long time, Phillips said in a press release.
The timepieces boasts a 36mm yellow gold case and sports two crowns. The immaculate watch face features hues of blue, green and turquoise, and the watch is paired with a brown leather strap.
The collectible will lead The Geneva Watch Auction: XIII held by Phillips in association with watch auction house Bacs & Russo on May 8. It is estimated to reach in excess of US$3.7 million.
The auction houses describe the Ref 2523 as an "end game" watch for collectors. "Arguably, it is difficult to find a more abused term in the world of watch collecting, but this is the one instance where the word can be used with its original undiluted meaning: the present watch is – simply put – one of the most sought-after, unobtainable, attractive and fabled timepieces in the world," said Aurel Bacs, senior consultant at Bacs & Russo.