What happens when a watchmaker teams up with a comic book illustrator
You get a comic book on your wrist. And in the case of Ulysse Nardin's collaboration with Milo Manara, not just any comic book, but a rather sensual one.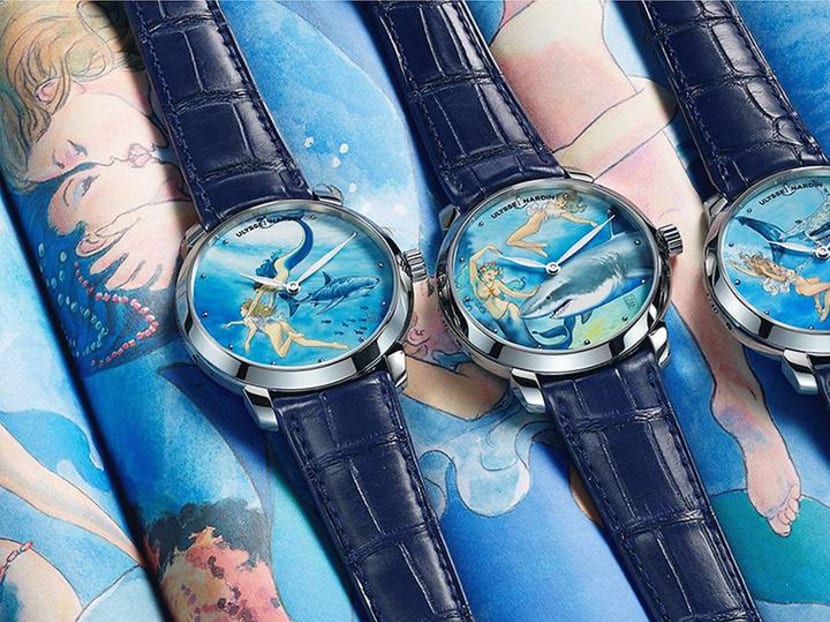 Perhaps no other watchmaker has quite as much fun as Ulysse Nardin. When they're not pushing the boundaries of chronometry and silicon use, they're building watches with no crown, hands or dial and calling them Freaks, or directing their mastery of repeater technology to crafting jacquemarts getting freaky in the biblical sense.

The Le Locle-based brand is quite adept at the latter; for years Ulysse Nardin has been making erotic watches that are mechanical and artistic masterpieces, featuring sculpted figures in precious metals moving in time to a loud and clear striking mechanism set against highly detailed engravings. This year's sensual novelty continues the tradition, but this time with the help of notable comic book illustrator Milo Manara.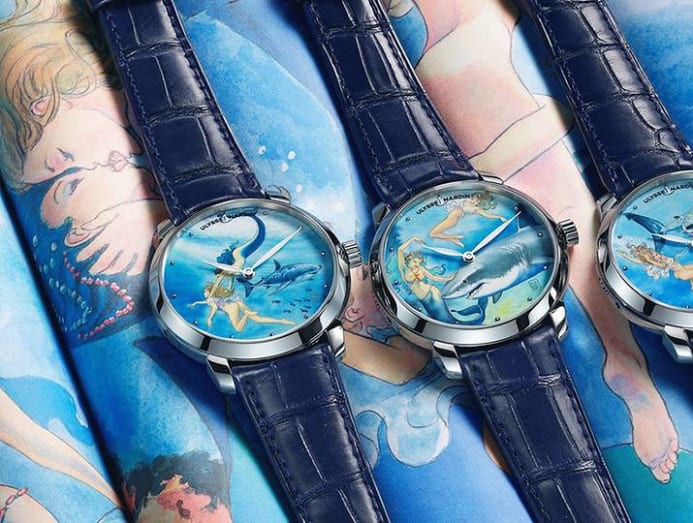 Manara's 50-year career includes artwork for Italian filmmakers Federico Fellini and Alejandro Jodorowsky, writer Neil Gaiman and covers for Marvel comics, and he's built his reputation on his erotic yet elegant style. This style has been manifested in the Ulysse Nardin Classico Manara watches, a limited-edition series of 10 different dial designs that together tell a story of a woman named Nadia and her steamy love affair with the mermaid Ulyssa. A voyeuristic shark is also involved. "The clock lends itself particularly precisely to this theme because in eroticism there is eternity," said Manaro in a press statement.

The fantastical tale unfolds sequentially through the dials but Manara has ensured that each design, realised in stunning watercolour detail, can stand alone. Ulysse Nardin then enlisted the help of some of the best miniature painters in the industry to reproduce Manara's design onto watch dials. Given how the dials are about 10 times smaller than Manara's original drawings, each one took approximately 50 hours to complete, and required the use of single-hair brushes as thick as an eyelash.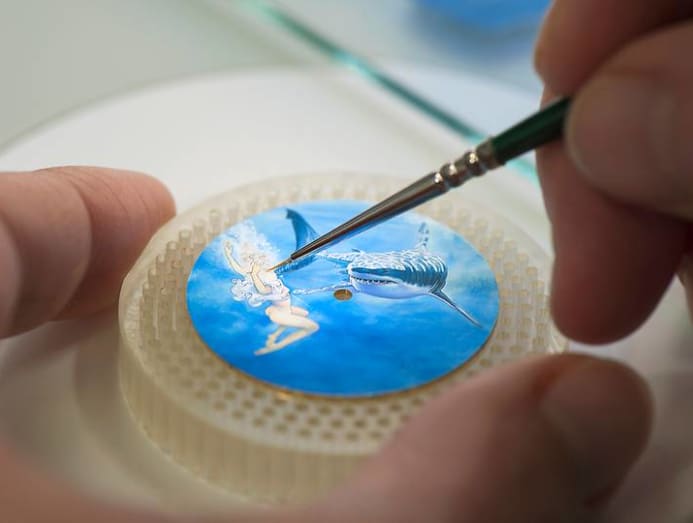 Since the art takes centrestage, only hours and minutes are offered, via luminous leaf-shaped hands. It is powered by the in-house automatic UN-320 movement, which is equipped with a silicon hairspring and the brand's signature anchor escapement, and comes with a standard 48-hour power reserve. The collection consists of 10 pieces per drawing, in stainless steel or 18K rose gold, making a total of 200 pieces.

As far as artistic watches go the Classico Manara collection is certainly stunning, and the fact that they're all hand-painted means no watch will be identical. But it could be disappointing for long-time fans who valued the technical prowess of Ulysse Nardin's previous erotic watches. Miniature painting in watchmaking isn't quite as rare as little figures whose amorous activities could be brought to life on demand.

But these changes are in line with CEO Patrick Pruniaux's plan to have the brand channel a more youthful energy. With a new (if slightly cheesy) tagline of "We Xplore, We Xcite. We Xist. We are Ulysse.", the introduction of the entry-level Freak X watch this year and now a collaboration with a comic book legend, Ulysse Nardin is clearly trying to make its luxury watches more accessible to a new generation. But as long as the team keeps the fun alive with radical, brow-raising innovations, that's just fine and dandy with us geezers.