Ulysse Nardin's Freak One timepiece might be its freakiest one yet – and proudly so
Chief product officer Jean-Christophe Sabatier shares why the watch is significant for the brand and what else you can soon expect from the independent watchmaker.
It's been a little over a year since Ulysse Nardin (UN) regained its independence from the Kering Group, and things have been full steam ahead. Focused on paring things back to basics, the independent watchmaker has kept its sights on re-centering itself and concentrating on the things that make UN…well, UN. Nowhere is this more evident than in the Freak One timepiece released this year.
Encapsulating over 20 years of Freak innovations within its 44mm case, the Freak One timepiece works like a highlights reel that presents the very best that the collection has to offer since its wave-making introduction in 2001. The notched bezel of the original Freak reappears on this DLC-finished titanium case number, alongside the open gear train of 2013. The watch is regulated by a silicon hairspring that debuted in 2008, and an escapement treated with DIAMonSIL (a synthetic diamond and silicon plasma surface treatment introduced in 2007) for added abrasion- and shock-resistance. In other words, the Freak One was built like a "Best of" compilation album with hits that will have you singing along at the top of your voice.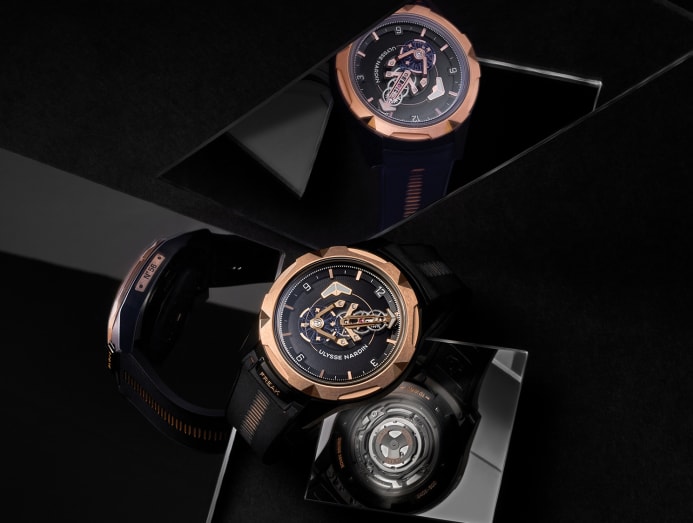 "UN is a very innovative manufacturer, and we are constantly running after innovations. But from time to time, it is also important to stop and capitalise on these innovations," said chief product officer Jean-Christophe Sabatier when CNA Luxury spoke with him while he was in Singapore. "That's the principle behind the Freak One. You won't find in it one particular innovation. You find all the innovations the brand has achieved during the last 20 years. That is the spirit of the product."
Here, he tells us more about what you can expect from the independent watch brand.
Ulysse Nardin (UN) has called the Freak One timepiece the direct descendant of the original Freak launched in 2001. What were the thought processes behind it?
As you know, we became independent again [in May 2022], and we have been preparing for this new independency since three years ago. We set up a plan to bring ourselves back to the very roots of the brand. The Freak was a modern timepiece that saw the beginning of a new era in the watch industry. It also represents for UN the quintessence of our independence. So we decided that the Freak would be the heart of our product strategy for the first years of our independence. We are a brand with a lot of heritage, but we are also a brand with a startup mindset. The Freak represents this notion in terms of its spirit. [We are entering] a new cycle, and we start again by taking the same step.
Can you tell us more about the watch itself?
I would call the first Freak a concept watch, and the Freak One the result of 20 years of accumulated Freak innovation and experience. The original Freak was not perfect, but it was revolutionary. The Freak One that we have launched brings the Freak to a level of maturity or achievement that has not been reached before. Inside, for example, you will find all the innovations that we have made on regulating organs, silicon and diamond synthesis technology, and all the layers related to the blade technology, particularly on the grinder winding system. You will also find improvements in the concept itself: Its look, waterproofness, and wearability. This is why we chose to call the watch Freak One, because it is "the one" and will stay in the collection for many years.
What comes to your mind whenever you think about the Freak?
First, I would say that the collection's name is incredible because you have to be highly authentic and courageous as a brand to endorse such a name. It tells us a lot about the product because its concept is still inimitable and incomparable. This idea of the movement rotating on itself has no equivalent; everything about the Freak is related to technical content. There's an integrity to the product where its design results from all its technological innovations; the design is not the main driver. And this approach is counterintuitive compared to most other companies where they think of the design first.
What is the product strategy that UN has in place post-independence?
Ten years ago, UN was more of a manufacturer than a brand. We had 15 collections and 600 SKUs with very strong technical content, but we were not well organised. We believe we need to be clearer in how we present ourselves to customers. So we have decided to keep four collections: Marine, Diver, Blast, and Freak. The idea is to be a brand with a consistent design signature, a philosophy, and a culture you can feel through the product, with technical integrity in every product.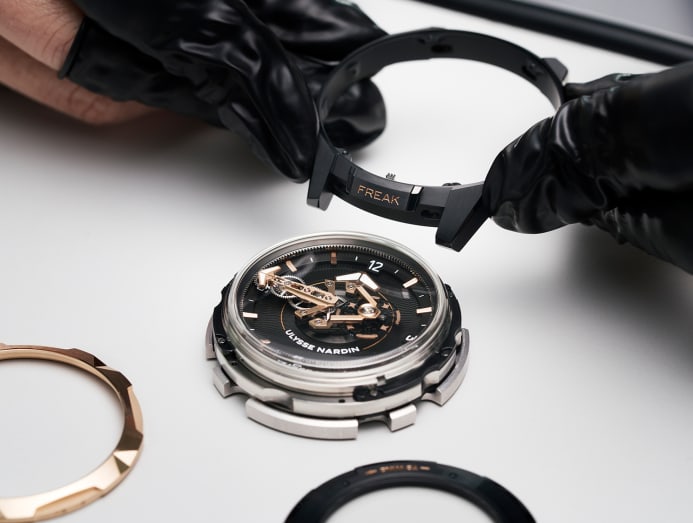 What else has changed since regaining independence?
I will say, honestly, not much because we have been prepared for it. Kering understood very well that UN needed to return to the brand's quintessence, and they have always supported us. But, of course, when you are independent, you feel a higher level of responsibility because, if you make a mistake, you are accountable directly for all the employees; you don't have the protection of an elder brother. Today, at the Sowind Group, we have 360 people working for both UN and Girard-Perregaux. We have our own portfolios of calibres within the two brands, but we share the watchmakers. We are a small manufacturer, everybody's important.
What else can we expect from UN in the upcoming months?
This year, we have 11 novelties, and for the next main launch at the Dubai Watch Week [in November], we will have an exciting technical product for the Blast collection that is very UN. As for Watches and Wonders in Shanghai [this September], we have a new Freak X novelty. I told you earlier that I would like my next watch to be a Freak X. Well, this could be the one.