Ulysse Nardin's weirdest watch, the Freak, just received a sci-fi-worthy update
High watchmaking just reached new heights with the world's first automatic double-oscillator watch, the Freak S.
In partnership with The Hour Glass.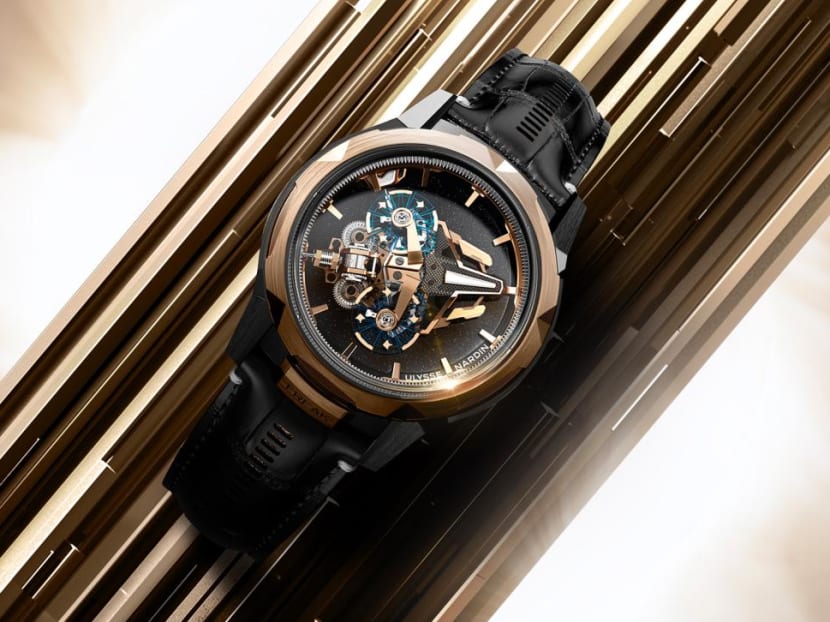 As a brand, Ulysse Nardin has a lot of range. It offers classic, chronometre-certified dress watches, vibrant metiers d'art dials, rugged, all-weather sports watches, and more.
As a watchmaker, Ulysse Nardin is borderline bonkers. Among its greatest hits: Watches that don't bother with hands, crowns or dials, chiming watches with erotic jaquemarts, and a swaying table clock un-ironically named the "UFO".
But who doesn't love a mad scientist in an industry hogtied by heritage and seriousness? It is this freedom that has allowed Ulysse Nardin to pioneer the use of silicon parts in movements (now a widely adopted practice in the industry), experiment with high-tech glass minute hands and, most recently, put a rocket ship on your wrist.
Of course, it isn't really a space shuttle built into the 45mm case of the novel Freak S, but an entire movement that builds on the ingenuity of the aforementioned dial-less, hands-less, crown-less Freak watch.
The "turbines" are actually two silicon balance wheels beating at slightly different rates, regulated by a vertical differential that is composed of 69 parts. They are both also mounted at a slight incline of 20 degrees to allow for positional deviations, allowing for greater accuracy.
The calibre UN-251 is a spectacle that you'll have to pay attention to to tell the actual time. The tip of the "rocket" acts as a minute hand as the entire movement is mounted on a carousel that rotates once every hour.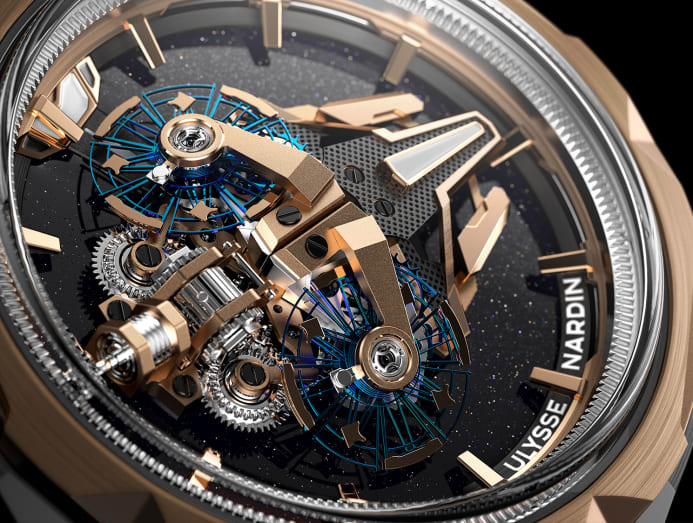 The luminescent hour indicator found on the periphery of the dial is driven by the differential mechanism it's attached to. To adjust the time, you unlock the catch (where the word "Freak" is printed") and rotate the bezel to move the entire movement.
This is also the world's first automatic double oscillator watch, and it uses Ulysse Nardin's "Grinder" winding system – first seen in the InnoVision 2 concept watch from 2017 – that you can see in all its complex glory through the exhibition caseback.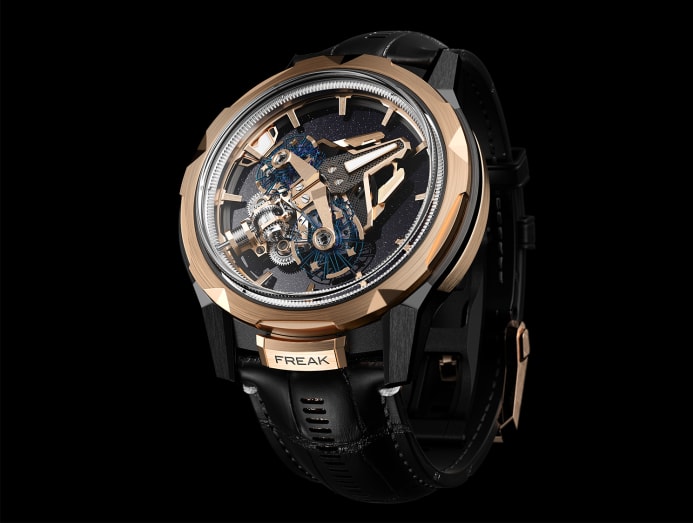 An aventurine dial completes the look, and is complemented by a case made of rose gold, ceramic and titanium. The Freak S comes with 72 hours of power reserve, a 30m water resistance, and will be a limited edition of 75 pieces.
The brand has revealed that the coming years will be dedicated to building on this collection, and we say the Freakier the better.