Would you like a UFO on your table? To gawk at while working from home
Swiss watchmaker Ulysse Nardin's 175th anniversary clock is a celebration of its future.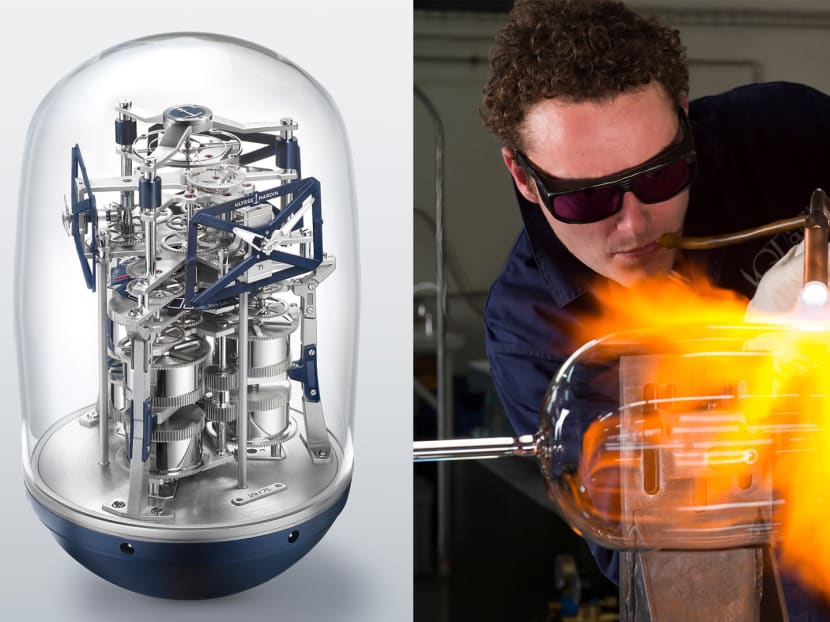 Celebrating 175 years of watchmaking history is a milestone to take pride in, and it's also one a brand can take a lot of inspiration from when it comes to anniversary pieces. But that's not Ulysse Nardin's style this year. 
In a (we hope) pointed dig at the industry's current obsession with classic remakes, CEO Patrick Pruniaux said, "Reissuing a watch from the past by reusing vintage codes was not part of our creative intentions for this anniversary object. We always look ahead. We wondered what a marine chronometer designed in 2196 would be like."
Now you won't have to wonder either, because Ulysse Nardin has released the UFO, or "Unidentified Floating Object", an anniversary table clock that was inspired by – but looks nothing like – the marine chronometers the brand was founded upon.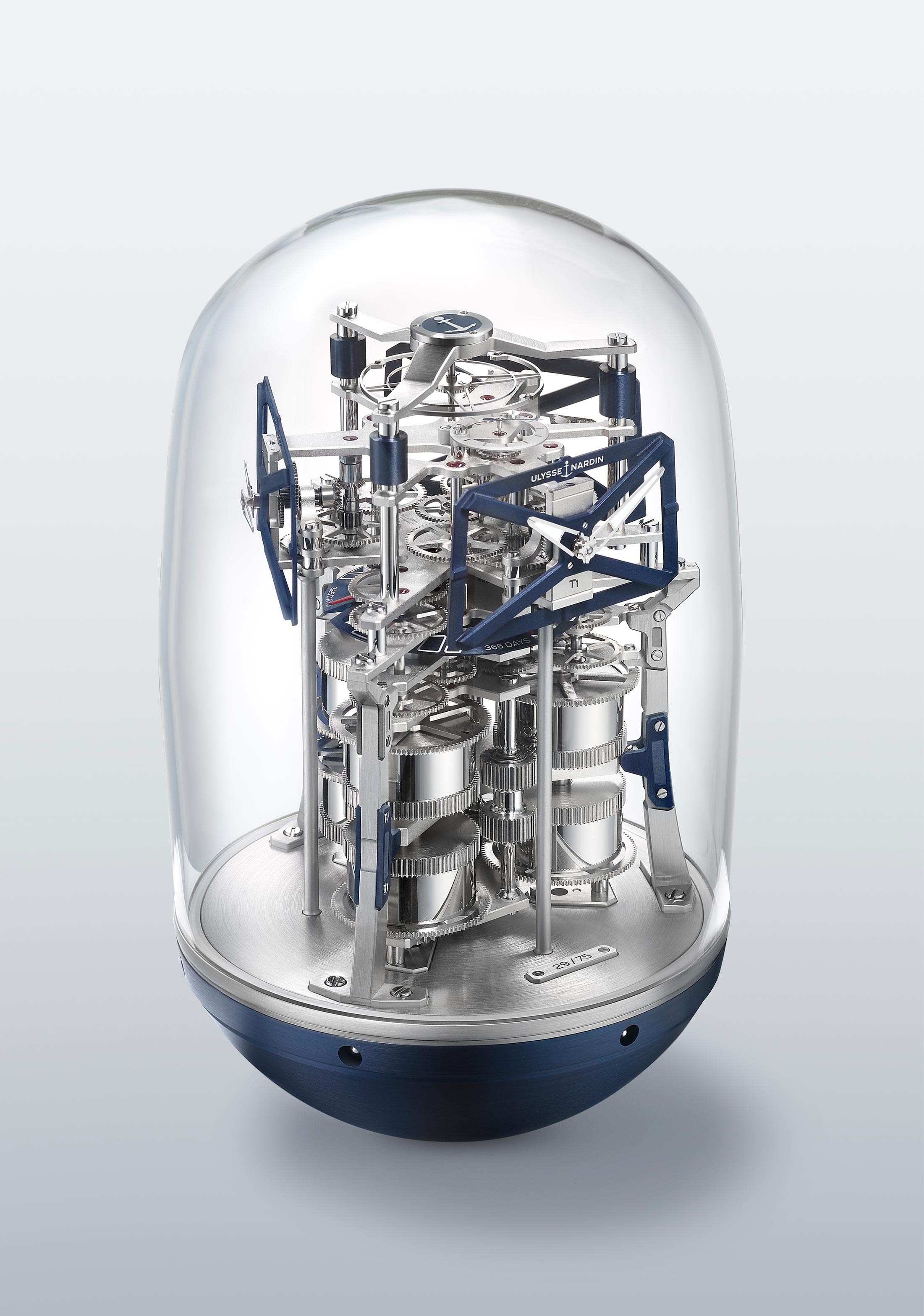 Here's the fun twist: Marine chronometers were traditionally housed in wooden boxes set on gimbals to counteract the constant swaying of ships, but the UFO was built to sway. The entire clock mechanism is set on a blue half-spherical aluminium base with a tungsten mass and will swing up to 60 degrees from its axis when gently nudged.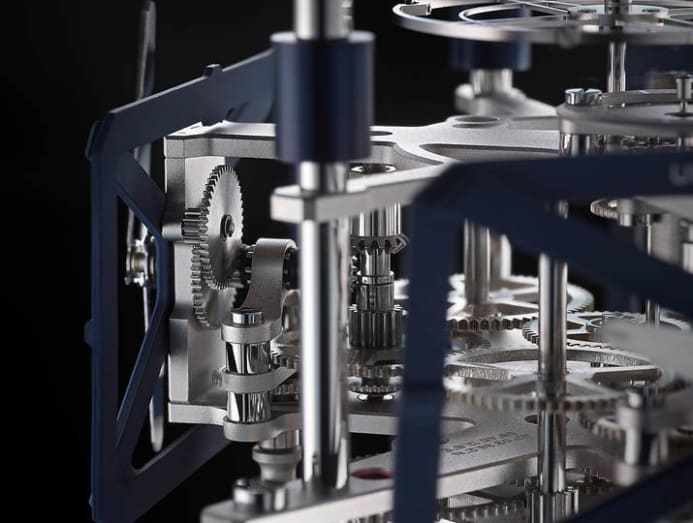 Measuring 263mm tall and 159mm wide, the wobbly 7.2kg clock is an impressive piece of machinery that offers the time in three independent time zones across three trapezoidal dials. The movement was built by acclaimed clockmaker L'Epee, which many will recognise for the toy-like creations it has made for MB&F. 

The UFO, however, is considerably more complex. Comprising 663 components, the clock has a tremendously long power reserve of one year, made possible by six extra-large barrels and an enormous 49mm brass balance wheel that beats at a low frequency of 0.5Hz. It also features deadbeat seconds as an added quirk.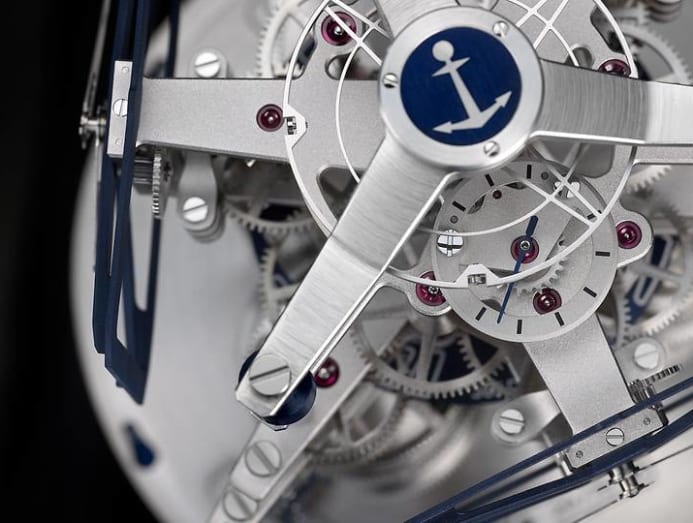 The architecture of the movement was meant to vaguely recall the designs of cardinal marks, those black and yellow buoys that indicate the direction of safe waters for ships. It sits safely under a glass bell that, according to its 26-year-old maker Romain Montero, sounds like it took as much work as the movement.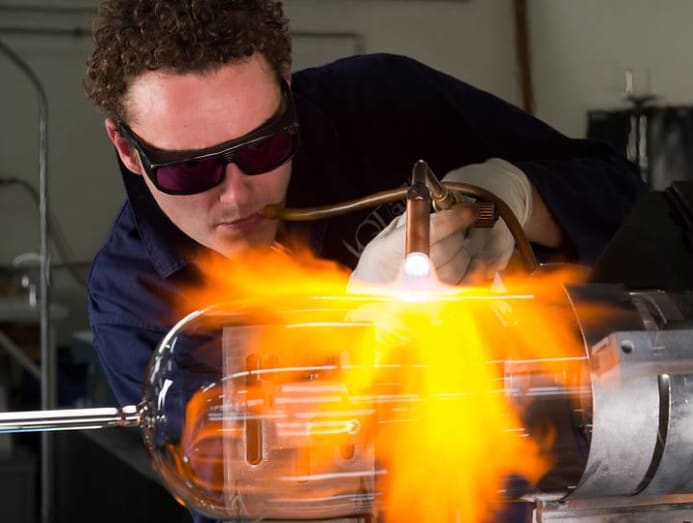 "You need to blow gently, as if you want to make a soap bubble. Even so, the glass is imperfect at the base and is sensitive to micro-vibrations during blowing," he said, adding that he had to blow 150 bells just to achieve 50 spotless ones. Each glass tube is just 3mm thick, and required half a day's work to complete.
The UFO is a 75-piece limited edition and each one comes in a wooden chest that has been made to look like it just washed ashore somewhere, and included is a steel key with which to wind the clock and adjust the time zones. 
Is the UFO a remarkable example of horological finesse and storytelling? Yes. Is it also an Utterly Frivolous Objet d'art? Also yes. But this is definitely one that clock lovers will get on board with.