Did you know that women were the first to wear timepieces on their wrists?
At a new showcase by Vacheron Constantin, which runs from now until Aug 31 at ION Orchard, gape at such horological wonders as a 186-year-old pendant watch, made exclusively for women.
It is a widely-known fact that today's modern wristwatch evolved from the pocket watch – portable clocks designed to be carried in the pocket. By the late 19th century, time had migrated to the wrist, with people starting to wear miniature clocks on bracelets.
What is lesser known is that women were actually the first to wear timepieces on the wrist, long before wristwatches became widespread in the first half of the 20th century. At the time, women didn't wear jackets, making it a hassle for ladies to tote around pocket watches with no pockets to store them in.
Women have been as pivotal in the evolution of watch design as men. Female watch designs have changed over the course of history too, adapting to the clothing trends of the era, occasion and women's changing social status.
Since the 18th century, Swiss watchmaker Vacheron Constantin has been creating timepieces for women. At a new showcase at its ION Orchard boutique, running from now till Aug 31, the watchmaker has unearthed a selection of timepieces from its Heritage collections, demonstrating the evolution of female watch designs over two centuries. Here are some of the highlights.
1834: YELLOW GOLD AND CHAMPLEVE ENAMEL PENDANT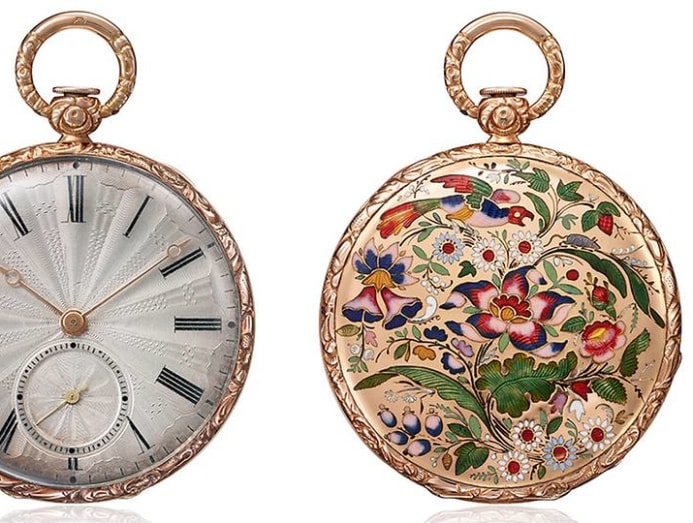 Before attaching their watches to the wrist, women were happy to wear them as a pendant, as in this model with delicate polychrome champleve enamel work featuring an inspired floral motif on the cover. The caseband is adorned with engraved flowers and leaves, while the silver dial bears a guilloche design with a tapestry pattern.  
1928: ENGRAVED YELLOW GOLD 'SURPRISE' POCKET WATCH
With the invention of transatlantic liners in the 1920s, people could now travel to far-flung, exotic destinations. Travel watches thus became continuously worn objects enabling people to check the time at any moment. Women were won over by 'surprise' watches like this 1928 yellow gold art-deco styled model, which Vacheron Constantin made with ladies in mind.
1929: DIAMOND-SET AND ENGRAVED TONNEAU-SHAPED WRISTWATCH
With the Art Deco movement taking flight in the 1920s, Vacheron began to embrace the aesthetic codes of this era. Watch silhouette took liberties with cases that were oval-shaped or rectangular, square or barrel-shaped, as with this 1929 tonneau-shaped wristwatch, set with diamonds.
1946: ENGRAVED YELLOW GOLD SECRET WATCH WITH CURVED-LINK BRACELET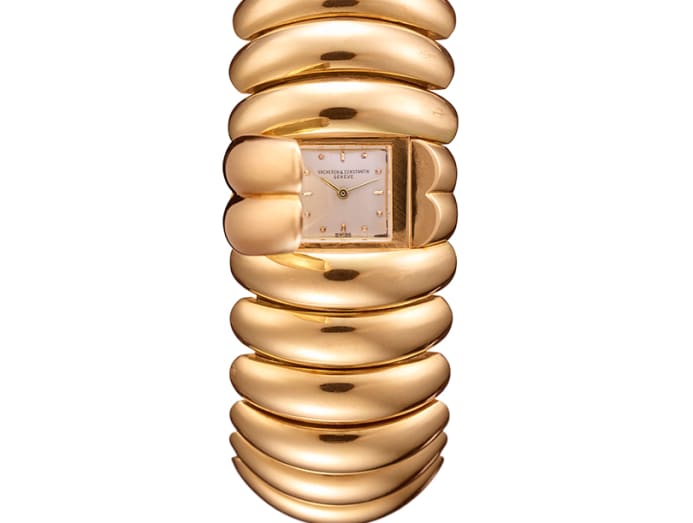 From the 1940s onwards, the geometric lines of the Art Deco period gave way to more voluptuous, exuberant shapes. Conceived as jewels that tell the time, "secret" watches were particularly popular at this juncture, such as this yellow gold timepiece engraved with a textured motif on the bracelet featuring wide curved links. The watch case is seamlessly integrated into the bracelet thanks to scrupulous work on the lug design.
1972: OCTAGONAL WHITE GOLD WRISTWATCH WITH LAPIS LAZULI DIAL AND WOVEN MESH BRACELET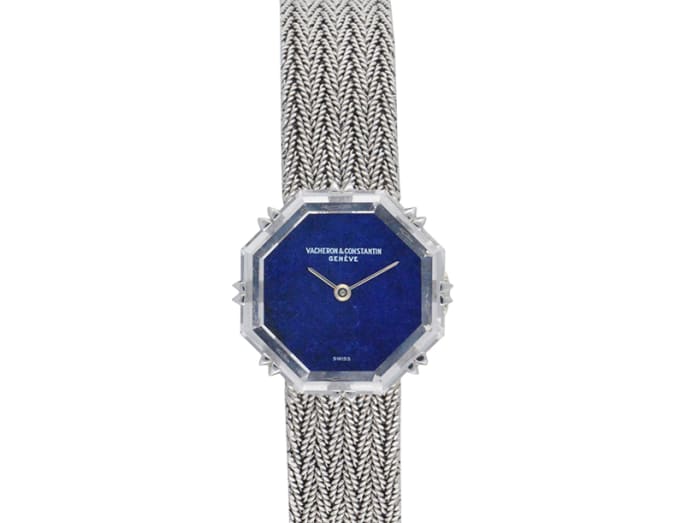 The wild 1970s was a decade of boldness with special-shaped watches entering the market. Dials were made of hard stones, such as the lapis lazuli adorning this 1972 octagonal watch featuring a facetted glass secured by prongs, like a huge diamond. The deep blue dial colour contrasts with the white gold of the case, flowing into a woven mesh bracelet with perfectly integrated lugs.
Vacheron Constantin's Heritage Ladies Exhibition runs from now till Aug 31 at the watchmaker's ION Orchard boutique, #02-07, 2 Orchard Turn