Turning back the hands of time – understanding the retro appeal of retrograde hands
One of the most interesting things you can find on a watch face isn't even a complication; it's a hand that snaps back to its original position at the end of its track. And Swiss manufacturer Vacheron Constantin is among the best at making these.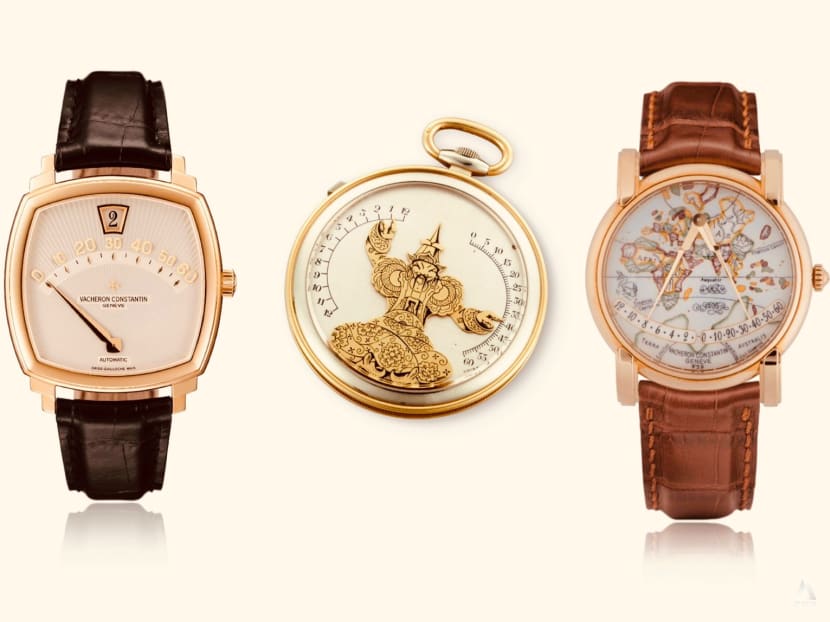 The retrograde function occupies a unique place in fine watchmaking. It's not a complication, but its appearance usually signals the presence of many others. The idea behind how it works is simple – a hand snaps back to its original position at the end of its track – but its construction is anything but. Really, it's just a hand in a watch face, but watching one work in tandem with everything else on the dial can be endlessly fascinating to those who know of its history and significance. If you don't count among them, allow us to illuminate.
A retrograde indicator is basically a hand that doesn't make a complete turn around the dial, but instead returns to its starting point to start all over. These are usually executed in an arc or semi-circle (though there are examples that use a straight line and a pointer) and can be used to indicate the time, date and power reserve.
The mechanism that runs it requires great precision as it has to store enough power to allow the hand to make the instantaneous leap back to its original position and begin its journey again at the same steady pace. Depending on the components, the indicator can return to its starting point at speeds exceeding 60km/h.
The earliest example was found in one made in Germany in the mid-18th century, and it featured a retrograde date. Horologers eventually found a way to miniaturise them for pocket watches, and one such pocket watch from 1791, created by Maison Lepine in Paris, used a retrograde hour hand. It wasn't until the Roaring Twenties, with the Art Deco movement in full swing, that artistic imagination gripped the minds of watchmakers everywhere and inspired an era of unusual dials, with jumping indicators and retrograde hands becoming a fast favourite.
Vacheron Constantin was actually the first to offer retrograde indicators in wristwatches, but it had had plenty of practice playing around with a similar mechanism first: The jumping hour. Like retrograde hands, jumping indicators require a sudden release of stored energy to enable an instant shift. It's why jumping indicators are often found together with retrograde ones. Vacheron Constantin's first jumping hour pocket watch was created in 1824, with jumping minutes offered soon after.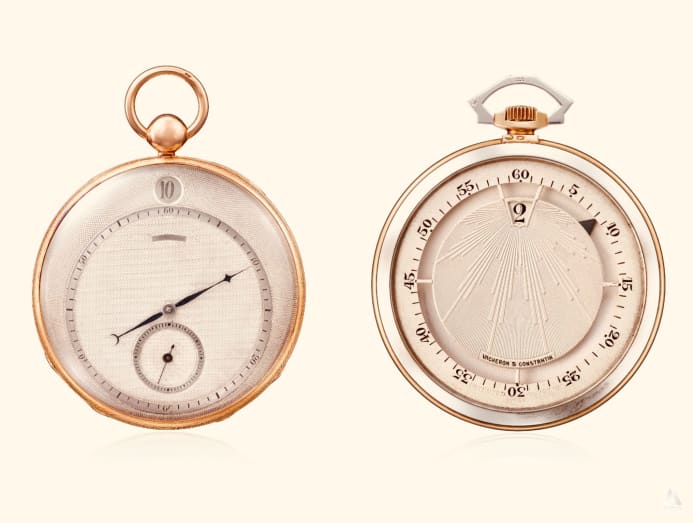 It would take another century before the brand could explore retrograde hands, and it has one Ferdinand Verger to thank for this achievement. In 1880, the Paris-based watchmaker was in charge of Vacheron Constantin's sales in France, and eventually set up his own case-making business there, which his sons continued under the name Verger Freres. The company continued its partnership with Vacheron Constantin until 1938, which resulted in numerous creations including shaped cases, aperture-type date indications, jumping hours and, finally, retrograde minutes.
These became the perfect tool for watchmakers to flex their creativity. Activate the pusher on the Bras en l'Air (Arms in the Air) pocket watch from 1930 and you will see the arms of a Chinese magician – splendidly rendered in enamelled gold – rise up to indicate the hours and minutes. Another featured jumping hours and minutes displayed beneath the dial by a hand where only the onyx tip is visible.
But perhaps the most remarkable of these was the Don Pancho, a wristwatch commissioned in 1935 by a dealer in Madrid that took full advantage of Vacheron Constantin's know-how. The watch needed to have a minute repeater, calendar indications and a retrograde hand – a tall order for a time when having multiple complications was a technical luxury only pocket watches could afford. Not to mention the combination of a repeater and a retrograde indicator had never before been seen in a wristwatch.
The final product was four years in the making, with much of the delays caused by communication difficulties during World War II and the Spanish War. (The client himself, a landowner by the name of Francisco Martinez Llano, even had to flee to Chile at one point.) It had a yellow gold tonneau-shaped case, a crown at 12 o'clock, a minute repeater that chimed at deliberately low notes, day of the week within the small seconds sub dial, and date with a central retrograde hand. The case back bore the initials of its owner in blue enamel. The watch came with five identical interchangeable straps, and was worn by Llano for seven years before he died in 1947.
The Don Pancho was lost within the family vaults for 60 years before it finally reappeared in 2010. It went under the hammer in 2019, where it sold for CHF740,000 (S$1.1 million) at a Phillips auction in Geneva, making it the second-highest bid ever for a Vacheron Constantin wristwatch.  
Overall demand for special displays and unusual dials dwindled after the 1930s, but those creative cogs never stopped turning at Vacheron Constantin. While the rest of the mechanical watchmaking world was still getting back on its feet following the quartz crisis of the 1970s, Vacheron Constantin was already making eye-catching pieces like the Mercator, a compass-inspired watch with a miniature painting of a map on the dial that was released in 1994 to honour cartographer Gerardus Mercator on the 400th anniversary of his death. Three years later, it released the Saltarello, which had an enormous retrograde minute hand sweeping across a sunray guilloche dial.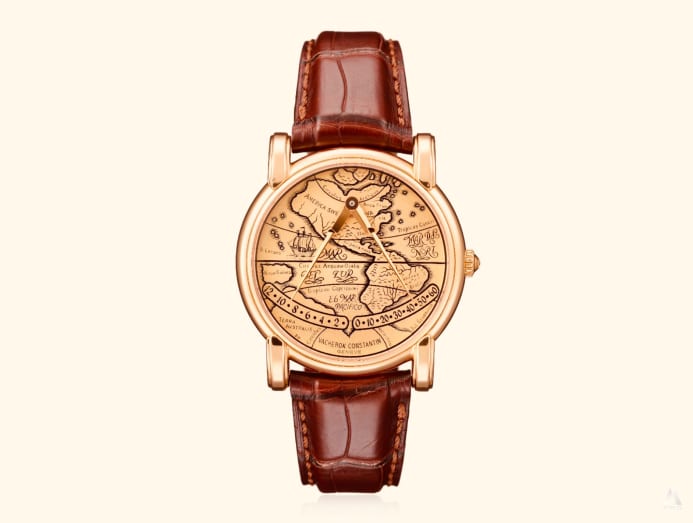 Before long, retrogrades made their way into Vacheron Constantin's current collection, starting with References 47245 and 47247 (with days of the week and retrograde date) and the Reference 47031 (which added a perpetual calendar).
These examples emphasise the beauty of retrograde hands, but these quirky indicators are also have a practical application. Because retrograde indicators don't need to occupy a full circle, they leave plenty of room for other complications. It certainly helped when Vacheron Constantin needed to cram 57 complications into its Reference 57260 pocket watch in 2015, making it the most complicated watch in the world at the time. Among the many, many highlights of the watch was the rattrapante chronograph with double retrograde hands – another watchmaking first.
Compared to tourbillons and chronographs, jumping digits and retrograde hands don't make as big a spectacle, but they do add a little visual unpredictability. And there is something about watching these hands snap back to the beginning, full of renewed energy and raring to go another round, that makes them such a delightful metaphor for the coming new year.