Victoria Beckham: 'My customer wants to be sexy'
The designer debuted her spring/summer 2023 collection at Paris Fashion Week.
Having held shows in New York and London, this season Victoria Beckham is upping the ante by unveiling her spring/summer 2023 show in Paris. At her offices in west London two weeks before, a selection of the clothes are hanging in a candle-scented room styled with tall pot plants, a coffee table piled with fashion books and a shimmering slab of amethyst. The effect is one of polish.
Beckham herself is the epitome of polish, with her superyacht tan and perfectly manicured pale pink nails. Today she has gone for a sort of hygge boardroom glamour look in high-waisted grey wool trousers, a brown roll-neck wool knit and a liberal sprinkling of gold and diamond jewellery.
The event, held in the cloisters of the Val-de-Grâce was her first fashion show in nearly three years, and came after strategic restructuring at her 14-year-old label. "It just felt like the right time," Beckham says, standing in front of a board pinned with polaroids of the collection, "It's been a while, getting the business back on track, being an independent brand getting through Covid, restructuring the design team and the atelier. To be finally not just showing, but showing in Paris, I'm just so excited."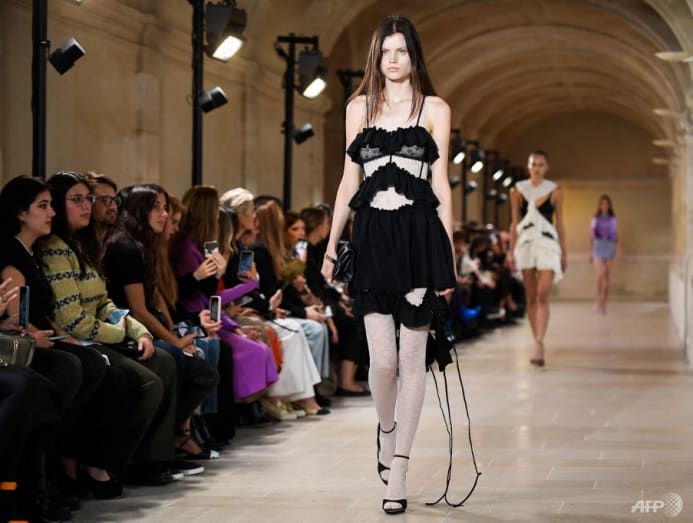 "Elevated" is a word that Beckham uses liberally about the collection, and seemingly simple garments have interesting details, such as the black leather jacket with lapel bonded flat against the chest. "Ease" is another favoured adjective — for Beckham this means fluid jersey dresses with ruching and cut-outs, or knitted bodysuits. "We've spent such a long time talking about how people want to work from home, be comfortable," she says. "And you know, enough of that now."
"My customer wants to be sexy," she continues. "I want to be sexy right now . . . I'm confident in who I am and I don't want to bury myself under clothes, like maybe I did a few years ago." The mini is part of that attitude. "I was in the Spice Girls, I wore short skirts all the time, but how do you wear short and make it feel easy and cool?" she says. Her proposal: A lingerie-like black minidress with trailing fringe and a little tasselled skirt that can be worn over a knitted bodysuit.
Joining these is a cornflower-blue silk halter maxi dress that looks classic from the front but has a plunging back in a vibrant tomato shade. Tailoring comes with a twist and '90s accents: a semi-sheer red technical stretch mesh jacket reveals the construction beneath, with visible shoulder pads and pocket lining.
Like other high-end labels, Beckham is going after the increasingly powerful under-35 consumer, while still aiming to keep her existing fans happy by "respecting certain brand codes". Last year the company merged its lower-priced Victoria Victoria Beckham offshoot with the main line to create "the aesthetic of ready-to-wear at a more accessible entry price point . . . We know that our partners like it, that our customer likes it." A purple silk tie-neck blouse from the current season is priced at £490 (S$785) on Net-a-Porter, with midi dresses around the £850 mark — by no means inexpensive, but less than comparable garments at big luxury labels.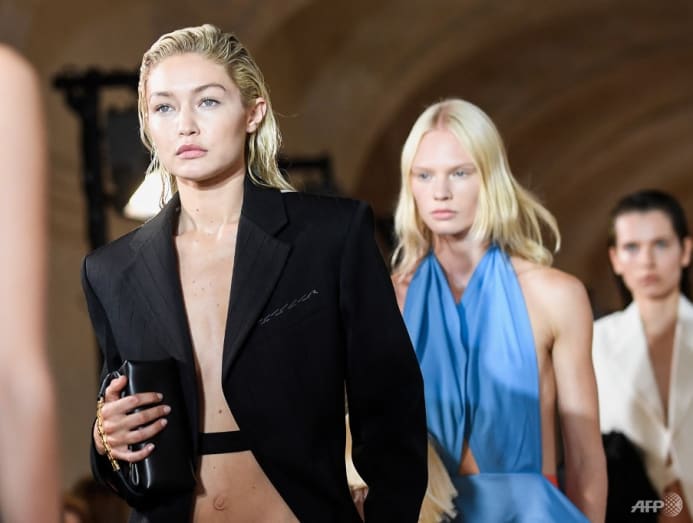 The brand is not yet profitable, but Marie Leblanc, who was promoted to the role of chief executive in 2019, says: "We're on the right trajectory . . . We're nearing break-even in the next 12 months."
Beckham adds, wryly: "I haven't just been sitting back not doing anything for three years . . . The truth is there has been a lot of work going on behind the scenes. It feels like a new chapter for me in so many different ways."
By Carola Long © 2022 The Financial Times 
Source: Financial Times/bt