Which are the most significant timepieces in Singapore's history?
As we celebrate National Day 2021, take a moment to time travel to key moments in our country's past through a number of important clocks, pocket watches, wristwatches and even marine chronometers.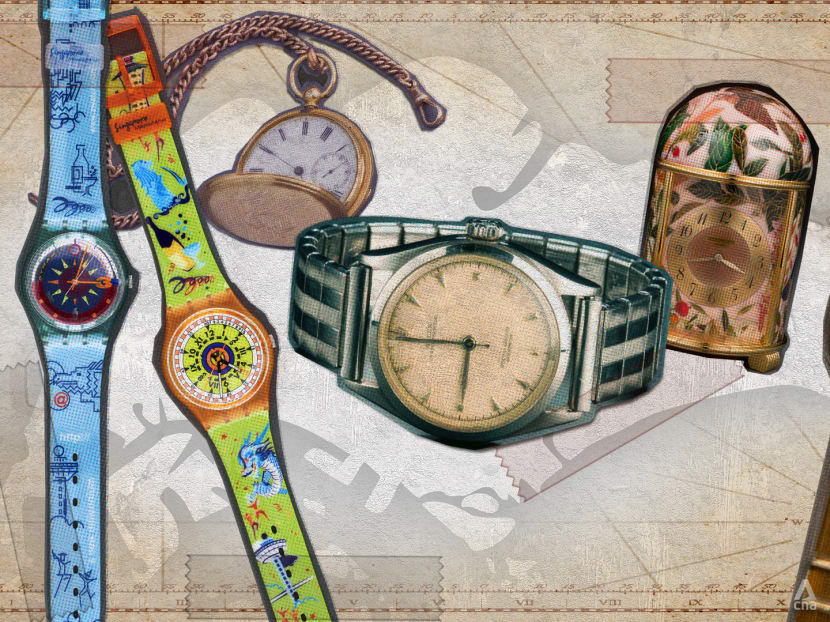 Timepieces make lovely heirlooms, and there's a good chance you've already inherited one or are preparing to bestow one on your children. But those who haven't can still enjoy the stories of the horological treasures that our very own country has saved for us. 
TRICKS OF THE TRADE
Established in 1821, Paterson, Simons & Co was one of the earliest  trading companies in Singapore. It traded in all manner of commodities, from sea slugs and shark fins to camphor, coffee and cinnamon, and also exported tropical produce like rubber and pineapples to the rest of the world.
William Paterson, a partner at the company, acquired this pocket watch and had it engraved to be gifted to Tan Kim Tian, a former office boy of his who proved so competent in the business that he eventually struck out on his own to establish the Tan Kim Tian and Sons shipping company in 1865. The watch was a gift to commemorate Tan's new venture.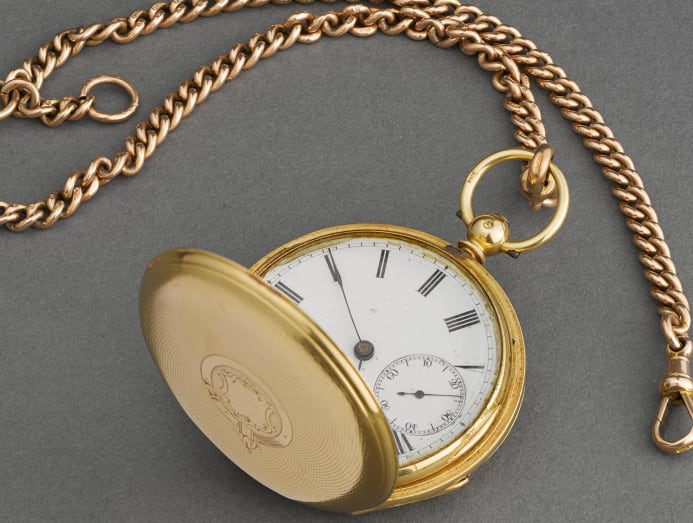 Tan Kim Tian and Sons went on to become one of the most successful shipping firms in Singapore, and was one of the first to switch from sailing ships to steam ones. Unfortunately, the family business didn't survive successive generations, but Paterson, Simons & Co exists today as Paterson Simons, a company specialising in heavy lifting equipment in West Africa.
POWER TO THE PEOPLE
Lee Kuan Yew may have had a very different career trajectory had it not been for a bunch of really angry postmen.
In 1953, Lee, then a young lawyer, served as counsel for the Singapore Post and Telegraph Uniformed Staff Union against the government. The arbitration proceedings were held at Victoria Memorial Hall, and Lee was successful in helping nearly 1,000 clerks receive 28 months of back pay. As thanks, the Union gifted him with a Rolex Oyster Perpetual.
Two years later, Lee would go on to win his first election in the Tanjong Pagar constituency, where the postmen and dock workers were also based. Even after he helped build Singapore into the metropolis it is today, Lee's allegiances were always with the working man.
In a 2011 speech he gave at NTUC's 50th anniversary dinner, the late Minister Mentor said, "…growth is meaningless unless it is shared by the workers, shared not only in wage increases but indirectly in better homes, better schools, better hospitals, better playing fields and, generally, a healthier environment for families to bring up their children." The watch is stored at the National Museum of Singapore.
THE GOLDEN HOUR
As testament to the sheer volume of business local watch fans have given the Swiss watch industry for the last several decades, the industry's biggest names showed their appreciation by designing special edition timepieces for Singapore's golden jubilee in 2015.
Among these was Patek Philippe, which designated three of its precious Dome Clocks (of which only about 12 are made every year) to themes near and dear to our hearts.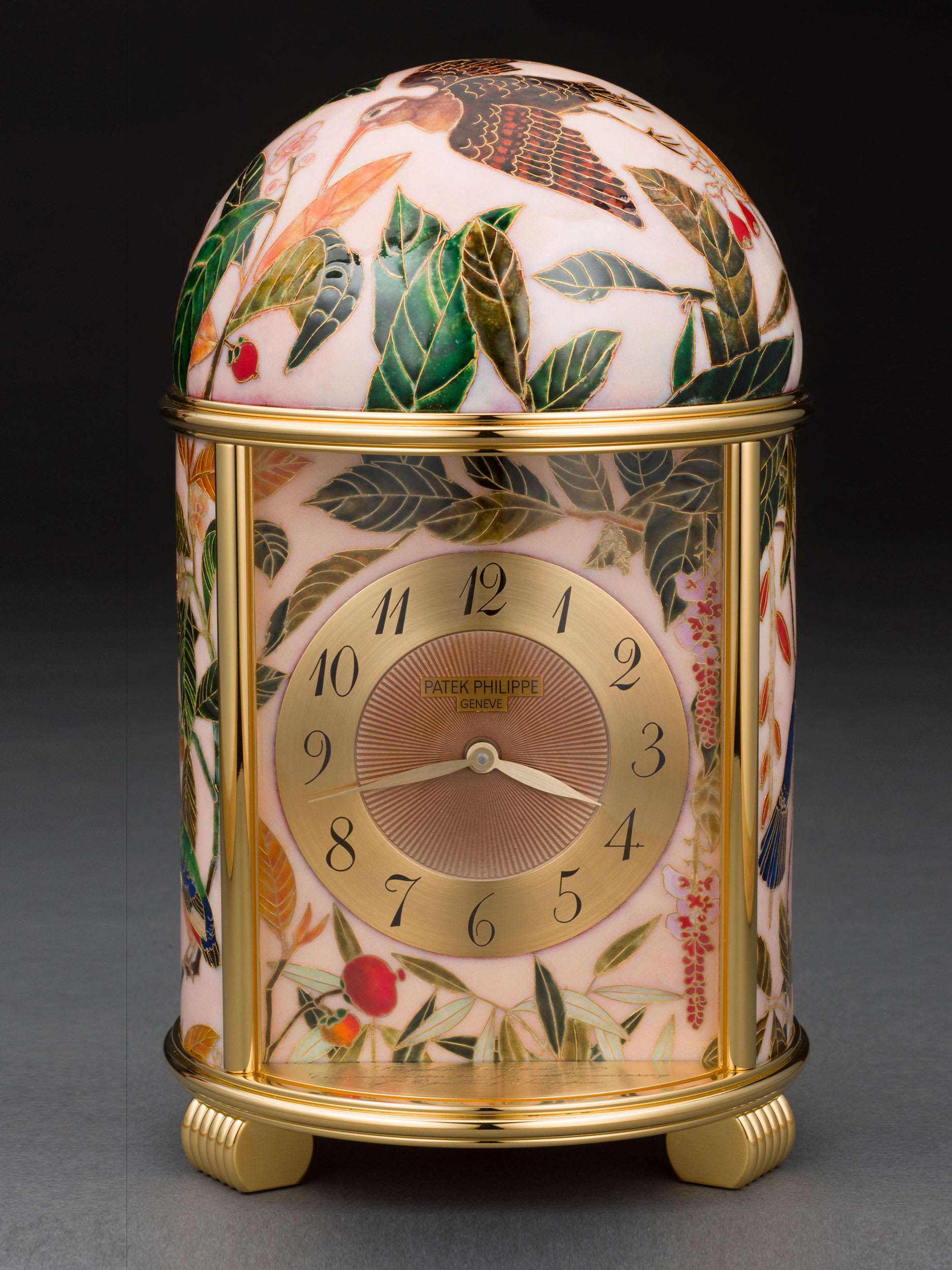 These comprise the Ref. 1677M "The Esplanade – Singapore", Ref. 1655M "Peranakan Culture" and the Ref. 1675M "Farquhar Collection". All three went under the hammer at a dinner auction hosted by Christie's, with the proceeds, totalling S$2.45 million, going to local charities.
The top lot was the Ref. 1675M pictured here, which sold for S$1 million to The Hour Glass' executive chairman Dr Henry Tay. Seventy-eight different colours of transparent, opaque and opalescent enamels were used to recreate some of the flora found in William Farquhar's collection of natural history illustrations, with 32.55mm of gold wire measuring 0.2mm wide creating the delicate outlines that characterise the cloisonne enamel technique.
Both the clock and the original watercolours are currently on display at the National Museum of Singapore.
A NEW AGE
To be able to witness and celebrate the turn of a millennia is a pretty monumental privilege, so celebrations all over the world were understandably electrifying. Which is what makes these two commemorative Swatch watches so charmingly modest.
Commissioned for Singapore's 2000 celebrations, the pair are decorated with local icons like the Merlion, Changi Tower and the painted faces of Chinese opera performers, and autographed by former president, the late Ong Teng Cheong.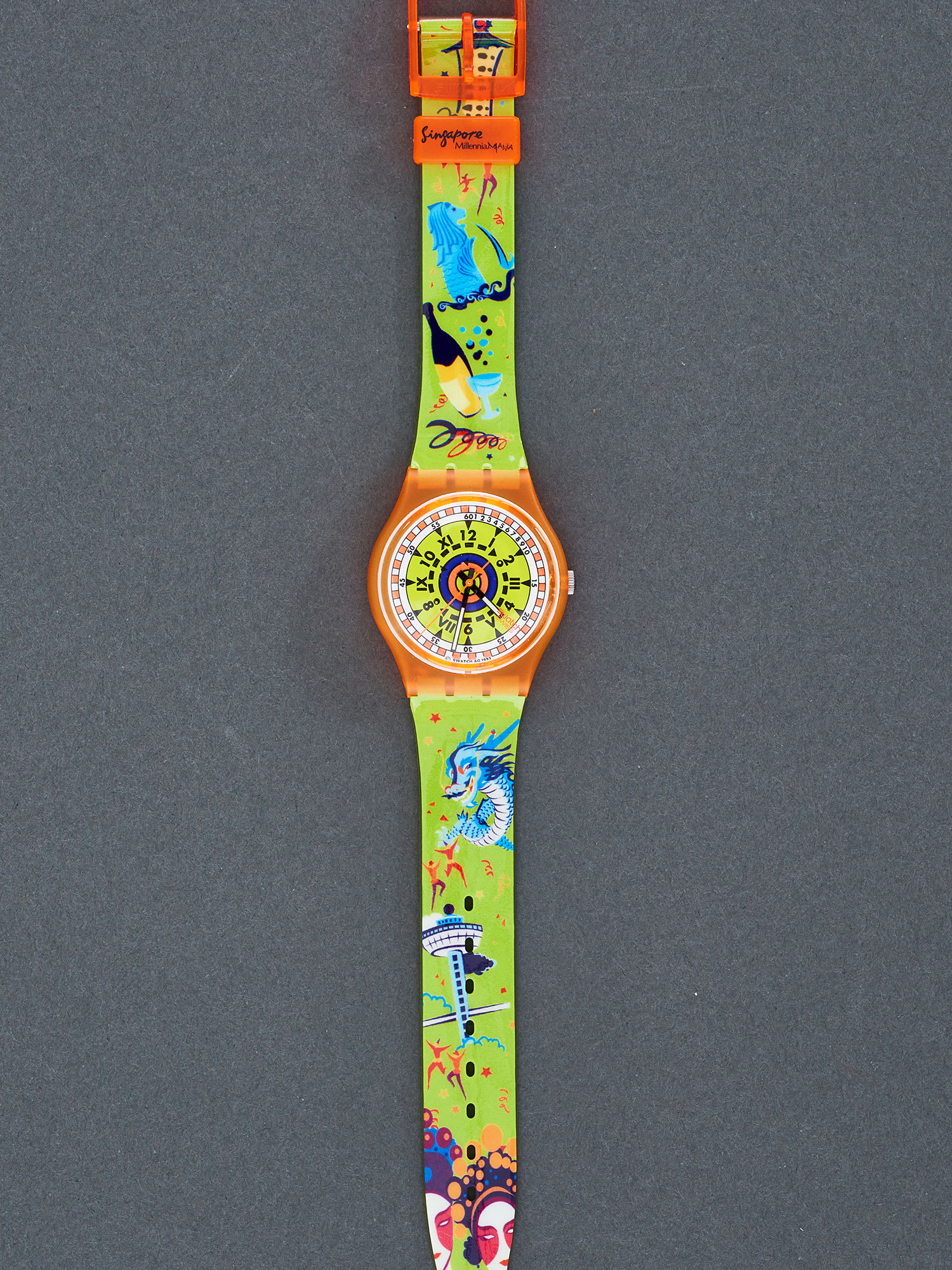 Singapore's first elected president has numerous contributions to his name, not the least of which is his championing of the establishment of our MRT system. He also initiated the President's Star Charity, launched the Cultural Medallion awards for those who excelled in the arts, and founded the Orchid Country Club so that blue-collar workers could enjoy luxuries like golf.
A GREAT ESCAPE
Marine chronometers traditionally referred to any large watch used to keep time onboard a ship, but by the end of the18th century, evolved to refer to a very specific type of device that was also used to determine longitude at sea.
These looked like clocks held in portable boxes, and featured detached escapements that were suspended in gimbals so that they would remain horizontal (and thus more accurate) no matter the sway of the ship.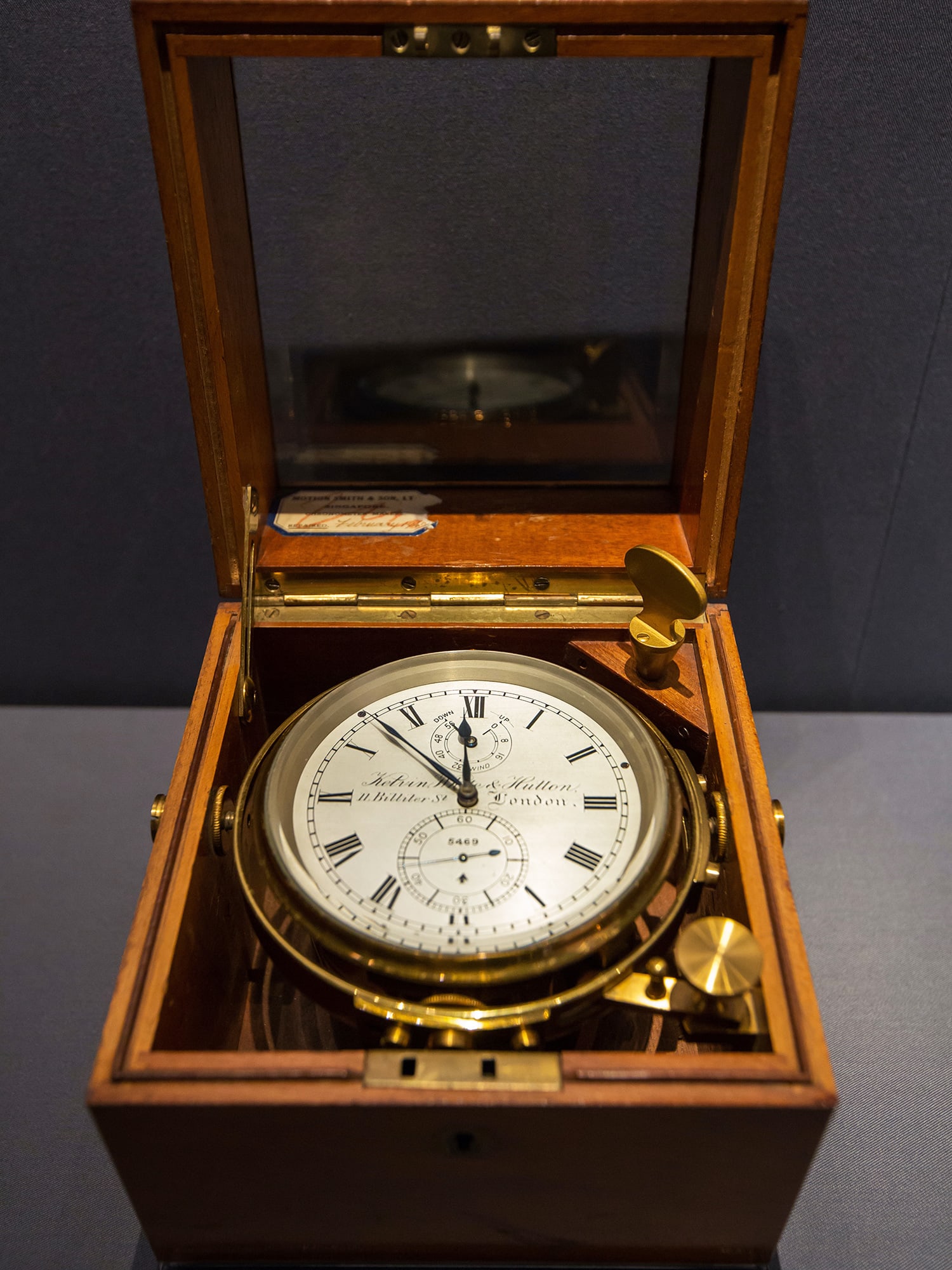 This 103-year-old example from the Changi Chapel and Museum has had an especially harrowing journey aboard the HMS Bulan. On Feb 11, 1942, as Singapore was losing its battle against its Japanese invaders, the HMS Bulan departed the island on a mission to ferry evacuees to Batavia, capital of the Dutch East Indies and present-day Jakarta. It was bombed along the way but fortunately arrived safely four days later, on the very day Singapore capitulated.
PARTING GIFTS
The newly redeveloped Changi Chapel and Museum is also home to a number of other artefacts that survived the war, including this wristwatch from a Sergeant John Ritchie Johnston.
Based on his Record of Service Book (also on display at the museum), he enlisted in the 2/9th Field Ambulance as part of the Australian Army's 8th Division. The 8th Division, along with four RAAF squadron and eight warships, were sent to Singapore and Malaya to assist British forces in 1941.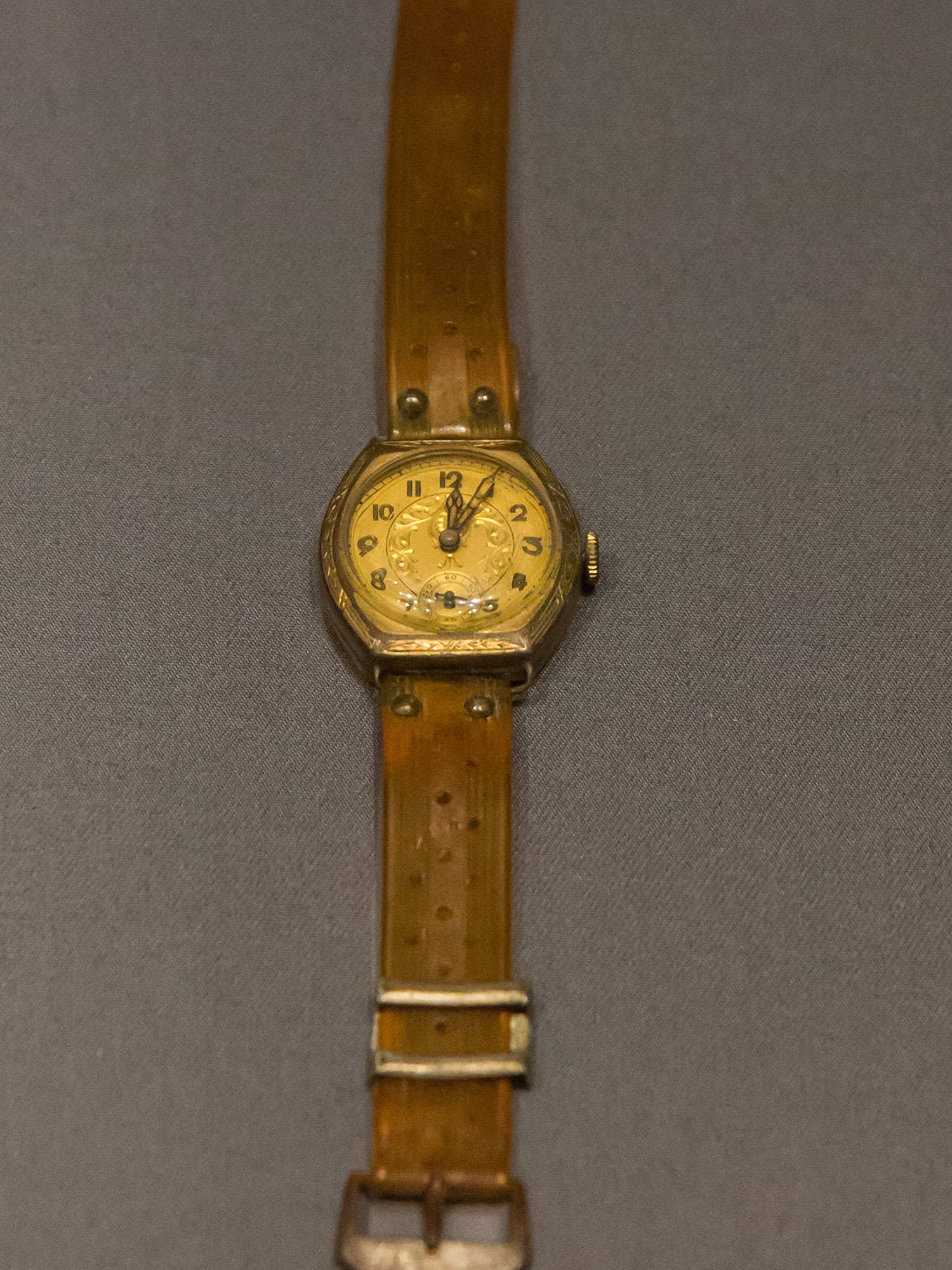 When Singapore fell, Johnston was captured and spent the rest of the occupation in Changi prison as a prisoner of war. The watch, along with a Kodak Baby Brownie camera that he managed to keep hidden inside the prison, were both gifts from his wife.