What's it like to have an electric car in Singapore? We took the new MINI Electric for a spin
Electric cars are a compelling proposition with instant torque delivering a supercharged experience, but their take-up rates in Singapore leave much to be desired. CNA Luxury's motoring writer Jamie Nonis attempts to find out why.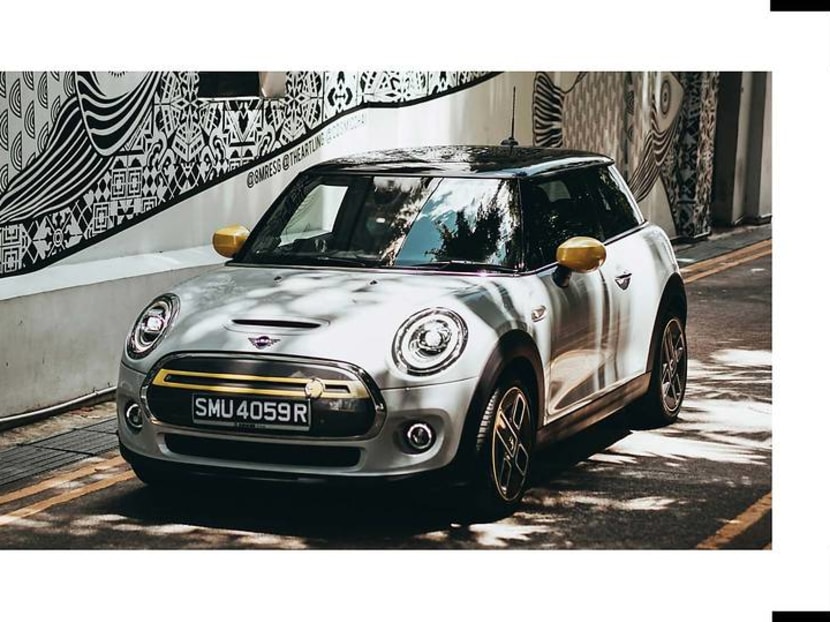 We know we need to save the planet. There is no question that we are facing a climate emergency and the fate of humanity hinges on the actions we take today. That said, we'll assume you're already doing your part to be more eco-friendly.
Maybe you're known to whip out a reusable metal straw on your daily meals. Maybe you already fervently support brands and establishments that use sustainably sourced ingredients and materials. Maybe you even bring your very own tingkat to the kopitiam to tapao your food.
When it comes to transportation, you also know that the future of mobility is Electric Vehicles (EVs). Emissions-free cars are the more environmentally- and socially-conscious option for those who wish to reduce their carbon footprint, wanderlust notwithstanding.
Automakers like the BMW Group have been accelerating towards electrification in recent years, with the e-mobility pioneer already reaching an electromobility milestone in delivering half a million electrified cars to customers worldwide. The company has also pledged to have one million of its EVs on the roads by 2022, and is working up to seven million by 2030.
Sooner or later, the majority of motorists will need to switch from a petrol car with a combustion engine to an EV powered by electricity; an inevitability collectively engineered by government bodies, carmakers and lobbyists.
The question is, what will it take to shift paradigms enough for car enthusiasts to make the switch? And what more needs to be done (at least locally) to improve insufficient infrastructure support so as to encourage people to embrace revolutionary change?
We took the new MINI Electric out for a spin for a day, and found some answers along the way.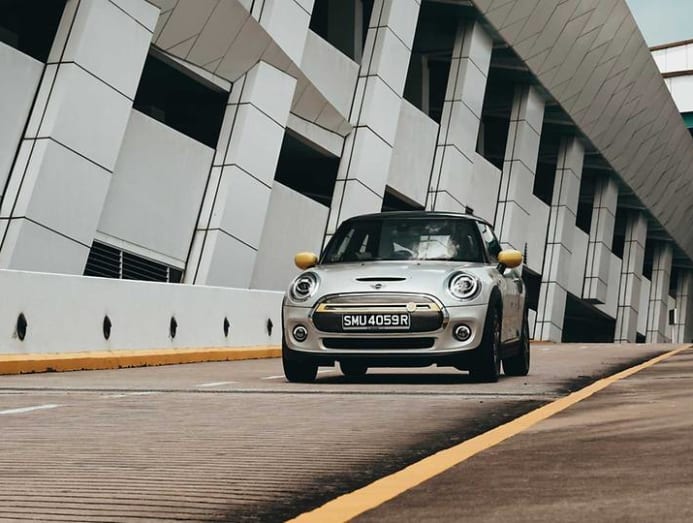 THE POCKET ROCKET – SUPERCHARGED
First things first: Driving an all-electric MINI takes the brand's legendary go-kart handling to a whole other level, especially with the one-pedal driving feature.
With instant torque at your fingertips, the pocket rocket is so supercharged that you'll be leaving most other cars in the dust when the light turns green at a traffic light – smoking them wonderfully, without the actual environmentally-polluting emissions.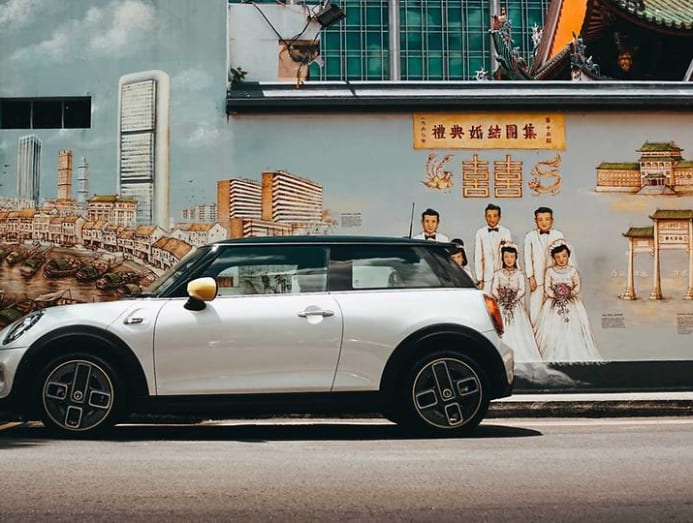 This exhilarating propulsion is possible because 270 Nm of torque is immediately available from standstill, propelling you from 0-60 km/h in 3.9 seconds. The full century sprint? A respectable 7.3 seconds, with 184 hp of power at your disposal. Top speed, however, is a mere 150 km/h.
Meanwhile, continuous power delivery without gearshift interruption coupled with the car's low centre of gravity delivers even more agile handling than one comes to expect of a MINI.
The electric glide is real, while the car stays securely planted during dynamic cornering. Now that's a highly addictive feeling that's likely to result in "spirited" driving, as my front seat passenger quite kindly put it.
TOGETHER ONLY IN ELECTRIC DREAMS?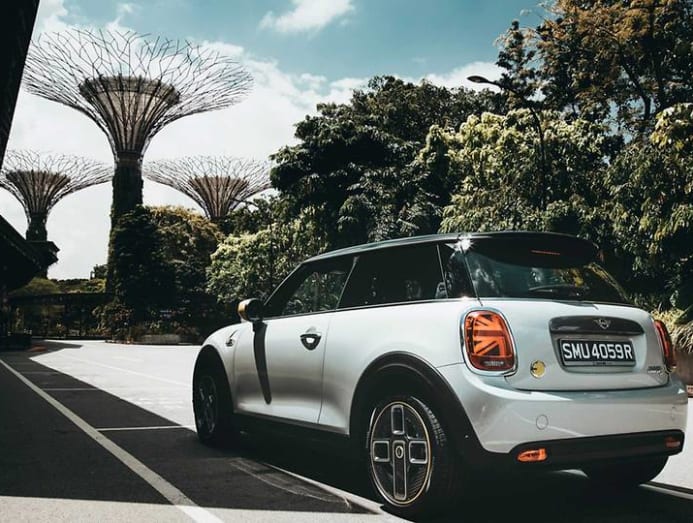 The trouble with commandeering this front-wheel drive too enthusiastically, however, is that while it doesn't burn fuel, it does expend energy and you might be in dire need of a recharge before you know it. More so in Sport mode; the high-performance of four driving modes in the MINI Electric. There's also MID, GREEN and GREEN+, with the latter two geared towards maximum efficiency.
Anyone who owns or has driven an electric car would know that the biggest concern about getting behind the wheel of such a vehicle is its range.
On paper, for example, the MINI Electric is designed to travel up to 270km on a full charge. This seems fairly decent for mostly urban driving vis-a-vis Singapore's 193km periphery.
But the reality is, you could get much less distance on a full charge, depending on the drive mode and your driving style.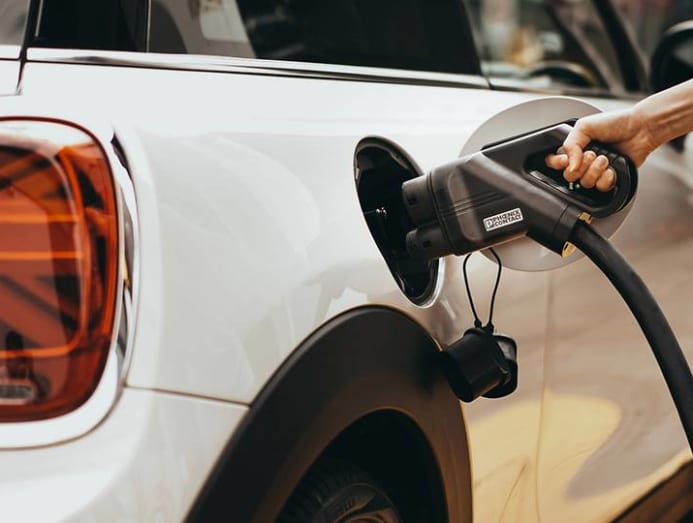 I personally managed just over 130km before the car alerted me to dangerously low levels of electric power remaining. Thankfully, I remembered to flip the switch to GREEN+ mode, a new mode exclusive to the MINI Electric that quickly limited or deactivated comfort functions such as air conditioning in a bid to conserve energy and increase the range of the vehicle, while we hunted down the nearest charging station in the north of Singapore.
All of a sudden, the car was down to its final 10km. A quick check on the GreenLots app powered by Shell showed the nearest Shell Recharging stations to be in Yishun, Bukit Panjang and Choa Chu Kang, in addition to pump availability and prices for AC or DC charging.
By contrast, motorists are almost certain to find a petrol station every kilometre or so, apart from outlying industrial areas.
I quickly became acutely aware of the acute lack of supporting infrastructure hampering a more widespread adoption of electric cars in Singapore.
According to official figures, there are 1,600 public chargers currently available across the island; about 200 points by utilities provider SP Group, with the majority belonging to electric car sharing provider BlueSG. Of which, less than 20 per cent of the latter-owned are accessible to third-party users – non-BlueSG vehicles. The rest are operated by smaller players like GreenLots.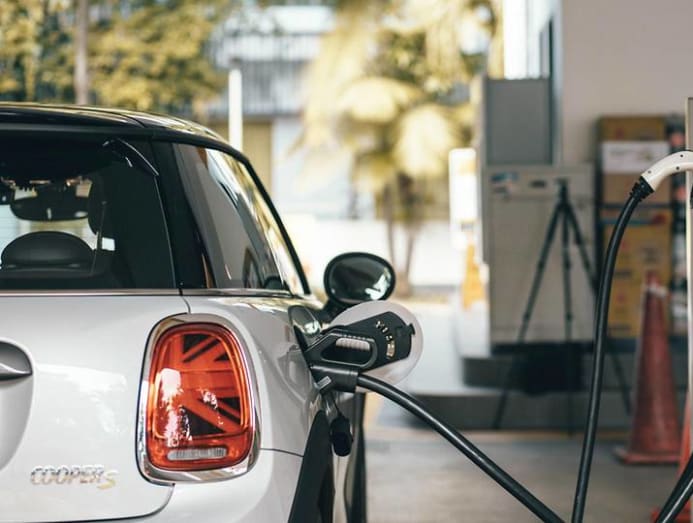 Now the good news is that the government has announced plans to build 28,000 public charging points by 2030, as part of the country's masterplan to make the land transport sector more environmentally sustainable.
This, plus a host of tax rebates and incentives including the revised Vehicular Emissions Scheme (VES) and EV Early Adoption Incentive announced earlier this year, should help move the needle somewhat in shifting electric cars out of showrooms and into residential carparks.
Amongst private sector players, homegrown solar power company Sunseap Group recently said it would install 10,000 charging points here by 2030 while Tesla intends to set up its own charging network when it reenters the Singapore market, making it the only EV manufacturer to build its own public charging infrastructure.
In the meantime, though, EV owners will have to grapple with the limited charging options. Those who live in landed properties can enjoy the luxury of installing their own dedicated MINI Wallbox – if you buy a MINI Electric, of course – which offers a convenient, faster alternative for daily charging at home. Condo residents will have to get permission from their management to have a charging point installed, if one isn't already available. And HDB dwellers may have access to a BlueSG charging point for public use, if they're lucky.
I wasn't quite as fortunate so there I was, in the middle of Yishun, thanking my lucky stars that we reached the Shell Recharge station in the nick of time with a mere 3km left to roll.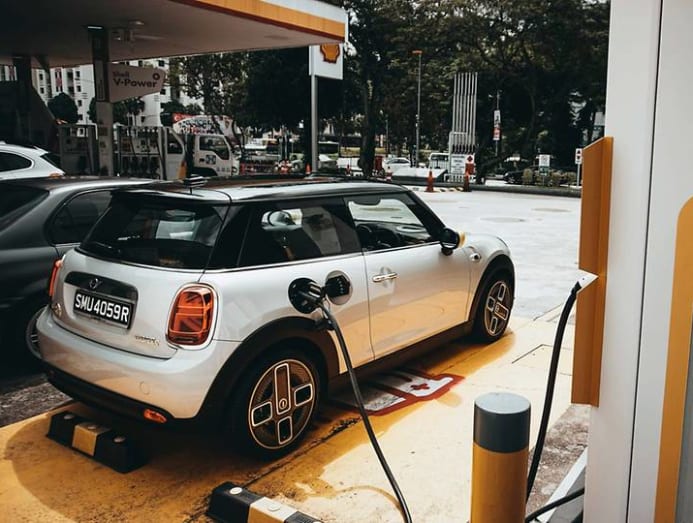 The mechanics of charging the car are easy enough; the difficult part is the wait. If I choose the AC option, it would be a two-and-a-half hour wait for a full charge at 11kW. So I select the rapid-charging DC option at 50 kW, which juices up the MINI Electric to full in just over 30 minutes while I go refuel with a latte.
Would I buy a MINI Electric? Yes, if for the sheer driving pleasure. Is the desire to save the earth worth navigating the additional hurdles and lifestyle adjustments – not to mention the premium sticker price of owning an EV? Depends on how much you love the planet.
While technological advances will certainly continue to improve the range of EVs, for now, I'd put my money on the popular compromise: Plug-in hybrids (PHEVs) that pretty much offer the best of both worlds equipped with both combustion and electric engines. So you can go eco without the risk of going loco, knowing you have a petrol engine for backup in case you ever find yourself in Yishun with only 3km of power left in the tank.
Singaporeans, after all, are known to prize practicality, efficiency and convenience, and my virgin all-electric automotive experience has given me a new appreciation for the ubiquity of the humble petrol station.
TECHNICAL SPECIFICATIONS
POWER: 184 hp
TORQUE: 270 Nm
0 to 100 KM/H: 7.3 seconds
TOP SPEED: 150 km/h
RANGE (full battery charge): 270 km*
ELECTRICITY CONSUMPTION: 14.8 kWh/100 km
FUEL CONSUMPTION: 0.0 L/100 km
VES BAND: A1
CO2 EMISSIONS: 0 g/km
CHARGING TIME (for 0-80% charge): ~ 35 min from fast-charging station (50 kW, DC)
Or ~ 2.5 hours from MINI Wallbox (11 kW, AC)
PRICE: S$169,888 including COE
*May vary according to selected drive mode and individual driving style