If the tourbillon is so 'extra', then why are watch lovers still obsessed with it?
We'll answer that by exploring the beautiful, crazy and largely unnecessary world of this hypnotic complication.
In the superlative world of haute horlogerie, the tourbillon is probably the most popular complication that doesn't actually do anything.
It was invented over 200 years ago by Abraham-Louis Breguet to help pocket watches fight the pesky effects of gravity on the movement. Because pocket watches were often only in two positions (upright in a pocket or flat on a surface), its delicate inner mechanisms would suffer from unilateral drag caused by earth's pull.
To circumvent this, Breguet devised a small cage in which to mount the most important components – the escapement and balance wheel – and had it constantly rotate so as to negate positional errors. He called it a "tourbillon", meaning "whirlwind" in French, and earned a patent for it in 1801.
It was ingenious, mesmerising and useful. But as the world slowly moved onto wristwatches, quartz watches and in some cases no watches at all, the tourbillon became irrelevant. So instead it simply persisted through sheer beauty and the pursuit of excellence.
Tourbillons still aren't easy to design or make, often requiring at least 40 parts to put together. In the luxury sector, where everything relies on flex, tourbillons have become a way for the most adept of watch brands to show off their know-how.
The many impressive permutations of this not-at-all-humble complication has evolved into arguably justifies the extra zeroes they add to their watch. If a watch has a tourbillon, chances are it will be the first thing you look at – and it will be hard to look away.
Here, we break down the various types of tourbillon that you might find spinning away merrily on your dial or case back.
FLYING TOURBILLON
The flying tourbillon gets its name from its suspended appearance on the dial. It is supported not by a typical top bridge but from one side only, thus offering a better view of the mechanism.
Audemars Piguet released a slew of them recently for the Royal Oak (a first for the line) and the Code 11.59. The former now offers three new references in pink gold, titanium, and steel respectively, while the latter presents new dials made of black aventurine in a pink gold case, and a smoked blue dial in a white gold case. All are powered by the self-winding Calibre 2950.
The invention of the flying tourbillon is most often credited to Glashutte watchmaker Alfred Helwig in 1920. So to celebrate its 100th anniversary in 2020, Glashutte Original unveiled the 25-piece limited edition Alfred Helwig Tourbillon 1920, a watch so true to the era that inspired it that it actually hides the tourbillon to keep the dial clean and unassuming. You'll still be able to admire its construction, as well as the rest of the movement's decoration and finishing, from the exhibition case back.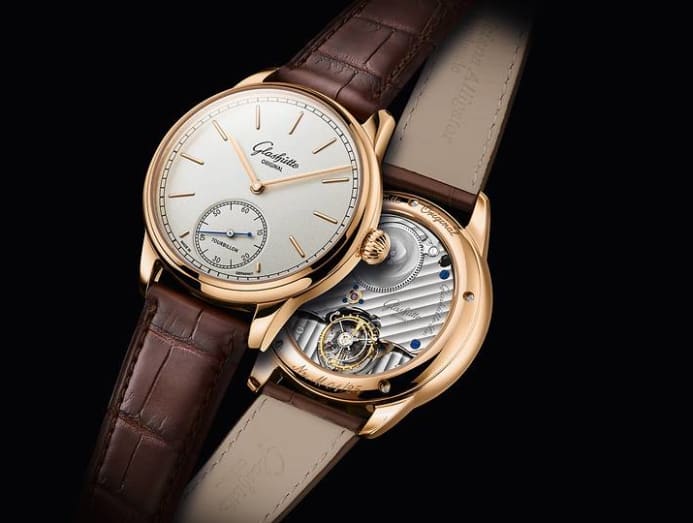 MULTIPLE-AXIS TOURBILLON
Regular tourbillons rotate on just one axis, spinning around neatly in a circle (usually) once per minute. So multi-axis tourbillons are ones that spin on two to three different axis points with a goal to cancel gravity's effects in any possible position.
Thomas Prescher was the first to achieve a multi-axis tourbillon in a wristwatch in the early 2000s, but complication powerhouse Jaeger-LeCoultre followed closely behind, and its Gyrotourbillons are some of the most famous examples today.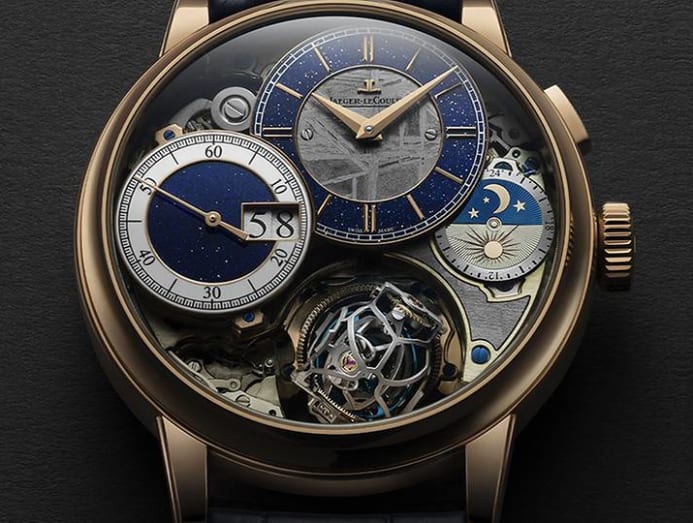 Its last incarnation was the Gyrotourbillon 3 Meteorite from 2019, a starry facelift based on the original Gyrotourbillon 3 from 2013.
There's nothing subtle about multi-axis tourbillons to begin with, but Franck Muller's new Vanguard Revolution 3 Skeleton will make sure you never forget what it is you're wearing. Part of the sapphire crystal is domed on the front and back to act as a magnifying glass for the triple-axis tourbillon.
MULTIPLE TOURBILLONS
Another solution watchmakers have is to just throw more tourbillons at the problem, and it's often also a really flamboyant one. The Breguet Classique Double Tourbillon Ref. 5345 Quai de l'Horloge exposes the entire movement in its full glory, and the plate on which it is mounted actually rotates along with the hour hand. Each tourbillon is driven by its own barrel (shaped like a Breguet "B"), and the combined output is averaged by a central differential.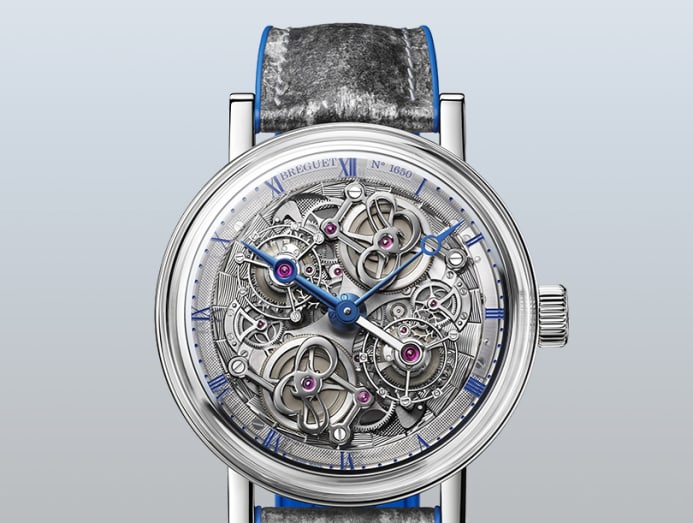 Harry Winston seems to believe more is more, so its Histoire de Tourbillon 10 – the final watch in a tourbillon series that began in 2009 – has four of them. Unlike Greubel Forsey's quadruple tourbillon watches, the Histoire de Tourbillon 10 is the first to to contain four tourbillons with four separate balances. All the tourbillon cages rotate once every 36 seconds, while the tourbillons themselves run at four slightly different rates, requiring three differentials to average an output for the time.
CARROUSEL TOURBILLON
The genius of Abraham-Louis Breguet earned him a great many fans, one of them a Danish watchmaker called Bahne Bonniksen. If the name doesn't ring a bell, it's probably because his invention is a fairly obscure one.
In wanting to create a more robust alternative to the tourbillon, Bonniksen invented the carrousel in 1892, which is basically a tourbillon with a slightly different construction. Unlike a tourbillon, a carrousel doesn't have a cage and instead has the escapement and balance mounted on a revolving platform. It also uses two rather than one source of power to enable its rotation.
Blancpain is possibly the only big player associated with carrousels in wristwatches, and its examples easily rival (and in some cases surpass) many of its tourbillon peers in terms of artistry and construction. The Blancpain Tourbillon Carrousel in particular is a wonderful way to see both in action at the same time.
RECORD-BREAKING TOURBILLONS
There's nothing like beating everyone else at a really specific game to harvest some cachet. When it comes to really skinny tourbillons, Bulgari hasn't taken any chances. Last year's Octo Finissimo Tourbillon Chronograph Skeleton Automatic is the thinnest watch with that combination of features (7.4mm thick), while the Octo Finissimo Tourbillon Automatic breaks the records for thinnest automatic watch, thinnest automatic tourbillon, and thinnest tourbillon all at once with an overall height of 3.95mm.
For pure spectacle we have Franck Muller with records for the fastest ever tourbillon, as well as the largest. The Thunderbolt Tourbillon, which debuted in 2012, completes one rotation in only five seconds where the standard is 60. A year before that, Muller released the Giga Tourbillon, which had a tourbillon cage measuring an astonishing 20mm, almost double the size of most tourbillons.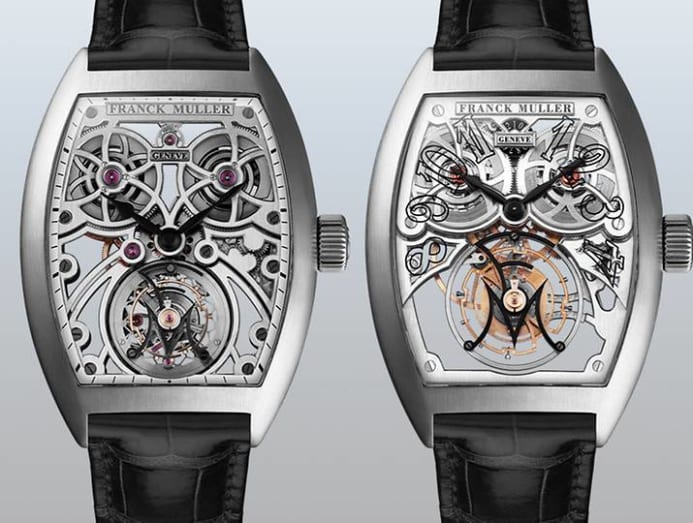 As for the smallest tourbillon movement around, that honour goes again to Bulgari with the Calibre BVL150. Measuring only 22mm by 18mm with a thickness of 3.65mm, it debuted in 2020 in the Bulgari Serpenti Seduttori.