The best ultra-thin timepieces that fit ever so discreetly under your shirt cuff
It's no longer enough to make watches slim and dressy. For these brands, their ultra-thin pieces need to break world records, and your brain.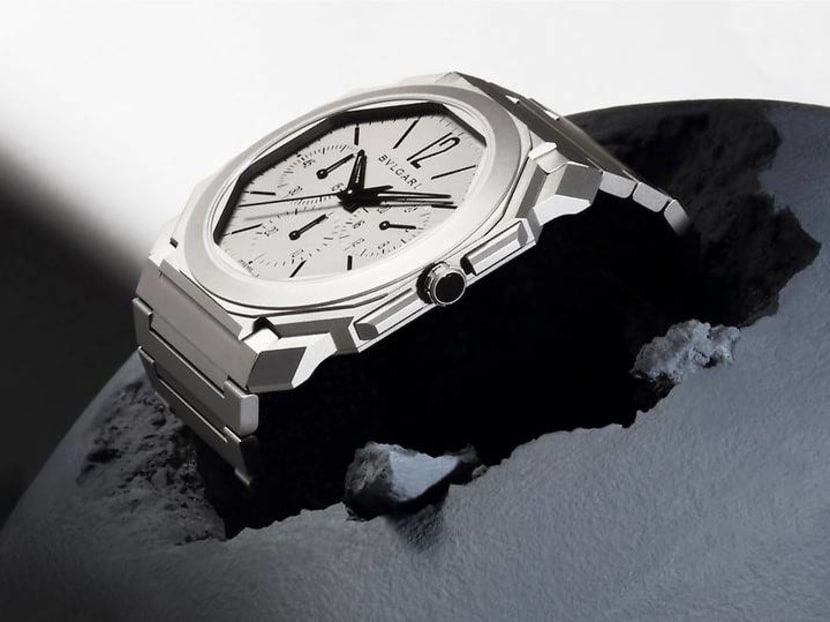 There are people who like their watches large and hefty, perhaps stemming from a desire to have the fruits of their labour have a non-metaphorical weight on their wrists.
And then there are those who like their timepieces so lean that they have no trouble disappearing under shirt cuffs. But these ultra-thin watches have a different kind of presence, one that comes from the technical mastery needed to make a timepiece no thicker than a couple of credit cards both viable and reasonably durable.
The thinnest mechanical watch in existence is currently Piaget's Altiplano Ultimate Concept, a hand-wound ticker at an alarmingly skinny 2mm, but until the prototype is complete, here are the other record-breakers you can acquire in the meantime.
AUTOMATIC/TOURBILLON
Bulgari Octo Finissimo Tourbillon Automatic Carbon
Case: 3.95mm
Movement: 1.95mm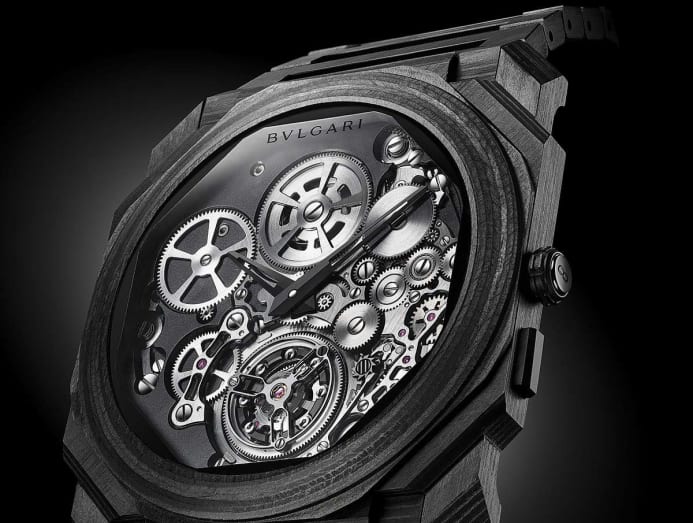 The title of "thinnest automatic watch in the world" bounced around a little between Bulgari and Piaget not too long ago. At Baselworld 2017 it belonged to the former, with the Octo Finissimo Automatic coming in at 5.15mm and a movement just 2.23mm thick. It was bested by Piaget's Altiplano Ultimate Automatic 910P (where the movement was part of the case) at SIHH 2018, which measured 4.3mm. But when the Octo Finissimo Tourbillon Automatic launched a few months later, it took the crown back with an additional world record for thinnest flying tourbillon (or any tourbillon) around. Like the ultra-thin repeater, this year's edition shaves off extra grams by introducing it in carbon.
CHRONOGRAPH
Bulgari Octo Finissimo Chronograph GMT Automatic
Case: 6.9mm
Movement: 3.3mm
Chronograph movements are among the most challenging to make among complications, and making them automatic and ultra-thin is a gauntlet not many watchmakers are willing to take on. Which explains why ebauche manufacturer Frederic Piguet (now Manufacture Blancpain) held the title for the thinnest self-winding chronograph movement – the 5.4mm thick Calibre 1185 – for 31 years before Bulgari finally wrested it away this year. This Octo Finissiomo's 42mm diameter feels almost too large for a watch this delicate, but was necessary to make room for its platinum peripheral rotor, which was key to its svelteness. The BVL 318 calibre also includes a GMT, and the additional hour can be adjusted via a pusher at 9 o'clock.
MANUAL-WINDING MINUTE REPEATER
Bulgari Octo Finissimo Minute Repeater Carbon
Case: 6.85mm
Movement: 3.12mm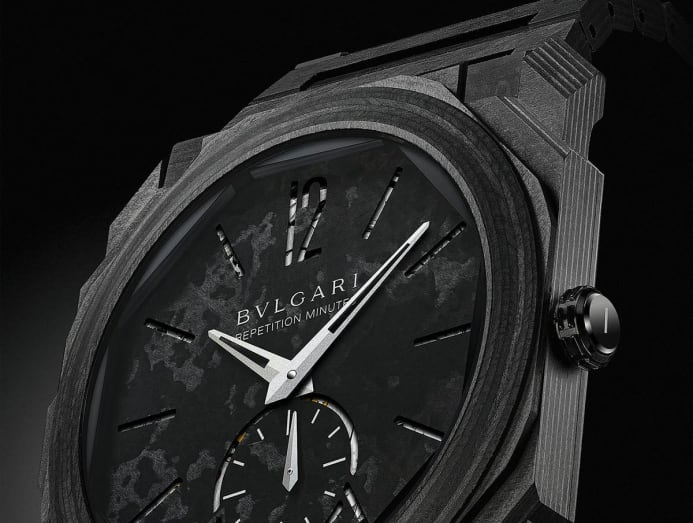 One of the most compelling things about the 2016 Bulgari Octo Finissimo Minute Repeater isn't (just) its slim profile; its design simply doesn't fit the traditionally dressy, precious metal-clad chiming watches we've come to expect in this industry. Not that it needs to, because the watch's almost entirely unpolished titanium facade and simple cut-out indexes emphasise its incredible engineering. Its successor, released two years later, continues this theme with a rugged looking Carbon Thin Ply case. Thanks to this high-tech material, which performs solidly in terms of sonority, it weighs even less than its predecessor while retaining the same dimensions.
MANUAL-WINDING TIME-ONLY
Piaget Altiplano 900P
Case/Movement: 3.65mm
Piaget is facing stiff competition from Bulgari in this department but there's no still no doubt about the brand's claim of being a "Master of Ultra-Thin". For its 140th anniversary in 2013, it released the Altiplano 900P, which still remains the slimmest (non-concept) mechanical watch in existence. The trick was to have the caseback serve as a baseplate for the movement as well as the dial. A patent-pending mechanism also had to be created to enable the hands to sit below the main bridges instead of above, so that the watch crystal could be fitted as close to the movement as possible. Equally remarkable is its 38mm diameter, where a larger but less dressy case size would have been easier to work with.
PERPETUAL CALENDAR
Audemars Piguet Royal Oak Perpetual Calendar Ultra-Thin
Case: 6.3mm
Movement: 2.89mm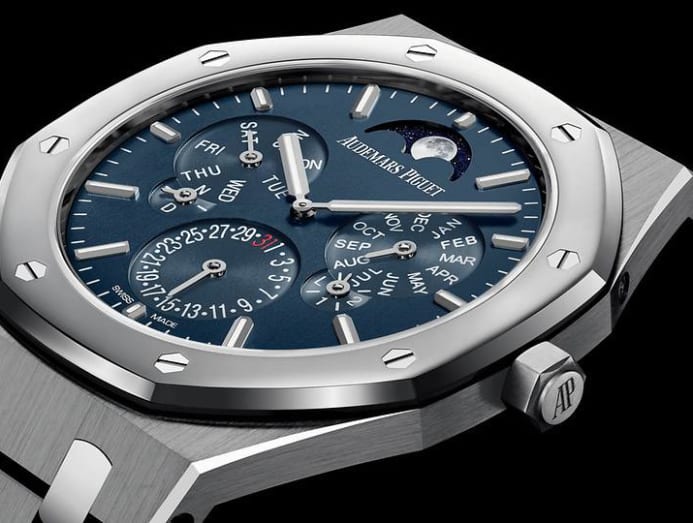 Perpetual calendars are useful, but the elaborate mechanisms required to make one means they're rarely slight. So we're glad that Audemars Piguet's Royal Oak RD#2 Perpetual Calendar Ultra-Thin concept, first introduced at SIHH 2018, actually made it to production this year with all its delicacy intact. The differences are mostly cosmetic: brushed titanium case with platinum bezel and bracelet centre links instead of being fully platinum, and a vertically brushed dial rather than the "petite tapisserie" guilloche. The Calibre 5133 that powers it is actually based on the long-established Calibre 2120, which was first produced in 1967 and was the thinnest full rotor movement in the world at the time.
SELF-WINDING MINUTE REPEATER
Piaget Emperador Coussin Ultra-Thin Minute Repeater
Case: 9.4mm
Movement: 4.8mm
It was in 2010 when Piaget decided that its next minute repeater was not only going to be the brand's first in-house one, but also the thinnest automatic repeater in the world. It took six engineers three years to make it a reality, and the result was, and still is, stunning. The case, which has been hollowed out to maximise resonance, was the result of 1,400 hours of development and the Calibre 1290P's hand-finishing required 70 hours to complete. While some may argue that precious metals (rose gold in this case) aren't the most optimal for a chiming shell, this repeater has a respectable intensity of 64 decibels, which is just a little louder than a normal conversation.
SPLIT-SECONDS CHRONOGRAPH
Vacheron Constantin Harmony Ultra-Thin Grande Complication Chronograph
Case: 8.4mm
Movement: 5.2mm
The rattrapante sits at the top of chronograph hierarchy thanks to a level of complexity that rivals repeaters and tourbillons. So an ultra-thin, automatic, split-seconds chronograph is practically a unicorn – one that took Vacheron Constantin seven years to breed. Launched in commemoration with the brand's 260th anniversary in 2015, the mono-pusher chronograph is cased in platinum with a restrained, vintage-inspired dial that belies the modern engineering lying beneath it which, thankfully, can be seen through an exhibition case back. It's an insider's watch through and through, and the lucky 10 to get their hands on one will also receive a letter signed by ex-CEO Juan-Carlos Torres.