7-time F1 champion Lewis Hamilton on the life lessons that have influenced and inspired him
Arguably the GOAT of Formula One, Sir Lewis Hamilton was in town recently for the Singapore Grand Prix. We had a private audience with the seven-time F1 world champion and gleaned some precious life lessons.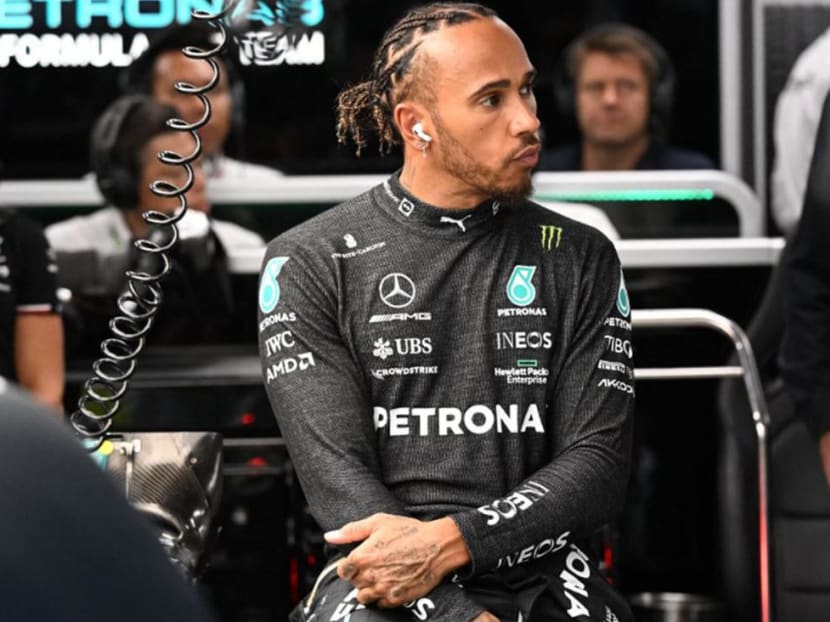 Lewis Hamilton is a legend: He breaks records with seeming ease and grace, but also occasionally courts controversy like getting his Mercedes team slapped with a 25,000 euros fine for wearing his nose stud during the Singapore Grand Prix qualifying round several weeks ago.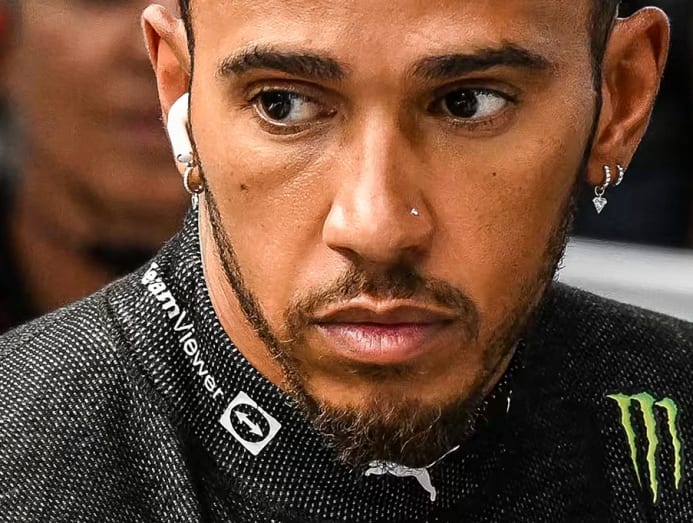 In Hamilton's defence, it was something of an administrative error as the British driver had a medical exemption letter regarding the nose stud (and therefore avoided a race penalty). The team, however, was fined, as it had submitted a scrutineering form saying he wasn't wearing any jewellery.
"I always go against the grain. I don't do what everyone expects me to do," Hamilton had said days earlier at an exclusive meet and greet hosted by global technology company TeamViewer, which is a partner of the Mercedes-AMG Petronas Formula One Team.
"I don't like to conform to how a racing driver is supposed to behave. They say that a race driver has to be in bed at 10pm, a racing driver doesn't have tattoos, a racing driver doesn't have this and that," said Hamilton, in his characteristic soft-spoken demeanour. The 37-year-old has been blazing a trail and sparking minor revolutions ever since his debut on the F1 grid with McLaren in 2007.
For starters, Hamilton is conspicuously the first and only black driver in the Formula One series to date. And in the year following his debut, he became the youngest Formula One World Champion in history at the age of 23.
In the past decade-and-a-half, Hamilton has parlayed his F1 fame into social activism, and he has become a prominent advocate in the fight against racism while pushing for diversity in motorsport. Last year, for instance, he made headlines around the world for wearing a rainbow helmet at the Grands Prix in the highly-conservative regions of Qatar, Saudi Arabia and Abu Dhabi in support of the LGBTQ+ community.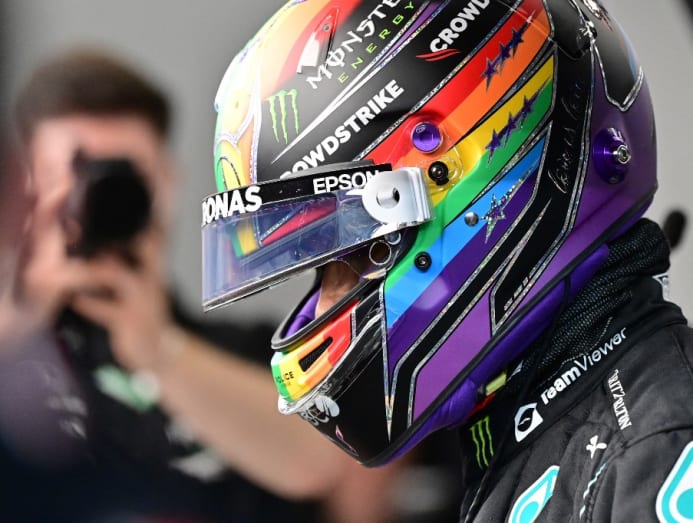 In person, Hamilton comes across as a man with unflinching focus. A man so serious about his craft that fearless fashion choices don't even distract from his greatness. 
And while we're on the topic of greatness, let's recap Hamilton's GOAT (Greatest of All Time) status: He holds the joint-record of seven World Drivers' Championship titles – tied with Michael Schumacher – plus the record for the most wins, pole positions, and podium finishes in F1 history.
The current 2022 season hasn't been kind to him, though.
With zero wins and only six podium finishes so far, and with just four more races to go on this season's calendar, an eighth championship title is beyond Hamilton's grasp this year.
Still, that winner's mindset remained rock solid during our private audience with Sir Lewis Hamilton, who was knighted at the New Year Honours in 2021 and also named one of Time magazine's 100 most influential people in 2020.
Here are some life lessons from the legend himself.
1. FIND YOUR FLOW
"I think my strength is in being very intuitive. Driving is an art form; it's about flowing. It's about not gripping the steering wheel too tight, not being tense."
2. FOCUS ON THE POSSIBILITIES
"I'm very into music; I love writing songs and singing and making music. I have a friend who's a producer and engineer, and we'd normally sit at the computer together but the pandemic shut everything down completely so I ordered all the equipment online and I downloaded TeamViewer, and from Los Angeles, he could control my computer so I had a remote engineer, which I had never experienced before and I never knew was even possible. We recorded about 30 songs during that break."
3. DON'T LET DYSLEXIA (OR YOUR HEADMASTER) STOP YOU
"I struggled so much in school. I discovered I was dyslexic when I was 17, and that was really difficult for me to overcome because I was spending [only] three days [a week] at school – my headmaster didn't support my career so he would penalise me and make me stand up facing the wall, and I'd be in detention all day on Monday because I took the weekend off [to race].
So I'd have Tuesday, Wednesday, and some of Thursday [in school], and then Thursday night we'd fly or drive to another part of the country to race. And I'd have a private teacher at 6.30am in the morning and 6.30pm in the evening – extra school, which no kid ever wants to have. No thanks. So that was tough for me."
4. CHAMPION DIVERSITY AND INCLUSION
"This has been such a male-dominated sport since I started in karting. I've been racing for 29 years since I was eight and when I got to Formula One, you've got over 1,000 people within the teams and there's always been very few women and very few people of colour. I've generally always been the only person of colour in meeting rooms. These are questions that I've been asking for a long time, but never really having been able to challenge it, perhaps. So I started this commission two years ago to try to find what the barriers were for people that are trying to get into our sport through STEM (science, technology, engineering, mathematics) subjects, and why people in underserved communities aren't getting into STEM subjects (in school).
We found all this data that we're able to then provide to our team and to the sport, and now we're on this journey of trying to make it more inclusive and create a better pipeline into engineering.
I have a partnership with Mercedes called Ignite, which is our (charity) foundation, and one of the projects is getting 1,000 girls into our sport. 
Ignite is mainly focused on motor sport, and I also started my own foundation called Mission 44, to target some of the systemic issues of discrimination. It's about empowerment and representation, and promoting and improving our pipeline. So that's one of the things that I'm really passionate about and something I spend a lot of my time working on."
5. KEEP LEARNING & GROWING
"I'm always trying to learn new things. I love music so in the little [personal] time that I do get, I'm trying to learn the piano, which is very difficult as you get older.
Otherwise, I'm looking at other business opportunities, and I'm very much involved in trying to build up businesses and trying to find things that I'm passionate about because I can't race forever. I'm the second oldest driver here, and I can go a little longer if I want [but] there's going to be an afterlife.
I'm going through this journey right now trying to discover what it is that I want to do after this. I've spoken to a lot of amazing athletes over time that have been in competition towards the end of their careers, and also ones who are retired. Many said that they stopped too early or too late.
Most said you will know when the time is right [to retire]. But because we're so single-minded [as race car drivers] and so focused on being the best we can be, we usually lack the time to do other things. So when an athlete does retire, it's like the whole world comes to a stop. So I'm trying to put these things in place so that it's a very easy transition for me afterwards."
6. REINVENT THE WHEEL
"What a lot of people don't actually know is that I re-designed the steering wheel when I was at McLaren. And when I came to Mercedes, I did the same thing, and the other teams have all copied the wheel.
All the old wheels used to be circular. Now, you'll see there's a top and the handle comes down and it doesn't join at the bottom. I should have copyrighted it. This is something I'm really proud of; I really love working on the ergonomics of the car.
I also designed the seat for my cockpit; I filed it down and it's been pretty much the same seat for [almost] 10 years with the team. We also redesigned the pedals with the engineers. Those are the things I love to do, as it allows me to tap into a bit of creativity."