A day in the life of… Singapore food tech entrepreneur Anna Haotanto
From workouts to restaurant operations, the powerhouse behind well-known F&B brands Tsuta and Mrs Pho is constantly thinking of ways to break new personal and professional grounds.
Take a deep breath, because we're about to run through a typical day in Anna Haotanto's schedule. Before the sun rises (or any of us mere mortals, for that matter) she has already gotten a workout done and dusted, and knows what she wants to accomplish for the rest of the day.
Haotanto is the chief marketing officer for Gourmet Food Holdings and the partner and chief operating officer for ABZD Capital, a strategic investments and advisory firm in the F&B space. She is also the founder of women-focused financial and career platform The New Savvy and online pet shop Sploot Asia.
Her daily routine is purposefully apportioned equal parts work, personal growth and community. When she's not on the pulse of her food brands such as Tsuta, Mrs Pho and Burgs by Project Warung, Haotanto is voraciously reading up on subjects from investments to nutrition, learning to cook new dishes with her boyfriend and hosting friends for meals in her two-storey house. Get ready for some motivation from the entrepreneur with energy in spades.
5.30AM
Wake up and spend five minutes centring myself by envisioning what I want to achieve, before drinking a glass of warm water and starting a run or spin. Today, I clock a 10km run despite wanting to give up after seven km. I am very big on self-discipline. I believe the key to loving yourself deeply is doing what you say you're going to do, even if you don't want to do it.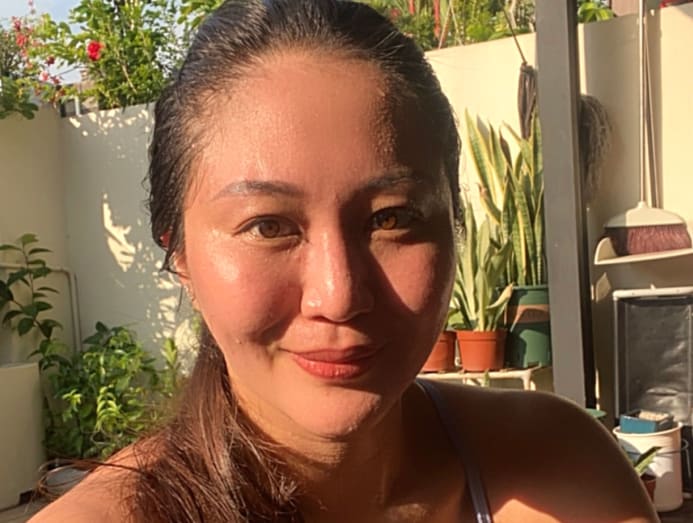 8AM
Cold shower and a quick breakfast of fried eggs, yoghurt, fruits and a latte. I actually prefer warm baths to cold showers, but I do it because it's an instant mood booster and perk-me-up. It feels like an achievement when I do something I hate in the morning. I once listened to a podcast where an ex-Navy Seal encouraged cold showers because it improves circulation, treats inflammation, and relieves muscle soreness, among other scientific benefits.
8.30AM
Work begins. I always make it a point to set goals and priorities at the start of each day – what I need to clear, who I want to meet or speak to. I usually focus on the most critical tasks I need to get done in the morning.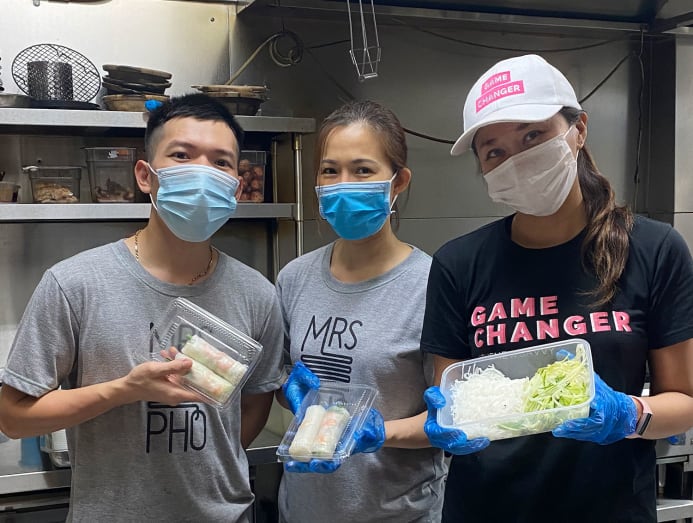 I'm focusing on Gourmet Food Holdings right now and am personally excited to expand Mrs Pho, Tsuta and Burgs Burger locally and globally. We hope to bring better cuisine and innovation in the F&B space and are on a stage of aggressive growth. We've opened new Tsuta and Mrs Pho outlets at 313@Somerset and will be opening six more outlets of these brands plus Burgs Burger and Vanda Botanical Ice Cream (a new brand) in the next two months.
I manage the technology, marketing and human resource departments so I call my teams every Monday and Friday. I try to get all the brain work done as early as possible in the day.
12.30PM

Lunch and a 15-minute visualisation exercise. For the past two years, I usually have one meal a day at either Mrs Pho or Tsuta. I tend to ask for off-menu items such as chicken chop with salad and Hanoi-style spring rolls or a bowl of noodles at either restaurant. Sometimes I eat the staff meals.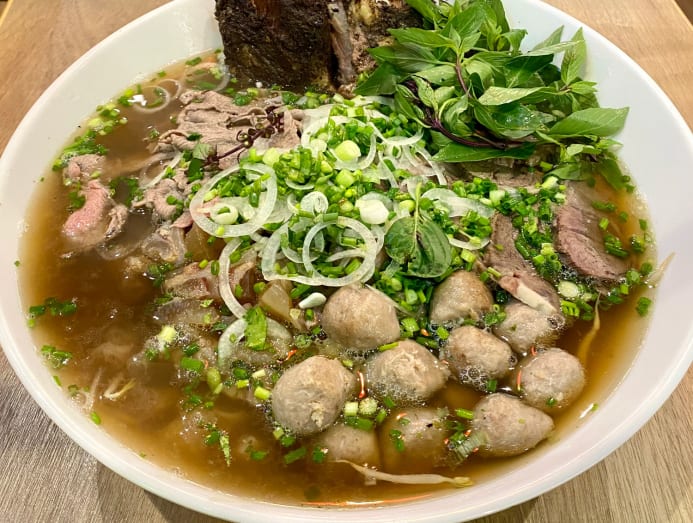 Why visualisation? My mind is hyperactive all the time and sometimes, meditation just doesn't cut it for me. I use the Envision app to help myself visualise the future I want and how I feel when I achieve them. It enables me to create, set and think of my goals in vivid detail. Visualisation helps me to focus on what's important and guides my feelings, thoughts and energy into productive and helpful intentions.
1.30PM
Partner meetings, calls and food tastings. The fun thing about working in F&B is food tasting! We constantly innovate our menu offerings, our chefs are always coming up with new ideas. Tsuta launched 50 new items last quarter, and right now, we are trying new seafood dishes for the Mrs Pho House outlet opening in Takashimaya in July. Some days, the food might not be up to mark. Today, it was sublime. I love the tangy, sour and sweet soup base, which complemented the fresh lobster.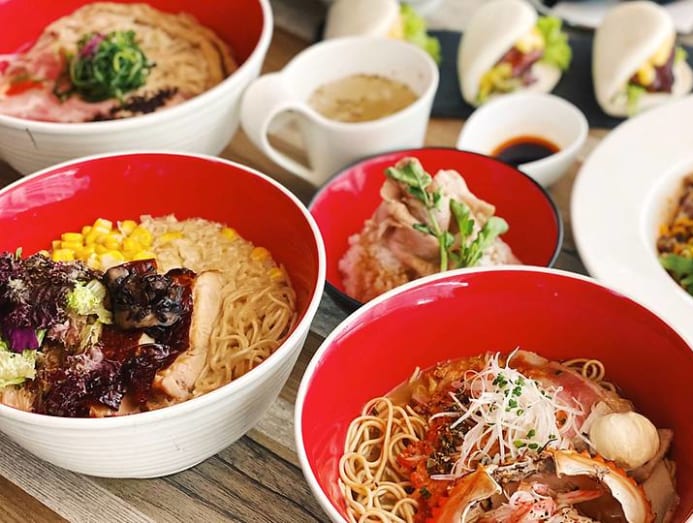 5PM
Uplift one person. I make it a point to text and catch up with one to two friends every day. Sometimes, we are so inundated with the hustle and bustle of life that we don't check in on people we care about. Once, I texted a fellow entrepreneur just when she was feeling down about some business issues. We decided to have a spontaneous drink at my place and ended up brainstorming ideas and coming up with creative solutions for the issues.
5PM to 7PM
Visit the restaurant outlets. I usually go down to speak to the teams or observe traffic, the diners and operations. Sometimes, I do a second workout, either a 45-minute spin session, 30 minutes of sprints, or a long walk just to decompress. I also take this time to listen to podcasts on business, finance, education or investments such as Bloomberg or We Study Billionaires.
7PM to 8.30PM
Dinner and social time. I usually have a quick dinner at home with my boyfriend. Recently, we've been learning how to cook things like soups, salads, grilled meats and baked vegetables. Pre-COVID-19, I spent a lot of time outside catching up with friends over dinner. My favourite places include various Japanese restaurants, Guzman Y Gomez, FOC Restaurant and 1880.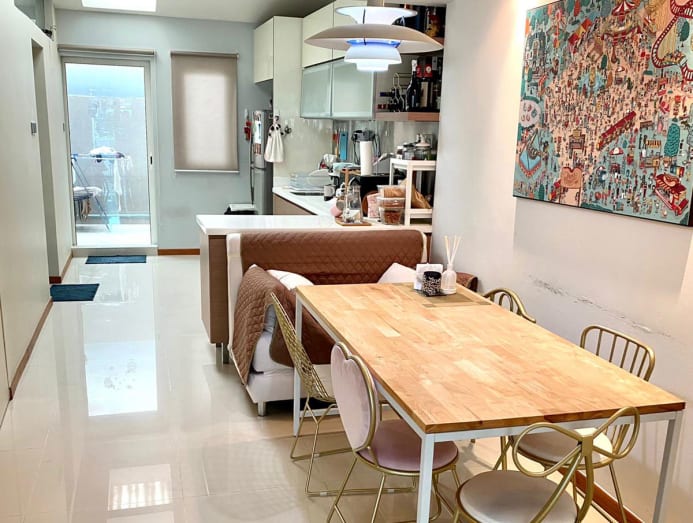 9PM
This is the time I work on my six-year-old start-up The New Savvy. My goal is to make it Asia's leading financial, investments and career platform for women. Our vision is to empower 100 million women to achieve financial happiness.
I focus on the growth, community and client management aspects, and go through the business management stories written by my writers to ensure that they are in line with our ethos. While doing this, I'm also watching the US stock markets from 9.30pm to track the financial markets and economy and how my investments are doing.
11PM
I try to spend 30 minutes daily reading and learning as I think we should always improve ourselves. This can be tough as my schedule is packed, so blocking this time out helps to ensure that I do it.
Each year, I force myself to take a course to broaden my knowledge. I've completed a three-month part-time digital marketing course, a fintech course from the Massachusetts Institute of Technology, a full-time Alpha Camp coding bootcamp and a public speaking course. I was thinking of taking an Executive Masters in Business Administration programme, but due to COVID-19, that plan was shelved. This year, I am committed to learning business Mandarin and getting my personal trainer certification.