'It's common sense': Lawrence Wong on filial piety and why he makes time for family
Ever since gaining fame for his role as General Hai Lan Cha in Story of Yanxi Palace, work has been non-stop for actor Lawrence Wong. Still, CNA Luxury's February cover star holds his family close to his heart and makes the effort to return home, especially during Chinese New Year.
Actor and international star Lawrence Wong may have adjusted well to a life in China, but during festive seasons, he admits to getting a little homesick.
"There were times when I was on set in a rural part of China, or stuck in a hotel, and I would look at my Instagram feed and see all my friends partying because it's New Year's Eve, or Christmas. There I was, working hard to memorise my script, and my call time tomorrow is 6.30am. It gets a bit difficult during those times," he confessed over the phone. 
In 2016, Lawrence left Singapore for Beijing, hoping to make a name for himself. He scored a role in blockbuster historical period drama Story of Yanxi Palace, where he played imperial guard, General Hai Lan Cha. While the role wasn't a leading one, the popularity of the show catapulted him to fame.
These days, Lawrence balances a gruelling back-to-back filming schedule, constantly moving from production to production. Still, he tries to make it a point to return home for Chinese New Year. 
"Chinese New Year to me is really about family bonding. The reunion dinner especially is extremely important. Because I fly around so much, I'm hardly home. So that one chance to have a proper dinner with my family doesn't come very often," he said.
HOME IS WHERE THE HEART IS
For an actor as busy, prolific and jet-setting as Lawrence Wong – who is currently based in China – there is nothing quite like the feeling of returning to Singapore. Here's the international star in our short film, The Homecoming.
Lawrence was born in Malaysia, but became a Singapore citizen a few years ago. At the time of our conversation, he was back in Singapore, having returned at the start of 2020 (he has since flown back to China).
Constantly jet-setting between Malaysia, Singapore and China (where, by the way, Lawrence's pet cat is eagerly awaiting his return), I asked Lawrence where he considers to be home these days. 
"Singapore, definitely," he answered, without missing a beat. "Ultimately, I am Singaporean. So no matter where I go, I still come back here."
For Lawrence, life in Singapore and China couldn't be more different. Singapore, he shared, is where he feels the most at ease. "When I'm back in Singapore, I still queue for my bak chor mee at the hawker centre, I go to NTUC to buy my groceries, I still take the train. But in China, it's a different story. It's almost like living a double life. Back in Beijing, I'm constantly surrounded by staff. I have drivers, and I can't go anywhere without a chaperone."
"When I'm back in Singapore, I still queue for my bak chor mee at the hawker centre, I go to NTUC to buy my groceries, I still take the train."
That's a far cry from his early days in Singapore's entertainment industry. For years, Lawrence settled for cameos and bit parts, as his looks "weren't suited to the local market". As a result, his income was meagre.
"I was struggling then. Once, I even rented a room in a bomb shelter because it was the cheapest accommodation and I really had no money. There was no space for my clothes, so I kept them in my car," Lawrence recalled.
Those days are now far behind him. In fact, he's done very well for himself. Last year, Lawrence sold his condo in Singapore and purchased his dream home – a landed property, with ample space for his family.
"I've always wanted a bigger place so that my sister and my dad, who still live in Johor Bahru (JB), can stay with me if they ever decide to come to Singapore. To finally achieve this goal of mine is really a blessing," he expressed.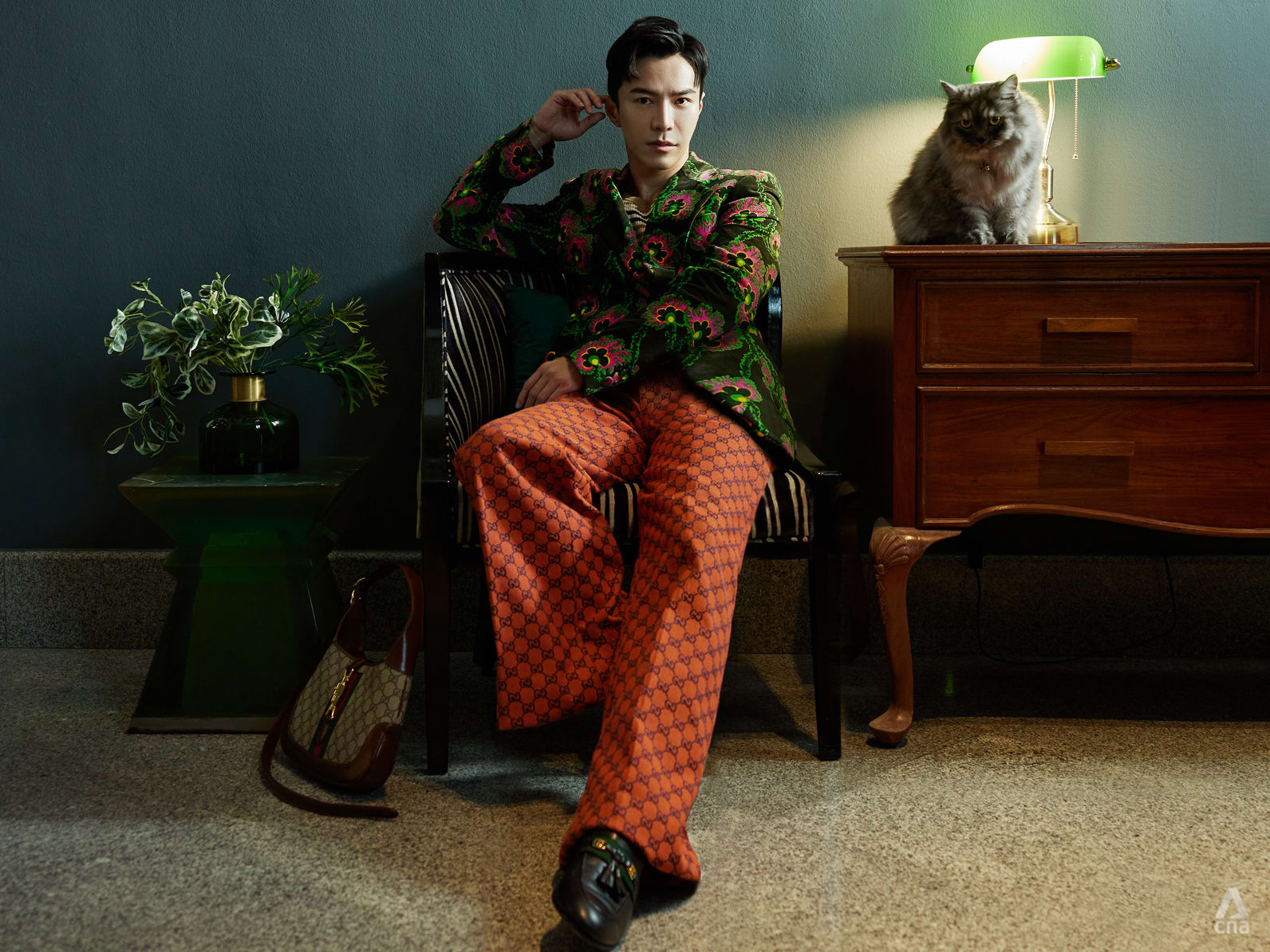 'IT'S COMMON SENSE TO BE FILIAL'
It's heartening, I thought, how Lawrence had his family in mind when deciding to upgrade his property. Throughout our conversation, Lawrence speaks fondly of them. Filial piety, he shared, is a virtue he upholds. "To me, it's common sense to be filial. It was how I was brought up."
"I wouldn't say that I'm very close to my family, but we stand by each other in times of need, and to me, that's very important. We don't talk every day, but when we do, it's like nothing has changed. I know for a fact that no matter what, my family will always be there for me."
This is despite the fact that his family had not always been supportive of his chosen career. "To be very blunt and straightforward, they didn't support me from the start," he admitted. But he understands that this came from a place of love.
"Before I went to China, I was a nobody," he said matter-of-factly. "I didn't get any good roles and my income was pathetic. So of course, as parents, they didn't want me to suffer. They wanted me to lead a good life."
Unfortunately, Lawrence's mum passed away in 2016, before his rise to fame. "I do wish she could see where I am now. But I know that my success has been a result of her blessings, which is why whenever I'm back in JB, I make it a point to visit her at her resting place," he said, a hint of wistfulness in his voice.  
In July 2020, Lawrence was in JB to film The Ferryman: Legends Of Nanyang, a fantasy series that will be released on streaming service iQiyi. While in town, he of course paid respects to his mum. "Talking to her gave me a lot of comfort," he recalled.  
Meanwhile, Lawrence describes his dad, who is in his 70s, as having a "poker face". While his father may not openly express his feelings, he shows his love in a different way. 
"He is constantly reminding me to save money because my career may not be good all the time. That's also my mantra – when you're down, don't be too dejected. And if you're doing well, don't be too arrogant because there's a time limit to it. Just don't forget who you are, where you came from, and what's most important to you," Lawrence expressed. 
"We don't talk every day, but when we do, it's like nothing has changed. I know for a fact that no matter what, my family will always be there for me."
CHINESE NEW YEAR MEMORIES
Ever wondered how actor Lawrence Wong spent Chinese New Year as a kid? Growing up in Johor, his favourite holiday memories were playing with firecrackers and tucking into hearty steamboat dinners with his extended family, as he shared in this video.
This year, Lawrence regrets being unable to visit his family for Chinese New Year, as he's back in China for filming. Due to COVID-19 travel restrictions, it would be difficult for him to make the trip back to Malaysia.
But that doesn't mean that the festive season isn't important to him. Once, Lawrence was granted only one-and-a-half days off from work. He took a flight from Shanghai to Malaysia, had dinner with his dad, then took a flight back the next morning. "It was only one day that I got to spend with him, but it was worth it," he said.
"Every time I come back to see my dad, I notice that he's getting older and older. Sometimes I feel like while I'm chasing a career and money, I'm so far away from my family," he added, letting out an audible sigh. "But at this point, there's nothing I can do but to call more often, ask about him more often, talk to him more often."
Looking back on past Chinese New Year celebrations, Lawrence shared that playing with firecrackers and tucking into steamboat dinners are some of his favourite memories. "When I was really young, we would go back to my father's hometown in Segamat. All my family members would be there, including my uncles, aunties and cousins. We would play cards, chase the chickens, play with firecrackers. It was really like a kampung," he reminisced.
"When my mum was still alive, we would always have steamboat for reunion dinner. And our steamboat always had the best ingredients, like super big prawns and super expensive fish. That's one of my favourite dishes," he continued.
In recent years, Chinese New Year celebrations have been a little unusual for Lawrence, thanks to some nosy neighbours who like to pop by his family home to snap a photo. "When I'm back in JB, I'm usually dressed in shorts and flip-flops. So it's a bit awkward when people want to take photos with me," he laughed. Of course, always unfailingly polite, Lawrence usually obliges.
It's an attribute you quickly notice about him. Once, during our phone conversation, Lawrence was interrupted by a delivery at the door. He thanked the sender profusely, before apologising for the distraction.
At our cover shoot, he chatted easily with the team, and took the time to say goodbye to everyone on set before leaving, despite being in a rush to get to his next engagement. Lawrence may have made it big, but spend a day with him and you'll realise that he's probably one of the most genuine, down-to-earth stars in the industry. 
THE MAKINGS OF AN ENTREPRENEUR
Although Lawrence considers himself a private person, he understands that overenthusiastic fans are merely a small inconvenience that has come with a blooming career. After all, he's worked so hard to get to where he is.
"Back when I was down and out and nobody wanted me, deep down, I always had a certain confidence in myself. I don't mean to sound arrogant, but I knew that I had the skills and I worked hard to hone my craft," he shared.
Lawrence declined to share what he'll be filming in 2021, but fans would be glad to know that several dramas he has worked on over the past few months are due for release this year.
Most recently, Lawrence embarked on an entrepreneurship journey with the launch of his own botanical skincare line, Grail. "One of the questions I usually get is 'What skincare products do you use?' But I'm very careful when I recommend products because everyone's skin is different. So I thought, why not create my own line, something that works well for everybody?" Lawrence explained.
The line, which debuted on Jan 26 with a multi-tasking mask called Do-It-All, has been very well-received. "To my surprise, my first batch of masks sold out four days after the launch."
Lawrence hopes to launch more products in the future. "But I'll only launch products that are essential to achieving good skin. They will work for all ages, all genders and all ethnicities," he said.
'THERE'S A TIME FOR EVERYTHING IN LIFE'
Throughout the years, Lawrence has made great strides in his career, going from TV extra to international star. Now, he's even a burgeoning entrepreneur.
As our conversation drew to a close, I asked Lawrence how he would describe his journey thus far. "Satisfying, actually," he expressed. "Back in those days, nobody really believed that I would ever make it. But there was a fire inside me. I knew for a fact that I had a lot to give. The process of finding my way through this industry has been very fulfilling. As the saying goes, it's the journey that matters, not the destination."
As his career continues to take off, Lawrence tells me he hopes to make more time for family. "For now, I'm so thankful for technology. I can't wait for the day that technology becomes so advanced, you can touch your family members through the screen.
"But I believe there's a time for everything in life. There's a time when you have to focus on your career, and there's a time when you have to slow down to prioritise family. I think, when it's time for either, you will automatically know," he mused.
"The process of finding my way through this industry has been very fulfilling. As the saying goes, it's the process that matters, not the destination."
Style Editor: Serene Seow; Art Direction: Jasper Loh & Chern Ling; Photography: Kelvin Chia; Styling: Joshua Cheung; Fashion Assistance: Kelly Hsu; Makeup: Peter Khor using YSL Beauty; Hair: Gary Low/Passion Hair Salon; Guest appearance by: @juleskittycat; Special thanks to Jasmine Tay & Seth Ong; Shot on location at Library House by Figment