The houses this eco-conscious architect designs embody a keen sensibility for melding architecture with nature
Architect Guz Wilkinson advocates for green building through houses that work with rather than against the environment.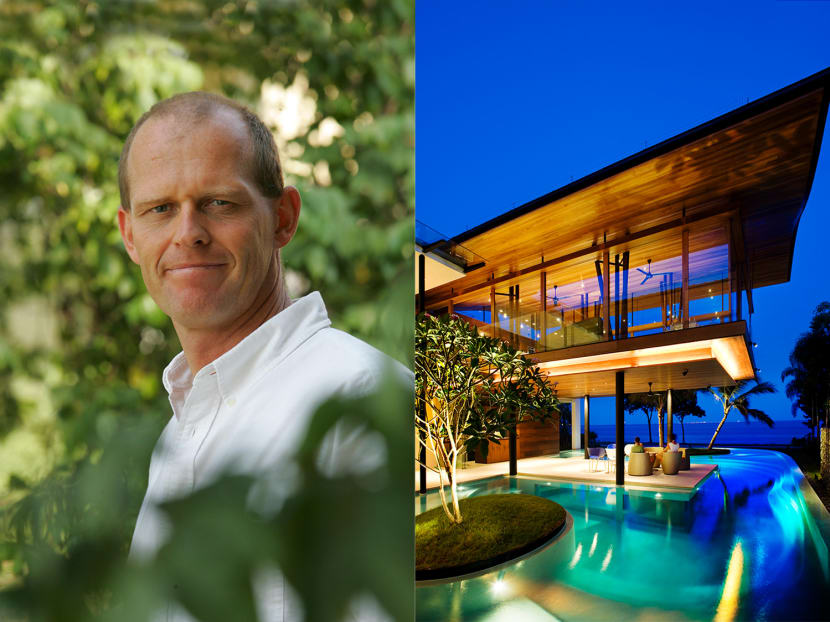 Guz Wilkinson has been based in Singapore for 31 years, creating green houses before biophilic architecture became trendy. In his creations, the landscaping is always the protagonist. Green roofs, lush greenery, hanging plants and pools result in incredibly bucolic environments – visions of Eden brought to life.   
Wilkinson leans toward an approach of passive sustainability, so that the people living in the property can enjoy tropical living. Large sliding doors allow for unencumbered transitions between indoor and outdoor spaces, as well as for breezes to ventilate the homes.
Given his mastery in designing houses suited for this climate, it is interesting that Wilkinson was 'accidently' introduced to tropical architecture. The story of how the English architect ended up in Singapore is a fascinating one as if straight out of an adventure book.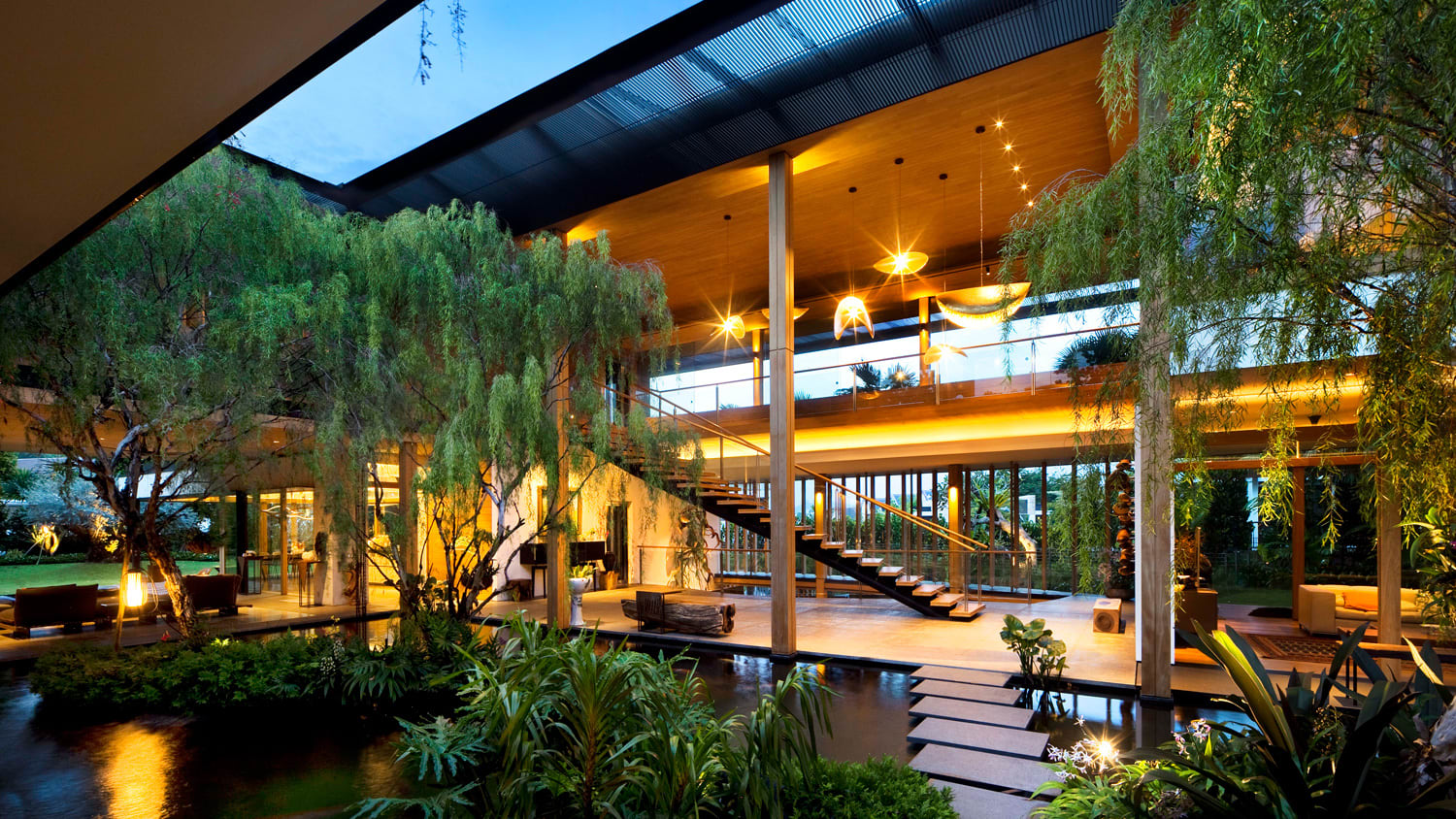 The avid sportsman, then based in Hong Kong in 1991, had sailed through the Philippines, Sabah, and Sarawak and was heading up to Phuket in Thailand. "We were chased by pirates for a while near the Balabac Islands between Philippines and Borneo, but were luckily rescued at the last moment by a logging ship. While sailing down the Malacca Straits towards Singapore to buy a GPS, my engine broke down. My boat limped into Singapore, where I put a new engine in the sailboat and was about to leave when my boat was struck by lighting, destroying all the electronics," he recounted.
It seemed that he was destined to remain on the island. He spent some time repairing the damaged equipment and was about to leave again when a dive barge dragged its anchor in a storm one night and smashed into his wooden boat, causing significant damage. "After that, I decided to work in Singapore for a while to restore my savings," he quipped.
Wilkinson got a job at Tang Wee Houe Architects, which specialised in designing bungalows. "I discovered that I loved designing in the tropics, where we could use a very open concept to nature and large roof overhangs to protect the houses from Singapore's hot and humid climate," he shared.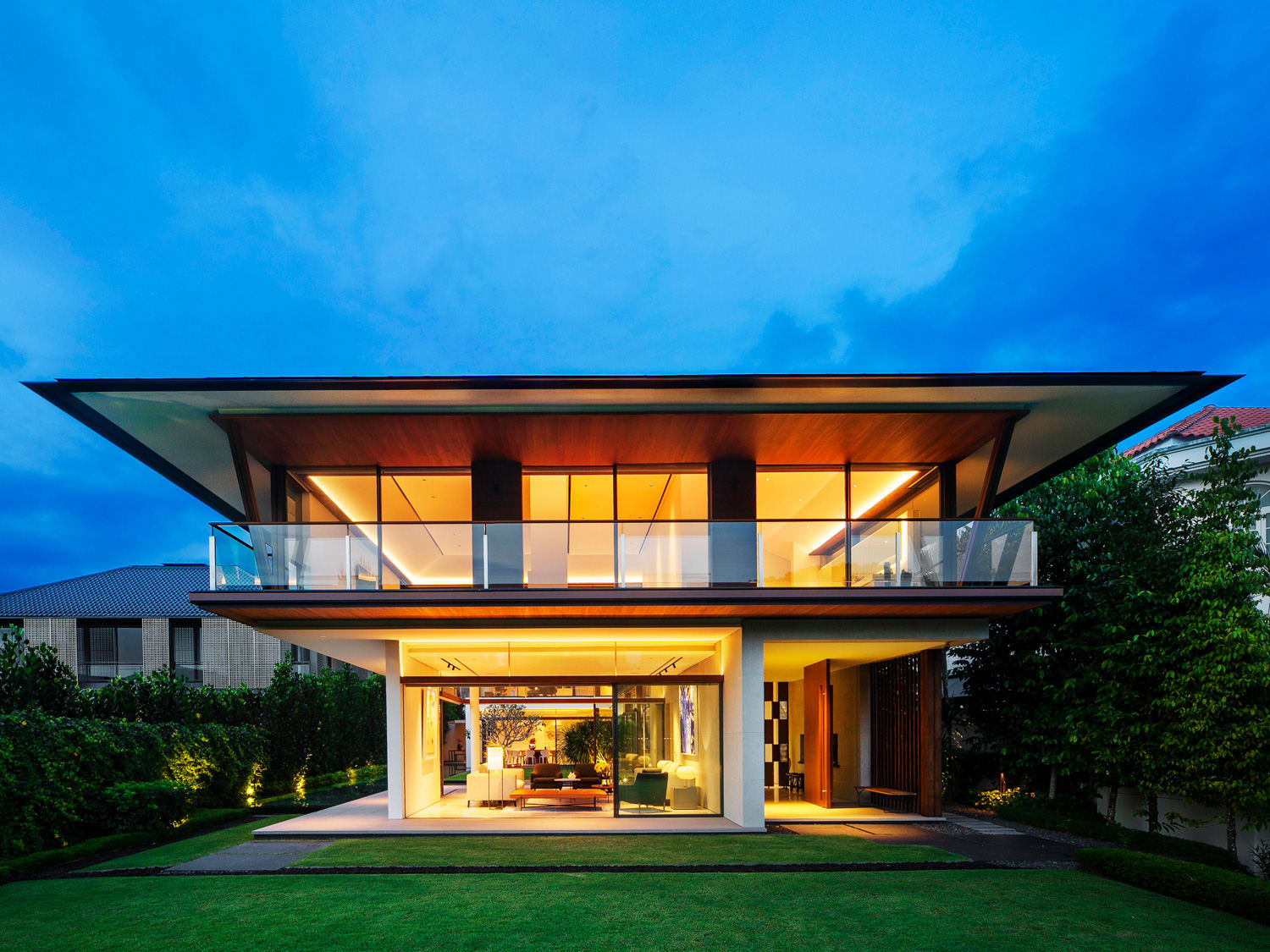 It was the first time he had visited Singapore and the large trees that were carefully looked after impressed him. Many of these are now gone, being chopped down to make way for buildings and infrastructure works. It is a huge loss, he lamented, for they contribute plenty of shade and help to mitigate increasing temperatures.
Wilkinson, who established his eponymous firm in 1996, has always been an advocate for nature. "I grew up in a 600-year-old farm in the United Kingdom in the beautiful countryside," he said, showing me a photograph of a quaint stonewalled house nestled among thick foliage and fronting fields of grass sprinkled with yellow flowers. In the background, rolling fields are patchworked with trees. "I spent much of my younger years walking through the woods and fields," commented Wilkinson.
For him, it is important that his clients are open to not over building so that there is enough land left for gardens. He is not a fan of 'monster houses' or unnecessarily large abodes. If the programme necessitates a larger footprint, he tries to break up the volumes for a more human scale "where the houses relate to nature and the occupants in a warm and soulful way," Wilkinson described.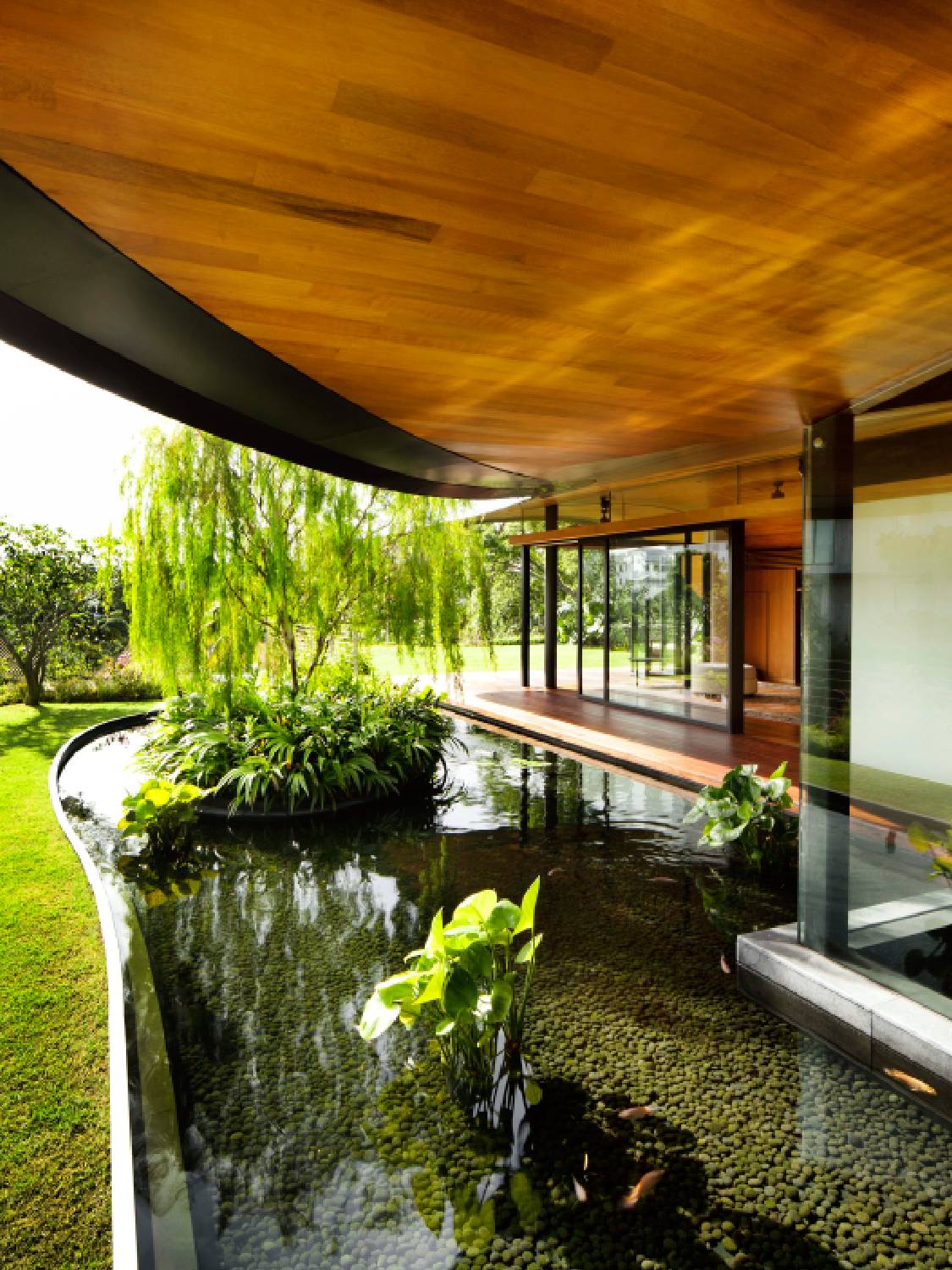 His houses embody a keen sensibility for melding architecture with nature. For example, the curved roof of the Ficus House traces the organic shape of the sky gardens at the attic. The Tembusu House is built around some large Tembusu trees at the front of the property, which were preserved. In the Water Courtyard House, the spaces are arranged around a central pond-cum-swimming pool dotted with planters, making it a key focal point that helps with cooling the surroundings.
"In the Water Courtyard House, the building folds itself around a water courtyard and at the same time, terraces back with roof gardens such that even the bedrooms above always have a view of greenery and roof gardens. Roof eaves are intentionally kept low to give a human scale to what is otherwise a large house. A very sharp roof edge gives a lightness to a large roof," Wilkinson elaborated on giving a sense of beauty to a functional element.
Singapore's climate makes it conducive for landscaping to thrive. "Thus, it was natural that I make the most of that by designing houses that integrate with their gardens and surroundings. In terms of built form, it makes sense to design houses with cross ventilation for cooling and large roof overhangs to keep out the tropical sun and rain," said Wilkinson on the practical features that are found in all his houses.
For homeowners who wish to design sustainable houses, having generous landscaping if possible is a first step. "Alongside ponds and pools, we use greenery as an active component to the passive cooling of our houses. The plants themselves will cool the surrounding air through transpiration, whether they are gardens at ground level or roof gardens. As an extra step, we always try, where possible, to put in plants that encourage biodiversity, such as sunbirds and butterflies," he commented.
It is not easy to design sustainable houses, he admitted. Certain factors such as an ambitious programme and disadvantageous building guidelines can also work against rather than for this cause. "Until recently, large roof overhangs were easy to incorporate, but now due to ruling changes, this is much harder to do," Wilkinson shared an example. 
In the past, a house's site coverage was measured to the edge of its external walls, and a two-metre roof overhang was allowed within the total sit coverage. Now that this is not so, many homeowners are prone to push for very boxy houses with no roof overhangs in order to maximise one's GFA (Gross Floor Area) while complying with these rules.
"With no overhangs, the house gets very hot and extra air conditioning needs to be used [to cool the house properly], which further increases the 'heat island' effect," said Wilkinson. Another suggestion he makes to improve Singapore's green efforts is for the government to make it attractive for homeowners or architects to engage in adaptive reuse rather than tabula rasa.
"Incentives could be introduced on keeping existing buildings that are still viable. They can be modified rather than demolished. We have heard of a Good Class Bungalow (GCB) that was only two years old being demolished for the building of a new house," he shared, appalled at the immense construction waste in the industry.
Wilkinson chooses his clients carefully, saying no to potential clients who ask him to design overly large houses. "We want to ensure the buildings are not so huge that we can still have large overhangs and design for the Singapore climate," he explained, adding that it is becoming increasingly difficult to find clients who love nature.
He himself is an avid horticulturist. "I used to live in an old black-and-white house where I could pursue my love of gardening easily. Now living in a condominium, this is harder to achieve," he said. But this does not stop him. In fact, his gardening effort reaches beyond Singapore's shores.
"I have taken to planting trees in the UK, New Zealand and sometimes locally to give back to nature and also offset the carbon footprint of the houses we designed. So far, we have planted over 6,700 trees in the UK and 500 trees in New Zealand," he shared on his efforts in offsetting the carbon footprint of houses he builds here.
It is commendable that this endeavour is paid out of his own pocket. "We focus on planting trees in the UK and New Zealand, where we can get grants and ensure the trees can grow to maturity," he shared.
Ample landscaping is not just beneficial to the environment or for adornment. As biophilic principles explain, they help us feel more relaxed as we are after all products of nature. "During the pandemic, our clients often reported that having greenery in their houses helped them live with lesser stress and a better quality of life," Wilkinson affirmed.