'Many thought women should simply decide a car's colour': Nissan's top female exec
Asako Hoshino, Nissan's executive vice president, recounts her struggles to overcome norms and stereotypes built over decades in an industry that's still dominated by male executives.
Asako Hoshino was, in many ways, the face of a new era for Nissan when she joined the Japanese carmaker in 2002.
Carlos Ghosn, its chief executive at the time, had revived the company from near bankruptcy in what remains one of the biggest turnarounds in corporate history. 
Hoshino had left a Japanese bank after feeling exasperated by the grim prospects for female employees of getting promoted – let alone being assigned overseas. Nissan, meanwhile, was promising to be more diverse and international through its alliance with France's Renault.
Nissan executives hoped Hoshino, who had worked at a consulting firm after receiving an MBA from Northwestern University's Kellogg School of Management, would inject new blood into the organisation. Her first role was to spearhead the creation of a new division to forecast customer demand. 
Two decades later, she oversees Nissan's global marketing and sales, the most senior-ranked among internally-promoted female executives in Japan's conservative automotive industry. She is also one of the few executives to have emerged relatively unscathed after Nissan's management team was radically revamped following Ghosn's arrest and ousting in late 2018.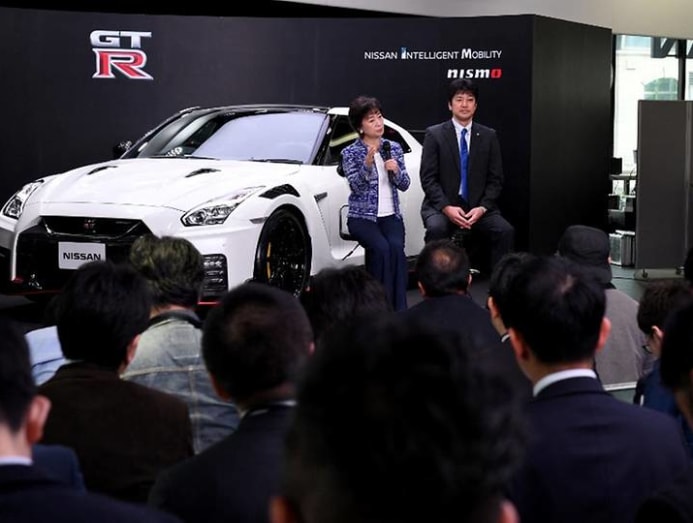 "Things have changed dramatically since we began putting diversity as a pillar of our strategy," said Hoshino, who helped set up Nissan's diversity development programme. "Two decades ago, people didn't get it when I said we should listen to female opinion in making cars. Many thought women should simply decide the car's colour but obviously that's not the case any more." 
Gender stereotypes still continue to hamper the advancement of women in Japan, ranked 120th in the world on gender equality by the World Economic Forum and where fewer than 8 per cent of managerial positions are held by women.
In February, the Tokyo Olympic Games president Yoshiro Mori resigned following mounting public criticism over sexist remarks that women do not belong on committees because they talk too much. 
"I think Mr Mori's resignation was epoch-making in Japan since politicians wouldn't have resigned in the past over similar remarks," Hoshino said. "Characterising people by stereotypes leads to discrimination, and people need to be trained not to make assumptions using stereotypes." 
 

"Two decades ago, people didn't get it when I said we should listen to female opinion in making cars. Many thought women should simply decide the car's colour but obviously that's not the case any more." – Asako Hoshino
Parts of Hoshino's career at Nissan were defined by struggles to overcome norms and stereotypes that had been built over decades in an industry that continues to be dominated by male executives. Her early days at the company, for example, were spent clashing with male engineers. The latter believed they had a better idea of how many cars would sell than Hoshino's team, who were analysing past sales figures and market trends. 
As arguments continued late into the evening, she would often miss her last train home and stay at a nearby hotel. "Are you trying to kill me?" an upset engineer once asked after her market forecast effectively killed the budget for a product he was working on. 
Internal relations only improved from 2004 after her market forecasts proved accurate for six of the new car models that launched. "I used to walk around with printouts of the graphs for the six car models and I told people I met how spot-on they were. Some said 'you'll be wrong the next time', but I countered by saying [that] so far I've been right."
Hoshino is married to Yoshiharu Hoshino, the chief executive of Hoshino Resorts, the operator of one of Japan's most famous luxury inns. The couple had a young child at the time that Hoshino joined Nissan and she used to commute from Karuizawa, a mountain resort about an hour and a half from Tokyo by bullet train. 
To juggle work and childcare, she hired four nannies – she found them by posting an advertisement in a local newspaper – who were able to look after her son from 8am to 9pm. 
"I struggled the most after I moved to Tokyo. I couldn't find a babysitter and I couldn't find a day care with an opening," Hoshino said. After failing to find a day care centre near where her mother lived, she decided to move to an area of the city with fewer children. 
Back then, the gap in the company's aspiration for diversity and reality was stark. "I didn't have a single female boss at the time, so if you ask me if my career path was visible, it was completely unclear," Hoshino said, noting that it was difficult to imagine how her career would advance without a female role model inside the company.
Even now, Hoshino is the only woman among the seven highest-ranking – excluding the board – executive officers at Nissan. 
Overall, the ratio of the group's female managers in Japan has risen from just 1.6 per cent in fiscal year 2004 to 10 per cent currently. That's higher than the 4 per cent average in the country's automotive industry. Nissan's 12-member board also has two female directors.
Despite the scarcity of female managers during the early half of her career, Hoshino said she has hardly thought about whether the resistance she initially faced at the company was because she was a woman. She said her main focus was on delivering results. This, she thought, would be the fastest way to win over her critics. 
"It's a waste of time to battle over issues like that," Hoshino said, adding that she would not have chosen Nissan if the company did not evaluate individuals for their skills and performance.
Looking ahead, she sees different barriers to the advancement of women in Japanese workplaces. "The biggest challenge for Japan's diversity movement is job definitions that are based on gender. A woman should do this or a man should do this. These stereotypes need to go away," Hoshino said.
Such fixed images limit career opportunities for women, she said, citing her own experience of being refused a chance to work in London for no other reason than the bank she worked for had never assigned a woman overseas.
"Characterising people by stereotypes leads to discrimination, and people need to be trained not to make assumptions using stereotypes." – Asako Hoshino
By Kana Inagaki © 2021 The Financial Times