From kampung girl to award-winning actress: Who is the real Yeo Yann Yann?
With several awards under her belt, Yeo Yann Yann is known as Singapore's golden girl of cinema. But who is she, really, when the cameras stop rolling?
The lights are dimmed and there's a stillness in the air. Yeo Yann Yann is on set for our CNA Luxury cover shoot. She walks slowly towards a mirror, tilts her head, looks at her reflection.
Earlier on, our video director had asked if she could oblige us by shedding a tear or two for the camera. "Is this an exam?" she jokingly questioned.
But when the cameras start rolling, she's focused on getting the shot. Right on cue, her eyes well up with tears.
Of course, I thought to myself. What do you expect from an actress who has taken home the prestigious Golden Horse Award not once but twice, the first for Best Supporting Actress and the second for Best Leading Actress?
Nailing every shot at our shoot seemed almost effortless for Yann Yann. But later on, she tells me over Zoom that she actually found our shoot to be rather challenging.
"It was a lot of fun, but there were lots of poses I had to do that were really different," she confessed, speaking to me from her hotel room in Taipei, where she's serving a quarantine notice. She had flown to Taipei to present an award at this year's Golden Horse Awards, which takes place on Nov 21.
For actress Yeo Yann Yann, getting out of character didn't use to be easy. But over the years, she has developed a way of easing back into her own skin.
This is undoubtedly the work ethic that has brought her to where she is today. Behind the camera, Yann Yann is committed to giving her best, and then some.
Yann Yann may have several awards to her name, but what struck me the most throughout our conversation is her humble nature. When she tells me that her career "is doing quite, quite good", she says it almost sheepishly.
This year, she's also been nominated for an International Emmy for her role in HBO's Invisible Stories, where she played the character of Lian, a single mother struggling to care for her autistic son.
"I think these are all really bonuses," she said, reflecting on the recognition she's garnered. "The only thing that's on my mind [when filming] is to do my best, to serve the script and to serve the character. I can never be the character. But I can get as close as I can that sometimes, you can't differentiate if it's Yann Yann, or if it's a character I'm playing." 
FROM KUKUP TO THE BIG SCREEN
Perhaps it's her humble background that has contributed to the person she is today. The 43-year-old actress grew up in Kukup, a fishing village in Malaysia.
"One of my fondest memories of my childhood is lying on the planks on the floor. Beneath these planks is the sea, and when the wind blows, the smell of the sea would come up from the planks," she reminisced.
Since she was a young girl, Yann Yann harboured dreams of becoming an actor. "I've always been a sensitive child, but I was unable to express my own emotions. As a child, we're always told not to cry, not to be so noisy, not to laugh so loudly," she shared.
"There was once when I was about six or seven years old, I was watching a film. In the film, there was a young girl who was crying. Someone had passed away and she was reading an obituary. I was so touched, and my tears just flowed out."
Back then, Yann Yann's grandmother was one of the few in the village who owned a video player. All the village children had gathered at her house, and Yann Yann recalled feeling embarrassed about her sudden outburst of emotions. "There was one thought that came to my mind. If I was that little girl in that TV box, I wouldn't be shy to express my emotions," she said.
Even though she didn't know "what being an actor meant" at that point, a seed had been planted. At the age of 19, she left home to study theatre in Singapore at the Intercultural Theatre Institute (ITI).
After graduation, she landed her first role in a local play. "Fate brought me here [to Singapore], and I decided to stay," she said. Her first leading role in a film was for 2006 drama Singapore Dreaming. Since then, she's starred in highly acclaimed Singaporean films Ilo Ilo and Wet Season, among a bevy of others.
HARD WORK AND DEDICATION
Yann Yann's stellar career is the product of pure hard work, the importance of which she discovered during her time as a theatre student. "I remember when I was in ITI, my day started at 6 or 7 am," she recalled. "From 7am, we would have tai chi classes, voice classes, movement classes, acting classes."
The school day would typically end at 6pm, but Yann Yann would stay behind for English class. "I remember my English was so bad, I couldn't understand what the lecturers were talking about."
It was even tougher for her during her graduation year, when rehearsals would stretch till 4am in the morning. "The first year after I graduated, my health really took a toll. I was sick almost every month after that," she said. "But I'm so glad I did that. It took me years to understand that if I worked really hard, I could perform good things."
Being an actor also requires dedication in ensuring your body is fit to perform. When filming, Yann Yann typically wakes up at 4am, despite having left the set at 11.30pm the night before. While most people (myself, included) would try to get more shut eye, she goes for a run. "If I have ten minutes, I'll run for ten minutes. If I have five, I'll run for five."
She also follows a strict diet when working. "I realised that when I eat tasty food with lots of condiments, it affects me in the afternoons. I feel sleepy, I feel tired. I found a way to eat soupy stuff that's very light for the stomach to keep me going."
'EVERY CHARACTER WILL TAKE SOMETHING FROM YOU'
So dedicated is Yann Yann to her craft, she's almost unrecognisable on set. "My colleagues told me that when I'm on set, they don't dare to talk to me. When I'm on set, I'm a different human. They're not sure if that's me or the character."
Her ritual for getting into character begins as soon as she's seated at the dressing table. "I usually don't talk during the makeup process. I will either listen to music, or go through some lines. Then I can start [getting into] the character's life, the character's world," she said.
Getting out of character, however, isn't as easy. "It's always a challenge to leave your characters behind," she said. "They will stay with you, sometimes for a really long time. Recently when I filmed Wet Season, I just simply had to cry for her. I had to bawl for her in the car on the way home, to get all her hardships out of her."
In Wet Season, Yann Yann played the role of Ling, a schoolteacher struggling to cope with infertility and dealing with an absent husband. It was this performance that won her the award for Best Leading Actress at the Golden Horse Awards in 2019.
Once, Yann Yann starred in a 1930s Chinese play titled Thunderstorm, where she played the role of Fan Yi, a repressed wife who descends into madness. When the play finished its run, she locked herself at home for a month.
"I didn't even realise it, until my friends asked, where have you been?" she recalled. To get out of her funk, she flew to Shanghai for a holiday. Still, she remained cold and distant.
From then on, "I became much more aware how I am after a performance," she said. "I always think that it's important to come back to your base as yourself, then you can start approaching another character. Every character will leave something in you, and it will also take away something from you."
RECLAIMING HER IDENTITY
Over the years, film-goers have become accustomed to seeing Yann Yann playing emotional, complex characters on screen. But what is the real Yann Yann like, I ask her.
"I'm actually quite funny," she laughed. "I'm actually quite friendly. Many of the characters that I play have strong emotions. Yes, I do have strong emotions. But most of the time, I'm actually quite light and cheery."
Since becoming a mother to her eight-year-old daughter Vera, Yann Yann has found it easier to step out of character and reclaim her identity. "My core now for my life is my daughter. She's the only thing I am certain of. I am certain that she's my daughter. I am certain that's she's mine. I am here, I need to be with her."
In fact, when she's not working, Yann Yann's daily routine largely revolves around her family. In the morning, she helps Vera prepare for school. At noon, she'll prepare her lunch. In the evenings, she'll help her with homework, sometimes while reading her own scripts.
"She'll ask me, 'mummy, what are you doing?' And I'm tell her I'm doing my homework. Mummy has homework too!"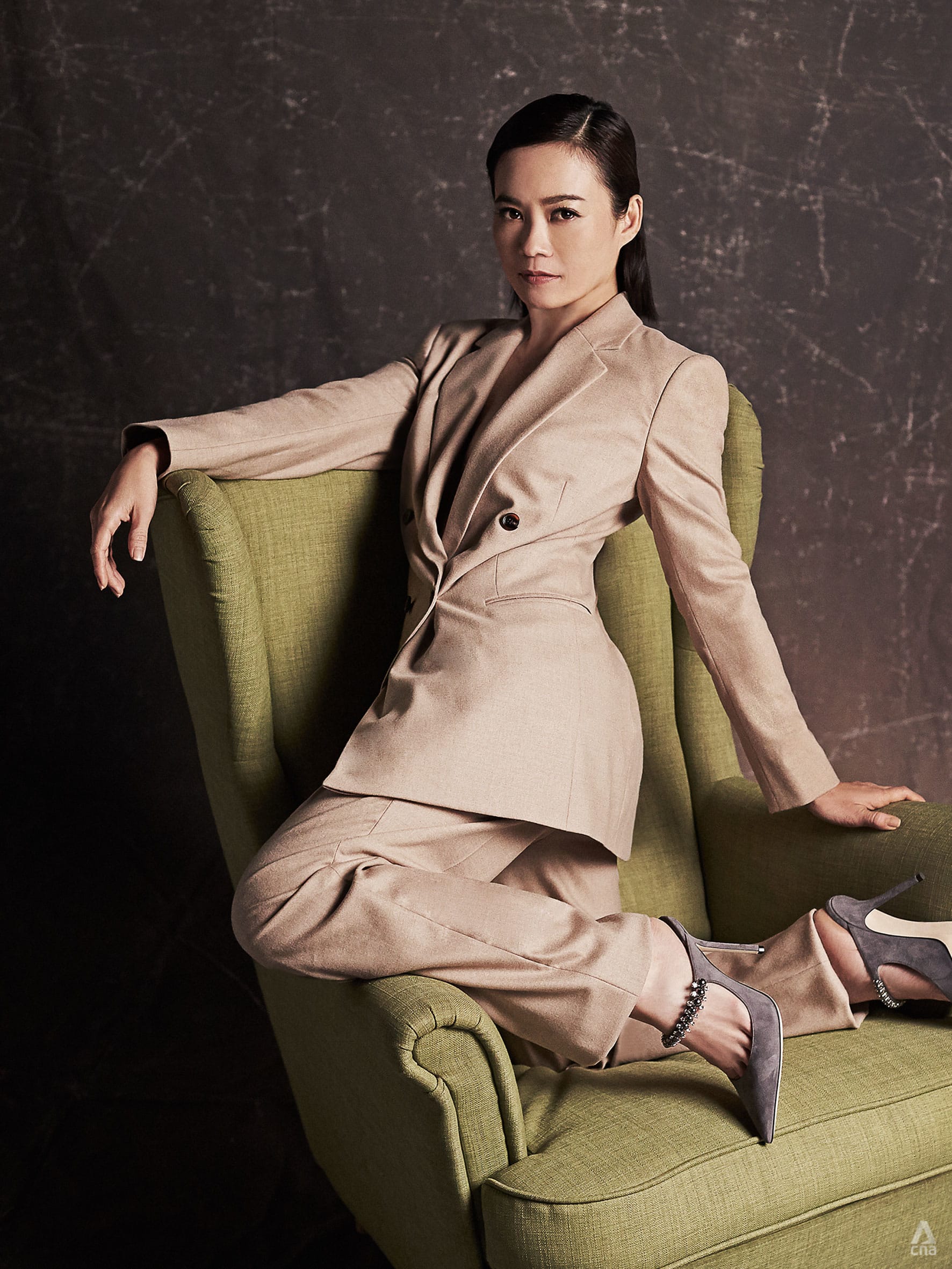 Does she ever find herself struggling to balance her career, while being a wife and mother? "Am I always thinking about balancing? Yes. Who thinks about balancing? Those who are not balanced," she joked. "But we try our best."
Having made her name in the region, I ask Yann Yann if a career in Hollywood is next on the cards. "If the chance comes, why not?" she said.
But for now, she's content doing what she loves, no matter where she is. "Not many people have the patience to try one thing for 10 years to understand whether they are good at it, or whether they love it," she mused. "I'm a late bloomer. It took me more than ten years to understand that I love acting."
"Now I can tell you that I love it so much, I'd love to act till the day I can't move. And even if I can't move, if there's a show where I can just lie down and film, I would do it too. That's how much I love it." 
Photography: Kelvin Chia; Videography: Alvin Teo; Video Direction: Joyee Koo; Art Direction: Chern Ling & Jasper Loh; Styling: Daryll Alexius Yeo; Fashion Assistance: Low Rin; Hair: Gary Low/Passion Hair Salon; Makeup: Lolent Lee Using Chanel; Style Editor: Serene Seow​​​​​​​