Why is Beyonce flaunting a 128-carat diamond alongside Jay-Z?
Well that's because the powerhouse couple is starring in a new campaign for American jeweller Tiffany & Co.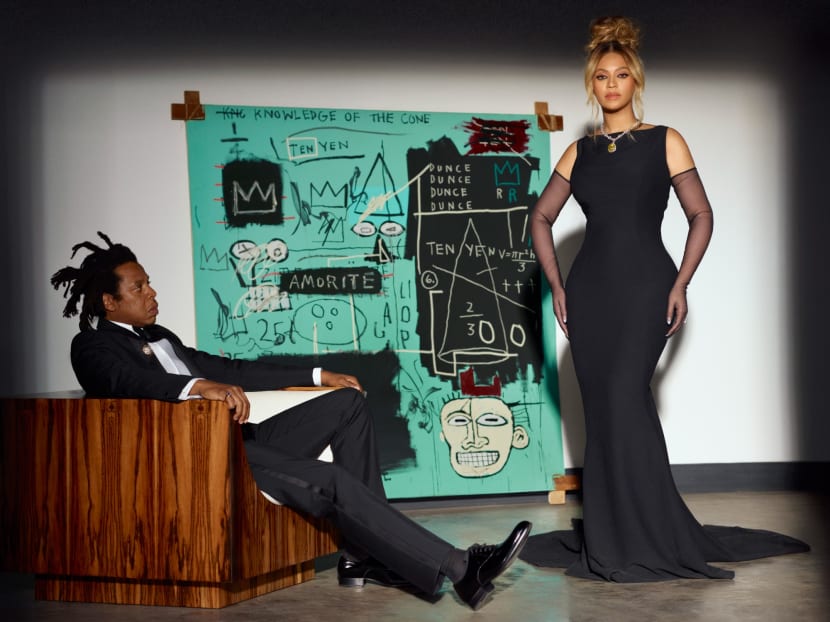 How do you usher in a new era for your brand? Why, by roping in the world's biggest A-list celebrity couple as brand ambassadors, of course.
Earlier this month, pop icons Beyonce and Jay-Z were announced as Tiffany & Co ambassadors. The tie-up comes amid a brand refresh for the American jeweller, following its acquisition by LVMH. The powerhouse couple join fellow Tiffany faces Rose of Blackpink, and Queen's Gambit actress Anya-Taylor Joy.
On Aug 23, the jeweller announced that the hip-hop moguls will star in its latest campaign celebrating modern love. Titled About Love, the campaign is the result of "close collaboration and a shared vision between the Carters and Tiffany & Co," the brand said in a press release. It will be released globally from Sep 2.
In campaign images, Beyonce and Jay-Z are pictured together against the backdrop of a never-before-seen Tiffany blue Jean-Michel Basquiat painting. This is the first time that the couple has appeared in a campaign together.
Beyonce wears the famed 128.54-carat Tiffany Diamond, marking the first time that the diamond has been worn in a campaign. The singer is only the fourth person in the world to wear the diamond, after Mary Whitehouse (wife of an American diplomat), Audrey Hepburn and Lady Gaga.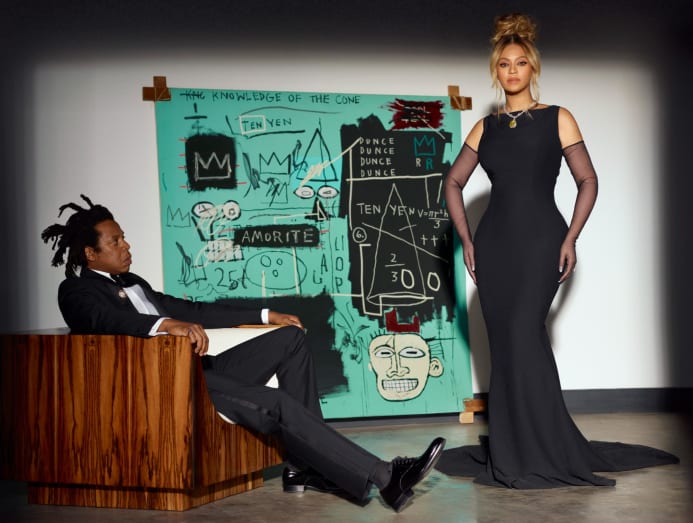 Jay-Z wears Jean Schlumberger's legendary Bird On A Rock brooch, reconstructed as a pair of one-of-a-kind cuff links. Jewellery designer Jean Schlumberger was best known for dressing high society's elite in the 1960s and 1970s.
"Beyonce and Jay-Z are the epitome of the modern love story. As a brand that has always stood for love, strength and self-expression, we could not think of a more iconic couple that better represents Tiffany's values. We are honored to have the Carters as a part of the Tiffany family," said Alexandre Arnault, Tiffany & Co's executive vice president of product & communications.
Arnault was previously CEO of luggage maker Rimowa before joining Tiffany to head the brand's revamp. He is credited as the mastermind behind the bold yet controversial Not Your Mother's Tiffany campaign. Said to be a strategic move to entice younger customers, the campaign drew flak from long-term fans.
An accompanying About Love campaign film starring the new ambassadors, created by acclaimed director Emmanuel Adjei, will also launch on Sep 15 on Tiffany.com. It features a musical performance of the classic song Moon River, made famous in the 1961 film Breakfast at Tiffany's. The iconic tune is reimagined with vocals by Beyonce, captured by Jay-Z on a Super 8 camera.
As a part of the house's partnership with the Carters, Tiffany & Co has pledged US$2 million (S$2.7 million) towards scholarship and internship programmes for Historically Black Colleges and Universities (HBCUs). Additional details on this initiative will soon be revealed.
"Beyonce and Jay-Z are the epitome of the modern love story. As a brand that has always stood for love, strength and self-expression, we could not think of a more iconic couple that better represents Tiffany's values." – Alexandre Arnault