Billionaire heiress Kim Lim's 'guo da li' ceremony featured S$2 million worth of gifts
Items included two Hermes bags, a pair of Rolex watches, 15 gold bars and much, much more.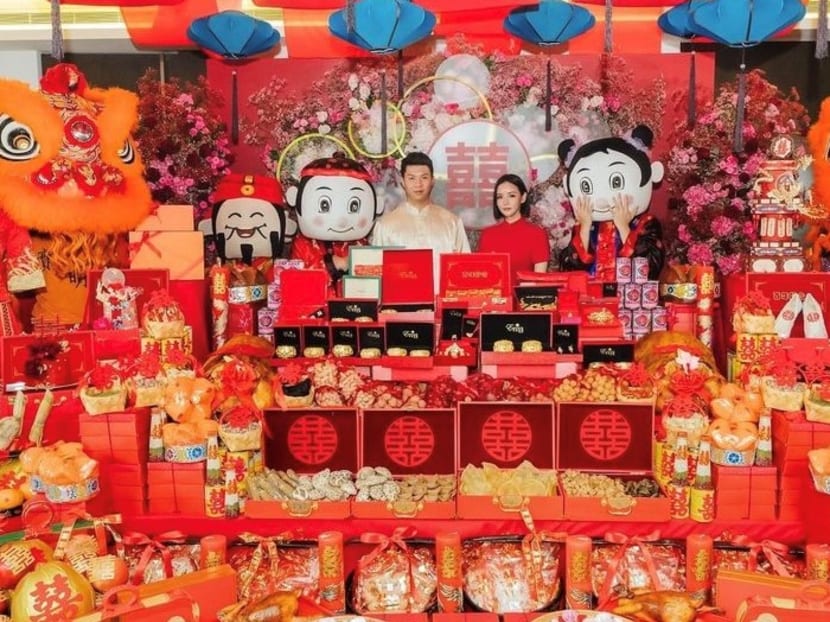 If you haven't heard already, billionaire heiress and entrepreneur Kim Lim, the daughter of business magnate Peter Lim, is getting married.
She said "yes" to her fiance last September, who proposed with a massive rock that apparently is worth as much as an HBD flat.
On Feb 16, the couple had their traditional "guo da li" betrothal ceremony and as expected, the event was truly over-the-top.
The "guo da li" is a traditional Chinese wedding custom where the groom delivers wedding gifts to the bride's family as a token of gratitude and sincerity. By accepting the gifts, the bride's family shows their acceptance of the groom.
Here's what Lim's gifts included – 15 gold bars, eight pairs of giant dragon and phoenix bangles, two gold necklaces, gold rings, gold earrings, two Hermes bags, a pair of Rolex watches, a pair of jewel-encrusted Jimmy Choos, and a variety of dried goods.
The total cost? A whopping S$2 million, reported ICON magazine.
The groom, only known as L, arrived together with a lion dance entourage in two Rolls-Royces.
Lelian Chew, founder of The Floral Atelier and The Wedding Atelier, who planned the ceremony, said on her Instagram stories: "The beauty of K&L's betrothal lies in the lengths taken to curate each element. Rich in symbolism and meaning, no details were spared."
According to Chew, the gifts also included "188 of the freshest apples for a peaceful marriage, a pair of the rarest vino to delight a father-in-law, 288 tiers of freshly baked sweet cakes to share with their nearest and dearest, and so much more."
If this was how their guo da li ceremony went, we shudder to think just how lavish their wedding ceremony will be. 
Not much is known about Lim's fiance, except that he's a long-time friend of Lim who works in the IT industry. Judging from the looks of things, he's definitely pretty well-off himself.
Lim was previously married to ex-husband Kho Bin Kai. The pair share a son.