The Singapore company tackling homelessness by building solar homes
BillionBricks, a Singapore-based innovation studio founded by Anurag Srivastava and Prasoon Kumar, is aiming to build the world's first community powered by solar energy in the Philippines by 2022, where the less privileged can own and finance their own homes.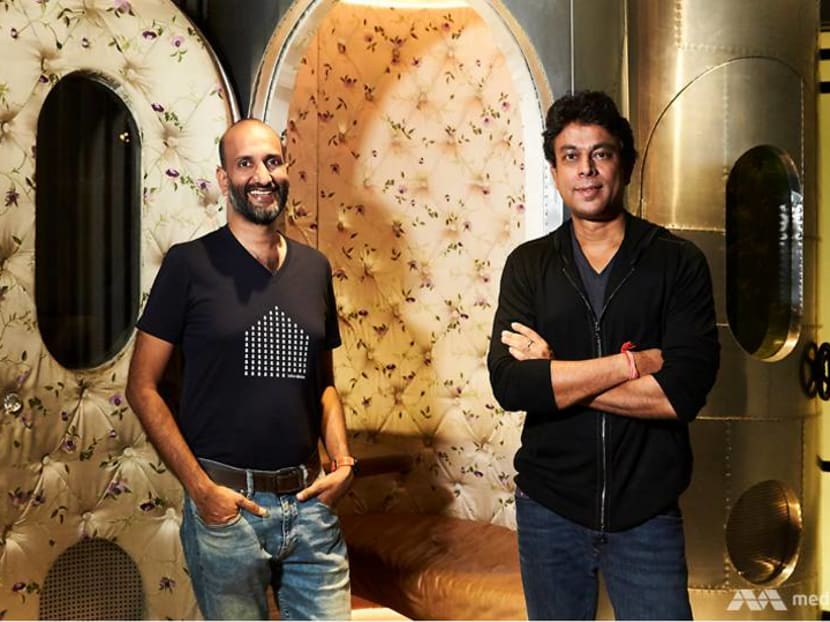 One of the things that the COVID-19 pandemic has shown us is that our homes are a safe space, a sanctuary for when the world appears to be in upheaval. In these unprecedented times, the concept of home has evolved to become a place where we not only live, but work as well.
However, housing is a privilege that not everyone can afford. Across the world, approximately 150 million people are homeless, while 1.6 billion live in inadequate housing conditions, according to data from the United Nations (UN).
BillionBricks, a social enterprise based in Singapore, wants to eliminate homelessness and provide a dignified home to everyone, including the needy.
The company was founded in 2013 by Prasoon Kumar, together with his former boss, venture capitalist and entrepreneur Anurag Srivastava. Back then, Kumar was working as an architect at interior design firm Space Matrix, where Srivastava was CEO.
After spending several years designing around 10,000 homes for people who could afford them, Kumar felt a growing sense of unease that he hasn't done much to help solve the nagging problem of homelessness, an issue prevalent across many cities.
"Architects always talk about contributing to a better living environment. But professionals like me, we kept building these fancy malls, hospitals and buildings. When we go to conferences, we talked about how we should do better work. But in reality, we go back and don't do much," Kumar mused.
"That really prompted me to question, why is it that we are equipped with all these skills and ideas, but we're not applying it to where it's needed the most?"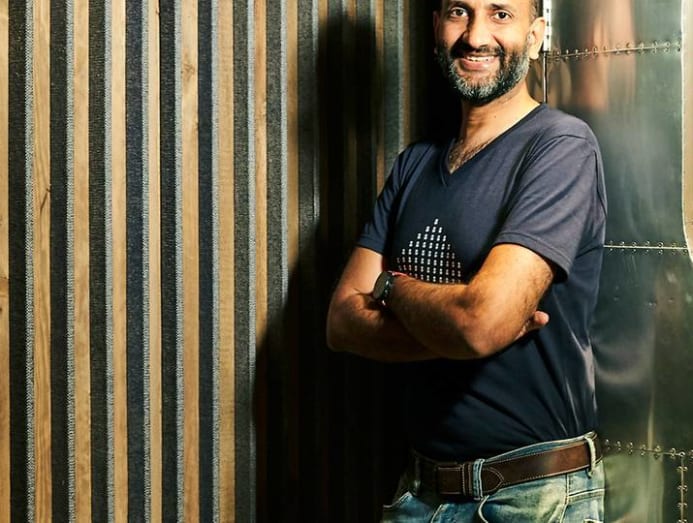 Driven by a desire to do more meaningful work, Kumar handed in his resignation letter to Srivastava. But instead of convincing him to stay, Srivastava decided to invest in Kumar's vision.
"I've known Prasoon for many years, he's an amazing urban planner. He was always very passionate about doing good work. It was very heartening to hear him say that he wanted to focus on solving the problem of homelessness," Srivastava shared.
For Srivastava, who grew up in a lower-middle class household in Uttar Pradesh, India, homelessness is a cause that's close to his heart. "Where I lived, there were people who were living on the streets. The difference is, I went to school, they didn't," he said.
"One thing you realise is that life begins with a roof over your head. If you don't have a home, you can't get an education, access to healthcare, safety and security. There's a lot of non-profit work surrounding education, empowering girls, and working with less privileged kids. But a lot of that work is still going to people with roofs over their heads."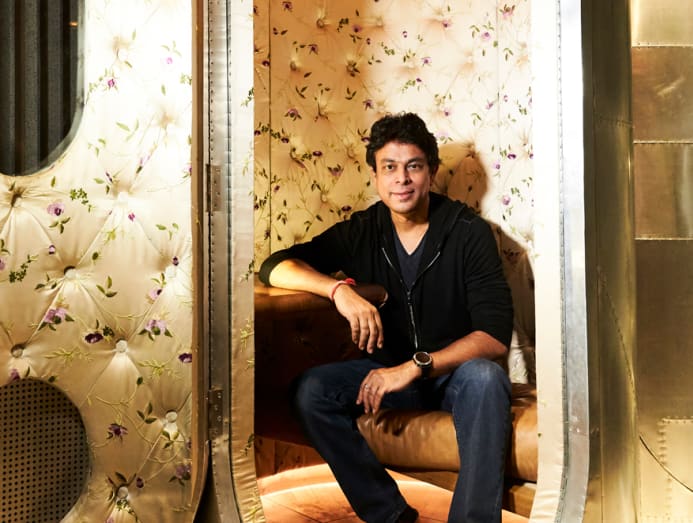 PIONEERING A REVOLUTIONARY LIFE-SAVING TENT
BillionBricks started off as a non-profit organisation, but right from the beginning, the founders were convinced that they did not want to simply do "some good work here and there". Instead, BillionBricks sees itself as an innovation studio that works on creating systemic solutions that can drive meaningful change.
"The way we look at innovation is from the perspective of design, which is where my background is. How can we design completely new homes, and look at it from a technology standpoint to see what new innovations we can incorporate?" Kumar explained.
BillionBricks' pioneering invention was an emergency tent named WeatherHYDE, which the company says is "the world's only reversible all-season family tent". In the winter, the tent can protect occupants from the cold. During the warmer months, it can be reversed to reflect heat from the sun.
The tent was created in response to riots in India in 2013 that had left thousands of families displaced. More than 30 children died when temperatures fell to below freezing level at night. "That incident became the inspiration for WeatherHYDE. Why is it that in the 21st century, we can't protect our children from something as simple as the cold?" Kumar said.
"One of the first recipients of WeatherHYDE in India was a woman named Kushi. I remember I gave the tent to her, and the next morning, she said to me, 'This is my first ever home'. I was surprised because we've always talked about WeatherHYDE as a tent. But for her, it meant a lot more. That's when we realised what change we could bring in, and what this meant for people on the streets," he continued.
Since then, WeatherHYDE has been used in countries all over the world, including the US, Canada, Mexico and Nepal. The tents can be purchased for around US$300 (S$402) each. Donors from around the world have approached BillionBricks to purchase the tents for the homeless in their communities.
The global use of WeatherHYDE is something the founders find encouraging. "We had designed a product in Singapore, for an incident in India, and manufactured it in China. But it is now used all over the world," Kumar shared. "That proved that we can solve a critical issue that's global in nature with a solution that's scalable."
"People have also gotten creative with the use of these tents," Srivastava shared. Aside from being a place to take shelter, WeatherHYDE tents have been used as shops, changing rooms, bathrooms, and even a charging space for phones.
"I like the idea that it has become more than just a home. We've created the solution, and people have adapted it according to their needs," Kumar added.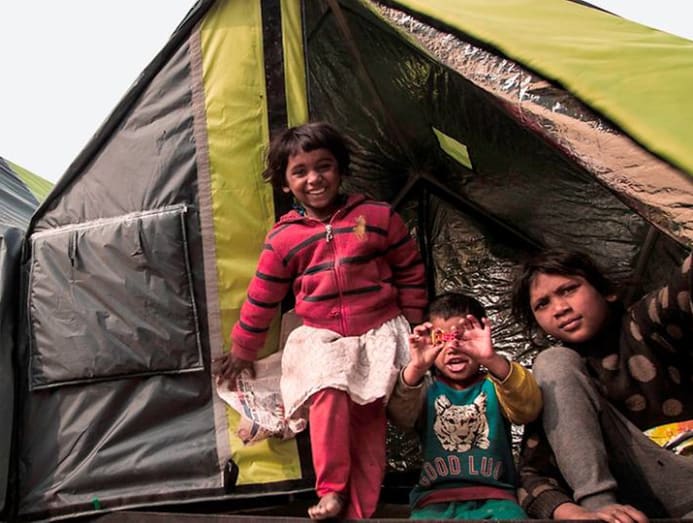 WORLD'S FIRST SELF-FINANCING SOLAR HOMES
While WeatherHYDE has achieved considerable success, the founders believe that a tent is only an interim housing solution. The next chapter for the company is pioneering the development of BillionBricks Home, the world's first self-financing, carbon-negative solar home solution.
"We realised that the core issue is people don't have the financial capacity to buy a house. There are a lot of innovations out there that can make housing cheaper, but it makes no difference if people still can't afford it," Kumar said.
Building more houses also raises the issue of increasing energy consumption, which would inadvertently contribute to climate issues. "We may be able to solve one problem, but now we need another organisation to come in and solve the energy issue. We wanted to build a home that is able to produce its own energy, equipped with its own financial mechanism so people can afford it."
Each BillionBricks Home will be equipped with solar panels that are capable of producing four times more energy than what it consumes. Families can then sell the unused energy to the grid and generate additional income, which can be used to pay off the construction cost of the home.
Each house can also collect its own rainwater, clean its own waste, and has a front yard for growing food.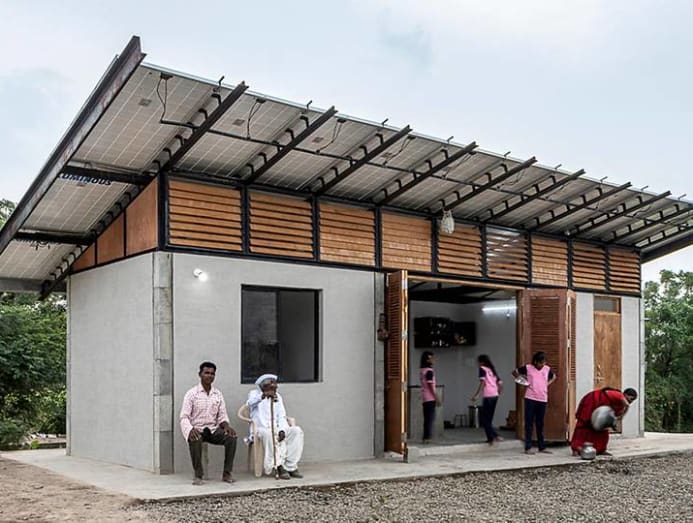 The company describes this solution as "a radical approach to sustainable housing". "Hypothetically, with this, everybody in the world can have a home," Kumar said.
The idea is to also connect these families to the rest of the world by bringing in the Internet and other forms of technology. This will allow for remote working, giving families more employment opportunities.
"A lot of possibilities will open up once you solve the problem of energy," Srivastava said. "Today, I can take part in a yoga class from my home, while my yoga teacher is somewhere in Mumbai. At the same time, somebody in Chicago is working from home. Why can't the less privileged do the same in one of our BillionBricks Home?"
"Today, I can take part in a yoga class from my home, while my yoga teacher is somewhere in Mumbai. At the same time, somebody in Chicago is working from home. Why can't the less privileged do the same in one of our BillionBricks Home?" – Anurag Srivastava
Prototypes for BillionBricks Home have been built in both India and the Philippines. To fuel the growth of this innovation, this year, BillionBricks has also restructured to become a for-profit social business.
The non-profit structure had its limitations in allowing the organisation to achieve its aims at a faster pace, the founders shared. For one, capital is required for research and development, and the company needs to attract the best talent, technology and the right strategic partnerships.
In 2022, BillionBricks will begin developing the first community of solar homes in the Philippines. The aim is to build a total of 500 homes, with the capacity to produce 10MW of energy.
If the model succeeds, BillionBricks will scale its solar-powered community globally. The ultimate aim is to build 25,000 homes, with the capacity to produce 350MW of energy, in the next five years.
"Going back to our initial premise that the home is a starting point for improving lives, we are now building this community where we can increase people's incomes, increase their access and connectivity to the rest of the world, and provide them with quality healthcare and food. That's really the goal in building the community," Kumar shared.
According to Kumar, BillionBricks will be not just a housing player, but "a big energy company" as well. "We want to push the boundaries further as an organisation and really build these ideas that can bring in change from the bottom-up. This problem of homelessness has got to be solved. Today, we see companies creating innovations that can send people to Mars, but why are we not solving a problem that affects a billion people?"
"The baseline is for us to get the right business model where we can combine housing and energy, and create a self-sustaining model. This solution will then become a playbook which we can hand over to thousands of organisations in the world to replicate. Only then will this problem get solved," said Srivastava.
"We are now building this community where we can increase people's incomes, increase their access and connectivity to the rest of the world, and provide them with quality healthcare and food." – Prasoon Kumar