More than gelato: Birds of Paradise's founder wants to make the world a better place
Fans of the homegrown gelato boutique will know Birds of Paradise for its unique botanical flavours, but beyond that, founder Edwin Lim sees the business as a vehicle to do good for the community.
Edwin Lim's passion for ice cream dates back to his childhood days. "I grew up with ice cream as my favourite dessert," he shared. "In my 20s, I had a great ice cream experience in Berkeley, California. The weather was great. The flavour was amazing. It was earl grey, I still remember. I thought that if I could bring this happiness to people one day, that would be wonderful."
It took the former engineer eight years before he finally took the plunge to open his very own gelato boutique in Singapore. "At some point in my career, I was wondering, what is it that I really wanted to do? So I revisited the idea of making people happy through ice cream. That's where it all began."
Fast forward five years later, and Lim's artisanal gelato boutique, Birds of Paradise, still draws a queue at both of its outlets – the first located on East Coast Road, and the second at Jewel Changi Airport. Based on this writer's experience, the wait may sometimes stretch to a good 20 mins (if you're lucky), but fervent fans are always happy to queue for its unique, botanical flavours, created using real, natural ingredients.  

The name Birds of Paradise draws its inspiration from both the plant (a nod to its botanical flavours), and a type of bird species in Papua New Guinea (more on this later). On the menu are flavours such as white chrysanthemum, lychee raspberry, sea salt hojicha, strawberry basil, spiced pear and more, served with the brand's very own house-made thyme cone.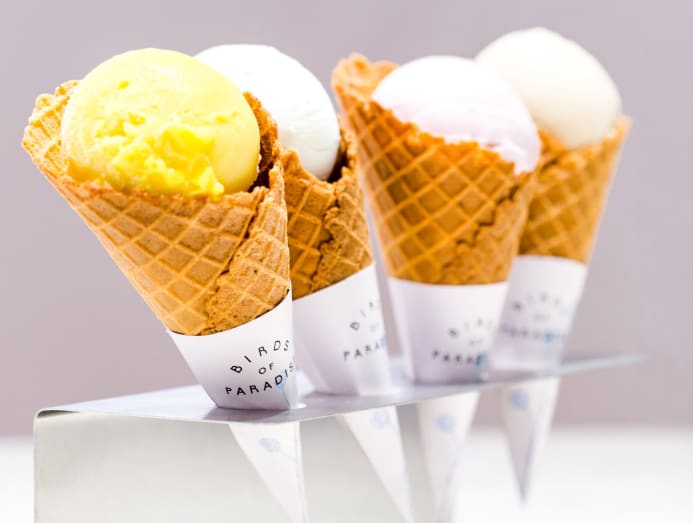 Lim shared that back in 2016 when Birds of Paradise first launched, botanical ice cream was almost unheard of. "When we were doing our market research and asking around for opinions, our friends didn't think botanical ice cream sounded appetising at all. But now, it seems like you can't open a new ice cream shop without having some kind of naturally derived flavour on the menu, like chrysanthemum, for example."  
However, the typically media-shy ice cream connoisseur said that it was never his intention to start a new trend. "We just wanted classic flavours that would be everlasting, that people would never tire from," he explained. "As opposed to using confectionery like Ben & Jerry's does, we wanted to use real, natural ingredients. All our flavours are derived from plants, whether it's fruits, flowers, herbs, spices or pods."
MORE THAN A GELATO BOUTIQUE
It's a gamble that has certainly paid off. If the queues aren't evidence enough, Birds of Paradise is also listed as a Michelin Plate establishment, an accolade given out by the Michelin Guide to recognise good quality food. "We've always wanted to become a world-class brand, one that Singaporeans can be proud of," Lim said.
So what has been the key to the brand's success? "Firstly, it's the quality of the product," Lim explained. "At the end of the day, people are coming for the product first. We go through quite a lengthy process to source our ingredients, ensuring that we buy from the best suppliers. That results in a product that is superior. Other than that, we have a very big focus on service. We try to give the best service that we can."

Lim's vision for Birds of Paradise, however, goes beyond creating a gelato shop that keeps people coming back. "Our mission at the beginning was to make the world a better place. It had nothing to do with ice cream, nothing to do with gelato," Lim revealed.

As a company, Birds of Paradise has three key missions. The first is to delight its customers through its products. The second is to nurture its staff by helping them grow personally and professionally. And the last, to give back to the community.  
Since 2019, Birds of Paradise has been donating 100 per cent of its sales accumulated over its anniversary weekend in July to its long-term community partner EQUAL, a charity organisation that uses animal-assisted intervention to help people with special needs, families and caregivers of people with specials needs, and the elderly with dementia.
"You know how Ben & Jerry's has their free cone day on their anniversary? We thought, what can we do on our birthday? We feel that the most meaningful thing to do is to use this occasion as an opportunity to give back," Lim shared.
During the circuit breaker last year, Birds of Paradise also banded together with five other Singaporean businesses – In Good Company (its partner at its Jewel outlet), BooksActually, Edith Patisserie, Mud Rock and Petit Pain – to form a collective called A Little Community of Good. Together, the group raised over S$60,000 for HealthServe, a non-governmental organisation that helps disadvantaged migrant workers.
"I'm trying to create a culture within our company where we exist not just for our own financial and commercial benefit, but one where we are able to reap the fruits of our labour by multiplying it for the community. Businesses have an untapped potential to do good for the community, if they so choose to. We are using ours as a means to give back," Lim said.
"Businesses have an untapped potential to do good for the community, if they so choose to. We are using ours as a means to give back." – Edwin Lim
EXPANSION PLANS
In terms of future plans for the brand, Lim admits that the pandemic has left a "question mark as to what's going to happen next". "For example, when we entered Jewel, we were expecting to be able to access to the tourist crowd. With COVID-19, everything changed."

Nonetheless, Lim shares that the company is "facing the future with equanimity". "We are calm about what's going to happen, or what's not going to happen. We will see what opportunities arise and take them as they come, rather than pursuing them aggressively."
As both of its outlets are currently located in Singapore's East, Westies may be wondering if Birds of Paradise will eventually open an outlet closer to them. "It's funny right? We opened in the East and then we opened in the Far East," Lim quipped. "But we see it differently. Katong is in the East, yes, but we see Jewel as the world. It was our proxy for the world. But we're definitely open to the West, when there's a suitable location for us. We do want to bring Birds of Paradise closer to more Singaporeans."

While there have been requests to franchise Birds of Paradise overseas, including interest from Italy, the capital of gelato itself, Lim believes that "just as much as you can be a world-class brand outside of Singapore, you can be a world-class brand located in Singapore, that's known by the world."
"We don't want to expand just for expansion's sake. We want to find the right partners and remain authentic to the brand, rather than just mushrooming out everywhere. When that happens, there's usually a drop in quality," he continued.

THE PURSUIT OF PERFECTION
Fans can, however, look forward to a new flavour that the brand has recently launched. The flavour in question is a coconut sorbet, created in collaboration with the folks behind local nasi lemak restaurant, The Coconut Club.
"We've been wanting to do coconut for the longest time. But I have been reluctant to do it because I felt that if we were to do it, we had to make it the best coconut sorbet," Lim said. "The Coconut Club makes its own cold-pressed coconut milk and it's very good quality. So we knew it was worth collaborating with them and pushing this flavour out."
The coconut sorbet is available at both Birds of Paradise outlets. It also features on the delivery and dine-in menu at The Coconut Club.
Lim shares that the ideation process of coming up with flavours is what he loves the most about his job. "If you want to start a successful business, you can always franchise an existing one. Or you can copy what other people are doing, which happens a lot. But for us, we find a sense of fulfilment from creating something ourselves."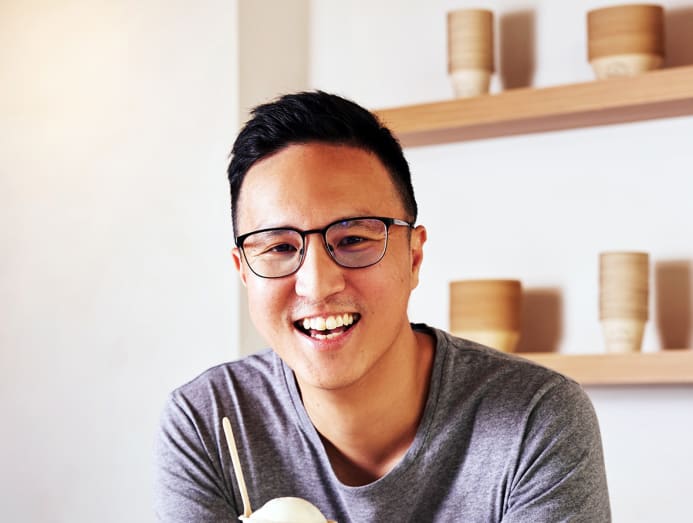 And with every new flavour, or every aspect of the business in fact, Lim always strives for perfection. This philosophy was what inspired him to name the business after the birds of paradise of Papua New Guinea. This species of feathered creatures are known for their magnificent beauty, courtesy of their extravagant plumage.
"The story goes that where they live, there are no predators, so they don't evolve to fly higher, move faster or grow stronger. Instead, they evolve to become increasingly beautiful in order to mate. This evolution, to become more and more perfect, is something that we aspire to. In terms of our gelato, and our business as a whole, we want to always keep evolving and improving. That's our ethos," Lim mused.

"We've always wanted to become a world-class brand, one that Singaporeans can be proud of." – Edwin Lim