In Singapore, a S$5 million car that you can't even drive on local roads
Victor Kwan, managing director of Wearnes Prestige, takes us through Bugatti's new showroom in Singapore – the first in Southeast Asia – and answers the question, who's buying these hypercars?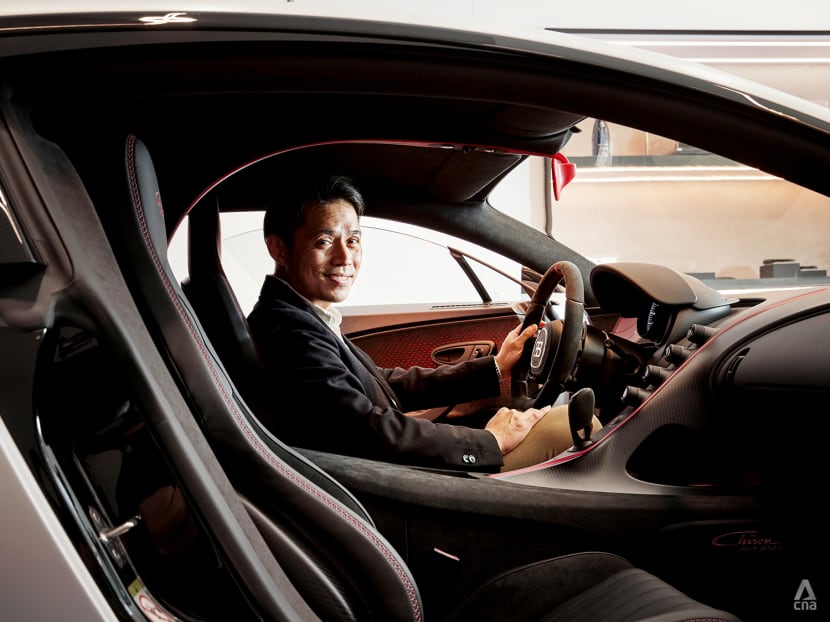 A multimillion dollar Bugatti sports car can't even be legally driven on Singapore roads, so if the opening of its first showroom in Southeast Asia is not the ultimate flex, we don't know what is.
The French carmaker strictly produces only left-hand drives and you could scour the world and never find a right-hand drive Bugatti, assures Victor Kwan, managing director of Wearnes Prestige.
Why, then, open a showroom here?
"When you talk luxury, you think real estate, fashion, automotive… and Bugatti is at the top of luxury automotive, so to have a Bugatti showroom here is a significant moment for the Singapore automotive market and signifies Singapore's status as a luxury hub," said Kwan, who heads all the ultra-premium marques under the Wearnes distribution umbrella, including Bentley, Aston Martin, Alpine and Lotus across the region.
The new showroom, one of only 30 Bugatti showrooms in the world, is its second in Asia after Japan.
The space was designed by Bugatti's headquarters in Molsheim, France, and boasts room for two of these achingly beautiful beasts.
Currently, however, only one takes centrestage: The Bugatti Chiron Pur Sport, which can be yours, but can't be driven off the lot, for a super cool €3.1 million (S$4.98 million) for a base model without options.
 
Now that's a big chunk of change of Crazy Rich Asians proportions and owning a Bugatti (especially in Singapore) clearly puts you snugly in the league of one percent-ers. Or more like zero-point-five per cent-ers.
"They are obviously the ultra-high-net-worth Asians. China has a strong market for Bugatti and we are starting to see interest from Thailand, Indonesia, Singapore and Malaysia. Put it this way, almost every one of our Bugatti customers have homes everywhere," shared Kwan.
"A lot of our customers buy a Bugatti as an investment or collector piece, or to pass down through the generations. Many are limited editions, and there is a market for such exotic luxury cars," he added.
And that's where Wearnes's Bonded Gallery comes into play.
This supercar storage facility is a collectors' wet dream, located on the eigth storey of a 200,000 sq ft tower located behind the distributor's showrooms on Leng Kee Road.
Built at a cost of S$30 million in 2019, this is where owners of rare supercars, vintage automobiles and left-hand drive cars can store their prized investments – duty unpaid and therefore can't be driven on Singapore roads – in a climate- and humidity-controlled environment to preserve the wood, leather and metal of the automobiles.  
It's reportedly the country's first and only such facility of its kind and a necessary brainchild given that the authorities are highly unlikely to grant the owners of such vehicles permission to store their own cars in, say, their living rooms, or even a private garage.
Spotted on our recent visit to the Bonded Gallery: A few Ferraris, a plume of Porsches and an enviable assembly of vintage Bentleys, Rolls-Royces and Jaguars. And, of course, a number of Bugattis totalling five, including a €5 million Bugatti Divo among the creme de la creme on display.
OWNERSHIP HAS ITS PRIVILEGES
The notion of luxury for the ultra high-net-worth individual, it appears, stems from the personal satisfaction of knowing you own a multimillion-dollar masterpiece, but not flaunting it.
Conspicuous consumption? Oh, that's for the rest of us plebs.
If, however, you do wish to show off your exotic set of wheels, you can do so with a delicious serving of swagger, as Wearnes has tricked out the space for car owners to entertain their friends in the exclusive, members-only private sanctum.
Within the private gallery complex is a private kitchen, private dining area and private lounge and cigar room for use should you choose to arrange a private viewing of your ultra rare ride, accompanied by a private dining experience for your guests with the services of a private chef.
"Our vision was to establish ourselves as a luxury destination for the performance car market," said Kwan.
More ambitious plans to partner up with prestigious auction houses and hold exclusive auction events for these extremely rare automobiles during the Formula One season when the world's rich and famous descend on our island, for instance, had to be put on hold due to the pandemic.
A TRAVEL-INTENSIVE BUSINESS
The biggest challenge in selling hypercars in a pandemic world, says Kwan, is the inability to travel.
"We spend 80 per cent of our time travelling to visit our customers in China, Hong Kong, Macau, Australia and New Zealand. It's a very travel-intensive business so while Bentley and Aston Martin are doing great, the supercar business has been greatly affected," he explained.
One can only imagine how the level of trust required for such astronomical transactions commensurates with the price tag.
"Even in 'normal' times, one of the biggest challenges of selling a hypercar is that these customers will only do business with people they trust, and it takes time to build that trust. How do you build that level of trust over Zoom?" he said.
Furthermore, most hypercar customers will want to test-drive their Bugattis before committing to purchase, and thus will have to be flown to Bugatti's HQ in Molsheim before they ink that multimillion-dollar deal. Not an entirely unreasonable request, we think.
After all, nobody ever needs a million-dollar car, let alone a S$5 million one.
Kwan summed it up for perspective: "With a hypercar, you're buying a piece of history, heritage and story of the brand. So you really want to feel the experience of owning the car… Especially for a car you can't even drive."
In Singapore, at least.