Life after lockdown: How Bulgari's head honchos plan to reconquer the world
Bulgari's creative director Lucia Silvestri and CEO Jean-Christophe Babin share their experiences in lockdown, as well as how they intend to navigate a post-pandemic world.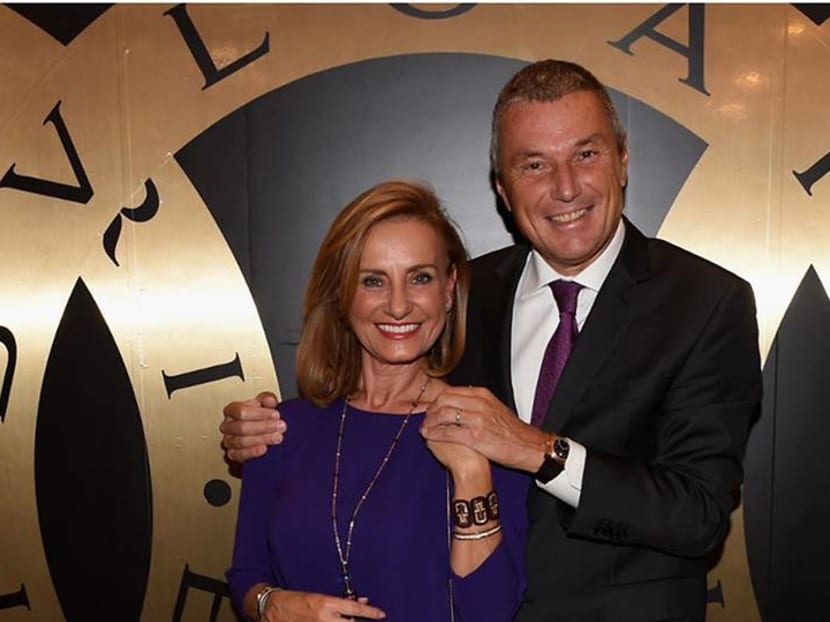 Bulgari's creative director Lucia Silvestri said she felt "rather like a tiger in a cage" during Italy's strict lockdown to curtail the march of coronavirus. She has been grounded in Rome since March.
"I miss my trips a lot," she said. "I love to travel and I miss my previous life." It was a peripatetic existence, typically travelling on alternate weeks from the Italian capital to the likes of Jaipur, Bangkok and New York. 
Her mission: Sourcing and acquiring the colourful cabochon stones – from pink tourmaline to blue chalcedony – that have become the hallmark of the architectural designs by the quintessentially Roman jeweller.
Instead, Silvestri, whose own career at the LVMH-owned maison began over four decades ago, has conducted an endless stream of video meetings from her home during the pandemic. In just one example of the new paradigm, the day before we speak she assessed the cut of a 45ct emerald over Zoom, negotiating with a supplier in Jaipur, Rajasthan's Pink City.
"It was interesting, but of course it's not the same," she said. In the daily calls with her team, "we share our ideas, our sensations, our suggestions. The only thing I miss is the physical approach. I need to sketch in front of the team and give some suggestions – this is a little bit difficult. But the creativity is very strong."
If the long gem table in Bulgari's office is Silvestri's blank canvas, then the stones are her paint. "Everything starts from the gems." She talks to them, absorbs their energy and gazes at them for hours – seeing "gardens within emeralds" and "fire within rubies". She arranges the stones on trays filled with wax and experiments with different shapes and colour combinations before the designs are sketched and then sent out to be made in the workshops.
It is this instinctual affinity with gems that first captured the attention of Paolo Bulgari, the grandson of the brand's founder Sotirios Voulgaris (later Italianised to Bulgari), a Greek silversmith who arrived in Rome in 1881.
As an 18-year-old biology student, Silvestri took a temporary position at Bulgari covering a maternity leave – and never left. She was introduced to the company by her father, who had worked with the Bulgari family. At that stage, it was run by the founder's three grandsons: Gianni, Paolo and Nicola.
She began caressing the semi-precious stones and playing with different combinations: Tourmaline and peridot, amethyst and aquamarine. "I really fell in love with the gems," she said.
It was a coup de foudre. Silvestri threw in her studies and began to work full-time for Bulgari in its gemological department. "I was the right person at the right time," she said. The three grandsons were looking to bring on a younger person whom they could train to follow in their footsteps.
They adopted Silvestri as their protegee and soon she followed them around the world, learning how to source, cut and arrange gems, and about colour, beauty and proportion. She later joined the purchasing department and progressed up the organisation. 
Eventually, following Bulgari's acquisition by LVMH, Silvestri was promoted to creative director of jewellery and high jewellery in 2013. She likes to say that, such is her passion for gems, she must have been an Indian maharani in a previous life.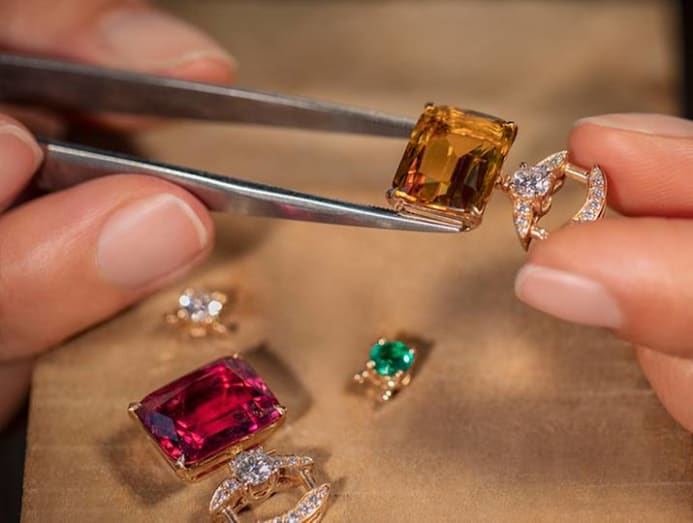 The past decade has been one of transformation for Bulgari's business. In March 2011 it was bought by LVMH, the world's largest luxury group by revenues, for €4.3 billion (S$6.76 billion at today's rate), a 60 per cent premium to its share price. The acquisition doubled LVMH's size in "hard" luxury – watches and jewellery – and marked a sign of its ambition to take on Johann Rupert's Swiss conglomerate Richemont, the dominant player in the category and owner of Cartier and Van Cleef & Arpels.
LVMH does not publicly give a breakdown of the performance of individual brands in its empire. However, the group's watches and jewellery division, in which Bulgari is the largest brand, grew sales more than fourfold from €985 million at the end of 2010 (just before the Bulgari acquisition) to €4.4 billion at the end of 2019. Meanwhile, the division's profits from recurring operations have surged from €128 million to €736 million during the same period.
"I see COVID-19 . . . as a parentheses and not a crisis… as soon as we reopened the stores – and the Chinese numbers are clear – people have rushed back to the malls and restarted buying Bulgari as they did before." – Jean-Christophe Babin
If all goes to plan, Bulgari will soon be joined at LVMH by another iconic jeweller: Tiffany. 
In November, LVMH agreed to buy the US brand, known for its robin's-egg-blue boxes, diamond engagement rings and starring role in Truman Capote's novella-turned-film Breakfast at Tiffany's. At an agreed price of US$16.6 billion (S$23 billion), the acquisition would, if it is completed, mark the largest-ever luxury deal. It would double LVMH's market share in jewellery, and further cement the group's dominance in the overall luxury sector.
Analysts and investors are now looking to the Bulgari playbook under LVMH's ownership for clues as to how Tiffany may fare if it becomes part of Bernard Arnault's group. Despite strong brand recognition, the US jeweller has lost its lustre in recent years and suffered from a combination of weak tourist spending, a strong dollar and declining footfall in its stores.
When Bulgari changed ownership back in 2011, it was not a dissimilar story. It had suffered from declining sales since the mid-2000s, and the business was fragmented across four divisions: Jewellery, watches, perfume and accessories.
"This slowdown was pretty much driven by probably too much diversification in a too short space of time, eventually cornering the core business – jewellery – into an angle where it became invisible," said Babin, who is speaking by video link from the company's Swiss headquarters in Neuchatel, from where he has been running the business during lockdown. "This not only provoked a slowdown of the entire company, but also some confusion as to what Bulgari stood for."
This informed the decision to refocus the brand on Bulgari's raison d'etre: "a magnificent and contemporary Roman jeweller", said Babin. It shifted the emphasis away from accessories, fragrances and male watches and on to jewellery and women's watches, in everything from advertising to the layout of its stores.
Babin said: "We restarted growing very quickly, and jewellery and ladies' watches not only became the engine of growth but the big majority of our business."
From a creative point of view, Bulgari homed in on its Roman heritage and its signature motifs, personified in the reptilian scales and snake heads of Serpenti, the antique Roman coins of Monete, and the B.zero1 collection, which is inspired by the circularity of Rome's Colosseum.
Serpenti was propelled to cult status by the late actress Elizabeth Taylor after she was photographed wearing a gold-and-diamond coiled serpent watch by Bulgari when she was filming Cleopatra in Rome in 1962. 
She later wrote in her memoir, My Love Affair with Jewellery, that "one of the biggest advantages to working on Cleopatra in Rome was Bulgari's nice little shop" – at via dei Condotti 10, near the Spanish Steps – and fondly recalls afternoons swapping stories with Gianni Bulgari.
Under LVMH's ownership, high jewellery – the metier's equivalent of haute couture – was expanded by adding new collections that drew on Bulgari's Roman heritage. Divas' Dream, whose signature fan motif was inspired by the Baths at Caracalla, launched in 2013; and Fiorever, which combines flower petals and diamonds, was unveiled in 2018 as "an emblem of the Roman passion for life".
Meanwhile, peripheral businesses such as perfume and accessories were realigned in order to reinforce rather than dilute the brand, using the major motifs to drive design in these categories. Now, when you go into a Bulgari store, "there is a very immediate thread design-wise, which connects the categories together", said Babin.
In the past few years, Bulgari, like other luxury brands, has sought to target a younger audience and has changed the profile of its brand ambassadors to help do so. Model and singer Carla Bruni-Sarkozy (then in her forties) was the face of Bulgari in 2013; this year the company named a group of millennials – Zendaya, Lily Aldride, Kris Wu and Naomi Scott – as its ambassadors. 
"This is a clear message from Bulgari to its potential clients that we are not only the high jeweller for wealthy middle-aged people," said Babin.
Under LVMH's ownership, Bulgari has more than tripled profits, according to analysts. Babin declined to comment on this, saying only that in its core business of jewellery, profitability is "very close to our benchmark competitors" – Richemont's Cartier and Van Cleef & Arpels – "which have critical sizes which are still twice as big as Bulgari's".
Margins have increased for three main reasons, he said: The brand has cut back on expensive materials such as gold and platinum, increased prices in line with or even above those of competitors, and benefited from economies of scale as sales grew.
Just as LVMH's chief financial officer Jean-Jacques Guiony said in November that "we expect to bring Tiffany time and capital", being part of a much larger empire has given Bulgari the support to "make better decisions with more balance between the short and the long term", said Babin. And it has also meant stronger collective bargaining power for negotiating real estate rents for stores and malls.
From Silvestri's perspective, "LVMH left our creativity and they gave us the possibility to remain Italian." As the Bulgari family has stepped back from day-to-day involvement and largely sold its stake in the business, she has become more involved with clients. 
Bespoke commissions are an important part of this, and recently she has worked on a yellow-gold bustier encrusted with diamonds and emeralds. Another memorable commission, she recalled, was a modular necklace of pink tourmalines, rubies and rubellites, which turns into a tiara, with the drop becoming a pendant. It was created for a Chinese bride.
The creative influence of the Bulgari grandsons on Silvestri is still profound. She recalled her "first big important lesson" from them: "Don't buy a stone if you don't know how you can use it." 
And while she is constantly delving into Bulgari's archives for inspiration, she also tries to live by another lesson from her mentors: "Take inspiration from the past, but don't repeat yourself. One eye is to the past and one eye is to the future."
"Take inspiration from the past, but don't repeat yourself. One eye is to the past and one eye is to the future." – Lucia Silvestri
From a business perspective, the future looks uncertain. So far, Bulgari, which has 320 stores globally, has not laid off any staff permanently during the coronavirus outbreak, said Babin. In Europe, its stores were closed for an average of eight weeks at the peak of the pandemic. It has signed up to government furlough schemes globally, which pay 20-80 per cent of staff salaries, depending on the country.
Babin is optimistic about the outlook.
For Bulgari's core jewellery business, "I see COVID-19 . . . as a parentheses and not a crisis, in the sense that as soon as we reopened the stores – and the Chinese numbers are clear – people have rushed back to the malls and restarted buying Bulgari as they did before." He said that sales have been growing in double digits in China since mid-March, and May in China was "the highest month ever in the history of the company".
Others take a more pessimistic view. Consultant Bain forecasts a decline in overall luxury sales of 20 to 35 per cent this year. Richemont's Johann Rupert warned last month that COVID-19 will cause "grave economic consequences" for up to three years; and investors are concerned about customers' willingness to spend – the so-called "feel-good factor" – and their ability to travel, which is a major driver of luxury goods sales.
The weeks ahead are crucial, "not only for the rest of the year but for 2021", said Babin. "If we manage to keep COVID-19 as a short parenthesis then we should not have a recession. If conversely it lasts to the point where governments won't be able to support temporary lay-offs, then yes we can have a recession."
Meanwhile, back in Rome, as Italy slowly emerges from lockdown, Silvestri is once more able to wander the streets of the city where she grew up. 
Sharing images on Instagram with her 58,000-plus followers, she captures the colours of Rome – Bulgari's original muse – in the mundane to the magnificent: Vegetable markets and cobblestone streets, the Palazzo Borghese and the Pantheon. These days spent in quarantine have only reinforced "how important Rome is for Bulgari, for the brand, and for me", said Silvestri. "It's something we have in our veins."
By Harriet Agnew © 2020 The Financial Times