Bvlgari's CEO on celebrity power, evolution of luxury and the house's 'obsessive focus on ladies'
CNA Luxury sat down with Jean-Christophe Babin, CEO of Bvlgari, on his recent visit to Bangkok as he looks back on the year 2022 and details what's next for the Roman watch and jewellery maker.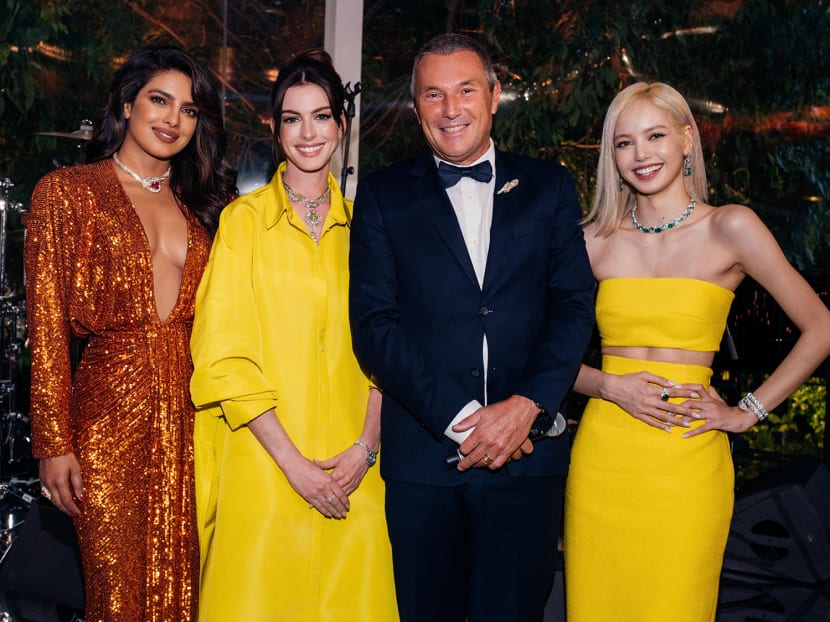 Bvlgari's CEO Jean-Christophe Babin is confident that the luxury industry is ready to leave the pandemic behind.
"[The year 2022] was special because there was not only a recovery, but we have been boosted by what I would call revenge buying," said Babin, who has been leading the Italian watch and jewellry maker as its CEO since 2013.
LVMH, which owns Bvlgari, recorded a 23 per cent revenue increase for its watches and jewellery department in the first nine months of 2022, as compared to 16 per cent in 2021. LVMH does not reveal specific revenue numbers for its maisons, but noted in its latest report that "Bvlgari continued to strengthen its iconic collections".
For many clients, after two years of restrictions and limitations, there has been "an upsurge in appetite for amazing experiences", Babin tells this journalist in an exclusive sit-down. "So the year has benefited from the increasing desirability of luxury, backed by a boost to really enjoy life to the fullest. Luxury has been more resilient than ever, and ready to forget COVID."
We are chatting on the sidelines of Bvlgari's recently concluded high jewellery exhibition in Bangkok. More than 190 creations, including masterpieces from its latest collection, are on display in the Presidential Suite of the Four Seasons Hotel Bangkok Chao Phraya River. It is Babin's first visit to the capital city of Thailand since the pandemic.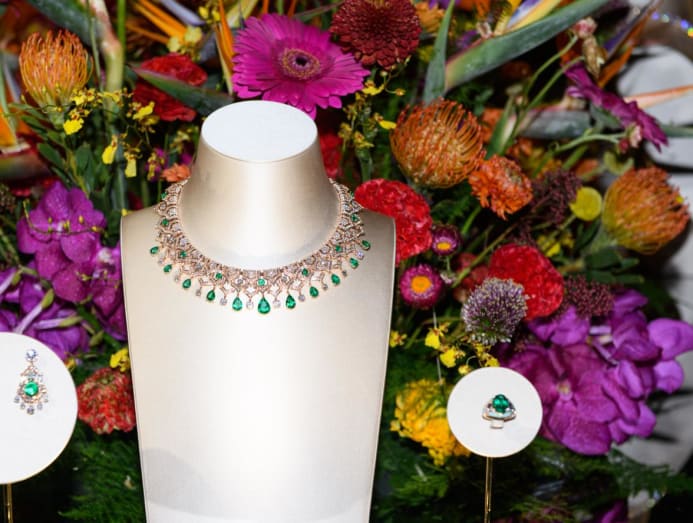 Indeed, the year 2022 has been an exciting time for Bvlgari - there was much fanfare for both the maison's audacious launches as well as its celebrity brand campaigns. In March, the house unveiled the new Bvlgari Octo Finissimo Ultra, which at the time of its release, was the world's thinnest mechanical watch (that record was broken a few months later by Richard Mille).
Its latest high jewellery collection, titled Eden, The Garden of Wonders, has been lauded for its outstanding creativity and exquisite craftsmanship. Inspired by the wonders of nature, the collection features over 140 impeccable creations, including 30 dedicated to the beguiling emerald.
Then there was its much talked about brand campaign for the year, which saw two of its big-name ambassadors – actresses Zendaya and Anne Hathaway – starring in a murder mystery-like film directed by Paolo Sorrentino. In September, the house became the subject of Inside The Dream, billed as the first-ever docufilm to take viewers behind the scenes of a high jewellery house. It featured a stellar cast of longtime friends of the brand, including Blackpink's Lisa, Italian entrepreneur Chiara Ferragni, supermodel Lily Aldridge and Indian actress Priyanka Chopra Jonas.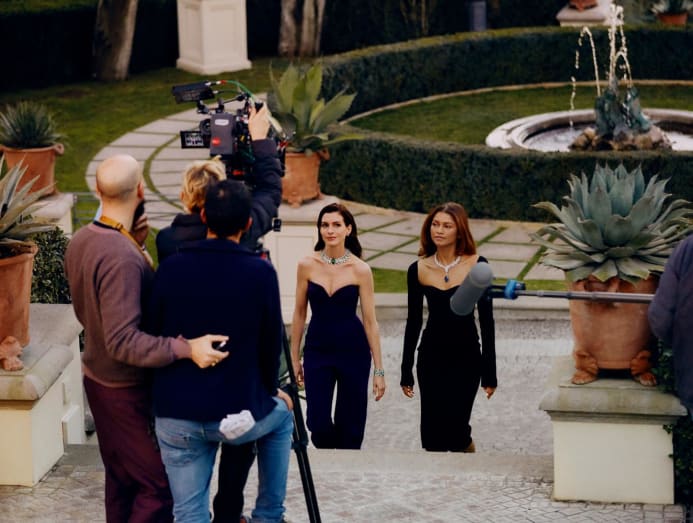 THE FEMALE ECONOMY
It is no coincidence that some of the world's most famous female celebrities have been fronting Bvlgari's campaigns of late. It is a carefully crafted line-up of ambassadors, chosen for a mix of cultural (half of Bvlgari's customers are from Asia, Babin revealed) as well as age diversity.
Like many luxury brands, Bvlgari acknowledges that it has seen a steady rise in younger customers. "But age demographics are slow moving because it is generational," added Babin. "We see a gradual shift from each generation, from millennial to Gen Z, but this is very slow because it is also tied to a gradual increase in purchasing power of the younger generation."
So when it comes to attracting younger customers, the house is playing the long game. Younger customers may not begin purchasing high jewellery overnight, but they can certainly turn to the brand's entry-level categories as a "step into the Bvlgari dream", such as fragrances, leather goods or a "fantastic Serpenti bracelet, but not in precious metal", Babin believes.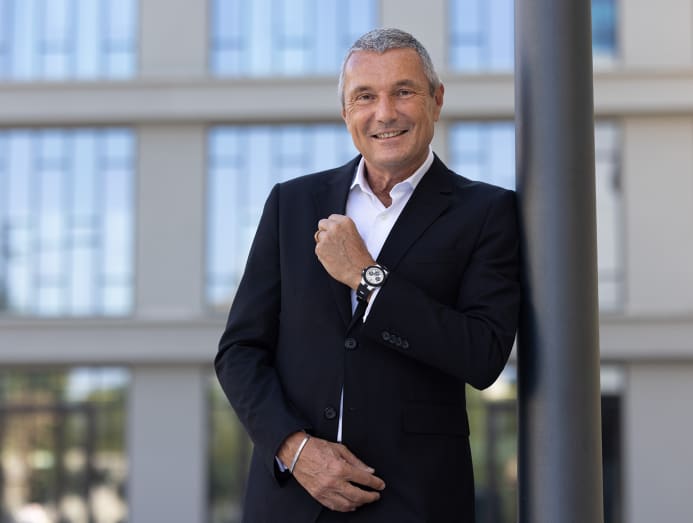 "Likewise in our choice of ambassadors, we have a mix of diversity, not only culturally but also in terms of relevance to different age groups," he added. "Typically Lisa will resonate more to Gen Z than Anne Hathaway, but Anne Hathaway is also very important to relate to older millennials, or younger Gen X-ers. The Lisa phenomenon has provided a Gen Z boost in Asia, and Zendaya has done the same in the Western world."
While accelerated celebrity brand campaigns have provided a rejuvenation for Bvlgari among younger customers, much of the house's recent business growth is attributed to the increasing spending power of women.
"Obviously the purchasing power of women, with 99 per cent of women today being highly-educated and having their own jobs, is accelerating the growth of our luxury. Women are no longer waiting for their fiances or husbands to gift them with nice pieces of jewellery occasionally. They can self-indulge to reward themselves," commented Babin.
That's not to say that the house is completely neglecting its male customers. In fact, the market for men's jewellery is growing. "It's not rare to see a gentleman buying a piece of high jewellery for himself, and it also happens a lot with precious jewellery," observed Babin.
In recent years, the house introduced genderless collections to its line-up of fine jewellery. "We launched the Serpenti Viper collection two years ago, and we know that the plain gold Viper bracelet is men's favourite," quipped Babin. "There are no strict boundaries in our designs. We also create collections like B.Zero 1 Rock, which is more manly because of the studs."
Babin reveals that while there are potential plans to introduce a pure men's jewellery line in the future, "we believe that we first have to further root the Bvlgari dream with our female clientele as we still have a huge potential to grow with the ladies," he said. "Parallel to that, we will multiply our initiatives to create unisex products as these can be worn equally by men and women."
ELEGANCE IN WATCHMAKING
Where Bvlgari has truly excelled with the male clientele, however, is with its line-up of watches. Bvlgari was founded in 1884 as a women's jeweller, and it wasn't until 1975 when it created its first watch for men – the Bvlgari Roma, an 18-karat digital watch.
"It was a gift to our clients because they often came into our boutiques as couples. While the ladies were just overwhelmed by the beauty of the jewels, the men were sitting and waiting. So we just wanted to thank them for their patience," shared Babin.
For Bvlgari's watchmaking department, innovation is the name of the game, driven by Babin's own background in watchmaking. Prior to joining Bvlgari, Babin spent 12 years as the president and CEO of TAG Heuer.
Bvlgari stepped into the watchmaking limelight in 2014 with the launch of the Octo Finissimo line, a collection of ultra-thin, sporty-chic watches for men. In the years since its launch, Octo Finissimo timepieces have clinched world record after world record. But Babin said: "We've beaten all those records not so much for the sake of getting records, but for the sake of achieving ultimate elegance."
This year, the house unveiled the Bvlgari Octo Finissimo Ultra 10th Anniversary, which broke the record for the thinnest mechanical watch ever created at the time of its release, with a thickness of only 1.8mm. A QR code engraved on the mainspring barrels of the Octo Finissimo Ultra provides a link to unique NFT artworks. The timepiece won the Audacity prize at the 2022 Grand Prix d'Horlogerie de Geneve, also known as the Oscars of watchmaking.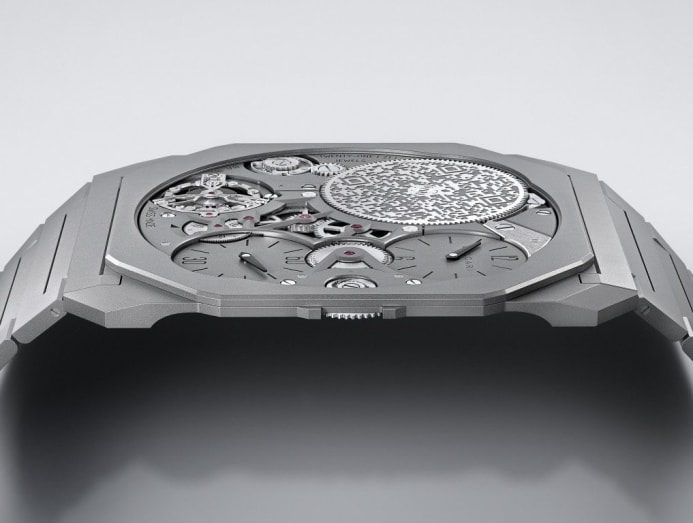 "We believe very much in NFTs as long as they're not gimmicky. Delivering a true piece of digital contemporary art is meaningful, but we have to be very selective and intertwine this only with superlative pieces of jewellery and high-end watches," Babin said of the house's NFT strategy.
Also emerging triumphant at the Grand Prix d'Horlogerie de Geneve was the utterly captivating Serpenti Misteriosi ladies' secret watch, which won the top prize in the jewellery category. The timepiece is equipped with the new ultra-small Piccolissimo mechanical movement. Measuring 12.3mm in diameter and 2.5mm in thickness, the BVL100 calibre is housed in the head of the Serpenti.
When it comes to its watchmaking strategy, Babin shared that the house adopts an "obsessive focus on ladies". "For us, jewellery watches are extremely important. We are selling them very well. And we're always short of them because the demand is higher than our capabilities. So we are ramping up our production capabilities."
THE BVLGARI EXPERIENCE
Beyond its luxury goods, Bvlgari is one of a few luxury houses that have excelled in the hospitality arena with hotels in Milan, London, Bali, Dubai and more. The Bvlgari Hotels & Resorts division is fast growing, with several openings in the pipeline. In December 2022, it opened its first property in Paris, with additional hotels slated to open in Rome, Tokyo, Miami, Los Angeles and the Maldives between 2023 and 2025. 
Bvlgari aims to open 10 properties in the next five years, with the goal to grow its hotel portfolio to 20 properties by 2030. "But we won't go much further than that because [the hotels] have to be the pinnacle of exclusivity. So for that, you cannot have many hotels, and each hotel cannot have many keys," said Babin.
Guests at any Bvlgari hotel can expect "extraordinary service, the Italian way". "It's forcing us to really master high-end hospitality and then reverse that learning into our core watches and jewellery business in our boutiques."
Babin quipped: "If in our boutiques we can be as good as we are in our hotels, we can beat any competitor, because when you can sell a €3,000 (S$4,252) room per night in a Bvlgari hotel, it's very easy to sell a €3,000 ring. One of the reasons why we are pushing high-end hospitality is image, because when you have a beautiful hotel in the middle of Paris or Tokyo, it is a brand statement. It is also a brand immersion because you're spending 24 hours, 48 hours, 72 hours in the hotel and really getting deep into the brand."
PULLING BACK THE CURTAINS
For those who wish to understand the brand, they need only look at Babin's Instagram account, for which he has an impressive 120,000-plus followers. On his feed are glittering images of Bvlgari's stars wearing its jewellery – Zendaya at the Oscars, Lisa at the MTV Movie Awards, Anne Hathaway in a Vogue spread. Also featured are pictures of Bvlgari's latest watches and jewellery, as well as behind-the-scenes of Bvlgari's activities.
While most jewellery houses choose to keep their inner workings and creative processes to themselves, Bvlgari opts to reveal them through the recently released Inside The Dream documentary. Streaming on Prime Video, the documentary follows creative director Lucia Silvestri as she hunts for gems in Jaipur, India, before embarking on the conceptualisation phase at Bvlgari's headquarters in Rome. The film culminates with the debut of the Serpenti Hypnotic Emerald necklace, worn by Zendaya at the 78th Venice International Film Festival.
Agreeing to the documentary, which was proposed by production house Terminal 9 Studios, was a bold move, Babin admitted. "But more and more with new luxury clients, they strive to understand what happens backstage. Most people do not know what it takes to create a high jewellery necklace or high-end watch….[The documentary has done] a lot of good in terms of understanding Bvlgari, and understanding why a necklace, such as the ones exhibited here in Bangkok, can cost millions."
THE PLEASURE OF POSESSION
Looking forward to the year ahead, Babin shares that the house will continue to roll out novelties centred around its Roman inspiration, which has featured prominently in the design of its jewels for decades. Fans of its celebrity ambassador squad will also see more of Bvlgari's stars in upcoming campaigns. "We will leverage even further what we do with Lisa, with Anne Hathaway, with Zendaya, because it is working and has been making the brand more and more desirable."
In the year 2023, Bvlgari is set to celebrate the 75th anniversary of its globally revered Serpenti icon. "You will see a lot of Serpenti next year, from accessible Serpenti products to the top end, which will further reinforce Bvlgari's strong identity," Babin teased.
When it comes to the evolving concept of luxury, Babin believes that "we are just transitioning from a luxury of pure possession". "People will still purchase a piece of jewellery to show off how wealthy or successful they are, but they are now buying more for the pleasure of possessing something unique, authentic and passionately crafted for themselves."
After all, "people want to enjoy the best in life," Babin added, "and that includes a great weekend in a Bvlgari hotel, as well as having a beautiful necklace around your neck."