Redefining 'friendly competition': Your top rival can be your biggest ally
Adam Grant, organisational psychologist at Wharton and author of Originals says working with your closest competitor might expand the "win" pie.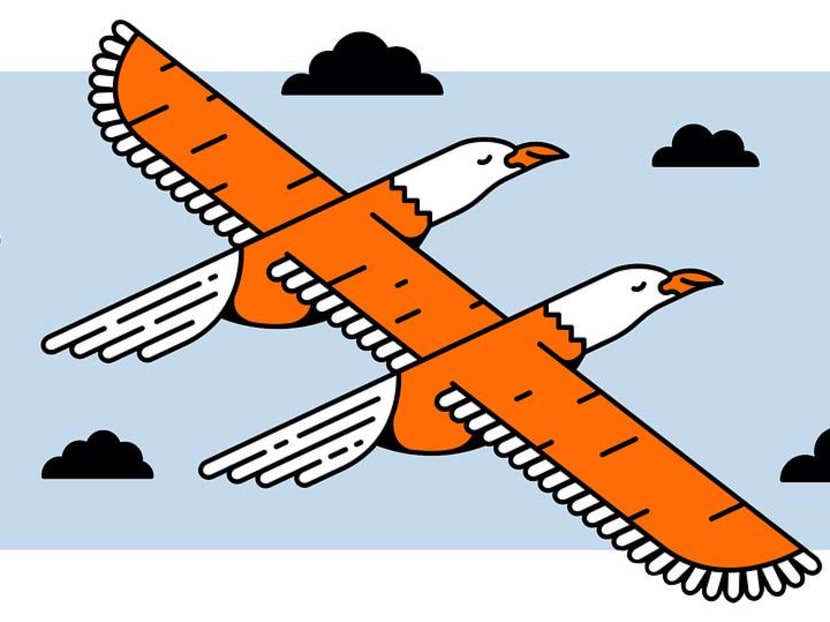 A few years ago, an entrepreneur named Wade Eyerly dreamed up an airline that would allow California commuters to fly over heavy traffic. After putting down US$1 million (S$1.36 million) in non-refundable deposits on a fleet of air planes for his start-up, SurfAir, he was struggling to raise enough money to follow through on the purchase.
Eyerly had been warned that the airline industry was cutthroat and his background prepared him to be especially wary of his adversaries – he was a former spy who had deployed to Iraq as part of the Department of Defence. But his back was against the wall. In an act of desperation, he cold-called a board member at a rival company, JetSuite.
We all have rivals in our work lives. They're our closest competitors; the individuals or groups we're highly motivated to defeat. Although we often see them as enemies, our rivals can be our greatest allies.
You can see this at the extreme in sports. A 2018 study of NCAA basketball teams found that the better a team's biggest rival did in March Madness one year, the more games the team won the next year. So, for example, if you're a UNC fan and the Tar Heels get knocked out of the tournament, the best way to support your team is to (gasp) root for Duke.
"Imagine McDonald's bailing Wendy's out of a jam by helping them raise money – from their own investors!"
The same is true in professional baseball and the NFL, NHL and NBA: Teams had the best odds in the playoffs the year after their rival won the championship. As Magic Johnson said in the heat of the Lakers-Celtics rivalry: "When the new schedule would come out each year, I'd grab it and circle the Boston games. To me, it was 'The Two' and the other 80."
THE ONLY PEOPLE WHO UNDERSTAND YOU
It's true for individuals, too. Research shows that long-distance runners are about 5 seconds per kilometre faster when one of their top rivals is in the race. Competing against a rival fires up your motivation. If you build a supportive relationship with that rival, it can elevate your performance further.
The 2017 New York City Marathon champion Shalane Flanagan doesn't just train with her rivals. She actually helps them in competition. In the 2016 Olympic trials, Flanagan slowed down to help her rival and training partner, Amy Cragg.
"Shalane helped me every step of the way to give me the best possible chance of making that team," Cragg explained on my podcast, WorkLife. "The goal was to make that Olympic team together."
The Norwegian Alpine skiing team takes it even further. At the Olympics, the skiers who race first share a course report by radio with their teammates, giving them tips on how to handle the slopes and turns.
"We were kindred spirits, and if I could take risks he couldn't – we'd both learn from it."
This kind of collaboration isn't supposed to happen in skiing or running. They're individual sports: Success is zero-sum. If I want to win, I should do everything in my power to make sure they lose. But these elite athletes understand something that's true in every walk of life: Friendly competition can expand the overall "win" pie and enhance your performance.
Supportive rivalries are more likely to develop when you share a group identity with your competitors. Eyerly, the entrepreneur, recognised that when he was trying to bail out his start-up, SurfAir. He knew JetSuite, his biggest rival, was a fellow scrappy innovator in a bureaucratic industry.
"That meant we were kindred spirits, and if I could take risks he couldn't – we'd both learn from it," he said.
"Sometimes the only people who understand what you're building are your 'competitors'."
Eyerly's cold call to the board led him to a member of JetSuite's founding team, Alex Wilcox. Within a week, Wilcox had helped him secure the financing he needed.
"Imagine McDonalds bailing Wendy's out of a jam by helping them raise money – from their own investors!" Eyerly said. "Sometimes the only people who understand what you're building are your 'competitors'. If you expect everyone is looking to put a knife in your back, you'll miss the folks looking to put their arm around you and encourage you on your way."
By Adam Grant © The New York Times