Meet Calvin Lo, the secretive Hong Kong billionaire who loves Singapore's prawn mee
Billionaire and philanthropist Calvin Lo is known for maintaining a low profile. In a rare interview with CNA Luxury, the father-of-one discusses his work, his family, his love for Singapore, and those pesky rumours about his alleged relationship with former TVB actress Bernice Liu.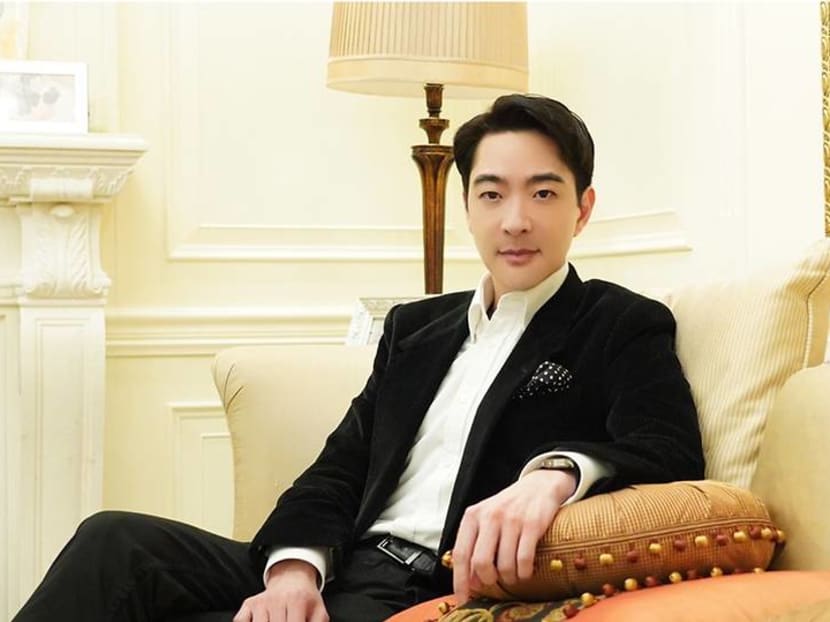 Google Calvin Lo and you'll find headlines describing him as one of Hong Kong's most "under-the-radar" and "secretive" billionaires. Indeed, the publicity-shy insurance mogul, whose fortune is estimated at US$1.7 billion (S$2.3 billion) according to Forbes, is known for maintaining a low profile.
He rarely gives media interviews, nor makes public appearances. It's a choice that has left many intrigued, and naturally, speculating about his personal life. Most recently, Lo made headlines for his alleged relationship with former TVB actress Bernice Liu. Rumours swirled about an upcoming wedding between the pair, which Lo reportedly denied.
Tabloid news aside, who exactly is Calvin Lo? How did he make his fortune? And what does he make of those rumours?
The elusive forty-something billionaire spoke to CNA Luxury about his work with his family's insurance empire, why philanthropy is important to him, and how he has found meaning after becoming a father.   
LIFE IN THE INSURANCE INDUSTRY

It's mid-afternoon and Lo has dialled in to my Zoom call from his office in Hong Kong. He's dressed sharply in a suit, and expressed his regret at not being able to meet in person in Singapore, which he travelled to at least once a week in pre-COVID-19 times.
Delving into his background, Lo shared, "I was born in Canada, but was raised in Hong Kong till I was about eight or nine. I then went to boarding school in Canada. As a young boy, my future aspirations revolved around wanting to be in investment banking. I worked towards that direction and after school, I went into the finance industry."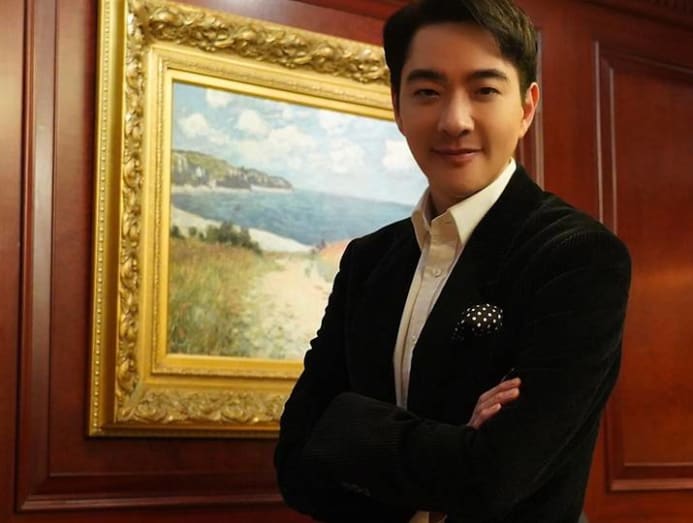 Lo never expected to assume the mantle of his family-owned business, R.E. Lee International, the world's largest life insurance broker company. After a stint in the investment arm of an insurance company in Boston, he developed an appreciation for, and interest in, the insurance world. 
In his words, "Insurance receives billions and billions of dollars in premiums each year. Someone needs to invest that money."
It was only during his time in Boston that he came to understand the extent of his family's business; even if he was 13,000 km from home, he kept encountering the name R.E. Lee. It seemed like destiny, so Lo eventually returned to Hong Kong to join the family fold. He shared that he "started from the bottom" in the company, and only took over as Group CEO in 2014.
Today, Lo's clients are typically among the top 50 wealthiest families in their countries of origin, who come to the company for estate planning and life insurance policies in order to protect and preserve their wealth.
Lo also founded R.E. Lee Capital in 2017, an asset management firm that manages the portfolios of HNWIs (high-net-worth individuals) and businesses.
Sharing the reason for the expansion, Lo said, "We've been doing estate planning for clients for years, and it's typically an ultra-high amount, or what we call jumbo-sized. The minimum size of an insurance policy is US$10 million (S$13.3 million), and it goes up to US$200 million. For a client of that calibre to come up to me and say 'Calvin, I want to buy insurance' for whatever reason, I know this person's background pretty well. They trust me, and vice versa," Lo said.
As more and more clients began approaching Lo for investment advice, Lo realised that it made sense to start an asset management firm as an extension of the business. "It was very much a client-driven thing, but it was a natural progression for us to expand."
'I DON'T LIKE TO HOUND MY PEOPLE'
Second-generation scions are known for their unique leadership styles, which depart from the typical autocratic style of their predecessors. Similarly, as Group CEO, Lo prefers to take a hands-off approach when leading his team.
"I don't like to hound my people," Lo said. "In the insurance industry, every one of our consultants run their own businesses per se. For me to hound someone, I think that goes against the whole idea of encouraging self-motivation. If you have to force someone to do something, it's just a job. But if I could let them run their own show, it becomes a career."
"If you have to force someone to do something, it's just a job. But if I could let them run their own show, it becomes a career." – Calvin Lo

When it comes to meeting clients, however, Lo prefers the traditional method of face-to-face interactions. It's something Lo believes has contributed to his success in the industry. "You really need the ability to talk to people on a very personal, intimate level. You need to imagine yourself in his or her shoes. It sounds cliche, but the reality is that these people really do have problems, and you need to come up with solutions." 
I asked Lo what he loves the most about his job. It's the ability to meet people every day, he answered without missing a beat. "Especially when I travel, I get invited to my client's homes, their offices. You see the world from a completely different perspective. I get paid to meet different people from different cultures, different countries, and there's nothing better than that," he said.
A (FORMERLY) JET-SETTING LIFE

Before the pandemic struck, Lo would travel non-stop for periods of up to six weeks, starting with Japan and Korea, followed by Southeast Asia.
"Singapore is one of our big hubs, so I spend a lot of time there." After Singapore, Lo would travel to Malaysia and Indonesia, before making his way to Dubai. From there, he would jet off to Europe, followed by the US, before finally returning to Asia.
Fascinated by this globetrotting lifestyle, I asked Lo what his favourite destination is. "I can tell you for sure it's Singapore, and I'm not saying that just because you're from Singapore," he said with a laugh.
"Since I was a little child, my family would always go to Singapore. It's one of the most unique cities not only in Asia, but also in the world. Travelling to Singapore as a kid and now doing business there, I am fortunate to have seen how much the country has developed. And of course, the food is amazing too."
When he's in town, you can typically find Lo tucking into a plate of prawn mee, which is one of his favourite local dishes. "In the last five years, the Singapore food scene has just completely transformed. All the best restaurants are there and it could be from S$2 to S$2,000. It's incredible," he mused.
"Travelling to Singapore as a kid and now doing business there, I am fortunate to have seen how much the country has developed. And of course, the food is amazing too." – Calvin Lo

PASSION FOR PHILANTHROPY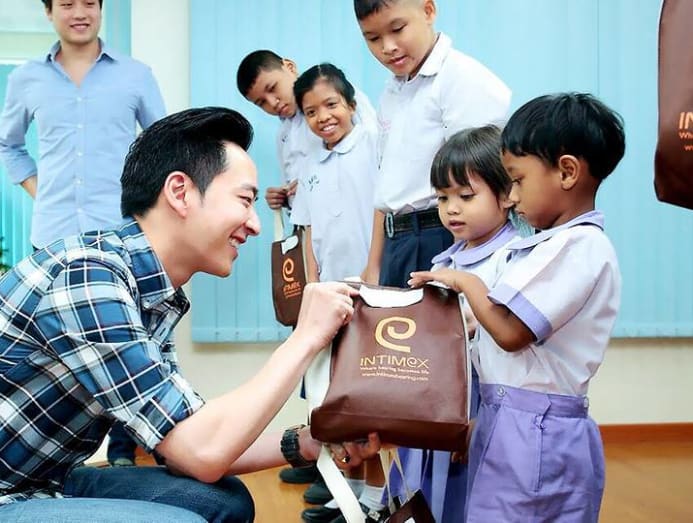 Aside from his work with R.E. Lee, philanthropy, Lo revealed, is one of his passions. "My family has instilled in me the importance of giving back since I was a little boy," he expressed.
Over the years, Lo has maintained a longtime friendship with primatologist Jane Goodall. From 2006 to 2018, he even served as a board member of the Jane Goodall Institute. "The reason why I was attracted to Jane's cause is it focuses on three major things – animals, humans, and the environment. It doesn't distinguish between only working with humans, only working with animals, or only working with the environment. It could be any of these three, and I believe each of these have to be addressed."
Goodall's vision is something that Lo carries into his own philanthropic work, though he's not one to publicly disclose the charity work he's done. I asked him if there are specific causes which are close to his heart, but he hesitated before answering.
"[Children's welfare and education] is one of them. But the reason why I hesitated is there are lots of problems in the world today, and I don't think there's one solution," he explained.
Lo believes, however, that children are the "pillars of the future". "I know that if I just say children, people will say, what about pollution, or animal conservation? But if we teach children the right way, hopefully, they could come up with holistic solutions to solve all our problems."
A DEVOTED DAD
So what other hobbies does a globetrotting, altruistic billionaire have? Aside from golf, Lo is rumoured to be one of Asia's most prolific champagne collectors. It all started with the 1966 Louis Roederer Cristal Millesime Brut, which Lo purchased after closing his first insurance deal. It was then that he delved into the world of wines. 
"Champagne is one of those drinks that's suitable for any occasion. When you're sad, it cheers you up. When you're happy, it's a celebratory drink," he said.
One of his biggest passions, however, is photography. "I remember when I was 12 or 13, my dad passed me his Nikon F2 film camera. Since then, I've been taking photos."
The ability to travel for work has given him the opportunity to photograph countries that would have been otherwise difficult to get to. While Lo used to develop his own photos in his darkroom, he has since moved on to digital photography. He's been shooting with his Hasselblad and Leica cameras for many years.
"It's too bad, I wish I could show you my Singapore office because I've put up some pictures of places that I've been to," Lo told to me. "I walk past these photos in my office and it reminds me of the specific day when I was in Jakarta, or in Abu Dhabi. I can remember them very vividly."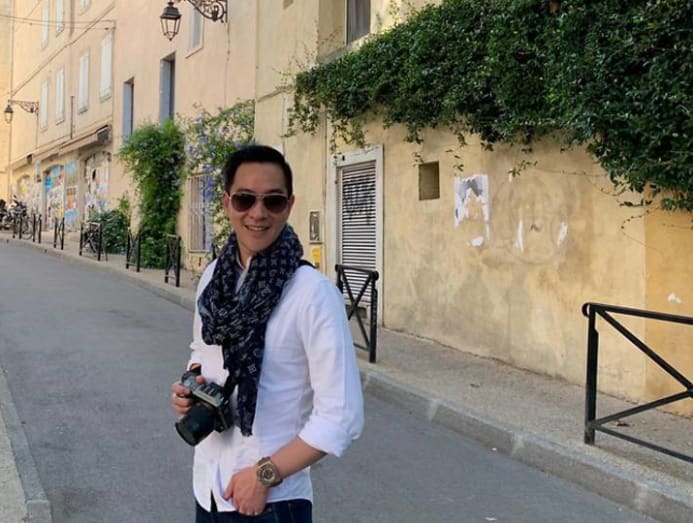 What he finds most fulfilling, however, is spending time with his daughter, whom he shares with an ex-wife. "Before having a daughter, my life was very routine. It was mainly about work, closing a deal, expanding the business," he said. "But now, with my daughter growing up, every day seems to be different."
The pandemic, Lo shared, has also given him a renewed perspective on the importance of family. "After spending more time with family, it just makes you appreciate them more. Previously, there were family dinners that I missed, or playdates for my daughter that I postponed. But now, I make them a priority, because we don't know when we'd be in lockdown again."
That's something we can all relate to. As our conversation drew to a close, I had one last question for Lo – what does he make of those tabloid rumours, speculating on his supposed relationship with a certain actress?
Unfazed, Lo responded with a smile, "I don't really follow tabloid news. So I don't really know what's being said. But in the course of our conversation, you can see that my life is really about work and my daughter. So if I may say, it doesn't affect me."
I nod in response as Lo continued, "Tabloids are tabloids. I understand the reasons why they would publish such news. But I think what's important is that my clients, my business partners, and my daughter, know what's going on."
For now, Lo is focused on "expanding his business," he shared. "There are many markets that I would like to go into. On a personal basis, I want to continue focusing on my family. My daughter is ten years old now. And when I go through the pictures I've taken of her, it hits me that every year is going by so fast. So obviously, my focus moving forward will be on my daughter. I hope we can make more memories through the years."
"Tabloids are tabloids. I understand the reasons why they would publish such news. But I think what's important is that my clients, my business partners, and my daughter, know what's going on." – Calvin Lo