Fan army: Can K-pop phenomenon BTS survive military service?
The agency that manages Korean boy band BTS, Big Hit Entertainment, filed for an IPO in late May. But mandatory military service for the band's members is set to pause the phenomenal growth it has driven.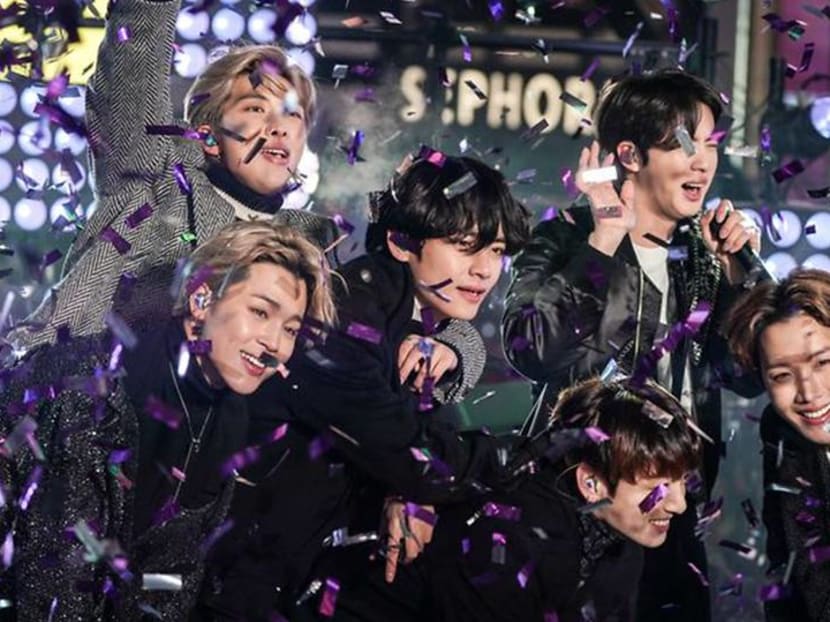 Fans of Korean boy band BTS are nicknamed ARMY (Adorable Representative MC for Youth). The band's hauls of merchandise could soon include shares in the agency that manages them. A planned float is expected to value the company, Big Hit Entertainment, at as much as 5.2 trillion won (S$6 billion). But South Korea's actual army could bring the music to a halt. Mandatory military service for the band's members is set to pause the phenomenal growth it has driven.
BTS is the most successful export of the musical phenomenon that is Korean pop. They exemplify K-pop's formula of catchy tunes, slick dance routines and well-groomed stars, which has caught on around the world. As a result, plans to list Big Hit Entertainment have stirred global interest.
Korean music agencies have a lucrative business model. One or two bands generally make most – about 80 per cent – of a company's revenues, which keeps costs low. Fans put their cash into concert tickets, albums and branded products ranging from coat hangers to pound cakes and electric massage chairs.
That keeps the sector's profit margins high – more than 32 per cent for JYP Entertainment, one of the four biggest agencies – while investor returns can be sensational. JYP shares rose by about 3,000 per cent in the eight years to their 2018 peak.
Bankers have high hopes for the Big Hit listing: If expectations are met, it would value the company at more than the other top three local agencies combined. Top end forecasts imply a price-to-earnings ratio of almost 50 times optimistic forward earnings and a premium of a quarter over the sector average.
Many will be more than happy to ignore the steep price. There have been very few sellers of the company's existing over-the-counter shares, which tend to go for about US$700 (S$975) each. Retail demand, it seems, is ready and waiting to buy the sector and back BTS at any cost.
There is good reason. BTS are the first pop group since The Beatles to achieve three number ones in the US Billboard 200 in a year. Last year, they were the world's top grossing tour group. More than two million fans joined their Love Yourself tour of 2018 and 2019, which grossed US$170 million.
The new BTS album, released in the middle of the pandemic, has become the world's highest selling so far this year. Mobile games with BTS characters have topped the Apple App Store.
As for the agency, since Big Hit was founded in 2005, revenues have grown near 700-fold and, in the past three years, at an average rate of 250 per cent. Its first-quarter operating profit of US$19 million is almost double the combined figure for those three local rivals.
All this aside, the listing still looks rather ill-timed given a pandemic that has cancelled concerts around the world. BTS's Map of the Soul tour, which had been scheduled to run until September, would have sold 2.5 million tickets. Overseas revenues, which account for almost two-thirds of Big Hit's total, will suffer.
Military service is a more predictable challenge to the earnings of Korean boy bands. The peak of their popularity generally comes when band members are in their mid-twenties – which is also when they are required to join the army for up to 24 months.
Jin, the oldest member of BTS, turns 28 – the latest date by which he can enter – in December. The youngest, Jungkook, is five years his junior. It could take more than seven years to bring the band back together with its current line-up.
Unfortunately, absence does not always make the heart grow fonder. BTS itself benefited from the gap left by the previous generation of boy bands doing military service. Moving on to younger, newer groups is so common, fans talk about which band they have "transited" to – as you would transfer between metro lines.
Historically, K-pop stocks start declining, by up to 40 per cent, a year ahead of the date the oldest band member is due to enlist. As band members disappear off to fulfil their national service, profits inevitably slump.
How is Big Hit planning to tackle the problem? First, the solo careers of band members can cushion the revenue drop. Second, diversification away from concerts and new albums could also help. Big Hit has increased its non-artist management revenue to more than a fifth of the total, by expanding in areas such as e-commerce, mobile gaming, book publishing and IP licensing. It has also bought smaller rivals.
Yet those investments have also played a large part in an 18-percentage point decline in its once-enviable operating margins of 35 per cent over the past three years. Most of those extra revenues are also heavily reliant on the continued popularity of the band: BTS-related revenues are estimated to make up almost 90 per cent of the total.
There is scope for long-lasting structural growth. The pandemic has boosted demand for streaming services such as YouTube, where BTS videos have had more than 11 billion views. YouTube views of bands that are represented by K-pop's big four agencies have quadrupled over the past three years. An online BTS concert is in the works.
But even as the pandemic starts to recede in some parts of the world, investors are asking themselves whether tens of thousands of fans would still be prepared to show up for concerts – as was the case for the 120,000 or so who came to the two sold-out BTS performances in London's Wembley Stadium last year.
Current valuations assume a quick return to normality and the ability of Big Hit to cope with sequential career breaks for its stars. That seems optimistic to bystanders who have so far failed to enlist in the BTS fan Army.
By June Yoon © 2020 The Financial Times