Capitaland's CEO of retail and workspace on today's modern luxury approach: 'Experience is what strings everything now'
To bring shoppers back in store, Capitaland's CEO of retail and workspace Chris Chong's winning strategy involves intimate customer engagement and conscious consumerism.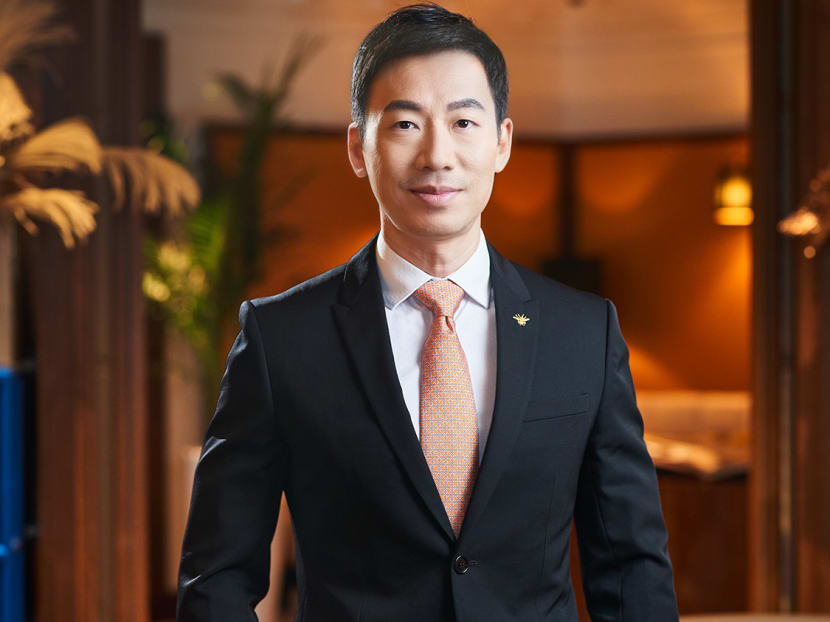 Does Singapore need another luxury mall, and what does a brick-and-mortars retail still offer that cannot be replaced online? A quick Google search showed that there are 207 shopping malls in Singapore . Seven of them, notably Ion Orchard, Paragon, and The Shoppes at Marina Bay Sands, are well-established as luxury shopping destinations. But as of last year, Raffles City has joined the fold since its repositioning as a luxury shopping destination in the Civic district.
One of the fastest to rebound after a crisis, "luxury is one of the most resilient industries," said Chris Chong, CEO of Capitaland's retail and workspace (CapitaLand owns Raffles City). He shared that the global luxury industry bounced back faster than expected, growing 14 per cent year-on-year in 2021, with worldwide sales reaching approximately US$1.29 trillion (about S$1.68 trillion).
But in today's context, a luxury mall goes beyond being a placeholder for luxury retailers. Instead, its appeal is built on the premise of edited luxury, and multiple unique, curated experiences to lure shoppers to not only stay longer, but to return often – a strategy that Raffles City has adopted in its rebranding.
Chong is no stranger to the luxury sector. He was the former CEO of Ion Orchard. He is passionately confident that Raffles City, with its evolved formula, will once again set new benchmarks for luxury shopping. On his blueprint: A more responsive and intimate strategy that beggars more interaction and dialogue between stakeholders and consumers. This, he stated, will make shopping exciting again and bring consumers back instore.
OLD VERSUS MODERN PRESTIGE
Where elitism and price points narrowly defined yesteryear's luxury factor, today's luxury narrative has a new definition. "Experience is what strings everything now," he said. Because the consumer demographic has been democratised. Understanding this shift is important if luxury brands are to stay relevant and grow, because it shapes the marketing, the brand perception, and desirability.
It's no longer just about old money, which puts wealth and affluence only in the hands of a selected few, but new wealth which is made everywhere and amplifying for consumer conversion. Today's elite aren't just people born into wealth, but also those have made it through new industries like NFT millionaires, even social media influencers.
It forces evergreen luxury brands to realign its strategies to appeal to a broader audience base, without compromising its consistent stalwarts – the historical pedigree, the artisanal expertise, the refined quality of goods and scarcity value of smaller batch productions – so definitive of their exclusivity and prestige. This also allows younger and upcoming brands who share the same ideology sans historical pedigree, to establish footing alongside, as niche players of modern luxury.
Ultimately, it's consumers that benefit when brands are forced to work harder and smarter. Variety alone is not good enough. "That's just mindless consumption," Chong pointed out. For brands to appeal now, they need to offer an unparalleled experience. More than ever, "a brand needs to speak to its consumers, reflect their personality, not just standing. If they stick to this one rule, they will not lose relevance or be obsolete," he said firmly.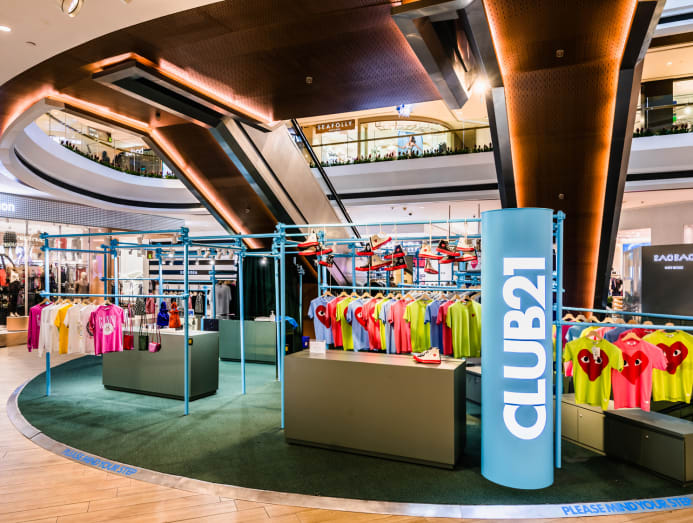 A more conscious consumerism changes how things are marketed and presented, down to even what is stocked in-store. It's less transient (read faddish) – "in the past, 80 per cent of a shop stock are seasonal items, now it's the reverse, with 80 per cent of it being perennial items," he shared, citing the desire for sustainable consumerism of goods that have more permanence. 
OMNI-CHANNEL MARKETING
It's not about clicks versus bricks but clicks-and-bricks these days – online shopping while pervasive, does not displace the brick-and-mortar retail model, because the latter "offers better marketing. That is why the standalone store still reigns in the retail eco-system, because it's an asset of its own," Chong stressed.  
It's especially so for luxury brands, because they are "not in the business of necessity but desire – this is the key point of differentiation," he stated. The buy-in goes beyond material possession or the tried-and-tested; rather, it's an experience that promises flight-and-fancy. It transports you to a different world, tickles the imagination, and offers sensory pleasures that tap into how you feel. And what touches the heart can evoke strong emotions (like recapturing good childhood memories) and ring in better sales.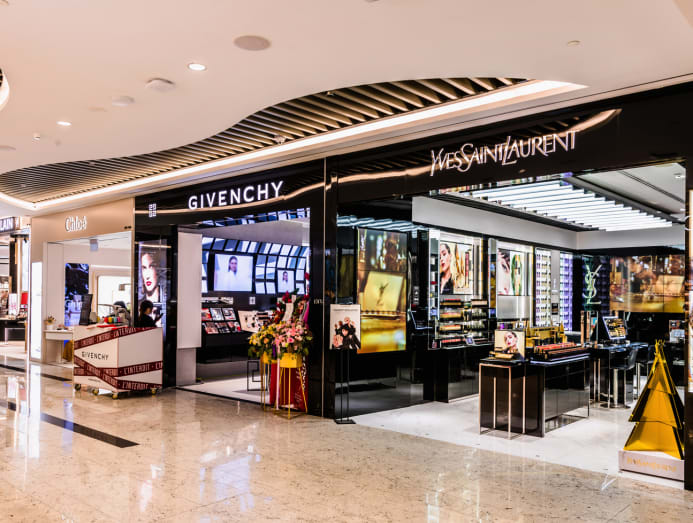 That mise en scene is hard to create online, but one that can be done in a standalone store, whether through clever spatial design, creative story-telling and different touchpoints that allow for a better and more authentic brand experience. 
It mirrors the sentiments of Sergi Villar, group retail business development and real estate director of the Kering group (a French-based multinational corporation specialising in luxury goods), who said that real estate plays an important role in the rationalisation of retail activities as consumer shopping habits evolve. Stores, he said in Luxury Highlights, a site designed and run by Kering to illustrate and decode the activities of the group and its houses, are no longer simply points of sale, but "alluring, digitally-enhanced destinations with appropriate spaces for luxury experiences".
It's because the millennial and Gen Z consumers don't see offline and online shopping as separate entities but combine them for an improved shopping experience. For mall players to attract digital natives back into the shops, a targeted strategy encompasses complementary amenities like restaurants, cinemas, decor and exhibition spaces, not just better-equipped flagship stores, in core luxury areas in global destination cities. Bricks-and-mortar stores still boost web traffic and brand awareness, and he concluded that "real estate's strategy for the future is clear: Provide the platform for true omni-channel experiences that leverage the strengths of both physical and digital." 
The founder and chairman of Luxasia, Patrick Chong, concurs, saying a physical retail store allows for stronger omni-channel marketing. Luxasia holds the distributorship of many prestige beauty brands in Singapore and in the region. Seven of them including Givenchy, Acqua di Parma, Penhaligon's, Maison Francis Kurkdjian, all have flagship boutiques in Raffles City.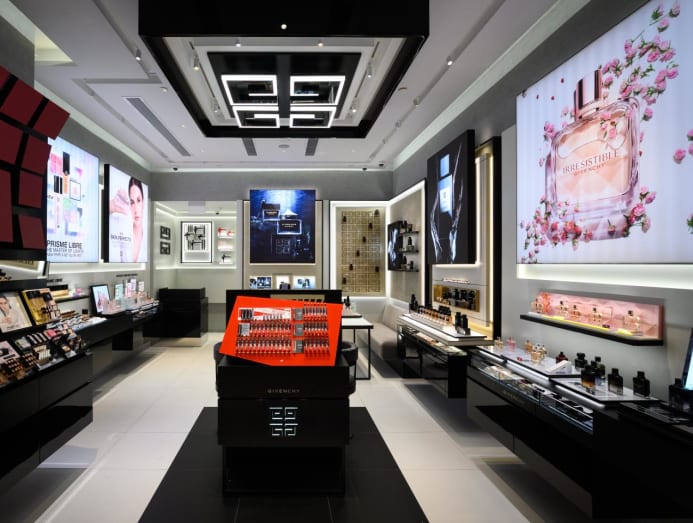 Patrick (no relation to Chris Chong) said: "The beauty business is a dynamic one, and the question is always how can we serve customers better, whether online or offline? If you only have online without the offline, you reduce the experience factor."
This tactile experience, one that allows shoppers to touch, feel, smell and live, cannot be replaced by online shopping. Nor a department store counter.   
"Having your own boutique is important to give customers what they want. The beauty industry has changed dramatically over the years, and so has the consumer: What they look for, how you are servicing them. Today's consumer is more educated, more savvy, and buy what they feel is best for them at that moment. You need to cater to new trends, the new consumer shopping habits and react to their needs in real time," he said.
The advantage of having a standalone store versus a department store counter, is the great experience that is more personable and intimate for the consumer. "Once you have the relationship between the customer and the staff, you can better service them. A regular client can ring in to place an order when they need a restock, and we can have the items delivered to their homes or offices," he shared.  
While a department store, he noted, may be a good entry point for new brands to the market, there are limitations, mainly visibility (you get lost in the sea of competitors), size, and delayed responsiveness.
"At a department store, it's a limited experience of the full glory of a brand, because some concepts or promotions are difficult to orchestrate. But at your own boutique, you can continue to curate and improve the experience for the customer," he explained.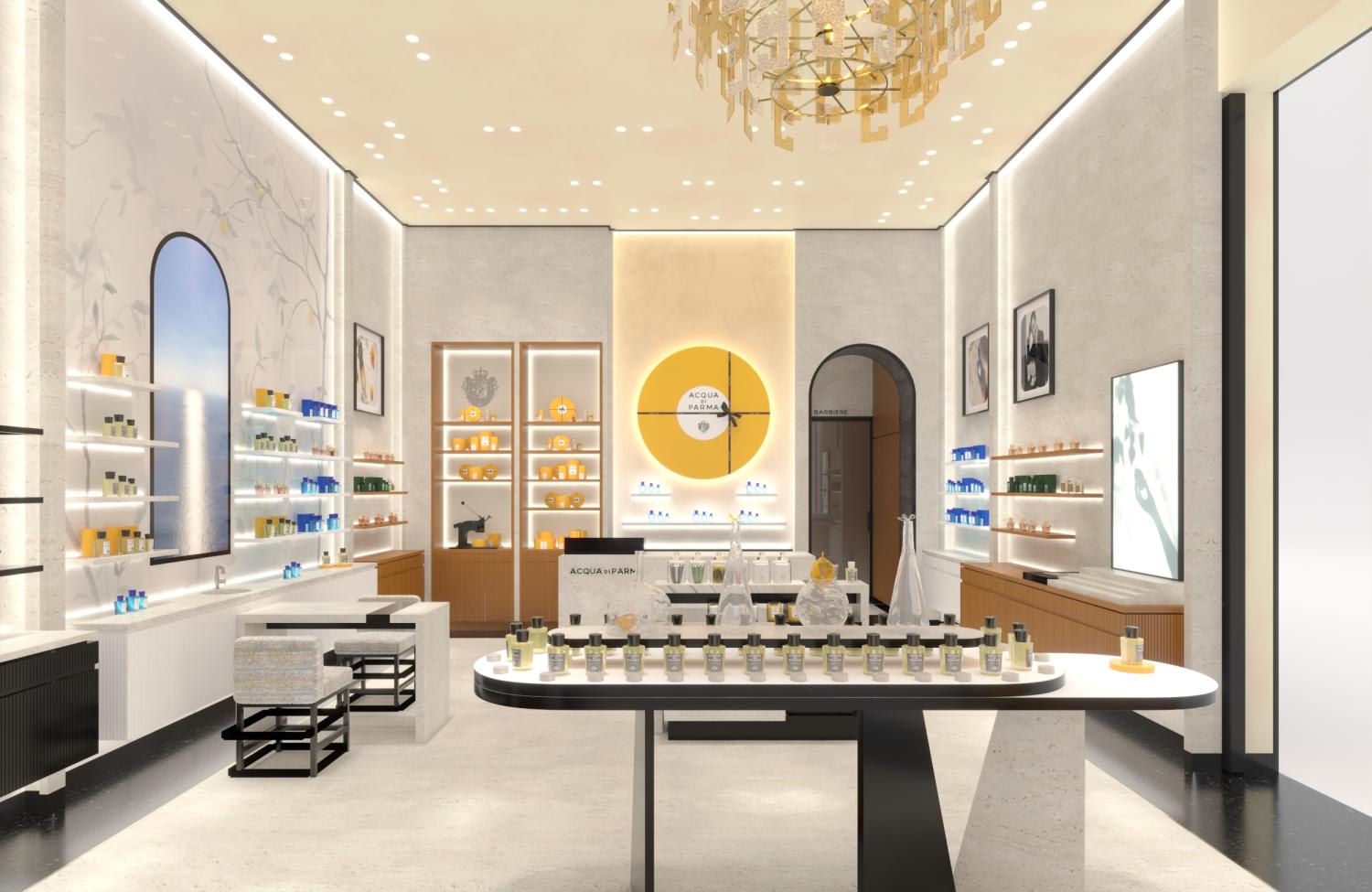 In some of the flagship boutiques at Raffles City that Luxasia has launched with its joint venture partners, there are key features, exclusive services, and product ranges. Aqua di Parma for example, has an ensuite gentleman's barbershop and an interactive fragrance bar, while the Guerlain flagship has a facialist cabin, instore.  
EDITED LUXE, CURATED EXPERIENCES
While Raffles City has repositioned itself as a luxury player, there are a couple of things that are notable points of differentiation. It is a more contained edit of luxury brands, still offering enough exciting variety that you'll feel spoilt for choice, yet without overwhelming you.  
"The intention is to continue pushing the boundaries of retail by rejuvenating the mall's lifestyle offerings and curating immersive experiences that will light up the imagination of our shoppers," Chong said.
The consumer demographic rides on its location in the Civic district (it sits on two of Singapore's original MRT lines), which makes it accessible not just for locals but also tourists and business travellers.
This greatly influenced the tenant mix in Raffles City and the specialised services and goods that these retailers would offer to the well-heeled, but also busy and possibly harried consumers. A mindful creation of a one-stop destination to do some personal shopping, pick up some souvenirs, entertain guests, or schedule in some primp time in between meetings.
These were obvious lures for Luxasia to establish many of its flagship boutiques at Raffles City. Patrick shared: "For a long time Ion Orchard was the go-to luxury mall in Singapore, but the problem is that the tenants don't leave, so it's not easy to get space. Raffles City offers a good catchment area of locals, tourists, and business travellers, plus the MRT affords great convenience. There was also CapitaLand's distinct strategy to curate experiences; it provided the perfect opportunity and setting to park our beauty brands there."  
Another factor: Raffles City has the right size and configuration – compact enough unlike the other giant luxury malls, so you can discover everything you want. There is also a good ratio of complementary lifestyle offerings, premium supermarkets, and good restaurants. "It's a very balanced luxury mall, luxurious without being too intimidating," he offered. 
The distinct premium positioning for Raffles City can be seen by its specially curated mix of over 65 new-to-market and well-established brands. Level one of the building has been transformed into a modern beauty haven, while on the third storey, there are a variety of home and living brands, such as Kave Home's very first store in Singapore, that features high-quality designer furniture.
Many brands like Diptyque and Creed, have opened their first standalone flagship stores and debut their first-ever store concepts at Raffles City, to offer shoppers excitement, variety, exclusive products, and services. This, he said, allows them to experience the brand in a more personal, innovative, and memorable way.
There is the barbieri (Italian for barbershop) experience at Aqua di Parma where you can not only get a pampering traditional wet shave, but also a haircut; Sephora's first Store of the Future concept in Asia, showcases exclusive beauty services as well as digital touchpoints (it's the only outlet in Singapore that is cashless for quick convenience).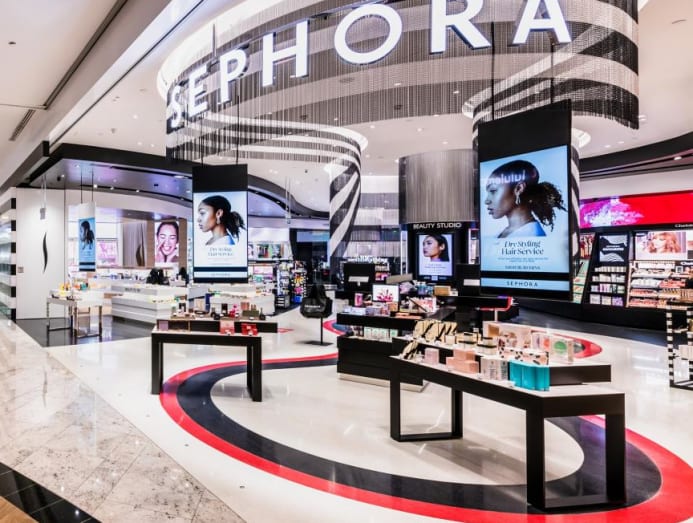 Raffles City, which has been designed and built with green features since 1986, also recently launched 'Project Green' to encourage more community action for climate change. This long-term initiative presents a holistic sustainability narrative through recycling programmes, educational content, and upcycling workshops to inspire and elicit participation from shoppers, tenants, and hotel guests.
The highlights include a Green Corner, which is a specially designed permanent recycling hub where the public can drop off their e-waste and recyclables or reduce plastic waste by contributing or taking a used paper bag from the Bag Sharing Station.
No surprises then that like-minded, eco-conscious brands have opened doors at Raffles City, like one French beauty brand, L'occitane, which opened its first and only eco-concept boutique in Singapore.
It's not the only green warrior. Other retailers too are actively showcasing their sustainability efforts by offering more eco-friendly options and services. Shoppers can opt for an order-on-demand service by contemporary and green womenswear label, GINLEE, or recycle their used coffee capsules at the Nespresso store.
To encourage and foster a comprehensive retail strategy that keeps shoppers returning to the mall, is the by invite-only Raffles Prestige membership that offers exclusive, differentiated, and bespoke VIP experiences to its elite members. This includes complimentary parking, private hosted events, personalised merchandise and gifts, enhanced concierge services and exclusive privileges at the hotels there. Recent events have included a styling workshop by Shanghai Tang, a private preview of the Montblanc Collection, and a wine appreciation masterclass at a Penfolds pop-up.