Why Carousell's co-founder wants to help creatives chase their dreams
In view of the current economic situation, Marcus Tan says that community-centred initiatives such as Carousell's #SupportLocal campaign are a way for the private sector to fill gaps.
By all appearances, online marketplace Carousell has the role of the slick tech startup down pat. The unicorn in the making – a merger with classifieds firm 701Search last year raised its value to over US$850 million (S$1.2 billion) – certainly ticks all the user-friendly boxes of a soaring digital giant.
It's also flush with funding from global players including Rakuten and Golden Gate Ventures, is staffed by a well-oiled regional team boasting a headcount of over 700, and has a succinctly coined mission that alludes to social good.
Beyond the crisp corporate parlance though, it's apparent that the company, formed to facilitate the trade of secondhand goods, is still heavily invested in the community. To help business and individuals in Singapore weather the fallout from COVID-19, Carousell recently launched a raft of initiatives under its #SupportLocal campaign.
Among them are Made In Sg, which lets freelance creatives list their services on the platform and boosts them for free, as well as 1,000 CarouBiz Booster Packages offered to heartland retailers and service merchants to help with onboarding their businesses.
The latter comprises a six-month Carousell for Business (CarouBiz) subscription and S$480 in Carousell coins that can be used to purchase ads and promotional tools on the platform. And in the same altruistic vein, the ad revenue-focused company has pledged S$2 million worth of advertising inventory to non-profit organisations supporting communities impacted by the pandemic, as well as created a category for donated items.
MOVEMENT OF THE PEOPLE
According to Carousell's co-founder Marcus Tan, casting around the community has allowed his team to identify its needs and kickstart the initiatives.
"We looked at some of the Facebook groups and gathered feedback from our users," he shared. The platform's new free items category, for instance, was spawned from a hashtag a user had slipped into her listings.
"She was using #blessing to reach out to our community for unwanted items others may need. As a single mother, she wanted to save costs, and felt there are a lot of items in good condition being thrown away," Tan explained.
While some efforts have taken shape organically, #SupportLocal appears to be more than a rudderless attempt at Corporate Social Responsibility. The CarouBiz Booster Package, through which eligible merchants receive one-time 90 per cent funding support from Enterprise Singapore, dovetails with the Singapore government's push to accelerate digitalisation.
Tan asserts that both public and private sectors have a role to play in the country's COVID-19 recovery efforts.
"Speaking to my co-founders and fellow entrepreneurs working in different industries, I realised our different skillsets, reaches and resources can be pulled together to support the economy and help fill gaps that the public sector may have overlooked. That's why we came up with #SupportLocal," he said.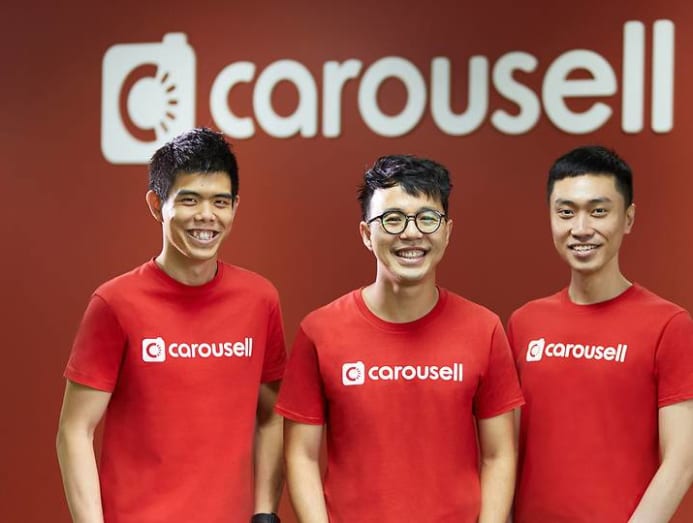 "The government has provided grants to help artists, which is great, but we felt we could give them more visibility as many of them had gigs cancelled during the circuit breaker. We wanted to drive demand and thus looked at ways where we could allow these creatives, who are passionate about their craft, to pursue their dreams," explained the self-taught designer.
These sentiments gave rise to Made in Sg, which has received more than 370 sign ups and 1,300 listings so far. And while Tan shared that transactions between users – who may not necessarily close deals on the platform – are difficult to track, there have been more than 40,000 page views.
The spectrum of individuals advertising their services and products under the niche marketplace is broad, ranging from a drama coach who sells fabric necklaces, to a music teacher offering hourly lessons.
Admittedly, maximising its free-to-list concept to assist those who may be skint is a convenient opportunity to simultaneously expand Carousell's ecosystem.
Killing multiple birds with one stone seems to have worked swimmingly for the company, established in 2012 by three friends who drew inspiration from tech luminaries such as Mark Zuckerberg and Jack Dorsey during a Silicon Valley internship.
The trio created their digital classifieds platform to help individuals offload under-utilised items; Tan himself is a camera enthusiast who saw a market for secondhand gadgets.
Their brand's positive slant on environmental sustainability and social responsibility, the 36-year-old confessed, was inadvertent, though he believes such practices are increasingly necessary.
"COVID-19 has emphasised the need for businesses to be responsible towards the community, as we are only as good as the value that we have created for it. Our business cannot be sustainable if the services and items on the platform are not relevant, and this has reinforced the need to adapt through user research," he explained.
"COVID-19 has emphasised the need for businesses to be responsible towards the community, as we are only as good as the value that we have created for it." – Marcus Tan
RETAIL, REIMAGINED
On that note, how has the platform, whose job listings section has seen a 50 per cent increase in weekly active users in the past two months, adapted to the shifting tides of the pandemic?
"As more people do not want to meet up to transact because of the risk of being exposed to the virus, a lot of our plans in terms of contactless payment and shipping are being accelerated," answered Tan, who shared that Carousell partners with courier companies such as GOGOVAN and uParcel to offer discounted rates.
As a new normal emerges globally, the entrepreneur anticipates a future where e-commerce and brick-and-mortar retail intersect. To that end, the company recently launched its virtual showroom concept for vehicle shopping.
Tan further revealed that while business was impacted in May, the company has recorded signs of recovery in June.
"In terms of transactions, we are seeing spikes in categories like homeware, furniture and electronics, so we are focusing on helping people find these items easier," he shared.
This, it plans to execute by further leveraging Artificial Intelligence (AI). Carousell has also harnessed AI technology to combat fraud at scale by working with machine learning company Sift Science.
"We have doubled the size of our dedicated teams that monitor suspicious activities and look into reports filed by our community to ensure the quality and safety of our marketplace," shared Su Lin Tan, the company's chief of staff and vice president of operations.
"We have doubled the size of our dedicated teams that monitor suspicious activities and look into reports filed by our community to ensure the quality and safety of our marketplace." – Su Lin Tan
This complements the startup's efforts to minimise scams, which include escrow payment solution Carousell Protection, and a platform that gives partner brands licence to directly remove listings of counterfeit goods.
As the conglomerate continues to refine its safety protocols following a recent rash of scams reported by the media, one thing is undeniable – the sharing economy is here to stay. If anything, its #SupportLocal campaign lends the statement some verisimilitude.
"As people look for alternative ways to shop and fulfil their needs, a lot of these can be met by the sharing of assets, whether it is a secondhand desk for working from home, or items such as camera equipment that can be rented," said Tan.
The technophile's practical tool for the masses has certainly evolved.
"Our users have been incredibly resourceful, using our platform to explore hobbies, navigate means for a supplementary source of income and even initiate movements. We will continue to focus on enabling them this way," he concluded.